Original URL: https://www.theregister.co.uk/2012/09/11/hab_ashes/
Blighty battles Oz for stratospheric supremacy
Amateur ballooning rivals meet for head-to-head showdown
Posted in Science, 11th September 2012 09:28 GMT
Pics The friendly rivalry between Brit and Oz amateur High Altitude Ballooning (HAB) enthusiasts hit new heights over the weekend when the two nations went head-to-head in a stratospheric clash of high-altitude titans.
Raspberry Pi In The Sky chap Dave Akerman met his Antipodean opponent Mark Jessop in a Cambridgeshire field to determine just whose payload would take what we have dubbed the "HAB Ashes".
In August last year we reported how Mark - a University of Adelaide electronic engineering alumnus - took the UK record with an ascent to 40,575 metres (133,120 ft) while on a trip to the Mother Country to participate in the UKube-1 satellite project with the University of Bath.
He almost provoked a serious Oz-Pom diplomatic incident by telling El Reg he didn't partake of the local ale in celebration, because "I much prefer Australian beer".
In December, Dave reclaimed the UK altitude record when he hit 40,986m (134,486ft) en route to a payload touchdown in Belgium. He declared: "I can report that Belgian beer is much better than that weak Aussie stuff :-)"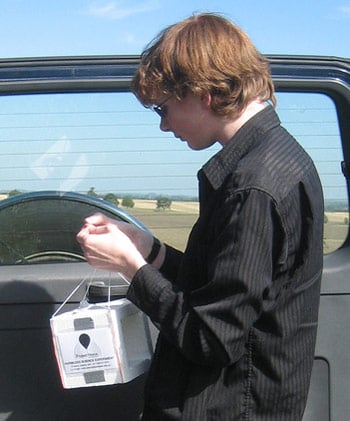 So, the scene was set for a decider, and perhaps the opportunity to convince Mark of the error of his ways in his drinking habits. In Cambridgeshire on Saturday, the Aussie (pictured) deployed his Horus 28 "Millinut" payload, which he described as "a test of a combined telemetry (position, temp, etc) and uplink payload".
He elaborated: "I can send it commands from the ground, to get it to perform tasks such as change the data rate, or turn on a nichrome wire to cut the payload away from the balloon. I've been flying a similar uplink system on the last few Project Horus flights in Australia, but this is the first time I've had it reporting position as well."
The Millinut was up against the Cloud 7* mission package, originally designed to be just a tiny tracker, but, "seeing that Mark's payload was going to be a lardy 150g, and knowing that I was going to have an unfair advantage with my hydrogen cylinder versus his helium one, I decided to even the playing field a little by adding a camera to mine," Dave explained.
Even with a Canon A495 stills camera thrown into the mix, his payload – including its polystyrene globe enclosure – weighed in at a mere 185g: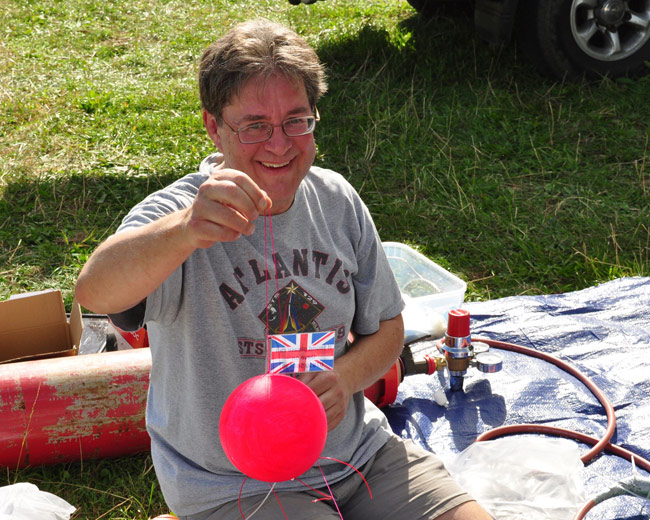 The Cloud 7 tracker board was supplied by Anthony Stirk, who'll be familiar to Reg regulars as the architect of our Low Orbit Helium Assisted Navigator (LOHAN) mission electronics. "Us Brits have to stick together to make sure we beat Johnny Foreigner," Dave noted.
Here's the scene on Saturday morning, as Dave filled his mighty orb with hydrogen, and the helium-filled globe for Mark's "lardy" payload began to engorge: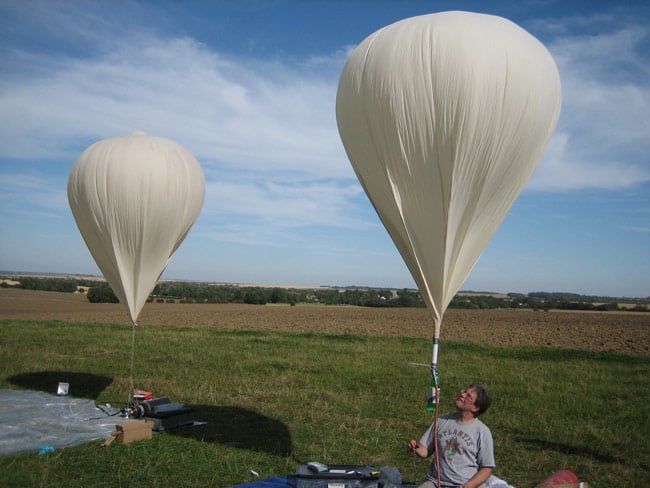 Both balloons were launched simultaneously...
...and Dave's decision to pack a camera quickly began to pay dividends: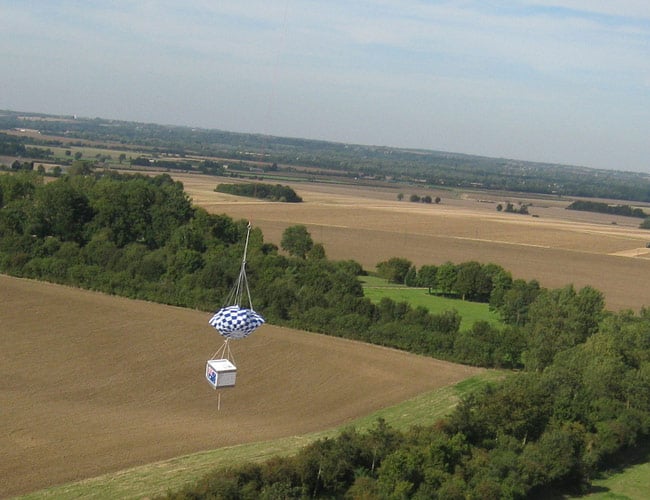 That's the Horus 28 payload just after launch, but as the two missions soared heavenwards, the Cloud 7 continued to capture its rival's ascent. Here it is with RAF Lakenheath and RAF Mildenhall below: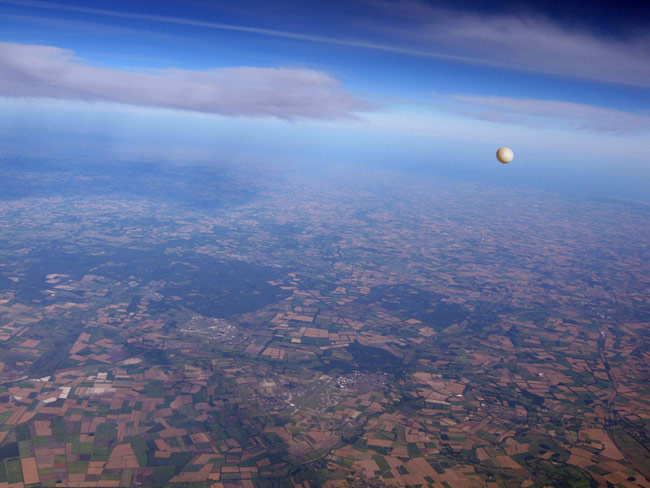 The money shot, though, came at 34.8km (114,173ft), when Mark's orb was snapped at a distance of around 1.2km (3,937ft), having expanded to an estimated diameter of 10m (a tad under 35ft):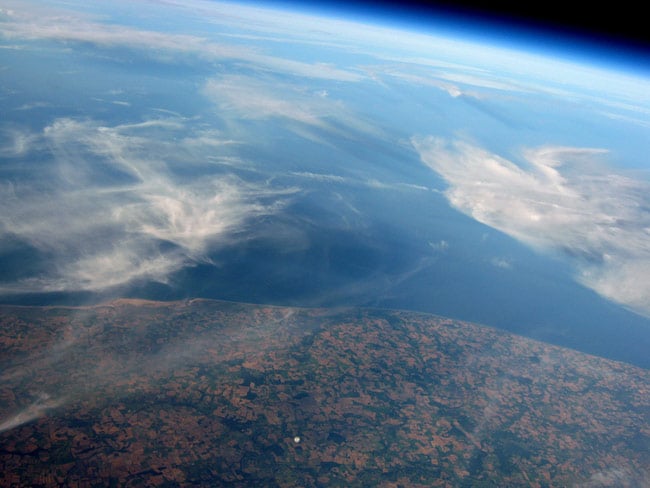 Dave enthused: "The best part of the day was seeing those amazing images of his balloon from the camera below mine. We hoped there would be a few taken during the initial ascent as the two balloons kept such close company, but we weren't at all expecting to see such photographs from up to 34.8km."
The Cloud 7 camera also captured some spectacular scenery...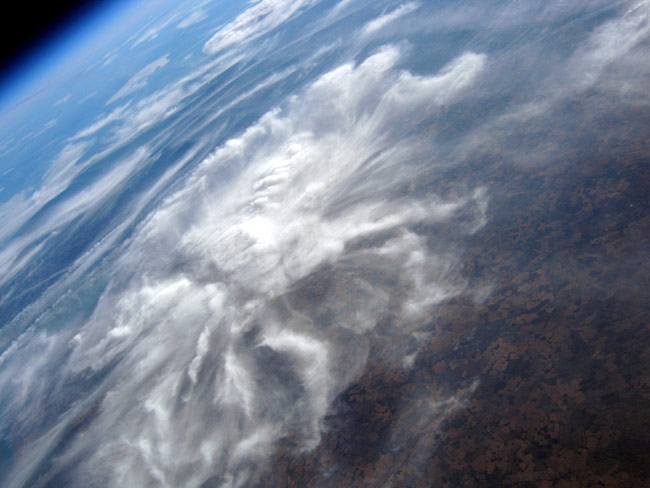 ...before coming down in a field south of Attleborough, Norfolk: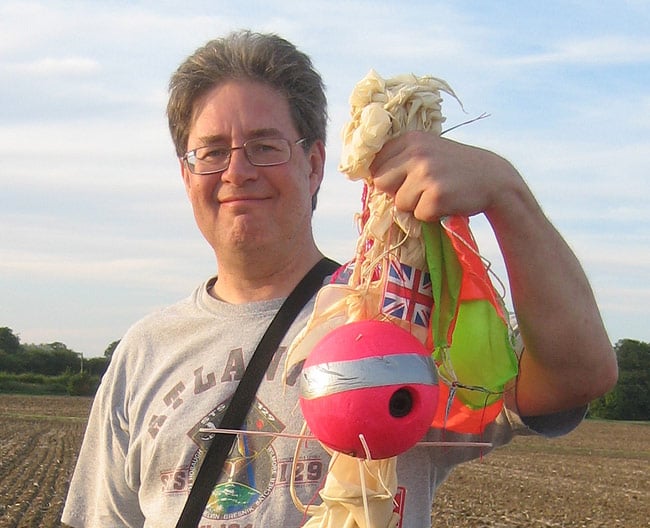 Mark recovered his Horus 28 close by: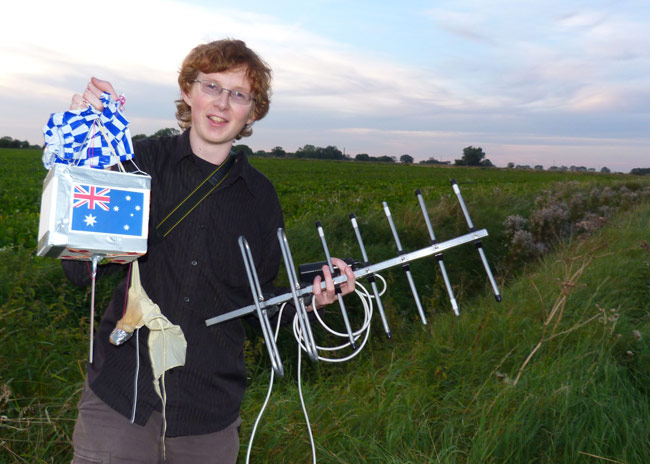 Yes, yes, we hear you cry, but in whose trophy cabinet are the HAB Ashes now sitting? Well, Horus 28 topped out at 40,449m (132,700ft), while Cloud 7 hit 40,570m (133,100ft).
That, ladies and gentlemen, means Britain pipped Australia to the post by a mere 121m (397ft).
A triumphant Dave Akerman told us: "It was of course good to beat my old foe yet again, though really with hydrogen my balloon should have whipped his balloon all over the sky. Still, a win is a win even with such a small margin! No doubt he will spend the next few months plotting revenge before he returns to the UK next summer."
Mark described himself as "not gutted at all – it was too much fun for that". He said: "I think the best part of it was seeing images of my balloon taken from Dave's camera payload while at 34.8km altitude. I'm not sure if that's been done before."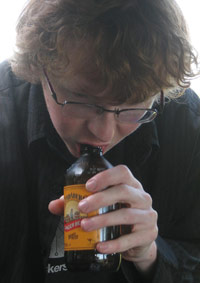 He noted: "I will point out that his balloon burst 5m lower than my last UK launch attempt, which got to 40,575m (133,120 ft). The current altitude record stands at 44,379m (145,600ft), so we're both still a way off from that!"
Regarding the delicate matter of ale, Mark reported: "I haven't had any beer since I've been here, apart from some Aussie Bundaberg Ginger Beer, which Dave happened to have a stock of."
Dave described this suspect beverage as "the drink of losers :-)", and was able to provide us with exclusive proof of the outrage, as Mark copped a crafty quaff of said libation.
According to the manufacturers, Bundaberg Ginger Beer is "brewed to a genuine old recipe to release the natural flavours of ginger".
Apparently, the brew contains "no artificial colours or flavours". It also contains no alcohol whatsoever, meaning that despite its "superior taste", it won't be making the list of approved LOHAN beverages. ®
Bootnotes
*The Cloud missions are named in honour of Bryan Cloud. Dave said of his father-in-law: "He was keen on photography and space so I name all my photo payloads after him. He died in 2004 and I'm sure he would have loved to get involved in this new hobby of mine."
All the above photos are copyright Dave Akerman. We thank him for permission to reproduce them here.