Original URL: https://www.theregister.co.uk/2012/09/05/windows_server_2012_review/
Windows Server 2012: Smarter, stronger, frustrating
Perfect upgrade for punters with a passion for the obscure
Posted in Servers, 5th September 2012 09:03 GMT
Review Microsoft has released Windows Server 2012, based on the same core code as Windows 8. Yes, it has the same Start screen in place of the Start menu, but that is of little importance, particularly since Microsoft is pushing the idea of installing the Server Core edition – which has no Graphical User Interface. If you do install a GUI, Server 2012 even boots into the desktop by default.
This is a big release. The server team had no need to reimagine Windows, giving them a clear run to focus on product features, not least the attempt to catch up with VMware in the virtualisation stakes with a greatly updated Hyper-V. The list of what's new is long and tedious, but what is most significant is the way Windows Server is evolving away from its origins as a server variant of a monolithic GUI operating system.
Two key features that underpin Server 2012 are modularity and automation. Neither is yet perfect, but this release is where they start to look convincing. Evidence of modularity is that you can now move between Server Core, which has only a command prompt, and the full GUI edition by adding and removing features, whereas before you would have to reinstall.
There are still some odd dependencies. If you add the Application Server role to a Core installation, it requires the GUI management tools to be installed, for example. Still, improved modularity is important since it means installing only what you need, which is good for both performance and security.
Progress in automation is even more noticeable. It may be significant that the lead architect for Windows Server is Jeffrey Snover, who is also the inventor of PowerShell, Microsoft's scripting platform for Windows administration based on the .NET Framework. PowerShell has hundreds of new Cmdlets (installable PowerShell commands), is designed to run remotely, and has a new workflow engine. There is now a full set of Cmdlets for Hyper-V.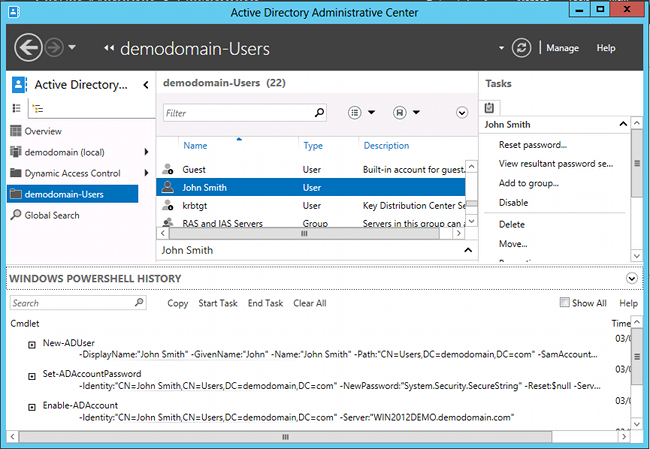 PowerShell History shows you scripts generated by actions in the GUI
The new Server Manager is in many cases a wrapper for PowerShell, something that will be familiar to Exchange 2010 administrators. Better still, the Active Directory Administrative Center has a PowerShell History pane that shows you the script generated by your actions in the GUI, so that you can copy and modify for future actions. The PowerShell editor, the Integrated Scripting Environment, now supports collapsible regions and IntelliSense code completion.
Server Manager itself is completely redone in this release. It is now a tool for managing multiple servers, and you can view your server infrastructure by role as well as by server. The idea of the Metro-inspired dashboard is that green means good, while red demands attention. From the Server Manager, you can easily view the event logs and performance data for each server, as well as accessing all the management and configuration tools such as adding and removing features, services, device manager, storage management, PowerShell prompt, and, if you need it, remote desktop.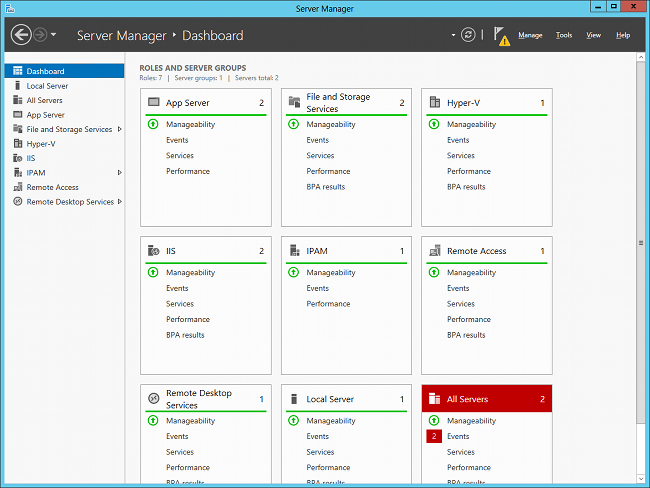 Green is good, red means trouble: the Server Manager
This is great stuff, but in practice old Windows enemies can still haunt the administration experience. I set up three instances of Server 2012 in a domain for testing: one physical and two virtual. One of these servers gives an error when added to Server Manager, filling it with red blotches. The error is "Cannot get event data," and I wasted some time trying to find the reason for the problem. It is related to a DCOM (Distributed COM) error 2147944122. The detail of this is supremely unimportant; the point is that Windows administrators spend too much time investigating obscurities like this when they would rather be using lovely GUI management tools.
That said, most of the operations I tried with the RTM (Release to Manufacture) build of Server 2012 have worked exactly as advertised.
Storage Spaces is a new way to manage hard drives, aimed at smaller organisations who lack the luxury of a Storage Area Network (SAN). The feature lets you define a storage pool across several physical drives, and then create virtual disks within the pool. A virtual disk can be resilient, supporting either mirroring – where each disk is duplicated – or parity striping, which is more efficient but requires three or more drives.
Space saving data de-duplication
A virtual disk can be larger than the available space, a technique called thin provisioning, in which case you will need to add drives to the pool as it fills. Storage Spaces can be confusing, particularly with parity striping, but it does offer built-in scalable and resilient storage. You can even assign virtual disks to folders rather than drive letters, yet another example of Windows following a UNIX-like feature.
Another new storage feature is data deduplication, which saves storage space by consolidating duplicate files or data blocks so that they are only stored once on disk. There is a performance overhead, but it makes sense for certain scenarios such as storing VM template images that duplicate a lot of data.
Hyper-V is greatly improved in this release. A virtual hard drive can be up to 64TB, using the new VHDX format. Virtual Fibre Channel lets you connect directly to Fibre Channel storage within a guest operating system. Hyper-V Replica lowers the requirement for resilient VMs to two Hyper-V servers and a right-click replication option. Live Migration lets you move VMs while keeping them online without the requirement for a Windows cluster, and with multiple simultaneous moves. You can also now move virtual hard drives while online.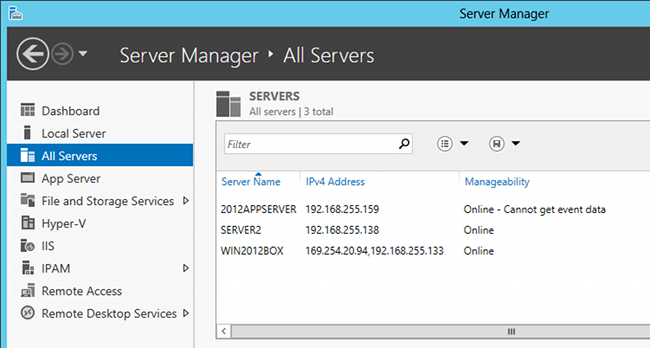 An annoying error in Server Manager: cannot get event data
New virtual switches are extensible with third-party filter drivers for added security options. NUMA awareness lets you optimise VS performance on multi-processor servers with Non-Uniform Memory Architecture (NUMA) architecture. These are key features, and build on what was already a solid virtualisation platform.
One Hyper-V annoyance is that the new Hyper-V manager will not manage Hyper-V servers older than Server 2012. This goes alongside a general annoyance with the Remote Server Administration Tools (RSAT), which is that the new 2012 Server Manager only runs on Windows 8. There is limited compatibility with the 2008 R2 version of RSAT, which runs on Vista and Windows 7.
Desktop virtualisation is better supported in Server 2012. Configuration of Remote Desktop Services has been somewhat simplified, though as ever the underlying complexity will soon manifest itself, but getting started is easier. Server 2012 supports both pooled Hyper-V VMs and the more economic session hosting, with new features to support better personalisation as well as resource throttling for fair allocation of CPU, disk and network bandwidth.
DHCP, a service that assigns IP addresses dynamically, is a key part of most networks. Previous editions of Windows Server made it difficult to configure resilience for DHCP, since conflicting DHCP servers are not allowed. DHCP failover is now available as a built-in feature.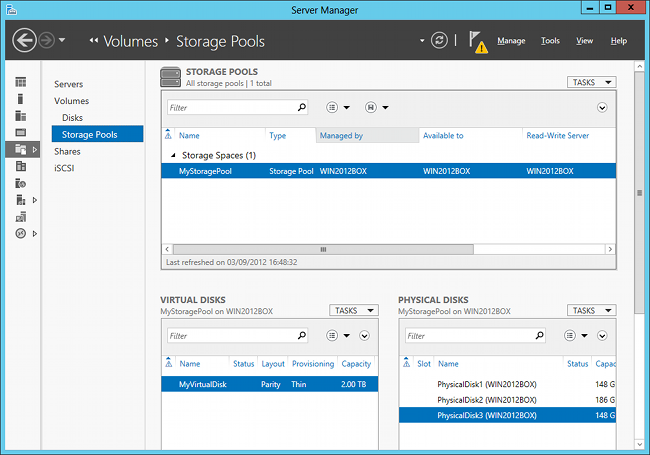 Storage Spaces offers built-in virtual storage for smaller deployments
Licensing in Windows Server 2012 has changed, and is now essentially a per-processor model. There are three editions. Foundation is a starter edition for OEMs that permits up to 15 users on a single processor box. Essentials is the closest thing to the abandoned Small Business Server line, though it is a lesser thing with a 25 user limit and no Exchange: you are expected to connect to the cloud-hosted Office 365 instead. Standard allows up to two processors and up to two virtual instances.
Datacenter allows up to two processors and unlimited virtual instances. If you have more than two processors, you buy additional licences, so for an eight-processor box you would need four licences for either Standard or Datacenter. Note that the limitation on virtual instances refers to licences for Windows Server running on those instances. It is not a limitation on the number of virtual machines (VMs), so for example you could run unlimited Linux VMs on Standard Edition.
While arguments continue to swirl about the merits of the Windows 8 client, the server upgrade is hard to fault. The move towards greater modularity, stronger automation and improved virtualisation makes perfect sense in a world of public and private clouds. That said, the capability of Windows to deliver obscure and time-consuming errors is unchanged, despite the generally solid performance of today's Windows server. Nevertheless, this is a strong upgrade overall. ®