Original URL: https://www.theregister.co.uk/2012/09/05/greens_promise_free_wifi_for_sydney/
Greens promise free WiFi for Sydney
Dutch leaves touted as ad-supported solar solution
Posted in Policy, 5th September 2012 01:16 GMT
New South Wales' local government elections aren't the forum for massive IT&T debates, but the Greens have at least given technologists something to sway their votes with a promise to introduce free WiFi in the City of Sydney and adjoining Marrickville local government area.
The Greens' plan calls for the City of Sydney to acquire a ZonSpot desk as used in Amsterdam. ZonSpots (which translate as SunSpot in English) have three leaf-shaped solar panels that collect energy to power a WiFi hotspot. The leaves also shade a desk and provide power for electrical outlets anyone can wander up and use to jolt the batteries in their personal electronics. The units' design also includes space for advertising.
Greens' City of Sydney Mayoral candidate Councillor Irene Doutney says she imagines erecting ZonSpots "in public spaces and squares" and that any installation could be funded by "sustainabilit-style advertising." But Councillor Doutney also admits her idea is uncosted and, as the Greens are not expected to win the Mayor's chair, unlikely to get up unless she can convince other councillors of its merits.
Whether that is possible is doubtful, as free WiFi is not on the platform of likely Mayor Clover Moore, whose team has in the past free public WiFi but now offers it only at libraries. Past attempts to provide municipal WiFi throughout Sydney's central business district were abandoned by the previous State government.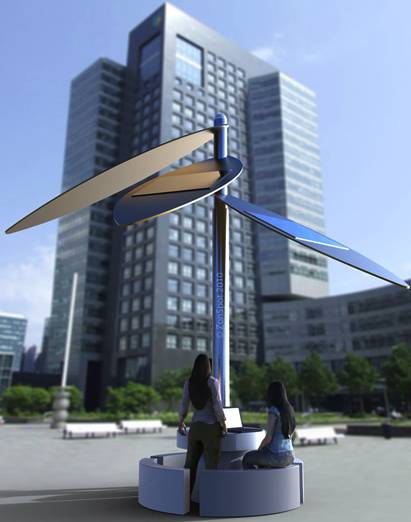 A ZonSpot solar-powered public WiFi hotspot and charging station
In neighbouring Marrickville, however, the Greens hold five of 12 seats and based on strong polling in recent Federal and State elections have expectations of doing better at this weekend's poll.
But the party's plans are again vague, with North Ward candidate Sylvie Ellesmore telling The Reg the party is "committed to free WiFi" but "not committed to ZonSpot."
Ellesmore said the party's policy is to implement WiFi in "main streets and parks, places people would sit or have a picnic" and that the aim of the project would be to "encourage use of public spaces." Details such as permitted downloads or connection durations haven't been determined.
She added that such a scheme "does not cost very much money", which is borne out by a trial of four such hotspots in the adjacent local government area of Leichhardt costing $1080 for six months.
"The Greens have passed motions" on free WiFi in Marrickville, Ellesomore said. "Now it is just a matter of implementing it."
Whether anyone cares is another matter: when The Reg spoke to Councillor Doutney she said "I'm glad someone is interested. Nobody else has even asked about this." ®