Original URL: https://www.theregister.co.uk/2012/09/04/gridiron_zettaset/
GridIron crams fat Hadoop ready-meal boxes into data centres
Would you fries chips with that compute'n'flash combo?
Posted in Storage, 4th September 2012 10:02 GMT
Flash array startup GridIron is touting a converged compute'n'flash iNode go-faster box with Zettaset Big Data management software. A reference architecture tells users how to build a 100TB, 1.5 million IOPS Hadoop virtual cluster.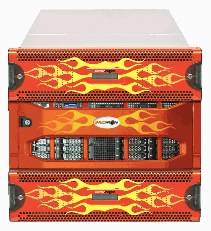 GridIron iNode
GridIron's iNode is a combined storage enclosure that's 10U high and contains 80 compute cores, up to 1TB of RAM and 50 to 100TB of MLC flash. It does a claimed 1.5 million IOPS in a 20GB/sec bandwidth, with four 8Gbit/s Fibre Channel ports or 10GbitE ports. It's generally positioned as an all-in-one packaged Hadoop node or a cloud container for data warehousing.
Zettaset's Orchestrator is software to manage, automate, and secure a Hadoop data platform and run its analytics. GridIron and Zettaset have crafted a reference architecture for virtual Hadoop clusters using the iNode's flash to improve the speed of internode communications. The pair say this is far simpler than setting up the equivalent Hadoop cluster using separate servers, storage arrays and network links.
We're told "Orchestrator optimises the performance, security, and health of Hadoop. iNode provides the high-performance compute, storage, and high-bandwidth connectivity Hadoop requires in a Big Data appliance". Orchestrator works with all the major Hadoop distributions and we can see that, compared to a disk-based set-up, there is a huge drop in data centre power and cooling needs as well as the rack footprint needed.
GridIron is going for the high-performance end of the flash storage market and offers a SAN accelerator flash box - the OneAppliance TurboCharger - an all-flash array called the FlashCube, and a RackPack offering up to 4 million IOPS, 40GB/sec bandwidth and 250TB of flash, as well as the iNode.
Nutanix Hadoopery
Nutanix has also announced a combined server and storage Hadoop offering, the turn-key Complete Cluster, that uses flash to provide low-latency access to the Hadoop data.
Instead of a thumping big flash box, the Nutanix gear is a cluster of nodes, starting at 4 nodes in a 2U rack enclosure. A node runs ESXi and Nutanix software that takes the node's Fusion-io PCIe flash cards and turns them into a cluster resource, forming a distributed virtualised cluster. It's scale-out in style going up to several hundred nodes with throughput said to scale linearly.
The 4-node starter cluster has 2GB/sec bandwidth and the nodes connect across 10GbitE links. The Nutanix distributed filesystem offers snapshots, cloning, disaster recovery, and data tiering. There is a Nutanix Hadoop reference architecture if you want to find out more.
No price details were provided for the Orchestrator-iNode combo or for the Nutanix cluster. ®