Original URL: http://www.theregister.co.uk/2012/08/30/review_apple_mountain_lion_server_os_x_10_8/
Apple Mac OS X Server for Mountain Lion review
Playing god with an £14 app
Posted in Software, 30th August 2012 07:00 GMT
The cost of Mountain Lion Server is a fraction of what Apple charged for its server software just a few years ago, especially if you look at the old 'unlimited client' editions of Mac OS X Server. Then, the software alone cost as much as a new Mac. Now, it costs as much as a Hollywood blockbuster on DVD, and it's far more useful.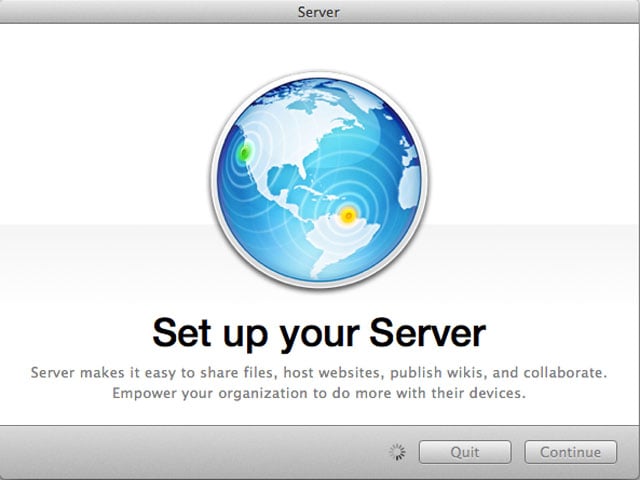 Got Mountain Lion already? Download Server from the App Store and away you go
It is also far easier to implement than older Server versions: as with last year's Lion Server, rather than being made up of a collection of separate applications wrapped up inside a special version of the Mac OS, this release comes in the form of a single application. Known prosaically as 'Server', it features a simple front-end management system for configuring the services you care to activate.
Best of all, it runs happily on a stock installation of Mountain Lion – no special server OS or arcane system alterations are needed to run Server. Replacing the old Server Admin application from previous versions, the Server app can be used to manage the host Mac or another Mac running Server elsewhere.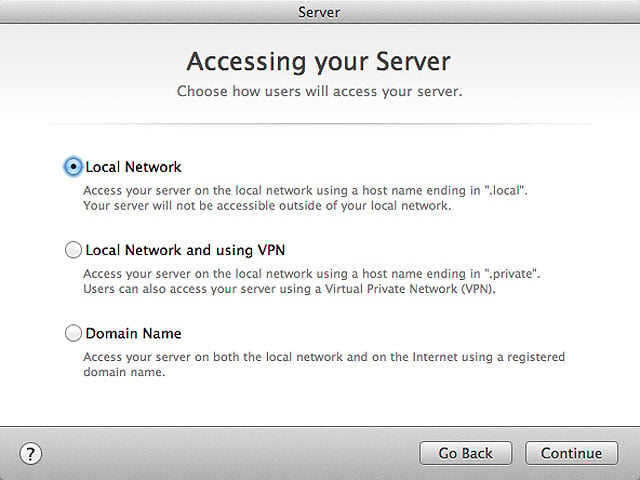 Some basics
Beyond machine admin choices, one of the first things you're asked when you run the Server app, is whether you want to enable push notifications so you're kept updated with system alerts and similar info. These are sent through Apple's servers and, to bypass possible user misconfigurations, relies on the use of an Apple ID. You can even use your own personal me/mac.com email address although it's advisable to set up something dedicated to this task, if you're undertaking as a serious server implementation.
The setup process offers various configuration options including local network only (no Internet); 'private network' (VPN but no regular Internet services) or connect with the 'entire Internet' to provide various online services. A few more bits of information and you're up and running – almost before you know it. If you want to serve your own named domain from home I've found that services such as No-IP.com are useful, but it's not what I'd recommend for something mission-critical; speak to your ISP if you need help here.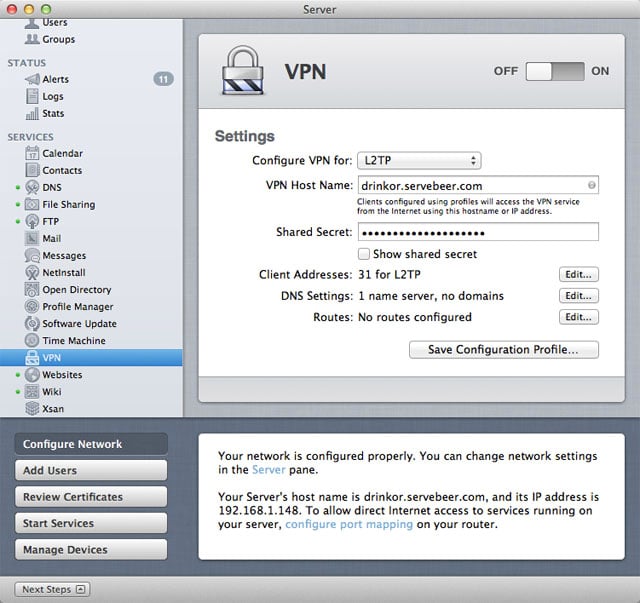 VPN and other stories...
Server's single window has an expandable 'Next Steps' pane with friendly (and also helpful) messages that prompt you for things you may need to check or just tell you that all's golden in server-land.
The range of server features that you get is a bit of a shopping list, so bear with me as I trot through some of them: Calendar and Contact provides central management of appointments, invitations, address book and so on. DNS (on by default) gives managed lookup services for the client computers on your network, and this can be extended to other named networks if you want to spread Server's DNS wings further.
DNS stress test
If you're just dabbling with Server rather than setting up a dedicated Mac for the task, there's one small ass-biting 'gotcha'. As standard, Server will set your Mac's DNS to 127.0.0.1, as you're now providing DNS to yourself as well as others. If you go back to using your test machine for regular work – and move Server to a dedicated Mac, as I did – your trusty sandbox will be left with no Internet access, which is unnerving to say the least. Hit up System Preferences > Network > Ethernet > Advanced > DNS and remove the numeric localhost entry. Making dumb mistakes so you don't have to – no need to thank me.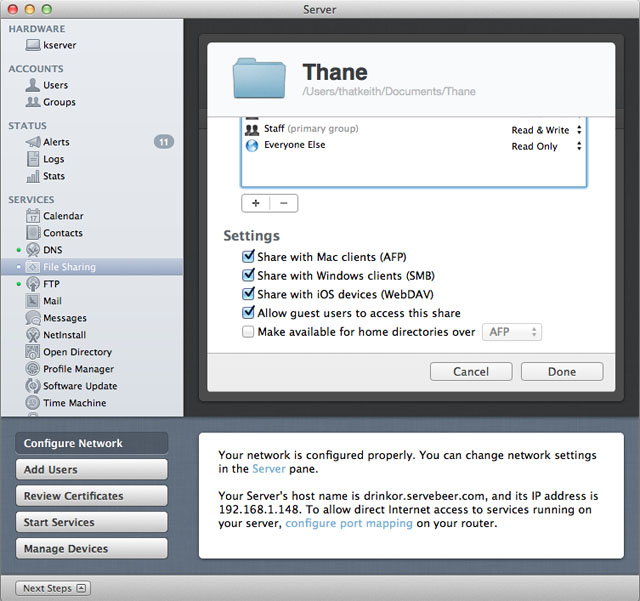 File sharing includes iOS support
File Sharing (also on by default) is an evergreen server standard that's been made simpler over the last two major Server versions. You get AFP (Apple Filing Protocol – preferred for Mac users) and SMB (Server Message Block – more common on Windows and Linux), and the option to host data on the same Mac or on some other server. Sharepoints can also be set up with WebDAV for iOS users, which is the biggest new trick up this feature's sleeve.
FTP is off by default, but if you need this somewhat antiquated service it's just a click away. Me, I prefer to steer clear of serving FTP in favour of more secure protocols, but it tests out fine. Mail services are also off by default, and if you're new to this level of functionality take some time out with the on-line documentation before diving into this.
For old hands, I'm pleased to report that Mountain Lion Server offers the simplest, clearest implementation of mail serving that I've seen. The server-managed Time Machine backups for Mac clients is a blessing too and I'd recommend activating this – end users can ever be relied upon to manage their backups.
Also available is web site serving with optional PHP goodness and, for the seriously depraved, Python support as well. I'm using the former but not the latter; I never moved onto anything more hardcore than PHP. Redirects take just a few clicks to set up, although the option to redirect when users visit a URL matching a specific regular expression stopped me cold. Regex is awesome voodoo that makes my head hurt, so I've stuck to my traditional URL path-based redirect triggers.
Wiki support isn't new, but it's almost ridiculously easy to get a collaborative workgroup wiki up and running. Team communication FTW! The Users and Groups administration section is self-explanatory, along with the Status functions that keeps data freaks well fed with access logs, stats and the like.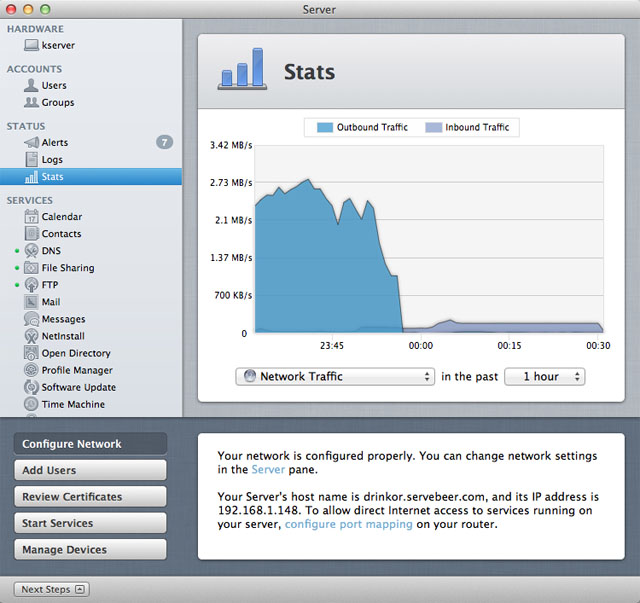 Mmmh, stats – yum yum...
Indeed, if you're like me, Server's Status section will give you enough feedback to keep you happy and help pin down possible problems. If you want more detail you'll have to turn to dedicated analytics logging and comparison tools – take a bow, Google Analytics – but this is a useful everyday overview of the server's performance.
Ghost protocol
Mountain Lion Server isn't entirely rosy picture though. There's some consternation online over the lack of explicit support for DHCP in this release. That will catch you out if you've used this in the previous version of Server; Apple's quiet removal of DHCP as a named service in Server is curious. However, this is enabled behind the scenes if you switch on NetInstall in Server or if you enable Internet Sharing in the Mac's standard System Preferences utility.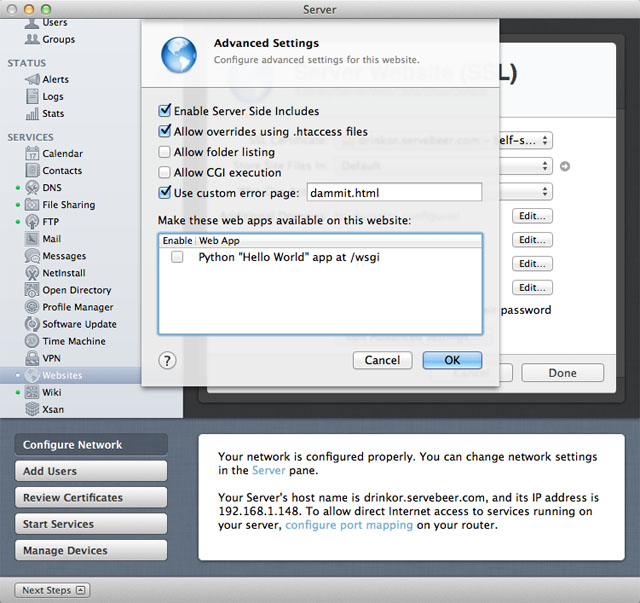 Advanced options when you need them
Alas, no GUI-based config control though, so you'll need to resort to command-line tweaks to customise things. Krypted.com has a useful article on running DHCP on Mountain Lion Server, but no matter how much you love the CLI, it's clear that DHCP support is not as Mac-like as it used to be.
If I went into all of Server's features and abilities in detail you'd probably just stop reading, so for those that want every niggly detail you'll be delighted to know that there's an in-depth guide and manual for Mountain Lion Server available on-line – perfect bedtime reading for geeks.
Server is so easy that it is a no-brainer for workgroups, and small businesses. Macs aren't the computer-non-grata that they used to be, and £13.99 is a couple of drinks in a City bar. Yet you buy into something that's actually pretty studly, with a good pedigree, and can be up and running in a minute or two (as opposed to needing a day's worth of dedicated massaging) – that's pretty bloody impressive.
The apparent lack of DHCP could be an issue, certainly for those who want to manage everything from one server. This specific issue isn't as clear-cut as it may seem, but it is a slightly odd move. Indeed, at this level, is there enough to tempt the ever-skeptical enterprise market? Alas, it's up against folk with a fondness for the hair-shirt 'comfort' of Windows-based servers; it's what they know, after all. So, by and large I think not, but that's their (expensive) loss.
Verdict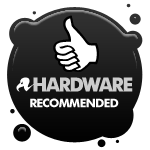 Mountain Lion Server turns traditional serving on its head: it is almost stupidly cheap, it has no artificial client limits, it is almost sinfully easy to implement, and it instals on any Mac capable of running Mountain Lion. If you need to provide some kind of server services then get this. Even if you need to get a new Mac – the mini is an easy choice – you won't regret paying that extra £14 for OS X Server. ®
More Apple Reviews

Apple
Mac OS X 10.8
Mountain Lion
Apple
MacBook Air 11in
Apple
15in MacBook Pro
with Retina Display
Apple
MacBook Pro 13in
Apple TV
3rd gen