Original URL: https://www.theregister.co.uk/2012/08/28/review_samsung_galaxy_note_10_1/
Samsung Galaxy Note 10.1 Android tablet review
Stylus over substance?
Posted in Personal Tech, 28th August 2012 11:14 GMT
Remember your first touchscreen? If it was a personal organiser or satnav, chances are it used a pressure-sensitive, resistive screen. If it was a Palm, you probably had a stylus to pick out letters onscreen. The arrival of capacitive screens that responded to human touch certainly made an impression and now account for nearly all smartphone and tablet touchscreens. What was the point of stylus now?

Point taken: Samsung's Galaxy Note 10.1
So here's Samsung's latest. With a stylus. Don't worry, it's still a capacitive screen, with the pressure-free interaction and better image quality that capacitive offers. Like the Samsung Galaxy Note, this uses a specially designed stylus, the S-Pen, to interact with the suitably modified screen. The S-Pen is the Note 10.1's USP, but otherwise this tablet looks like the recent Galaxy Tab 2 10.1. Just like it, in fact, though the Note is wider and taller.
Samsung is doing its best to differentiate its tablets from the look of its competitors'. The white edge that surrounds the display has a silvery, curved edge frame that is noticeably different from the iPad – you couldn't mistake the two. Because this tablet is slim and largely made of plastic, it's very light, too. The same applies to the slightly older Tab 2 10.1.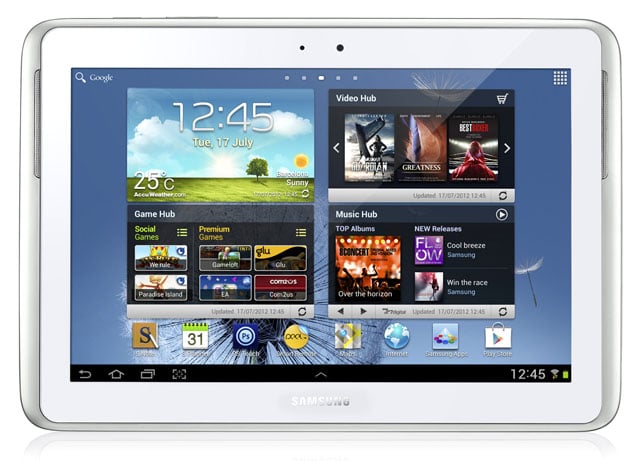 No match for a Retina display, but it's still a very respectable screen
The specifications are different here, though, with the Note 10.1 sporting a more powerful processor (1.4GHz quad-core, up from 1GHz dual-core) and extra RAM, doubled to 2GB compared to the Tab 2 10.1. The screen is unchanged with a 149ppi resolution on the 1280x800 10.1in display. Way less than the iPad's 264ppi Retina Display, then.
Don't write this Note off, though, it's bright, contrasty and highly attractive. Movie playback tests with Green Lantern, looked sharp and vibrant, not to mention quickly immersive. The sound comes from two front-facing speakers (it's stereo, Apple please note) and sounded pretty decent, though obviously limited in its bass or volume.
Quad-core CPU takes the cake in the AnTuTu rankings
Unlike the Samsung Galaxy S III, this machine has no front-facing home button, so you have to reach up to the top edge to wake the screen. Good design, or a desire to avoid more lawsuits from Apple? Regardless, the button is easy to find.
Taking notes
So, do you need a pen with your tablet? This isn't the first capacitive Android tablet with a stylus – that was the overpriced underrated HTC Flyer – but the pen input is more refined here, especially for its primary purpose; taking notes. Launch the S Note app and you can choose a notepad background. Then, cleverly, you can configure it to only recognise input from the stylus – so you can rest your hand on the screen as you write or draw without leaving extraneous marks.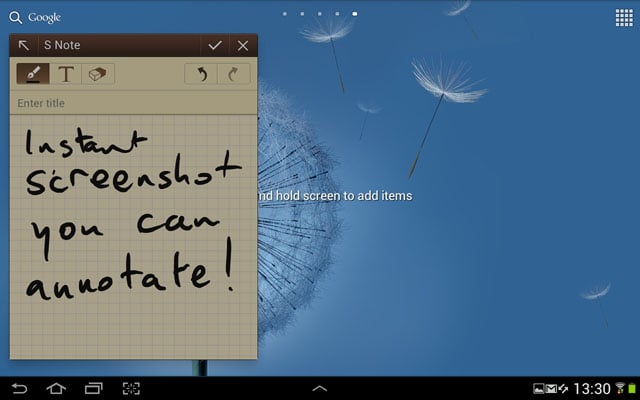 Worthy of note?
There's also an audio recording option so you can record what's being said at a meeting, say, while you scribble. This feature was on the Flyer but works better here – the microphone doesn't pick up the clicky pen-against-glass noise as easily. Neither is a patch on the Livescribe Echo recording pen – this uses real ink and a miked-up pen. It connects exact moments of audio to the simultaneous squiggle on special paper.

The S Pen: putting graphics back into tablets
You can use the S-Pen for other interactions with the tablet, for tapping away at the keyboard, say. This is often superfluous, but where it makes sense, the stylus implementation is very well done and sets the Note apart from other full-size tablets. The stylus itself is slim, but chunky enough to be comfortable in use, unlike the spindly one on the original Galaxy Note phone/tablet hybrid.
Unlike many capacitive stylus tips, which are wide and rubbery to ensure their touch is recognised, this has a sharper nib, made possible by the Note's particular screen technology. And here, the stylus tucks into the corner of the tablet so you won't lose it. We hope. When you pull it out, S Pen apps (including a baffling crayon game) launch automatically and sit at the side of the screen. It's neatly done.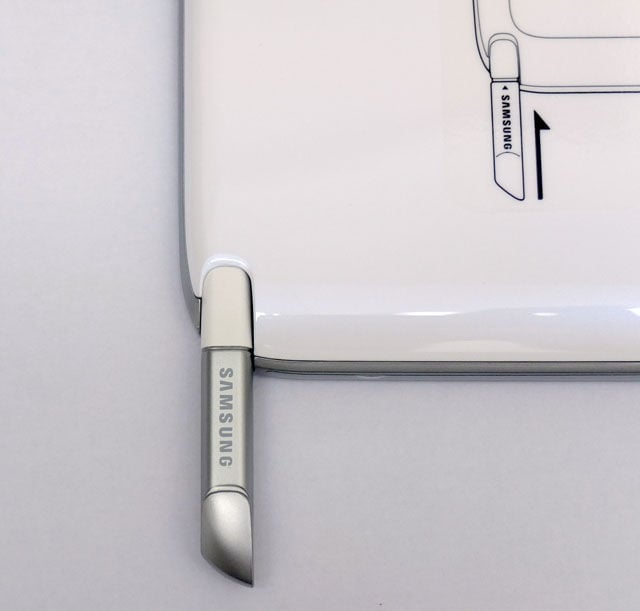 Pen pal
There's a button on the S Pen, as on the original. This adds extra functions: hold it while you double-tap the screen and a note appears on top of whatever's there. Once you've written your note, hold the button while you touch the display for a couple of seconds and it takes a screen shot. Excellent.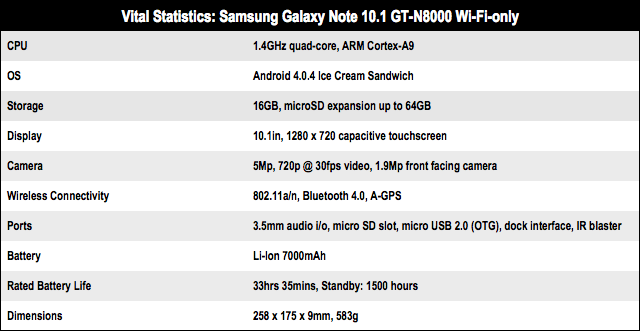 Double vision
Best of all, the stylus is involved in a clever Samsung addition: split screen. When you launch the web browser, say, a Multiscreen option appears in the top right of the display. From here you can choose to range your open window alongside Polaris Office, S Note, Video Player, Gallery or Email. The display presentation divides neatly in half to show both.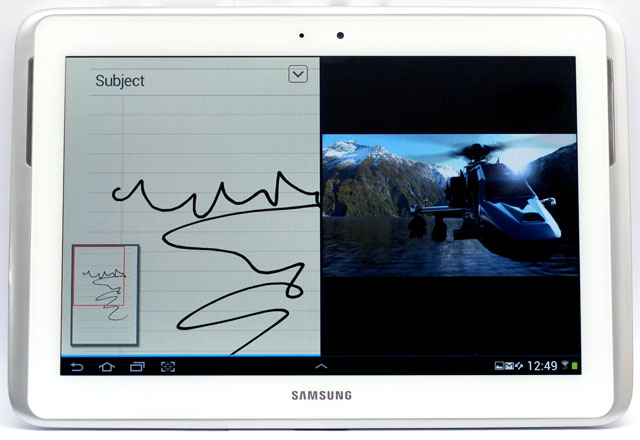 Split the difference: take notes on what you're viewing or browsing
The splitscreen viewing is great if you want to scribble notes based on your web surfing or whatever. It works well and has more uses, so that if you have video playing you can shrink it to a picture-in-picture size to watch it while you do something else as well, like checking your email. Though that's not really how the director intended it, you know.
There are other specialities on this tablet – like an IR blaster. Sony put this on its Tablet S, and it turns your tablet into a proficient wireless remote for your TV or other audio visual item. Like there aren't enough remotes in your living room already. And it takes a headline feature from the Galaxy S III – Smart Stay which checks every so often whether you're looking at the screen and if it can't see your eyes, it dims the display. A gimmick, but a cool one.
This tablet doesn't have quite the latest Android version. Ice Cream Sandwich is good, and the even better Jelly Bean will follow, though no date is set yet.
Verdict
So, really, is a stylus enough of a difference to make you choose this tablet over another? Actually, the more you use it, the more natural it becomes. And the nippy processor and extra RAM mean the Note 10.1 flies along very agreeably. The display is good, but not amazing. This tablet won't win over Apple-fanciers, or those who want the faux-laptop qualities of the Asus Transformer series. But it's smart, speedy and enjoyable to use. ®
More Tablet Reviews

Acer
Iconia Tab A510
Samsung
Galaxy Tab 2 10.1
Asus
Transformer Pad
Infinity
Android 4.1
Jelly Bean
Google
Nexus 7