Original URL: https://www.theregister.co.uk/2012/08/25/product_round_up_ten_all_in_one_inkjet_photo_printers/
Ten... all-in-one inkjet photo printers
From darkroom to Lightroom
Posted in Personal Tech, 25th August 2012 07:00 GMT
Product Round-up Most inkjet all-in-ones are capable of printing passable photos, but some are geared up specifically with this in mind and feature memory card slots, high resolution printheads and wireless connectivity for printing from mobile devices. Some even have direct-print to DVDs and CDs as well as scanning from slides and negatives with separate trays for photo paper. Specifications also tend to offer higher resolution printing and scanning and more than four ink colours for improved accuracy, in higher-end models.
Manufacturer prices range from around £80 to £350, though of course you can get substantial discounts on these numbers, if you search around.
Brother MFC-J5910DW

The first of two Brother all-in-ones offering A3 print. The larger print size can be useful for posters or newsletters. The printer has a wide-aspect touchscreen – which needs firm pressure – and includes a number pad, as it supports fax. Twin card slots and PictBridge mean you can connect a variety of devices.
Print speeds of up to 9.1ppm make it one of the fastest printers here and a duplex speed of 3.7ppm puts it mid-field. Print quality is better on photos than on plain paper and page costs are as low as Kodak's, if you're a canny shopper, and separate print cartridges, too.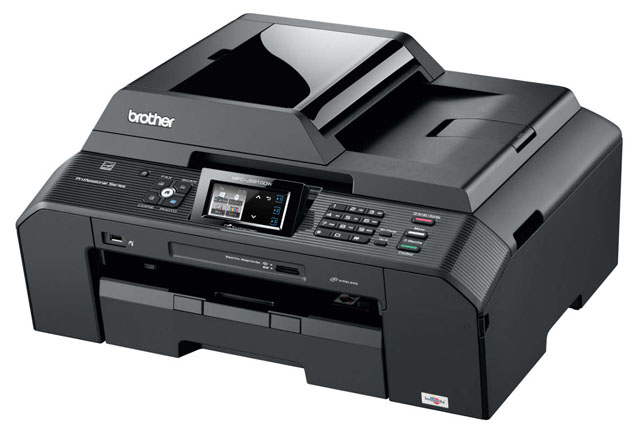 Reg Rating 70%
Price £215
More info Brother
Brother MFC-J6710DW

A big brother to the other Brother, this device can scan and copy A3, as well as print it. It also has twin paper trays, so you can dedicate one to photo paper, if you want. It has another decent sized touchscreen for control and the same set of sockets for front panel data feed. Both printers can handle mobile device prints using Wi-Fi.
Both also have similar speeds for single and double-sided prints – though it didn't manage quite the same speed on shorter text documents – and very similar print quality, which can be a bit ragged on plain paper. Same cartridges, too, so same print costs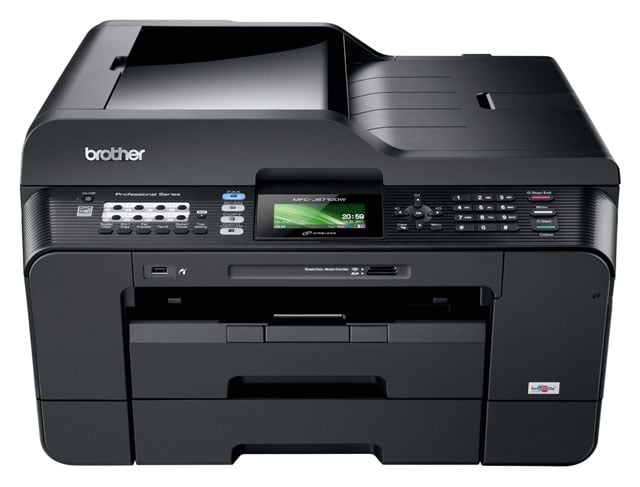 Reg Rating 70%
Price £371
More info Apple
Canon Pixma MG4150

Canon's black-box all-in-ones all produce excellent prints and even this fairly lowly model offers separate ink cartridges, Wi-Fi and SD, MemoryStick and USB/PictBridge connections. There's no touchscreen, but a well-designed control panel and the little flip-up LCD display work well together. There's just a single, 100-sheet paper tray.
Print speeds are generally very good, at up to 8.1ppm, though duplex is hampered by ink drying times. Print quality is very good, with some of the best photos in the group. Page costs of 3.1p and 6.7p are mid-range and overall this is a good, budget machine.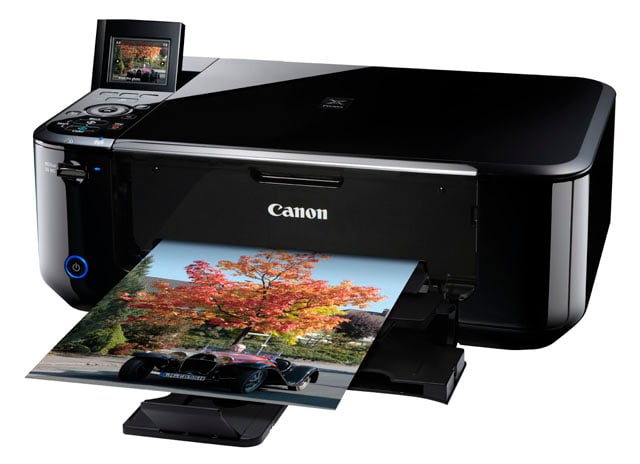 Reg Rating 80%
Price £79
More info Canon
Canon Pixma MG8250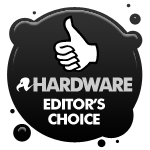 This is the top of Canon's range of photo all-in-ones and hence has all the extras. As well as the company's neat 'touch lid' to its scanner, it has a transparency and negative adapter built in and offers direct print to coated CDs and DVDs. Both cassette and rear paper tray are provided, each of which can take 150-sheets.
A maximum speed of 9.7ppm gives it top speed in this group, though duplex print is still slow, at 3.5spm. Photo output is superb, with black and white prints helped by both photo black and grey inks. Page costs, at 3.0p and 8.8p, are high, though not the highest.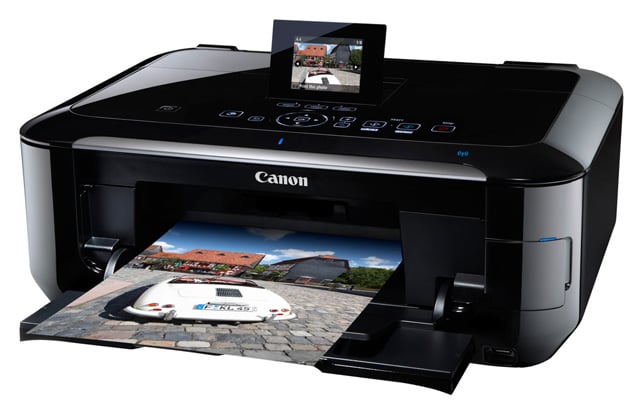 Reg Rating 90%
Price £499
More info Canon
Epson Stylus Photo PX660

This isn't the cheapest all-in-one in Epson's range, so you'd expect a few bells and whistles. Yet there are surprisingly few, with a single paper tray, no wireless and no duplex. It has does have six inks though – with light cyan and light magenta – and a good set of front panel sockets, including CompactFlash.
As usual with Epson, speed claims should be ignored. Epson says 37ppm and 38ppm draft, I say 4.7ppm and 3.5ppm in normal mode; not quick, in this group. Page costs, at 2.4p and 9.6p, are fair for black and very high for colour, only matched by its stablemate.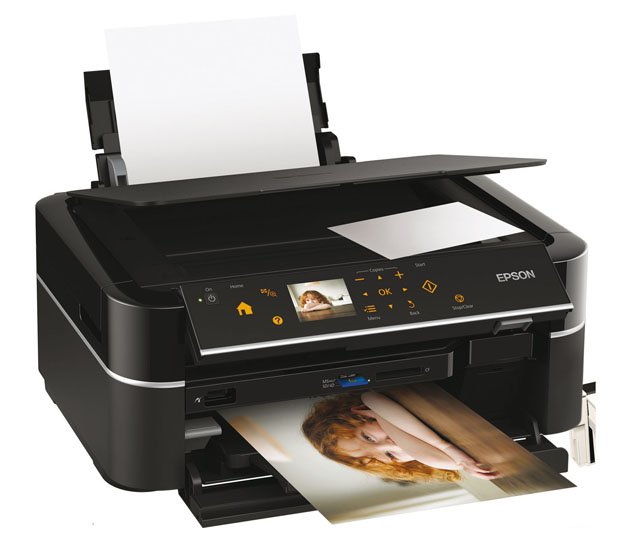 Reg Rating 65%
Price £130
More info Epson
Epson Stylus Photo PX820FWD

According to vendor pricing, this model ends up the most expensive A4 printer in the group. It has a second paper tray for photo blanks, a full set of card sockets and a large touchscreen. It also has a 30-sheet Automatic Document Feeder (ADF) and fax; so it bridges photo and home office use.
It uses the same set of six cartridges as the Stylus Photo PX660 and speed claims are still way over the top; I measured 7.7ppm and 6.1ppm for black and colour, against Epson's 40ppm claim. Photo prints are excellent, with both vibrant colours and natural hues, depending on subject. Page costs are low for black and high for colour, the same as with the cheaper machine.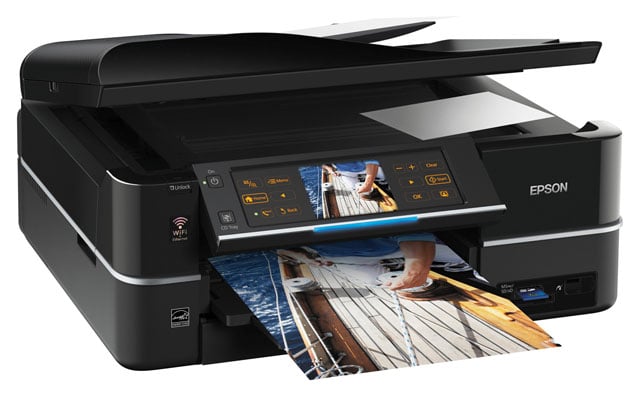 Reg Rating 80%
Price £300
More info Epson
HP Photosmart 6510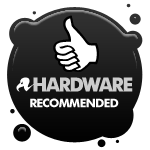 HP has an enviable reputation for photo printing and this all-in-one sits roughly mid-way in its range. It includes a separate photo tray and an 89mm touchscreen, though it doesn't have a front panel USB port. Most of these printers can print photos from Android and iOS phones and tablets, but the HP machines have ePrint too, for remote printing, when you're away from home.
HP claims speeds of 11.0ppm and 7.5ppm and I saw 8.9ppm and 3.9ppm, which is not bad. Photo prints are highly detailed and with strong, natural colours. Page costs, at 2.5p for black and 7.7p for colour, are mid-range.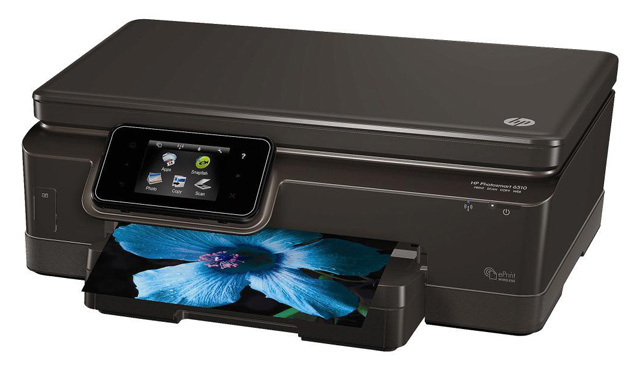 Reg Rating 85%
Price £90
More info HP
HP Envy 110

This is unlike any of the other all-in-ones here. It's designed more like a Blu-ray player than a printer, with a very low profile and a powered 89mm touchscreen which swings in and out to make room for pages to feed out. The design choice also means the printer has a slim feed tray, taking only 80 sheets, and is fiddly to get your fingers to.
Print speed also suffers a bit, in comparison with the Photosmart 6510, at 6.0ppm and 2.3ppm for black and colour. The machine uses one black and one tri-colour cartridge, which can be wasteful and black page print costs are the highest in the group, at 3.8p.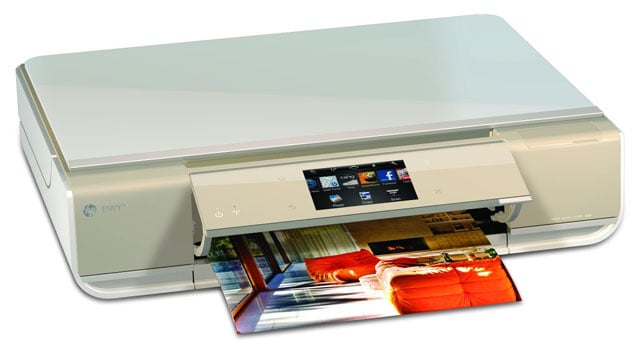 Reg Rating 65%
Price £150
More info HP
Kodak ESP 3.2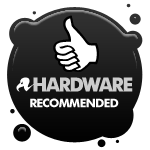 Kodak has two ranges of all-in-ones: ESP and Hero. The ESP 3.2 sits in the middle of the range and is a straightforward machine. Paper feeds from a 100-sheet, fold-up tray at the rear and the control display, though a touchscreen, is a small 61mm. There are only two cartridges, one black and the other tri-colour, but the printer does have wireless connection and is supported by good, free software for remote and direct printing from mobile devices.
Print speeds of 6.9ppm and 3.7ppm are fair, but there's no duplex. Page costs, a major selling point for Kodak, are no lower than from the Brother machines, though print quality is better, on both plain and photo paper.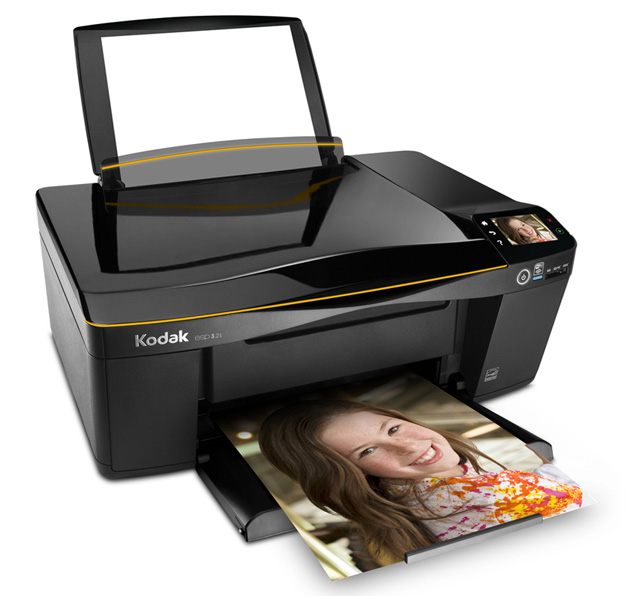 Reg Rating 85%
Price £80
More info Kodak
Kodak Hero 7.1

The mid-range model in Kodak's higher-end Hero range, the main differences from the ESP 3.2 are a front-loading paper tray, with a separate 40-sheet photo tray, a much larger touchscreen, duplex print and a five-colour cartridge. While this includes a photo black and a gloss enhancer, it can still be wasteful, if you don't use all colours equally.
Print speeds of 5.3ppm and 3.1ppm for black and colour are slower than from the ESP and quality is much the same on all papers. Ink costs, at 1.4p and 4.1p, give the lowest colour cost in the group. ®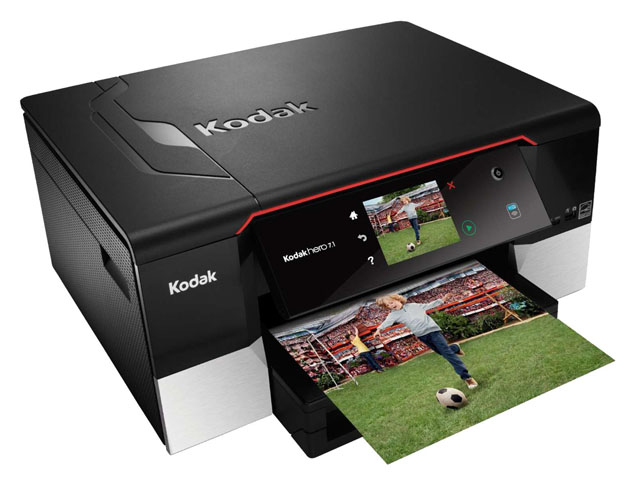 Reg Rating 75%
Price £170
More info Kodak