Original URL: https://www.theregister.co.uk/2012/08/24/review_sony_nsz_gs7_google_tv_internet_player/
Sony NSZ-GS7 Google TV internet player review
Second sight
Posted in Personal Tech, 24th August 2012 07:00 GMT
Google and hardware BFF Sony will be hoping the second time's the charm for their latest joint foray into the living room. The first Google television adventure floundered in the States, scuppered by hardware complexity and inadequate software. This time around we have a simpler set top box proposal, the NSZ-GS7, and the Google Play store to back it up. What could possibly go wrong?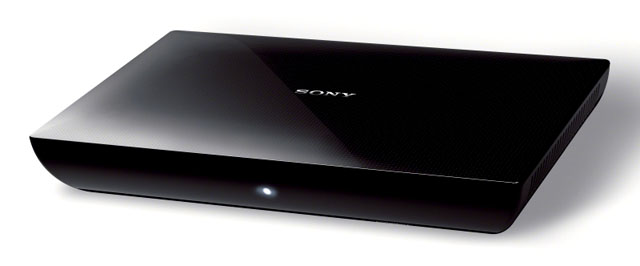 Twice shy? Sony's NSZ-GS7 Google TV internet player
Certainly when it comes to hardware, Sony has built a very solid piece of kit. The boaty design of the NSZ-GS7 box is idiosyncratic, and the flipper remote is a clever piece of engineering. One side touch-pad IR zapper, the other a Bluetooth backlight Qwerty rubber keyboard, it allows sprightly navigation around apps and menus, as well as easy input into the integrated web browser. There's even a 3-axis motion sensor, presumably for future games development.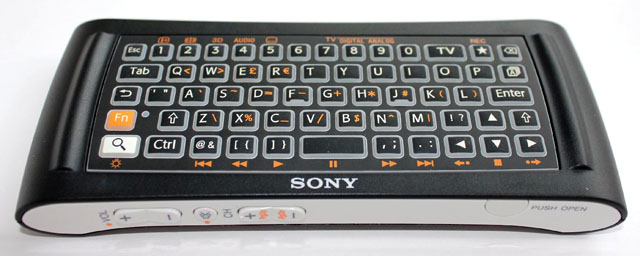 Qwerty remote...
Bizarrely this multi-purpose doofer has been denied an integrated microphone, an embellishment reserved for the upcoming Google TV Blu-ray player, the NSZ-GP9. Sony says it has released the API for the two-faced remote and remains hopeful developers will develop novel applications for it.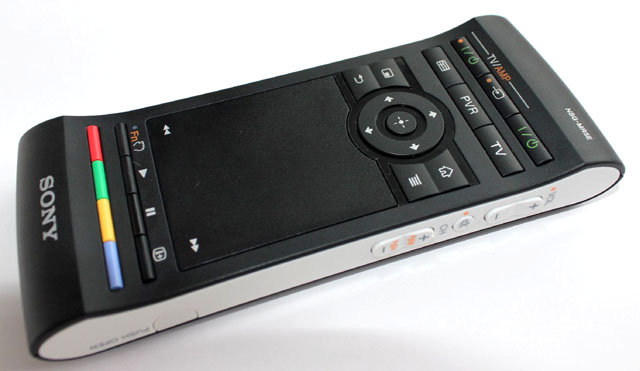 ...and the touchpad alternative on the other side
The box itself features two HDMIs (in/out), an optical digital audio output, Ethernet and twin USBs. It's a fan-less design and therefore silent, however it does run hot, despite the vented sidepanels. Average power consumption is 8.5W, dropping to 7.3W in Quick Start standby. If you're prepared to wait for the box to boot, full standby drops this to 0.7W. If you don't have an Ethernet feed, there's Wi-Fi available.

Back panel interconnects feature the basics
The power beneath the Google TV hood is provided by a Marvell Armada 1500 processor. This dual-core multimedia-friendly SoC incorporates a Qdeo video processor, responsible for upscaling and 3D video duties. It also enables the NSZ-GS7's picture-in-picture functionality; one core handles the web, the other live TV. Image quality is excellent. Not only is the 1080p UI crisp, but streaming videos are low on compression noise.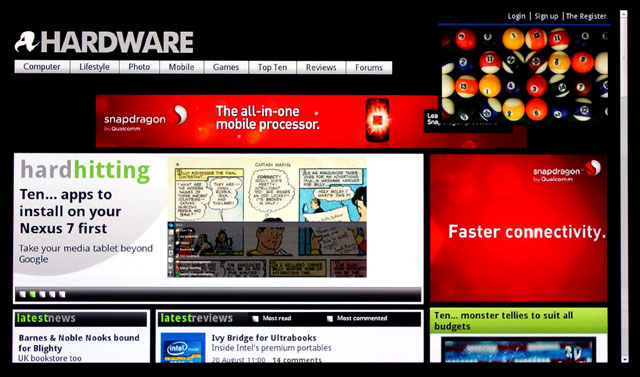 Picture in picture: web browsing with TV in the top right, although this image can be repositioned
The Google TV box has no hard drive, but there's 8GB onboard for app storage and miscellaneous detritus. It runs an HD TV optimised version of the Android Honeycomb OS, but that doesn't mean you have full access to everything in the Google Play store.
Killer apps?
Set up proves surprisingly painless, with the box stepping the user through the entire process. The NSZ-GS7 is intended to sit betwixt a set top box – be it a Freeview PVR or subscription service – using the HDMI loopthrough. When powered down, the connected HDMI source just routes straight through to the TV. Turned on, Google TV can be called up, from the Home button, as an overlay. It's a nifty way to add Internet Smarts to older TVs and dumber devices.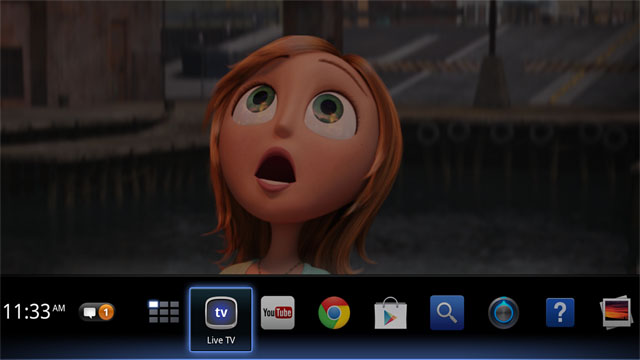 Home screen overlay
The NSZ-GS7's resident USB media player is fast and efficient, offering wide support for codecs and file containers. MKV, FLAC, AVI, WMA, WMV, AAC and WAV are all welcomed, while MP3s playback with album art. For network playback from NAS or PC you'll need to grab an app from the Play store - free download aVia works well enough.
Unfortunately, it's as a software platform that Google TV hits the speed bumps. Currently, there's just not enough available to really warrant serious investment. Sure the YouTube implementation is probably the best there is – fast and graphical, with flowing thumbnails to browse. The IMDB app is also fine, working beautifully on the big screen and delivering very high-quality video trailers. Beyond that though and you'll struggle to find compelling applications.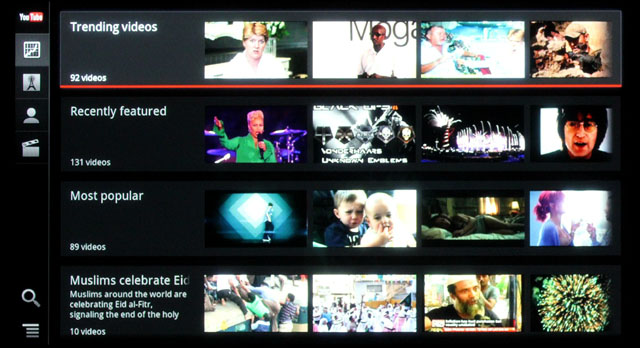 YouTube on Google TV
There are Google TV optimised Redux (TV) and Qello (music) video subscription services, plus legacy apps from the platform's first outing, including CNNMoney, CNBC, Wall Street Journal. Netflix looks just like it does everywhere else, while those running a PLEX media server might want to pay for a Google TV front window. For a product which comes with so much expectation, it borders on boring.
Perhaps mortally in the UK, there are no dedicated catch-up apps. Google confirms that a dedicated iPlayer is in development, but in the meantime you'll have to use the regular web iPlayer. Ditto other TV channel services. It quickly becomes apparent that Google TV relies a little too heavily on its web browser to fill the content vacuum.

Chrome here functions just like any PC-iteration, offering full-fat access to all websites. The difference is that you can have a live TV PIP window running on the screen simultaneously.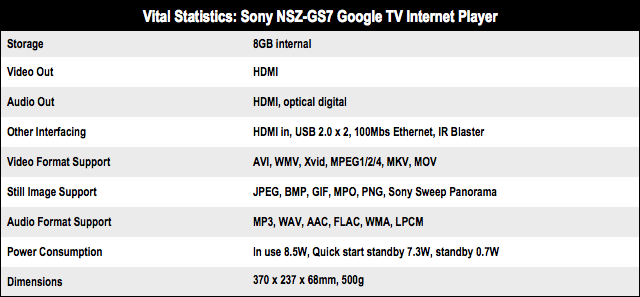 Garden pleasures
Sony, of course, curates its own online walled-garden on TVs and Blu-ray players, the Sony Entertainment Network. And indeed there's an icon for it here. However, this only connects to the company's movies and music on demand services, Dailymotion and a couple of Z-grade streaming services. You'll find a better selection of content on its own hardware.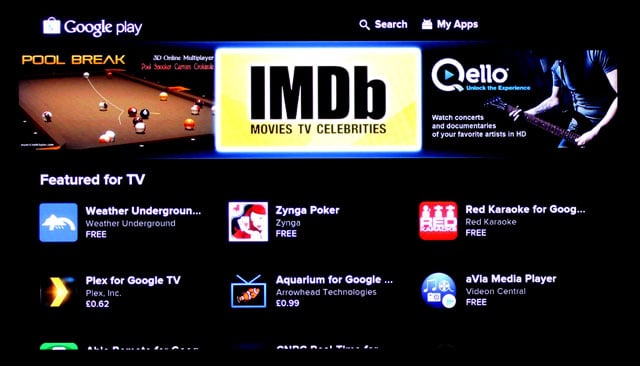 Google Play store access from the set top box
Obviously, more content is inevitable, but will the system attract anywhere near the level of development that the main Android ecosystem enjoys? Google TV's head of global distribution Suveer Kothari is optimistic. He insisted at a pre-launch confab that "a host of applications would be forthcoming, including a rash of multi-screen gaming apps." He may well be right. But buying into Google TV right now still represents a leap of faith.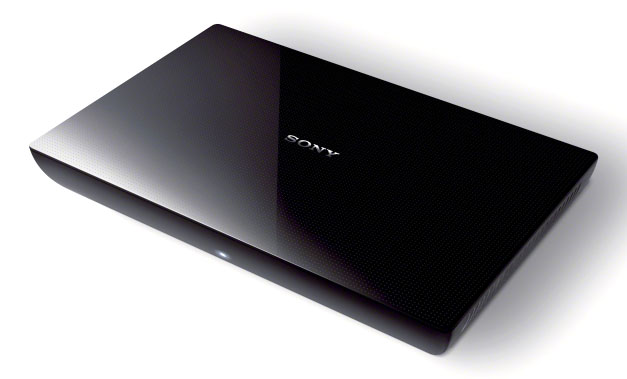 Mix and match: Google TV has some way to go before it replaces alternative content portals and broadcast sources
Verdict
Overall, Sony has produced a powerful, well-equipped internet-enabled media player here, and the applications dedicated to the Google TV OS are slicker than a Brylcreemed ferret. But the fact is Google TV's open internet still looks pretty barren when compared to the playing fields available behind the closed doors of Panasonic's Viera Connect portal or Samsung's Smart Hub. ®
More AV Reviews

Ten... monster TVs
for all budgets
Build a bonkers
Hi-Fi
Humax
YouView DTR-T1000
IPTV Freeview PVR
Apple TV
2012
Ten... Freeview HD
42-47in TVs