Original URL: https://www.theregister.co.uk/2012/08/24/pierogi_patatas/
Post-pub nosh deathmatch: Pierogi versus patatas revolconas
Polish pastry squares up to Spanish spuds
Posted in Science, 24th August 2012 09:00 GMT
Now that the dust has settled on the ultimate sliced-pork butty controversy - a furious debate prompted by our Bauernfrühstück v bacon sarnie deathmatch - we feel it's time to crack a few cold ones and head out into the sunshine for another culinary clash of titans.
We've been enjoying a particularly fine summer over here at the SPB's mountaintop headquarters, so we decamped from our usual kitchen in Bar Almanzor, in my local town of El Barco de Avila, and set up shop in the countryside to knock up the latest post-pub delicacies to go head-to-head: pierogi and patatas revolconas.
Before explaining just what those two dishes are all about, though, we'd like to offer a couple of snaps of the agreeable setting for this deathmatch: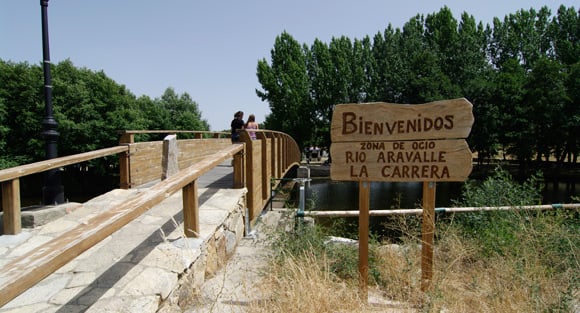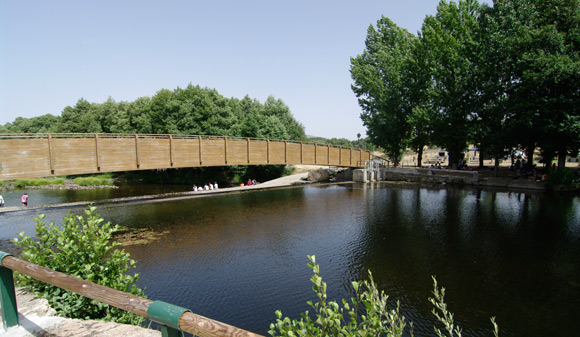 Close to the River Aravalle, as seen above, is the Chiringuito de La Carrera, a chiringuito being a beach or riverside bar, and La Carrera being the village closest to this haven of peace and ice-cold beers.
If you think it looks deserted on the Saturday lunchtime this snap was taken, think again. It was a balmy 36°C in the shade, which is where all of the punters had taken refuge.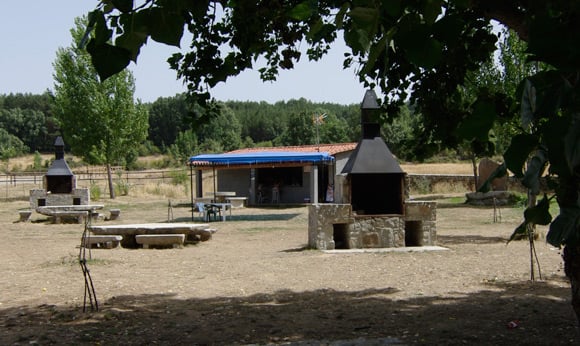 Our hosts were (left to right) Cristina Moreno Rubio, who runs the chiringuito, and her mum and dad Maria Jesus Rubio Hernandez and Angel Moreno: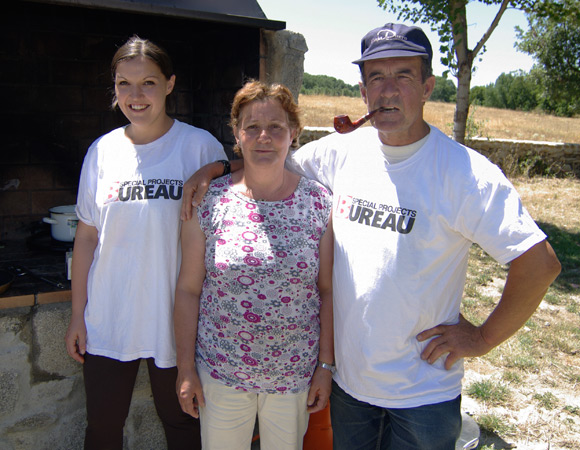 The usual thanks to them for lending a hand with the pierogi and patatas revolconas, and an extra round of applause for Angel, who enthustically embraced the boffin pipe concept.
So, on with the show. The pieróg is a Polish snack comprising a pastry envelope containing, traditionally, a mashed potato filling. Since you're never going to knock up just one pieróg, the dish is commonly known by the plural pierogi.
Other potential fillings include stuffing your pierogi with mash plus cheese, or perhaps spinach, mushrooms, sauerkraut or meat. You pays your money and you takes your choice, although we decided to go for the potato and cheese variety.
This pierogi variant is popular in the US and Canada, where it's often served with fried onions and/or a side of sour cream. The sour cream makes perfect sense, because you'll need some for the first part of the preparation process: making the dough.
Roll up your sleeves then, and assemble...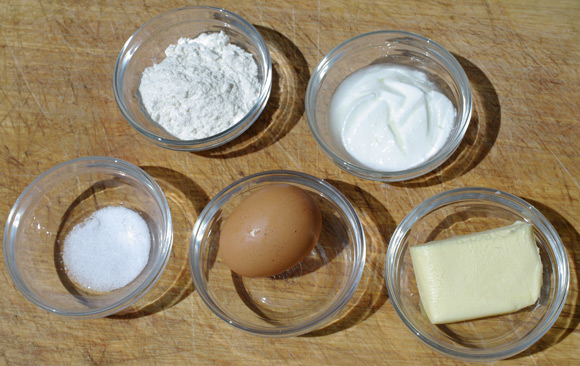 ...250g plain white flour, 70g sour cream, 60g butter, 1 large egg and half a teaspoon of salt - which will give you enough dough for around 12-15 pierogi.
Since we couldn't find any sour cream locally, we made our own by sticking a couple of tablespoons of live natural yoghurt into 100ml of cream, and leaving it for a day at around 24°C, until it solidified. After a couple of hours in the fridge, to stop the reaction, it was ready to roll.
Preparing the dough is simply a matter of mixing the flour and salt, then adding the beaten egg, softened butter and sour cream and kneading until the dough loses its stickiness...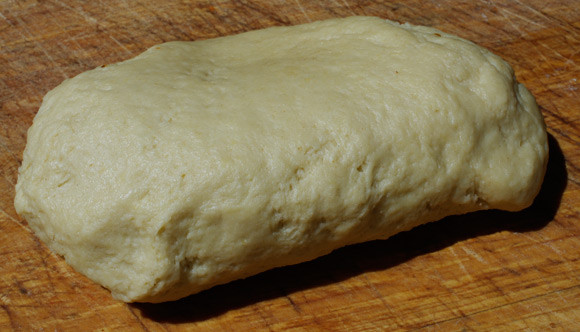 Wrap the result in clingfilm and stick it in the fridge for at least 20 minutes (overnight is better, we've found), and you're all set up to proceed to the main event.
Here's our traditional step-by-step photo guide to making the pierogi filling, for which you'll need two or three large spuds, half an onion and around 100g of grated cheese (type and amount according to taste, basic cheddar works fine)...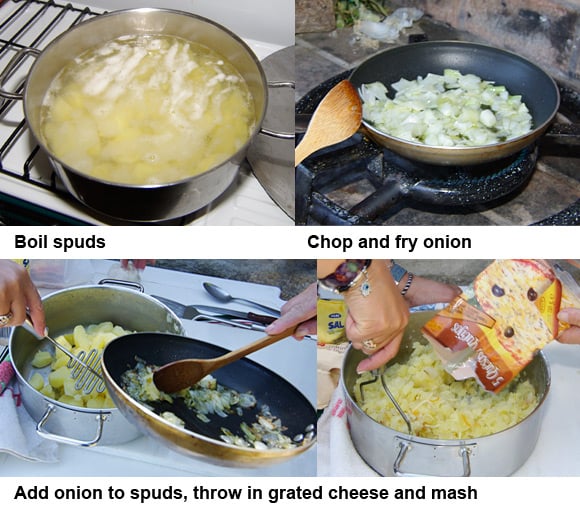 ...and once you've cracked that hardly challenging task, you can get stuck into the next bit: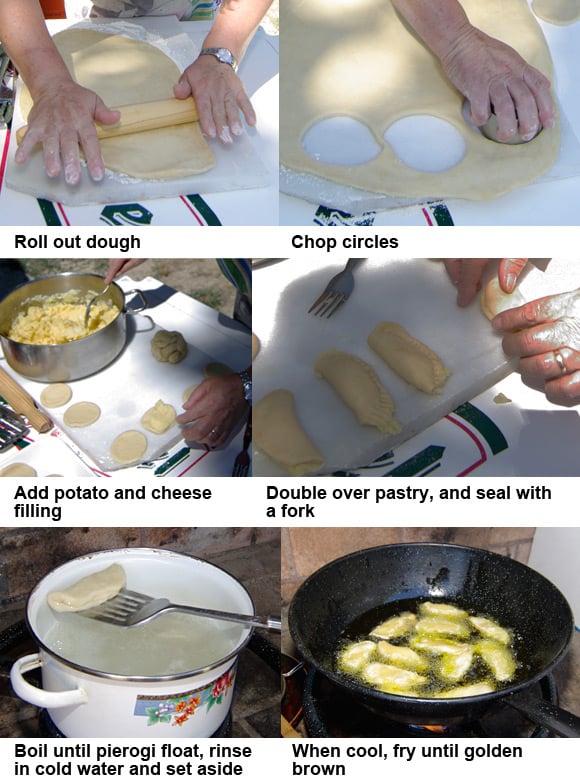 Sorted. If you've prepared your dough properly, the envelopes should seal with just some light fork action. If it's a bit dry, moisten the edge with water to help it stick.
With the pierogi done and dusted, and the lunchtime chiringuito punters starting to show keen interest in the prospect of some free nosh, we got straight down to the patatas revolconas.
Translating rather uninspiringly as "mashed potatoes", patatas revolconas are just that, albeit with the addition of garlic, paprika and some crispy fried panceta.
You'll recall that we deployed panceta (thick-cut streaky bacon) as part of our mealy pudding versus migas showdown. It's a bit of staple here in the province of Avila, so it's no surprise it pops up in this classic local dish.
In this case, we whipped out some panceta adobada ("pickled bacon"), which has - in unsliced slab form - been doused in salt for two or three days, then coated in paprika and semi-cured. Here's a snap to get your juices flowing...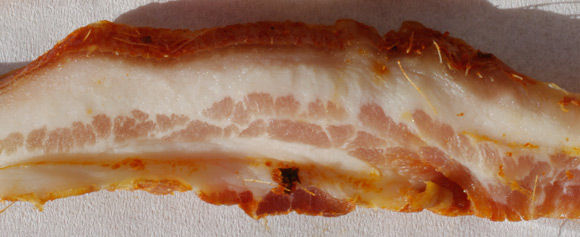 For your patatas revolconas, you will also need...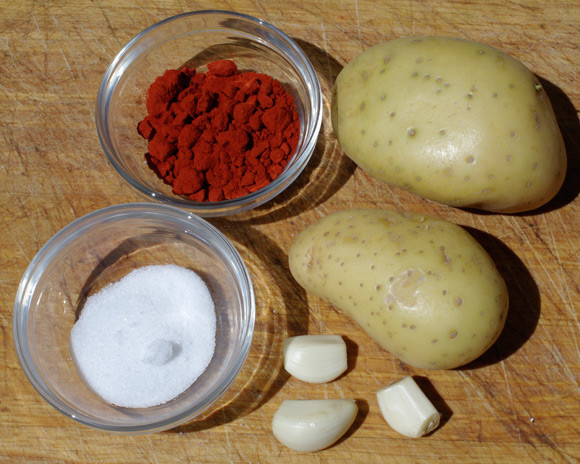 ...5kg of potatoes, 100g paprika, 40g salt and 3-4 cloves of garlic. Note that these quantities are for a ravenous, beer-fuelled mob, so scale down as required.
A couple of notes. The paprika seen here is mostly pimentón dulce (mild paprika) with a teaspoon or so of pimentón picante (spicy paprika). Add more or less of the latter according to taste.
The amount of salt the Spanish throw into patatas revolconas is enough to give your doctor serious palpitations, were you foolish enough to mention it to him while he's taking your blood pressure. Personally, I'd cut it by half, or more...
Onwards. Here's how you make patatas revolconas: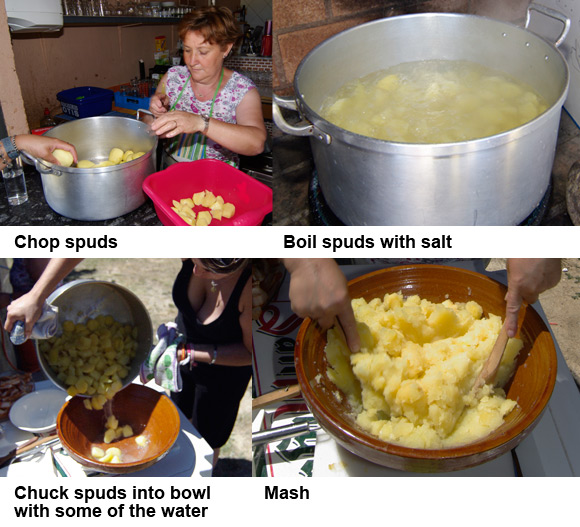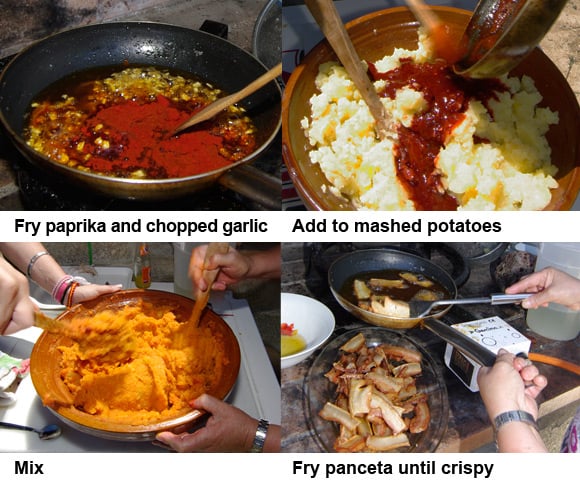 It's important not to have the potatoes too dry. Keep some of the boiling water handy in case you need to add a tad to keep things moist. Patatas revolconas come with small lumps of potato in the mash, so avoid ending up with a purée.
Just slap the mash onto a plate, stick some of the fried panceta into the top, and you're ready to roll.
And here, ladies and gentlemen, are both finished dishes, presented for your dining pleasure by guest waitresses Claudete Fernandes Barbosa (left) and Marcela Rementería Pérez: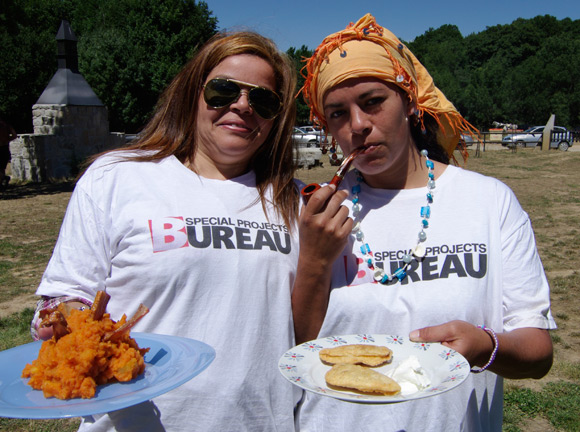 As with all deathmatches, which dish takes the post-pub crown depends on the palates of our judging panel. Some local chaps, suitably fuelled by a robust intake of beer, were on hand to try out the pierogi...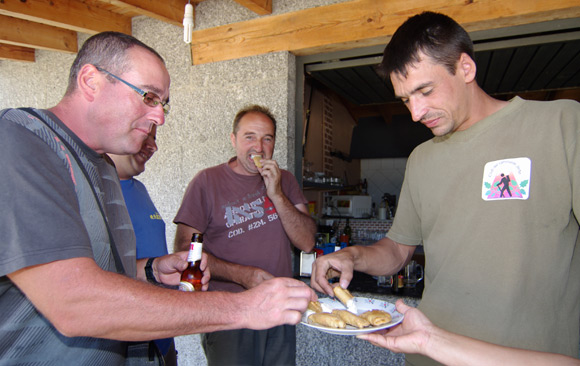 ...although one whippersnapper was having none of it (serious allergy to cheese, he unconvincingly claimed):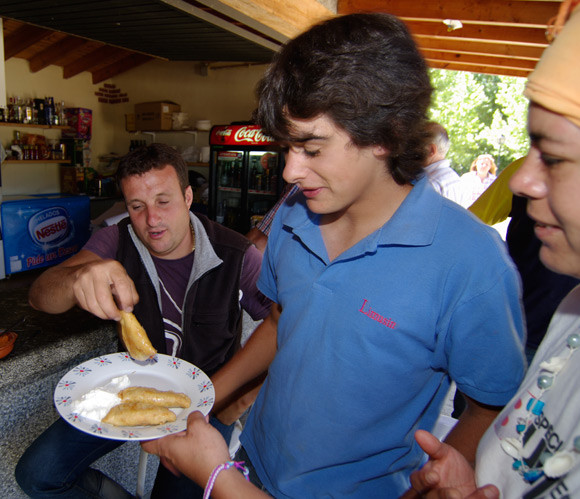 It was a taken that the Spaniards would give the thumbs up to the patatas revolconas, and indeed the five kilos of spuds were gone quicker than you could say "sodium overdose".
We were rather more interested in the reaction to the pierogi, and here are some young 'uns giving them a go: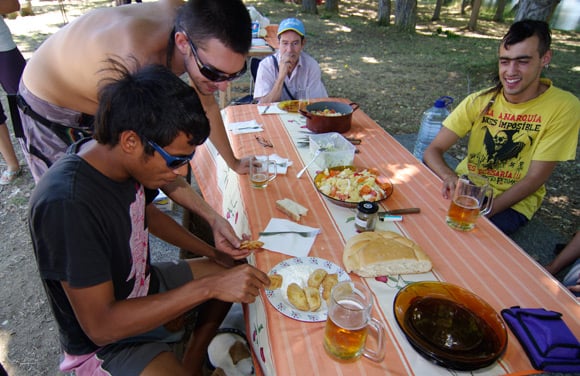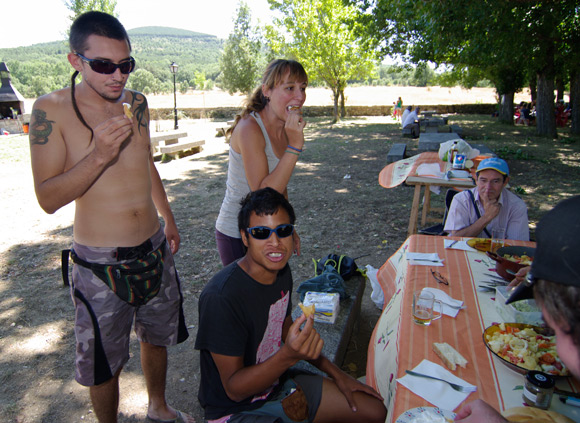 The verdict? Try this: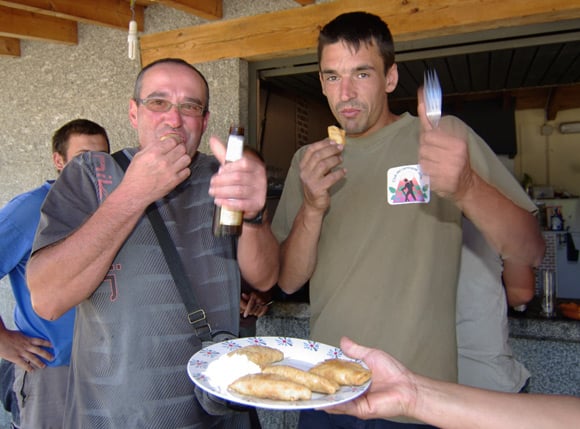 All in all, a complete success, with our tasting panel seriously impressed with Poland's finest.
Accordingly, and weighting the result to take into account Spanish bias towards patatas revolconas, we're awarding this deathmatch to pierogi. Na zdrowie! ®
Bootnote
To get down to the Chiringuito de La Carrera from the main road heading out of El Barco de Avila, you have to cross a cattle grid and drive down a dirt track.
You can just about see the turning and grid on the right of this Street View snap: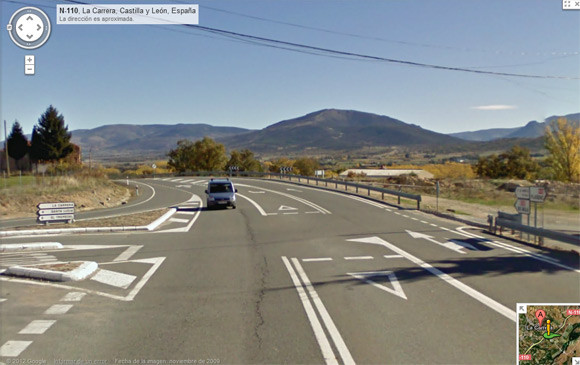 The sinister grey van captured behind the Great Satan of Mountain View's Orwellian black Opel is mine, snapped by the all-seeing eye as I pursued the Google spymobile back in November 2009.