Original URL: https://www.theregister.co.uk/2012/08/23/review_samsung_galaxy_beam_android_smartphone/
Samsung Galaxy Beam Android projector phone review
Putting on a display
Posted in Personal Tech, 23rd August 2012 07:00 GMT
Samsung's first Galaxy Beam, the GT-i8520, was a tremendously thick, heavy and expensive handset that very few bought. Having had a rethink, the company is now trying the whole smartphone-with-a-projector idea again with the GT-i8530. Essentially, this handset amounts to a Galaxy Advance S with a Digital Light Processing projector shoved in one end.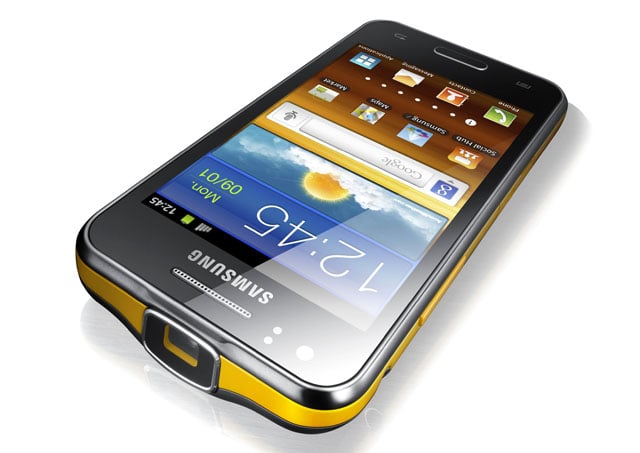 Projected thinking: Samsung's Galaxy Beam
To get the déjà vu stuff out of the way, the new Beam packs a 4in 480 x 800 screen, a 1GHz dual-core CPU, 768MB of RAM, 8GB of storage, 1.3Mp and 5Mp cameras and a microSD card slot. If you want to know how all that looks, feels and runs check out the review of the Galaxy S Advance.
The only difference worth mentioning is that the AMOLED screen has been replaced by a slightly less bright and colourful LCD unit. Like the Advance, the Beam runs the somewhat dated Android 2.3.6 Gingerbread OS, rather than Ice Cream Sandwich and given that we're now into August 2012, this really isn't good enough, despite the enhancements of Samsung's TouchWiz overlay.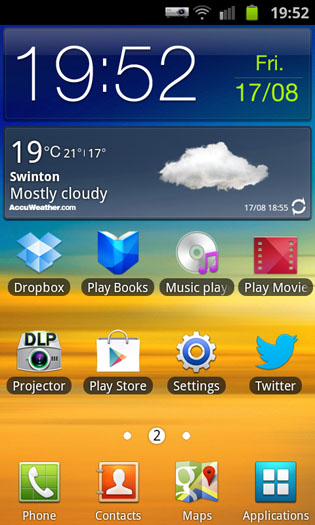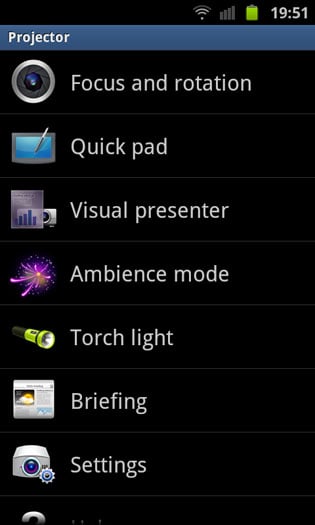 TouchWiz home screen and projector menu options
Stuffing a projector up its jaxy has naturally had an impact on style, size and weight. Physically it looks like the mutant offspring of a smartphone and a Mini Maglite, while at 12.5mm thick and 145g it's both thick and heavy by modern smartphone standards. Like the S Advance, it's has an all-plastic construction but feels well enough screwed together.
Above the on/off button is a dedicated hardware key that enables you to activate the 15-lumen projector no matter what else the phone is doing and instantly project whatever is on the screen at a resolution of 640 x 360. That's a 16:9 aspect ratio compared to the physical display's 15:9 but you'll be hard pressed to spot the difference.
Chunkier and with two batteries to boot
Once the projector is on, a dedicated menu appears so you can adjust the focus and orientation of the image. Launch Quick Pad too and you can doodle on the screen with your finger and thus also on the projected image. You can bring up this menu at any time by just tapping the projector button all of which makes the Beam a cinch to use.
Presentation package
Samsung claims that at a 2m distance the image is the visual equivalent of a 50in telly, which I'd say is a fair enough description. However 15 lumens isn't the sort of brightness to melt tarmac, so to get the best out of it at that sort of distance you'll need to be in a pretty dark room. In brighter conditions, you'll need to stand closer to the screen to be able to see much.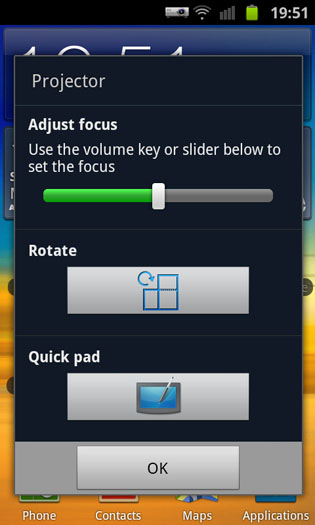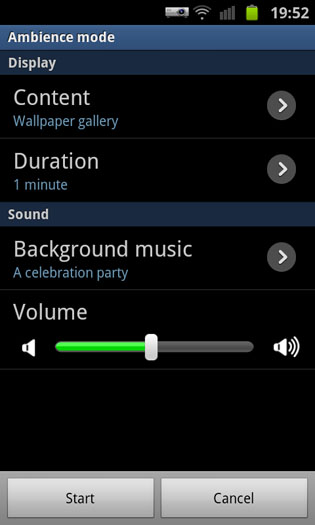 Projector controls and ambience options
Amongst other stuff I beamed the Reg website and Pixar's Up onto a beige wall in a room with the blinds drawn and from a distance of about 2m everything looked pretty good. I also beamed a Google map onto the wall of a pub and drew directions on it freehand to the nearest curry emporium, much to the amusement of my friends.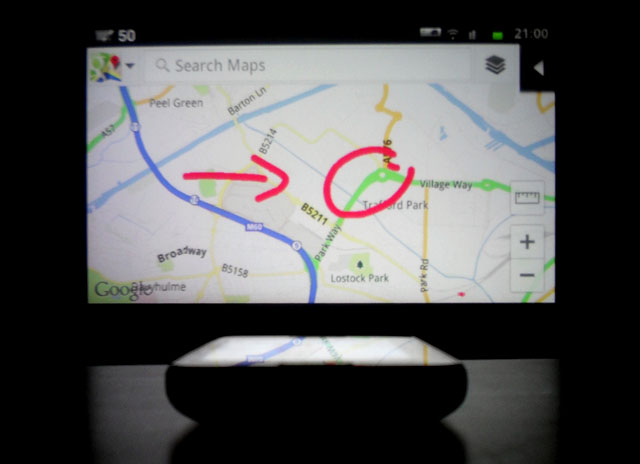 Curry favour?
The projector app is clever enough to always show videos in landscape but you can manually change the layout if required. The speaker is loud and composed so your audience can hear as well as see what is going on and the bundled earphones are conspicuous by their quality.
Launch the Visual Presenter feature and both the rear-facing camera and the projector run simultaneously turning the Beam into a handheld overhead projector. Like video projection this automatically displays in landscape which is more convenient when trying to write on the display using the Quick Pad. To get the best out of the Visual Presenter some sort of mount is advisable but you can get away with using it freehand.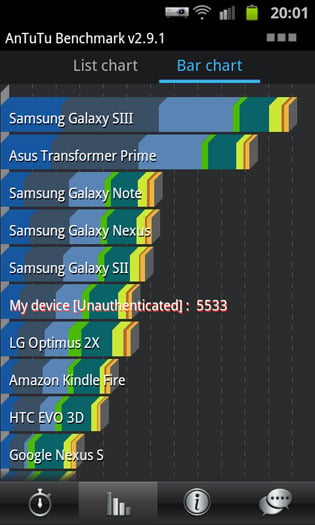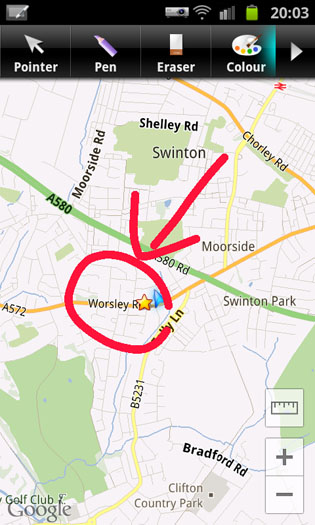 AnTuTu scores and Quick Pad doodles on screen and projections
To cope with the not inconsiderable power demand of the projector Samsung bundles the Beam with two 2,000mAh batteries, one of which can recharged in the supplied stand. The stand doesn't charge the phone, though which seems a bit of a missed opportunity.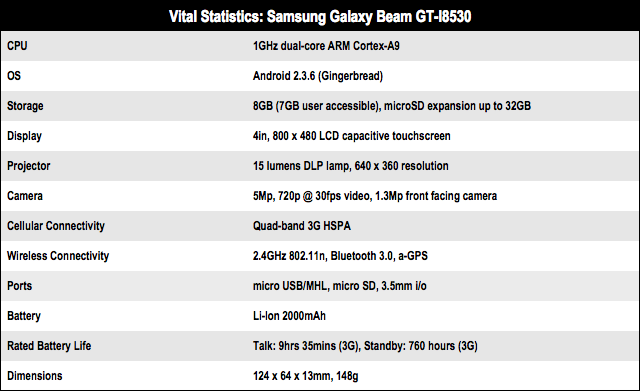 Ceiling whacks – NSFW?
You can also use the stand to hold the phone upright and beam images onto the ceiling, which raises all manner of hands-free possibilities. You can also project image and sound combos using any local media files. For instance, you can have a slideshow of your gallery pictures play to your own choice of musical backing.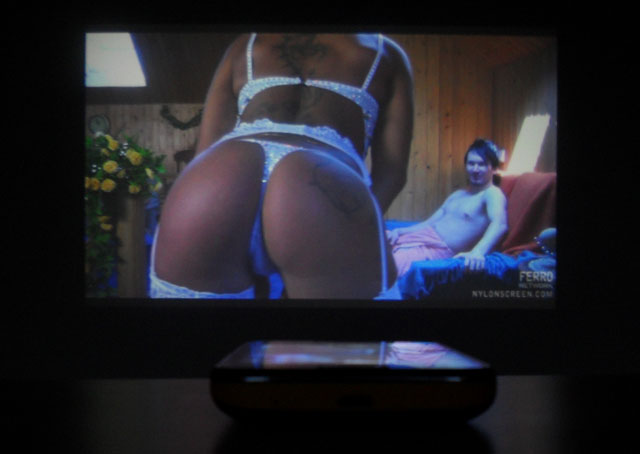 The real reason behind buying a Galaxy Beam
Each battery is good for around 3hrs of maximum brightness projector activity. Of course, if you don't use the projector, a full charge will keep you going for well over two days. Lest we forget, the projector makes one helluva torch – perfect for navigating that post-curry dark woodland path.
Showing directions from the boozer to the nearest curry house, midnight rambles and a crafty hand shandy aside, I can't actually think of that many real world situations in which I'd want to use the Beam. But if you can't think of any either you probably won't consider buying one to start with.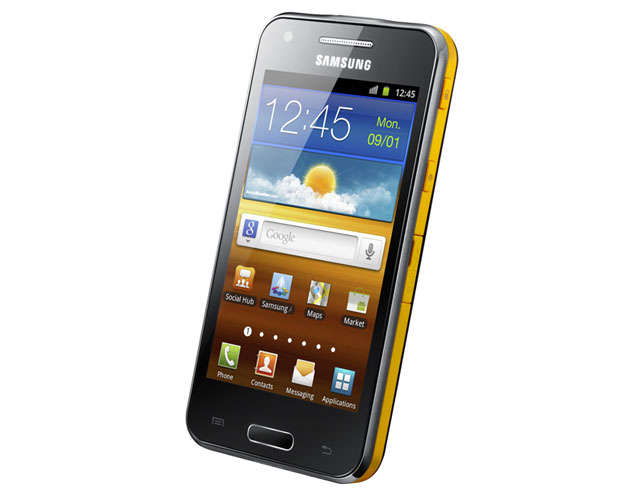 Second coming: Samsung's latest Beam is an appealing idea but do you really need one?
Verdict
While the projector part of the handset works rather well, the Beam is much more expensive than the otherwise technically similar Galaxy S Advance. It also has an LCD rather than AMOLED screen and is still lumbered with Gingerbread. Granted, if you want to turn your iPhone into a projector you need to cough up around £150 for a decent adaptor like Aiptek's MobileCinema i15 but at least you can remove it when not in use. ®
Thanks to Clove for the loan of the review sample.
More Android Smartphone Reviews

Huawei
Ascend P1
Sony
Xperia Go
Ten... Androids
for under 100 quid
LG
Optimus 4XT
Samsung
Galaxy S III