Original URL: https://www.theregister.co.uk/2012/08/21/review_game_darksiders_ii/
Darksiders II
Cower, brief mortals
Posted in Personal Tech, 21st August 2012 07:00 GMT
Review Typically, the only death I have any time for in my life is Terry Prachett's characterisation of Death and his constant fascination with humanity's foibles. Unsurprisingly, the Death of Darksiders II is a different incarnation altogether, a less bleak and more blood thirsty kinda guy.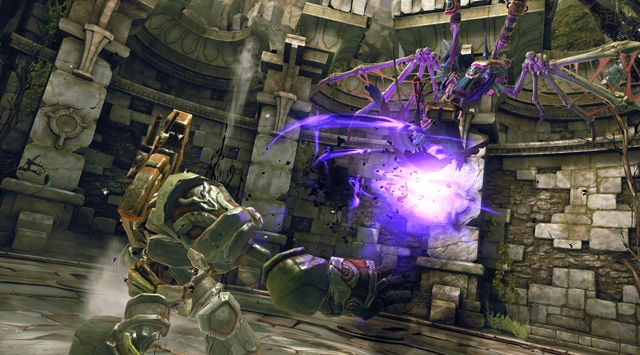 Purple blaze
Life's not easy for the Four Horseman of the Apocalypse. War has somehow been duped into bringing about Armageddon early, something I personally thought he would have got brownie points for. I play his sibling Death (we've all been there) and I need to clean up the mess and restore humanity and my brother's name. So lots of stuff dies, which is hardly surprising given I've reaping the grim rewards of playing, er, Death.
Even though it's had to get to grips with a man in a mask I already have a soft spot for the Reaper Man not least because of the voice acting. Ever since Michael Wincott's star turn as Top Dollar in The Crow I felt his husky voice has been under used and his portrayal of Death sends shivers up my spine.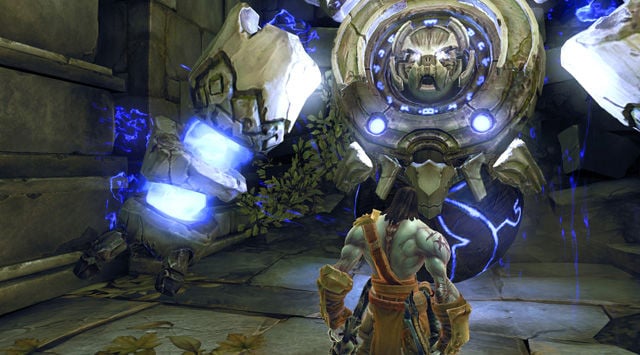 "Help, I have my head stuck in a toilet bowl"
I could now list the games that Darksiders II reminds me of, but does it really matter if it's a homage, parody or just plan derivative? The bottom line is it's probably a mix of all three plus a knowing wink but that doesn't make Darksiders II any less fun. It's a powerhouse of demanding puzzles interspersed with gymnastic gameplay and gory combat.
I wasn't a fan of the original Darksiders for countless reasons, but mainly due to it being dull with War was firmly rooted on earth, a broken and tattered landscape. Darksiders II sees Death roam an epic vista. Blizzard should be envious of this massive magnificent killing floor of colour and light, which somehow adds to the sense of decay and despair. This is a much more open world than its predecessor, which positively encourages exploration.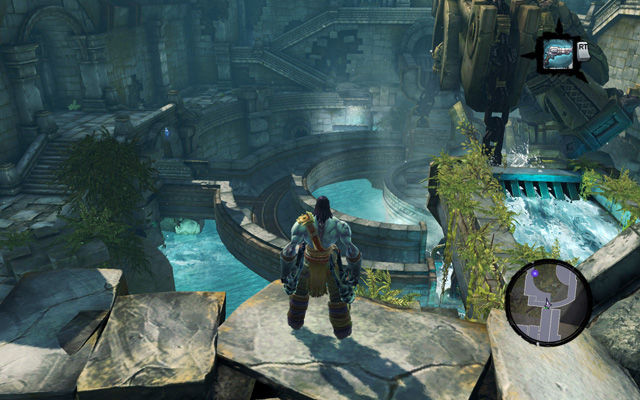 Dam, looks a long way down
For a landscape this big I'll need a horse. Luckily, Despair – rather than Discworld's Binky – my equine of euthanasia can be summoned at the press of a button. Also, fast travel helps by selecting a destination and I am then spirited there quickly.
Fingering skills
This level of visual detail is matched by the depth of lore that complements the narrative. This Sistine Chapel of a story line never tries to appeal to the lowest common denominator. Yes, there's some plot holes but I was having too much fun to moan.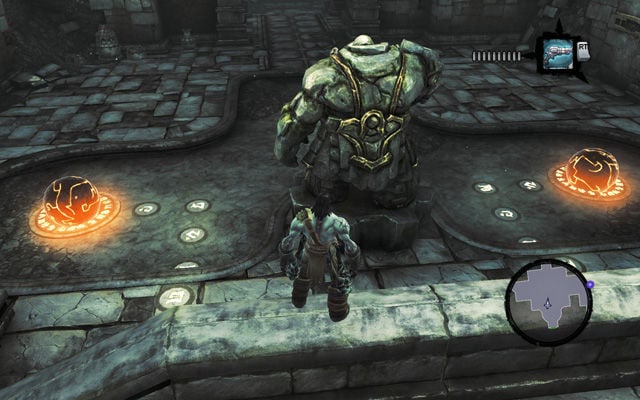 Death wasn't far behind
I learn more about Death as a character and the ancient lore of the world around me by taking the time to interact with the games countless inhabitants and taking part in their numerous side quests.
I earn skill points as I level up to spend in an abilities tree, which is split between Harbinger and Necromancer. I, of course, choose to put my points into Necomancer, which allowed me to summon ghouls who jump out of coffins and start kicking ass.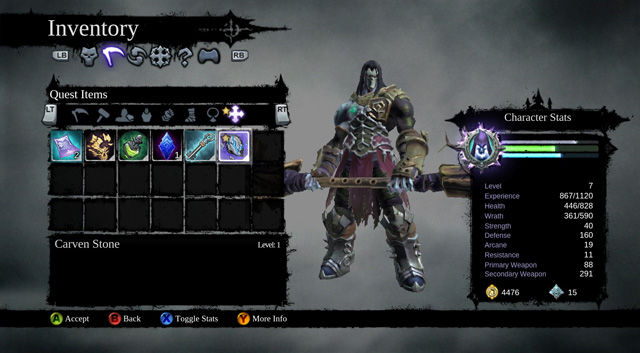 Bag it up
An intrinsic part of every RPG is that as you gain XP and your character develops, yet with only two skill trees, I felt I was unlikely to get a very unique character. That said, this may will only be a problem when it comes to Darksiders II's replayability. If I make a mistake in one of the two skills trees, I can always purchase a re-spec for a 1000 gold to investigate different special abilities.
What's Mort without his well worn scythe? While some may duel wielding two – which is just greedy – you'll find plenty of other secondary weaponry to equip with, including hammers and swords. I was a great fan of taking out those flying stinging pissants with my brother Strife's pistol and it also helped out in some quests and puzzle solving. I loved shooting bombs with that gun.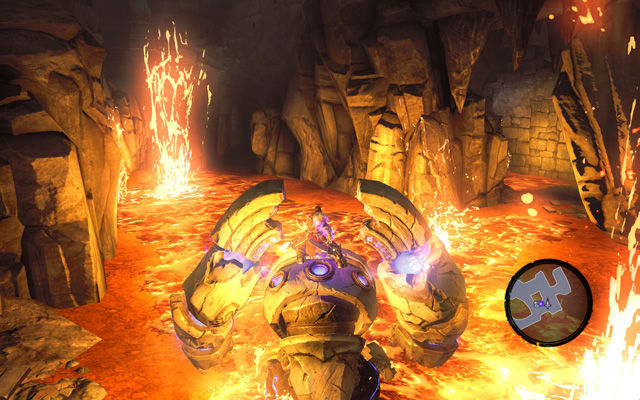 Burn the big one
Training in combat skills are purchased from the old maker Thane at The Forge and I could always fight him to check out my new special moves. The makers look like ridiculously oversized dwarves – a disappointingly unoriginal idea but, I have to admit, visually stunning. They give me my first set of quests to get The Forge up and running, which seems far too much like household chores for this girl.
Tension rising
Dungeon crawls are the solid foundations of Darksiders II. Compared to the extremely linear Diablo, these nooks and crannies are kept interesting with exciting puzzles and upgrades. In particularl, this reminded me of Tomb Raider but without any of the annoying falls. Indeed, these dungeons are never a grind.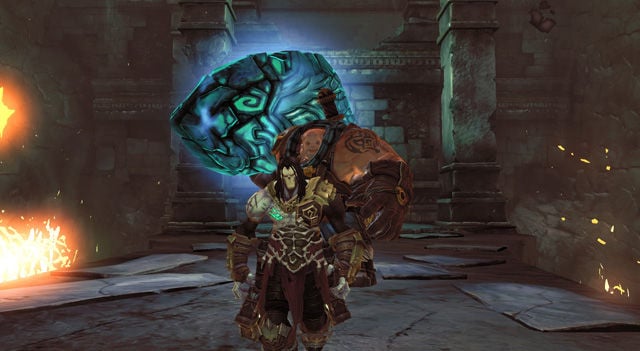 "That's some tumour, my gigantic friend"
When things get tough, Death can transform into his Reaper form by using Reaper meter points, but only for short amounts of time. Every boss killing blow is made in Reaper form, which is a marvellous visual effect. I also have a health bar complemented by a Wrath meter, which is used to perform special moves purchased by skill points.
Be warned: to avoid dying while getting ganked always involves a lot of dodging. To find more health pots and wrath potions, smash the pots because these are rarely dropped by enemies and cost a fortune to buy.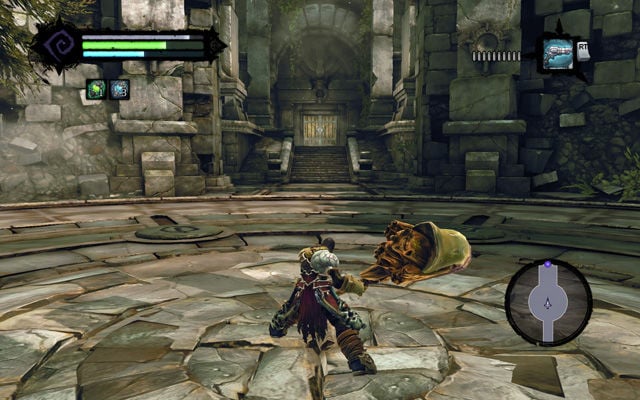 Time to go clubbing
While playing, I was constantly impressed by Vigil's dedication to create an extremely well balanced combat system that is diverse and rewarding, while also being tense and engaging. The addition of Arenas – where I can fight waves of enemies for rare items – adds a whole new sub-game within Darksiders II.
Ultimately, Darksiders II is enjoyable because it is familiar. When I know how combat and puzzle systems work, I can just get on with the job of killing stuff and having fun. It's like an invigorating new adventure with an old friend. Vigil has done well to combine familiar bits and pieces into a stunning new experience. Intuitive and, ultimately, user-friendly movement makes game play a pleasurably smooth experience.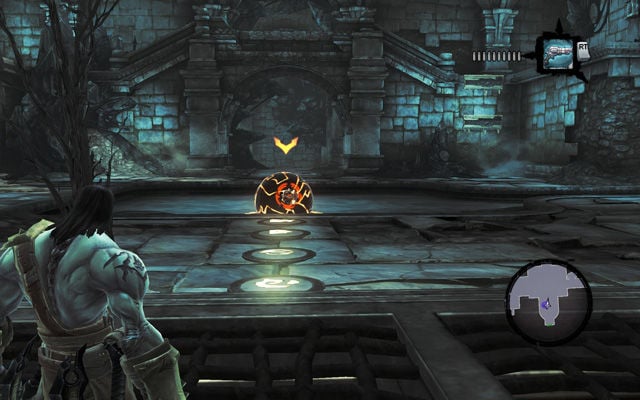 Powered by Shell
Verdict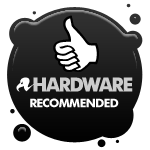 An example of action RPG at its finest, losing yourself is easy in Darksiders II. Every area had a surprise to savour and filled me with excitement as I battled through hordes of enemies. This game surpassed my expectations and now I'm just counting my days till Mists of Panadaria (cough cough) I mean Darksiders III appears, but this is going to be a hard act to follow. ®
More Games Reviews

Lollipop
Chainsaw
Ghost Recon:
Future Soldier
Max Payne
3
Diablo III
Prototype 2