Original URL: http://www.theregister.co.uk/2012/08/20/review_ivy_bridge_for_ultrabook/
Ivy Bridge for Ultrabooks
Inside Intel's premium portables
Posted in Laptops, 20th August 2012 11:00 GMT
The one thing missing at the launch of Intel's Ivy Bridge CPU technology was detail on the dual-core and lower powered chips for the mobile market segment, in particular, for its Ultrabook concept. The recent launch of the ULV (Ultra Low Voltage) and dual-core standard voltage mobile Ivy Bridge parts has revealed all, with the ULV parts being of particular interest to Ultrabook manufacturers.
To put the latest technology through its paces, I have an Intel badged Ultrabook – it must be, it says so on the lid – but before you rush down to the shops to try to put in an order for it, don't bother. It's not a retail product, just a proof of concept to tout the new mobile Ivy Bridge technology and show how a second generation of Ultrabook might perform. Early signs suggest some very nice kit will see the light of day in the coming months.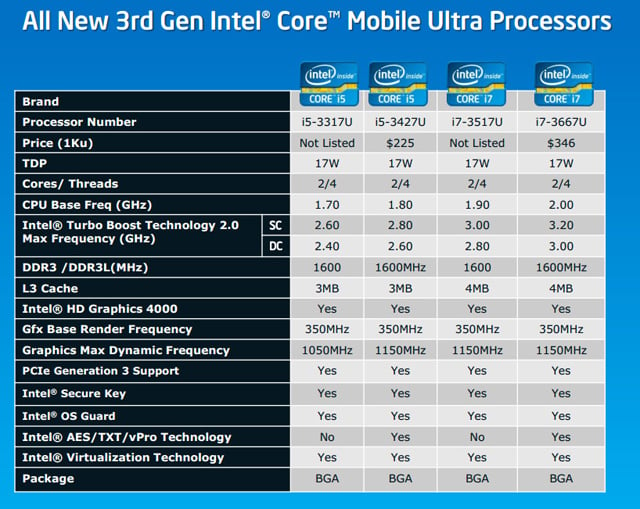 Intel Ivy Bridge Core i mobile Ultra processors roadmap
Before I get into the Ivy Bridge Ultrabook experience, let's take a look at the mobile processors available for this third generation Core i-series. The new ULV (Ultra Low Voltage) CPUs are dual-core, four thread 22nm processors.
The current line-up features of two Core i7 offerings: the flagship i7-3667U (2.0GHz base clock, 3.2GHz single core Turbo, 3.0GHz dual-core Turbo) and the i7-3517U (1.9GHz base clock, 3.0GHz single-core Turbo, 2.8GHz dual-core Turbo). The two Core i5 chips are the i5-3427U (1.8GHz base clock, 2.8GHz single-core Turbo, 2.6GHz dual-core Turbo) and the i5-3317U (1.7GHz base clock, 2.6GHz single-core Turbo, 2.4GHz dual-core Turbo).
All four ULV CPUs have a TDP of 17W, with the two Core i7s having 4MB of L3 cache, while the two Core i5s have 1MB less at 3MB. All support a maximum memory speed of DDR3-1600 and all use Intel's HD4000 GPU graphics clocked at 350/1150MHz – the exception being the i5-3317U which is limited to a maximum of 1050MHz. For business users, the i7-3517U and i5-3317U processors might be the ones to avoid as they have neither vPro nor Intel Trusted Execution Technology support.
Variations on a theme
There are no new chipsets launched with these CPUs, so the 7-series mobile chipsets announced at the time of the original Ivy Bridge CPU launch will be the companion chipset with the ULV processors. The UM77, with its TDP of 3W and average power consumption of 0.84W, is the most likely chipset to find its way into Ivy Bridge Ultrabooks. However, what enables the UM77 to achieve its TDP is a lack of support for VGA or LVDS outputs, and only 4 PCI-E 2.0 lanes in the chipset itself.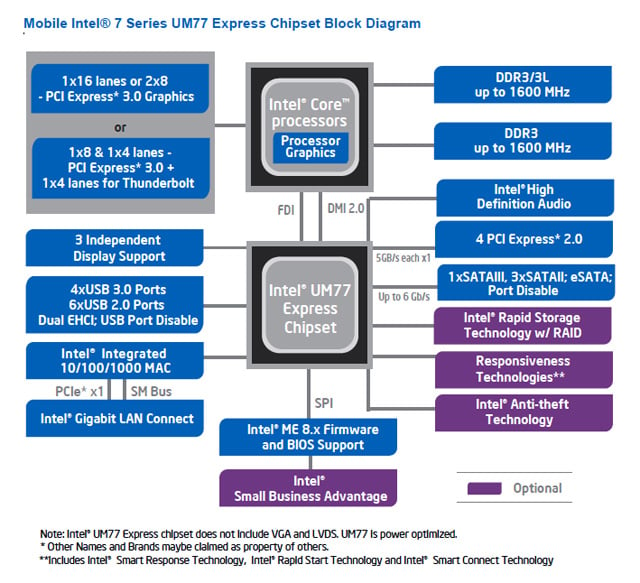 Intel Ivy Bridge UM77 mobile chipset
Also launched at the same time as the ULV processors were four standard voltage (35W) dual-core/four thread chips. Yet only recently arrived on the scene, and aimed at low end Ultrabook, is the ULV Core i3-3217U, a dual-cored chip with a clock speed of 1.8GHz and no Turbo Boost. It has a 17W TDP with the HD4000 graphics running with a base clock of 350MHz and a dynamic maximum speed of 1.05GHz.
Bringing Ivy Bridge to the Ultrabook party also means that these systems will be DX11 capable due to the HD4000 graphics core. The company mantra remains: ultra responsive, ultra sleek and long lasting – as highlighted in the original specifications. There are only a few changes, for instance the new generation Ultrabook's must provide either USB 3.0 (integrated in the 7-series chipsets) or Thunderbolt support.
Yet, as before, the target response time – from very deep sleep state (S4) to full use from the keyboard – is set at less than 7secs, with wake from sleep mode faster still. The battery life of at least 5hrs remains and the thickness must be 18mm or less for models with a display under 14in, and 21mm for units with a screen over 14in. Yet whether a product with a screen larger than 14in can still be called an Ultrabook, is a moot point.
So here I am with a 13.3in Core i5-3427U Ivy Bridge Ultrabook backed by 4GB of DDR3-1600 memory – some of these Intel systems have been seen with 8GB – and a 240GB Intel 520 SSD drive and a 1600 x 900 display. An impressive specification which, if available over the counter, would make this particular Ultrabook pretty high end, with a price tag to match.
PCMark 7 Benchmark Results
Intel Ivy Bridge Ultrabook and Sandy Bridge models compared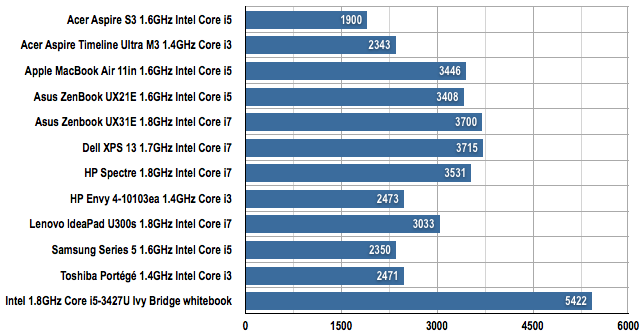 Longer bars are better
This combination in such a slim-line unit delivers a performance that puts every other Ultrabook I've tested into the shade by quite some margin. Tests with PCMark 07 notched up an overall score of 5422, which even beats some standard form Core i7 notebooks. Indeed, this model certainly feels zippier than earlier Ultrabooks especially when opening and closing applications.
Game on
Given the HD4000 integrated GPU is DX11 capable I gave 3DMark11 a spin. Apart from the fact that the graphics hardware can actually run the benchmark, the scores are nothing much to shout about – Entry pre-set (1024 x 600) 1208; Performance pre-set (720p) 642; Xtreme pre-set (1080p) 205. For good measure I also ran a DX11 game, using the built in benchmark of the Aliens v Predators at the screen's native resolution, it returned an average frame rate score of 9.2fps.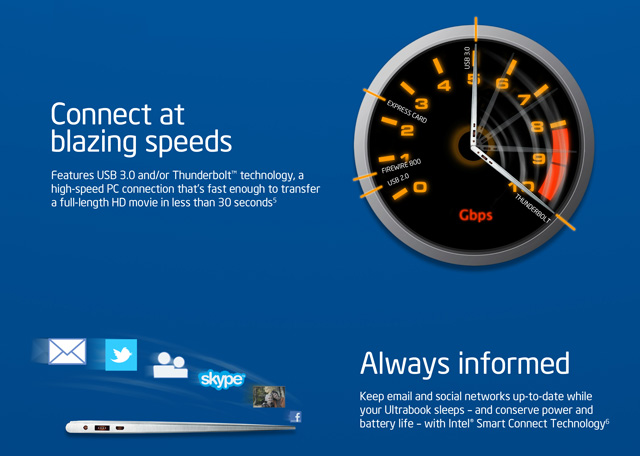 When pushed during benchmarking, especially the graphics tests, the unit's fan got really upset and became much more noticeable. However, this isn't a concern in a demonstration unit like this, as chances are, manufacturers will be able to profile the cooling more efficiently in retail units.
The six-cell 47Wh battery lasted well running Futuremark's Powermark suite, notching up 165mins (Balance), 266mins (Productivity) and 172mins (Entertainment). The scores reflect what you get without going too deeply into any power saving measures, apart from using Balanced power mode in Windows 7. Needless to say, with more severe power saving tweaks, it should run for a good while longer.
Getting the system back from hibernation took around 10secs – sure that's over the mark a little, but this isn't a production sample – while waking from sleep is under 2secs. You can also take advantage of Intel's Smart Connect Technology which periodically wakes the system up from sleep or standby mode to download e-mails and update your social network. The technology is even clever enough to alter the timings if the battery is getting low or if the unit is getting too warm.
The UM-77 chipset provides two USB 3.0 ports, one on each side of the chassis, although you might see some manufacturers offer a single USB 3.0 port and team it up with a Thunderbolt port. Indeed, it will be interesting to see how adoption of this new interface technology, beyond Apple, kit affects the price of Thunderbolt peripherals. Alas, this Ivy Bridge review sample was USB-only.
Verdict
By utilising the 7-series chipsets, this next generation of Ultrabooks offers more functionality than previously experienced and greater versatility too. As tests on Intel's demo unit highlight, having Ivy Bridge technology in the Ultrabook form factor gives it a substantial leap forward in terms performance over the first generation examples. That said, not all Ivy Bridge models will be so well-equipped and it remains to be seen how well the Ultrabook price premium plays out on lower spec machines. ®