Original URL: https://www.theregister.co.uk/2012/08/17/mcintyre_in_london/
McIntyre: Climate policy crippled by pointless feel-good gestures
CO2 is rising, so let's get busy with cheaper-than-coal low-carbon energy
Posted in Science, 17th August 2012 14:23 GMT
Comment Leading climate blogger Steve McIntyre says policy makers are failing to prepare the public for climate change and have become obsessed with "petty acts of virtuous behaviour" instead. He also told The Register that computer scientists should form "tiger teams" to produce engineering-grade analysis of climate models, to counter skepticism about the mathematical modelling.
McIntyre was on a rare visit to London and gave a talk at the Institute of Materials, Minerals and Mining, an event hosted by the Global Warming Policy Foundation. Ten years ago, the retired Canadian mining consultant tried to reproduce Michael Mann's Hockey Stick graph, which attempts to reconstruct global temperatures over the past millennium and featured prominently in a report by the UN's Intergovernmental Panel on Climate Change (IPCC) in 2001.
He began to record his progress and created a blog. This set in motion a sequence of events that ultimately led to Climategate, which cast doubt over the integrity of crucial data used by the IPCC to draw up influential reports on the planet's environment.
But anyone expecting fulminations against the climate establishment doesn't know his work. McIntyre is agnostic, and apart from some measured laconic asides, his talk was, like his writing, technical and practical.
Policy makers in the US and the UK are not guided by reality, thinks McIntyre: "If you're a policy maker, you have to take as a base case that India and China are going to increase carbon dioxide emissions, and one of the IPCC base cases of CO2 emissions is going to come to pass. You would be negligent to ignore it - we can hope it will be less severe, and we can hope skeptics are right - but you have to assume that the IPCC advice is accurate. That doesn't leave a whole lot of [room to] manoeuvre."
In five years China's CO2 emissions have doubled, he pointed out. Even if the USA reduced CO2 emissions to zero, China's output today is greater than the USA's emissions in 2005.
The Copenhagen summit in 2009 ended any hope of a binding global agreement on CO2 abatement that emerging and fastest-growing economies would agree to - but the new reality hasn't sunk in yet.
"The entire rationale of policy in US and Europe has been to ignore what's happening in China and India and hope that petty acts of virtuous behaviour in both countries will cure the problem," he said. "Even if you install windmills you're not going to change the trend of overall CO2 emissions."
McIntyre said he thought the reason for the "tremendous acrimony" in the climate blogosphere was a response to this: "Nobody knows what to do."
"Policy makers can assume what changes are most likely, and equip society to be resilient to those changes. If resources are limited, then expenditures on acts of petty virtue - that may make microscope changes, that have no impact on climate - should be put under the microscope to see if they make best use of social resources compared to adaptation," he said during his talk on 16 August.
This led to some vigorous questioning: several audience members were surprised to hear McIntyre recommend the IPCC to policy-makers when he'd done so much to demonstrate its work provided a poor empirical base for policy-making. We'll return to that after a recap of his talk, which was entitled a Year in Review. This will be an abbreviated summary, with the presumption McIntyre will publish the full presentation.
Drivel and hippies
Recently McIntyre had been examining two IPCC reports: the May 2011 report on renewables (SRREN - Special Report on Renewable Energy Sources and Climate Change) by IPCC Working Group 3, and this year's report on climate extremes, SREX, by Working Group 2.
McIntyre said the publication of SRREN had followed the "despicable IPCC practice" of issuing an alarmist press release "that had the opportunity to run around the world" six weeks before issuing the report. The press release claimed that 80 per cent of the world's energy needs could be met by renewable energy by 2050.
It transpired that the 80 per cent figure was based on a Greenpeace study, a Greenpeace activist was lead author of the chapter assessing the Greenpeace study, and no due diligence on this scenario had been performed.
Bill Gates had described the development of a cheaper-than-coal renewable energy source as a miracle, something McIntyre interpreted to mean "very difficult but not impossible". He agreed with NASA's Jim Hansen that the cancellation by Al Gore, along with Bill Clinton, of the United States' nuclear energy research program was an error. "I don't view [nuclear] as a magic bullet," said McIntyre, but nuclear research should be reinvigorated.
Instead, McIntyre had examined the SREX dossier and found it largely wanting.
Asked by climate scientist Richard Betts of the Met Office, an IPCC author, if he saw more hope for the UN panel, McIntyre replied: "Much of the report was drivel, probably most of it. The fact there are a few sensible observations aren't enough to repay the effort."
McIntyre typically pulls no punches: he has in the past criticised the integrity of the paleoclimatologist community's temperature reconstructions, revealing on his blog cherry-picked data, upside-down data, and statistical methods that create hockey-stick shapes from red (random) noise.
His answer was a neat summary of the McIntyre bullshit detector: you shouldn't need to resort to trick-cycling to produce evidence of change within Earth's climate.
"As a general philosophy, I think any signal should be strong enough to show up using very simple methods," he said. "Simple methods are all that is required to extract signals. If you have to use methods that are trickier than that - then in the hands of inexperienced or opportunistic scientists you can get results don't make a whole lot of sense."
He went on to lament: "The use of weather disasters to motivate politicians is common practice. [The SREX report] read as a combination of the worst features of management consultancy reports combined with academic sustainable development literature, as edited by international climate bureaucrats."
Ouch.
Disasters, climate extremes and how we've adapted to cope over the years
A climate extreme is not the same thing as a disaster, he noted. And not all instances of climate extremes result in a disaster. Poor preparedness can turn bad weather into a disaster, and he cited the Thai floods as an example. He noted that the United States' 1935 heat wave, which is comparable to this year's summer in America, created the dust bowl and killed thousands. The US is now wealthier, has air conditioning, crop agriculture is more sophisticated, and while corn prices may increase, it's no dust bowl.
"Even in [the North Indian Ocean] there's a dramatic difference between [storm] casualties in Myanmar and equally poor Bangladesh - which had taken reasonably inexpensive measures to protect itself," he said.
When he examined tornados and hurricanes, there was no indication of increased volatility. In fact, hurricane activity had receded to a historic low: the USA was in its "longest period in US history of hurricane not hitting landfall".
Similarly the geological record showed the planet had experienced far more severe droughts and more severe floods.
IPCC or no IPCC?
By far the most contentious statement was the one referred to earlier - that policy makers should accept the base IPCC scenarios. Why believe a word they say, asked several questioners?
"Until it mends its ways, policy makers are stuck with it," said McIntyre.
"I take a fairly nuanced view. I've been a severe critic of the IPCC: they're letting society down, and have an obligation to do much better reports than they do. Their failure to do so is an abnegation of their duty." His view, he said, was tempered by a view of risk based on his business experience. "You'd be negligent not to take the IPCC as the basis of policy, even if you thought the quality of the work required tremendous improvement. I hope people do a better job."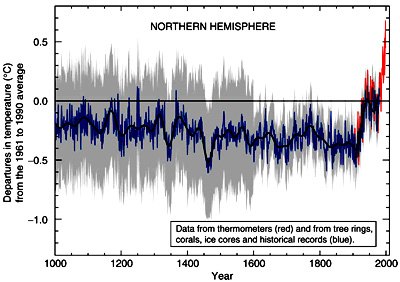 The IPCC's notorious global temperature hockey stick
He noted that Working Group 2 "has become excessively occupied by NGO activists".
So how could we improve the situation?
Your reporter recalled a presentation at Alan Howard's climate bake-off at Downing College, Cambridge last year - a unique event that invited the climate establishment, including the University of East Anglia's Climatic Research Unit director Phil Jones - whose emails and documents were leaked in the Climategate scandal - to present alongside critics and more skeptical scientists, including Henrik Svensmark.
One of the establishment speakers had opened his scientific presentation with the breezy remark: "I'm sorry, bad news: your lifestyles are going to have to change."
I thought this was extraordinary at the time. Imagine that an astronomer had detected an astroid hurtling to Earth, and we knew the precise location and time of its impact. We would nevertheless have a wide range of policy options.
What we wouldn't do give the astronomer with the telescope a special say in deciding which of these policies was the wisest. He's a bloke with a telescope - and has the same number of votes as the rest of us.
His remark suggested that the politics was a priori to the science. This is important because the self-selecting and unpaid nature of the IPCC process saw the more sceptical scientists, such as Lindzen and Christy ,give up participating after the IPCC's 2001 AR3 report, leaving a "consensus" to solidify and a cosy review process among pals to replace peer review. Was Christy's idea of Red Teams, earmarking funds for a critical tear-down of models and projections, part of the answer?
McIntyre replied that he had advocated Red Teams before, with his co-author Ross McKitrick. He pointed out that peer review, while an important process, was not a guarantor of the validity of the work - it was not a "truth serum". He also added something interesting.
Today, skeptics reject climate models out of hand, and are right to be suspicious. Climate scientists tend to pick the best model that suits their hypothesis. But we can do better. Models can be useful.
In business he'd seen "tiger teams" produce good results. A tiger team is a roaming or ad hoc group of technical experts sent in to analyse or fix a problem. Why couldn't we get a tiger team do an "engineering-grade" independent analysis of a selected climate model? It should be possible for around $20m, which in the larger context is money well spent.
He's suggested this before (here in 2006, and more recently here).
Maybe now is the time to implement the idea. Although, and no prizes to readers for pointing this out, a model merely crunches numbers quickly and is only as good as the assumptions made, and if our knowledge of climate forces and feedbacks is limited, the model will be too. ®