Original URL: http://www.theregister.co.uk/2012/08/16/windows_8_rtm_review/
Windows 8: Microsoft's tablet-desktop still painful to swallow
Hey, it could be worse - it's not Windows ME, OK?
Posted in Windows 8, 16th August 2012 09:26 GMT
Review Microsoft's Windows 8 is now in the hands of developers and IT administrators subscribed to MSDN or TechNet. They are the first people other than close partners and fearless torrenters to try the final code.
Anyone expecting major changes from June's Release Preview, or concessions for those missing the old Start menu, will be disappointed. That said, there are some changes to the operating system. These include the removal of Aero transparency from the Windows desktop, the addition of a brief tutorial, new desktop themes, and the availability of paid apps in the Windows Store.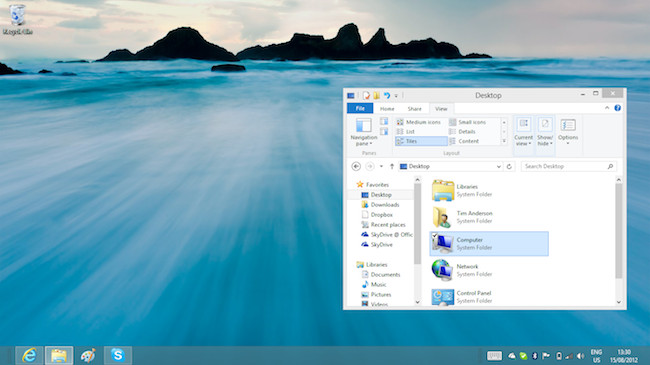 Windows 8 no longer offers Aero transparency
It is also a moment to take stock. What is this thing that Microsoft has created, and is it to be embraced, avoided, or ignored?
Windows 8, with its dual personality of a classic desktop design and the new touch-friendly Modern User Interface, has been around long enough for some myths to emerge. One is that the user interface is all but unusable unless you are using a touchscreen tablet. The truth is, in my opinion, it works rather well once you learn some new tricks, such as dusting off the Windows key on the keyboard that you have never used before.
Even the on-screen Start button is still there in the classic desktop, it just requires you to move your mouse to the bottom-left corner to make it appear. Then tweak your file-type associations so that traditional desktop programs handle your documents rather than Metro, sorry Modern User Interface, apps; pin your most-used applications to the taskbar; learn that Windows key + I brings up the "Charms" menu; and now you'll find most things in Windows work pretty much as before, for desktop users.
More than that, there are enough good things in Windows 8 that you will not want to lose them if you revert to a previous version. Performance, says Microsoft, is up to 438 per cent better, but that is for drawing rectangles. The perceived overall performance boost on the desktop is perhaps nearer 10 or 15 per cent, but still worthwhile.
You also get the excellent Hyper-V virtualisaton; Storage Spaces for pooling hard drives; much faster reconnection to Wi-Fi networks; Windows To Go for running Windows on a USB device without touching what is installed on the host PC; and a bunch of other features, including small conveniences such as the ability to mount an .iso CD/DVD image file with a double-click.
There is the touch-driven Modern User Interface with apps that install or remove themselves via a handy tab. This is a user interface that actually works on a tablet unlike all of Microsoft's previous efforts at touch computing. There is a feature called secure app isolation and can be combined with a mechanism called Contracts for controlled sharing of data between apps, and apps and the operating system.
Modern UI? Forced UI
So why is Windows 8 hated? The problem is that the Modern UI, which via the Start screen Microsoft forces on users whether or not they have tablets, is disorientating while offering little benefit over the old, classic Windows user interface for desktop use.
On top of that, the interaction between the two personalities in Windows 8 can be annoying. Was that setting in the Metro control panel or the desktop one? In which version of Internet Explorer was that web site open?
It also has to be said: the built-in Metro apps are a bit rubbish. Programs such as Mail and Calendar are stripped down, simplified versions of what you are used to in Outlook. They're fine for a quick look or email on the go, but not what you want to work with all the time.
The Windows 8 Store, Microsoft's software download bazaar, remains at the time of writing mainly empty. If this is not fixed by general release in October, Redmond will have a big problem, since the Modern UI side of Windows 8 is useless without apps. Still, there is Box, Amazon Kindle, Xbox SmartGlass - which lets you remote control your games console - and a few other apps of worth.
What happened? Did Microsoft just run out of time?
On the design side, Windows 8's tablet-friendly Modern UI has its merits, with big easy targets for fat fingers, but it also wastes a lot of space if you're on a desktop with a decent-sized screen. Worse than that, it is inconsistent. You can see the areas where Microsoft has taken time to make a touch-driven user interface, even on the desktop, and other areas where it has not had time to make significant changes from Windows 7.
The Windows 8 setup process has a couple of points of interest. The list of default settings includes "Do Not Track in Internet Explorer", which means the web browser will request advertisers to not track the user as they move from website to website.
A new tutorial also shows up just before the Start screen appears for the first time. If a touchscreen is detected, an animation encourages you to swipe your finger in from the sides. You also get told to try moving the mouse pointer to the corners of the screen. Good advice, but not enough to avoid a difficult early experience for Windows users upgrading.
Cloudy online storage integration is a plus, for those willing to sign into a Microsoft account. Settings roam between devices, and you can use SkyDrive or other services to keep documents in sync as well.
Good then, or bad? It is both; but the bad things are more cosmetic and able to be improved, while the good things are more to do with the underlying technology and therefore will last.
Reg contributor Verity Stob, writing for another publication, captured the Windows problem in a piece entitled State of Decay. In this decade-old piece, Verity describes the Cruft index, for example:
Cruft Force 8. Decrepit. Blue Screens Of Death are served daily. The SETI screen saver, like ET himself, encounters difficulty calling home and despairing during an overnight run creates 312 copies of its icon in an (impressively expanded) system tray that fills half the screen. Successful connections to the LAN are very rare.
Windows today is better, but not better enough. Computer manufacturers pile on crapware, users with stable systems fear installing software, and a download for one thing installs other stuff unless you forget to uncheck the box (Java, for example; shame on you Oracle).
Windows 8 does not fix every problem: there is still too much support for legacy stuff and Microsoft has to allow our old but essential software to run. What it does though is provide a platform within Windows on which apps can easily and safely be installed and removed, and on which they are isolated from each other, and from the operating system, through a clever system called Contracts which provides access to shared files and devices under user control.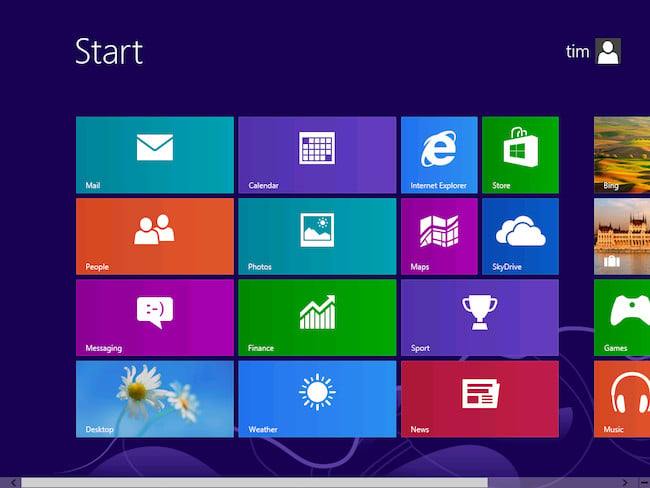 The initial Windows 8 Start menu
Windows RT, the ARM version, goes a step further by prohibiting desktop software installation completely. At last, a safe and secure Windows, at least relative to the standards of the past.
The Intel x86 PC build by contrast is a transitional thing, but if you can live with a few inconsistencies and annoyances, it does work better than any previous version of Windows.
Microsoft will not have an easy time getting Windows 8 accepted, and perhaps it will fail. This is a company that is trying to move forward into the world of device-and-cloud while keeping faith with its legacy. Given the magnitude of the task, it is a good effort. ®