Original URL: https://www.theregister.co.uk/2012/08/15/ten_apps_to_install_on_your_google_nexus_7_tablet/
Ten apps to install on your Nexus 7 first
Take your media tablet beyond Google
Posted in Personal Tech, 15th August 2012 07:00 GMT
Product Round-up Once you've prised your Nexus 7 out of the box, watched your free copy of Transformers: Dark of the Moon (surely "binned it immediately" - Ed) and spent a few hours playing Dead Trigger the time is ripe to start thinking about the first third-party apps that will help you really get the most from your shiny new piece of Google tech.
Here then are the ten apps that you really ought to install from the off. If you are wondering why I've not included the likes of Skype or Dropbox, that's because they are just a bit too obvious and self-recommending. I've also avoided any apps that are simply app alternatives to web sites that work just fine in the Nexus 7's Chrome browser.
Aldiko Premium

Between Google's Play Books and Amazon's Kindle apps you may think that's e-book reading covered. But what about all those ePub and PDF books on your hard drive, even the DRM-protected ones legitimately acquired from the likes of Waterstones and WHSmith? I also like something with direct access to Feedbooks, which is my prefered source for out-of-copyright classics.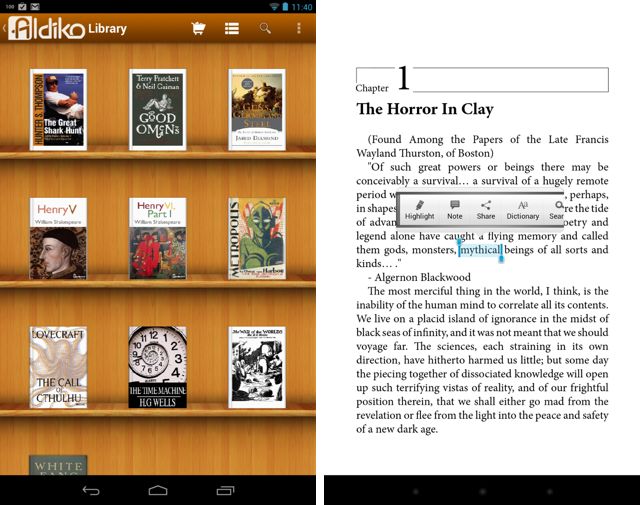 Aldiko Premium is my preferred choice for ePub and PDF books because it's nicely laid out, has a decent selection of fonts, adjustable margins and a near infinite choice of text size. More importantly, unlike some e-reader apps, it never gets tripped up by slightly suspect formatting - and you can apply your own, overriding a book's pre-sets. Add to that well implemented facilities to copy, bookmark, share and look up text and make notes, Aldiko should keep even the most demanding bibliophile happy.

Reg Rating 90%
Price £1.99
Size 22.4MB
Google Play Download
Apex Launcher

One of the most consistent criticisms of the Nexus is that the home screen is too phone-like and won't flip from portrait to landscape. Apex Launcher fixes that by replacing the rather limited Jelly Bean launcher with one that gives you a proper 10in tablet feel, complete with multiple docks, a landscape home page and a much reduced Google search bar. It also shunts the app drawer icon from the dock to the more traditional top righthand corner of the screen.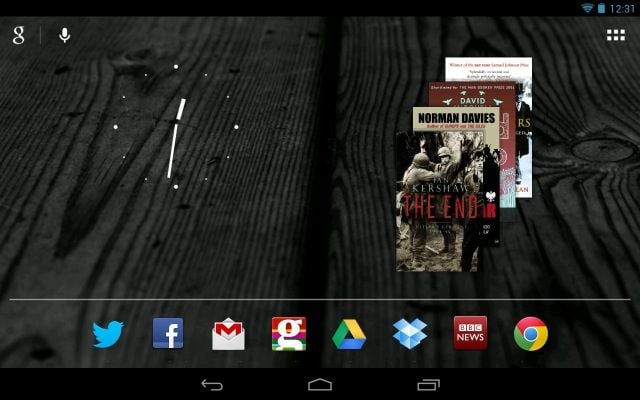 Tap and hold on the screen and a convenient Gingerbread-style menu pops up to add widgets, app and Apex shortcuts directly to your home screen. If you dive into the settings menu and you will discover a truly mind-boggling number of options to customise alongside the more obvious ones like setting the number of home screens to anything between one and nine.
If that's not enough, the £2.49 Pro version adds even more functions and options to fiddle about with.

Reg Rating 90%
Price Free. Pro version: £2.49
Size 4MB
Google Play Download
ES File Explorer

A good file explorer is essential to see what's where, move stuff about and get rid of any junk that's taking up precious storage space. ES File Explorer may not be the most graphically exciting file manager but it does everything you need, is very clearly laid out and equally easy to use.
As an added bonus you can also sign into and manage most popular cloud storage offerings, including Box, Dropbox, Ubuntu One, Microsoft SkyDrive and Amazon S3. Tabs can also be set to give direct access to files on Bluetooth-, samba- and FTO-connected storage.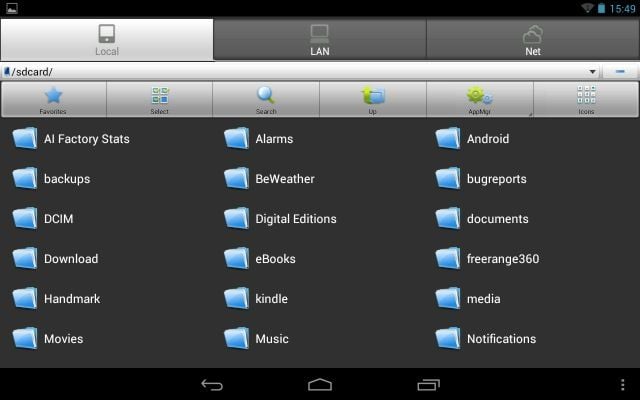 To cap it all the app also includes a built-in archive compressor/decompressor for ZIP and RAR files, a text editor and an image viewer. If you download the companion ES Task Manager app you can launch either app from the others menu putting all your system management tools in the one place. Over the years I've tried many other file managers but this is the one I keep coming back to.

Reg Rating 90%
Price Free
Size 5.8MB
Google Play Download
jetAudio Plus

Though the Nexus 7's music player now handles Flac files, its sound modification system is something of a blunt instrument. The folks behind jetAudio are, as the name suggests, the same who cook up the sound modification tech that Cowon uses. The jetAudio app goes some way towards making the Nexus 7 sound like a Cowon PMP which is quite an achievement.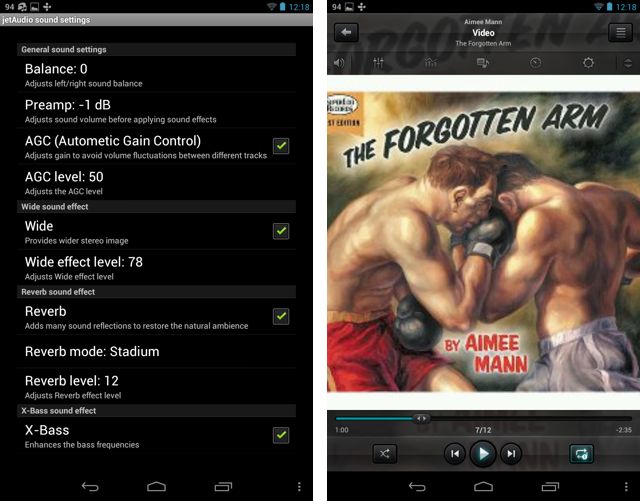 Not only does jetAudio play almost any type of digital music file known to man but it pumps out a very high quality sound. With a shedload of effects and adjustable enhancements with names like Wide, Reverb and X-Bass there is something here for all tastes. You also get 32 equaliser presets, playback speed control, support for gapless playback, crossfading, automatic gain control, a preamp and six excellent widgets. Naturally a decent pair of cans is needed to appreciate the gains but if you care about sound quality this is a very good place to spend £1.20.

Reg Rating 90%
Price £1.20
Size 6.3MB
Google Play Download
Perfect Viewer

The Nexus 7's 1280 x 800 display makes the tablet a great e-comics viewer. Fans of new and recent releases are well served with the likes of Dark Horse's eponymous app and Comixology's multi-publisher Comics, but if you favour archive and long out-of-print material, Perfect Viewer offers a good reading experience.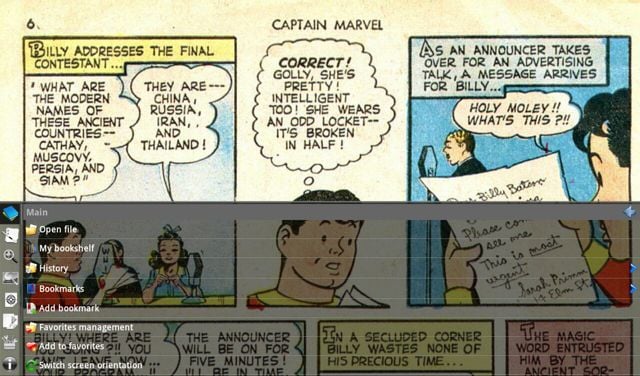 If this app has a flaw, it's its slightly over-complex UI. In addition to an iBooks-style bookshelf there are file views - it has a built-in file manager - and acres of options. On the other hand, it's hugely customisable, the developer clearly feeling it's better to give readers options they can ignore than prevent a few from changing things.
It supports all the common comic archive formats - there's a separate, free plug-in for PDFs - and it's nice that all the features are there for free too. Like it? Make a donation.

Reg Rating 85%
Price Free (donations accepted through Google Play)
Size 3.3MB
Google Play Download
Pocket

The usefulness of a read-it-later app like Pocket has nothing to do with the Nexus 7's lack of 3G - just tether it to your phone - but everything to do with wanting to read something you found on the internet when you're about to board a ten-hour flight or when you spot an interesting web page on your desktop browser and want to file it away to your tablet for later perusal, which you can do with one click of Pocket's Chrome browser button.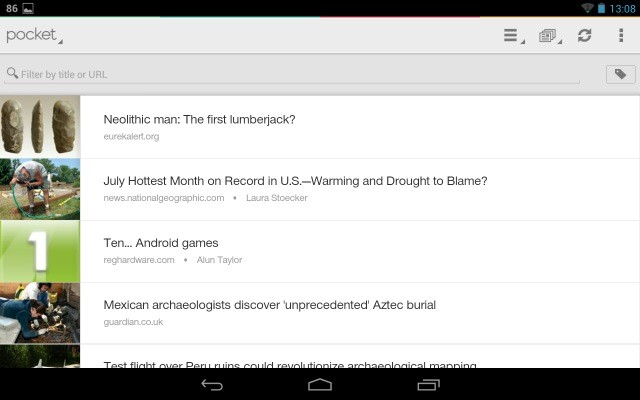 With its clean and simple design, the facility to sync content across different devices and impressive handling of both images and video as well as text I can't really think of the bad word to say about Pocket. And it's free and there are no adverts to besmirch proceedings. It even offers you the option to sign into any subscription accounts you have so you can save content lurking behind paywalls.

Reg Rating 85%
Price Free
Size 2.1MB
Google Play Download
Skifta

With Google's focus on all things Cloud, it's a bit surprising that the Nexus 7 doesn't have some sort of DLNA client fitted as standard. But fear not, those clever folk at Qualcomm have created a fast, free and wholly reliable media streaming app in the form of Skifta. The user interface is simplicity itself and Skifta adopts whatever video players you have installed on your tablet so you don't have to worry about codecs if you are trying to watch something obscurely encoded.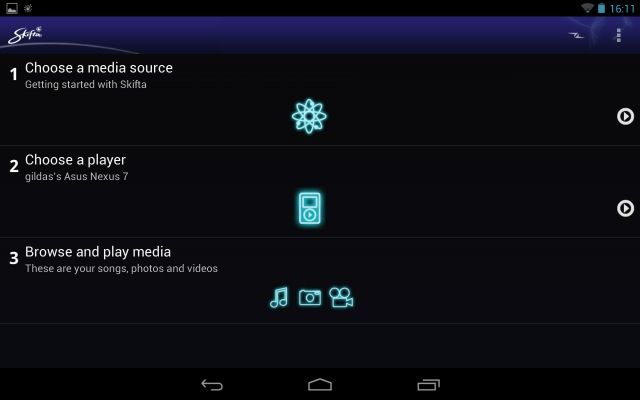 Sign up for a free account and you can also stream cloudy stuff like your Facebook, Flickr and Picasa photo libraries, or music from rdio or SoundCloud, or video from TED.
I've been using Skifta for nearly a year now on other devices and have streamed content to and from connected TVs, PlayStations, Sonos music players, nas boxes and Philips Streamium devices. Not once has it let me down.

Reg Rating 90%
Price Free
Size 8.7MB
Google Play Download
SwiftKey 3

The Jelly Bean keyboard is not at all bad but it's hardly what I would describe as stylish or packed with options. SwiftKey, on the other hand, is - on both accounts. The version I recommend for the Nexus 7 is the phone rather than tablet incarnation. It looks nigh on perfect to my eyes just so long as you have remembered to set the key height as large. The word prediction is uncannily prescient in part thanks to the app's ability to peruse your Twitter, Facebook and Gmail scribblings and learn from them.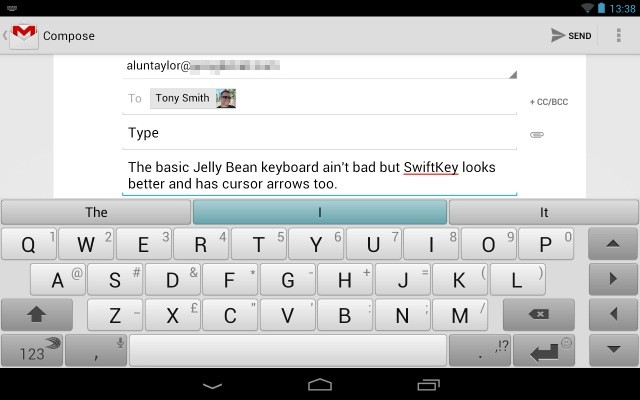 There are six attractive themes and you can toggle a set of cursor arrows. I refuse to use any keyboard without that last feature.
I'm also a big fan of the press-hold-and-slide function that lets you select common punctuation marks from the key to the right of the space bar and the way that tapping the 123 key opens a 3x3 keypad rather than a range of number across the top of the keyboard.

Reg Rating 90%
Price £2.99
Size 23MB
Google Play Download
TuneIn Radio Pro

Video may have killed the radio star but TuneIn Radio puts life back in the old dog. The app gives you access to over 60,000 internet radio stations and two million on-demand programmes, with content divided into music, news, sports and talk radio and then subdivided by genre to help you more easily find what you are after. You can also look for content by location or language.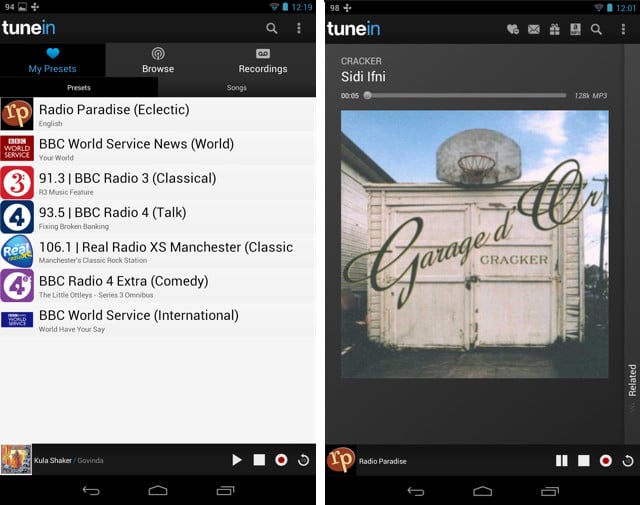 Once you've launched a station you can swipe the Now Playing screen to see other stations offering similar genre content, an options screen that lets you select from all the available stream formats and bitrates as well as a daily running order if such is available.
Another recent addition is a Twitter feed relating to the station you are listening too assuming it has a Twitter handle. Stations can be easily added to a favourites list which can then be synced between all your devices and the TuneIn web portal. You can also buy tracks from Amazon or record directly off air and donate to listener-supported stations.

Reg Rating 85%
Price £0.61
Size 164MB
Google Play Download
VPlayer

If all you want to do is watch movies rented from Google or your own H.264 files then the standard Nexus 7 video player will do the job, but if you want to watch anything using less common codecs and file containers or with subtitles then you are going to need a video player that is a little more capable. Until VLC gets its woefully unstable Android beta sorted out, I'd suggest VPlayer.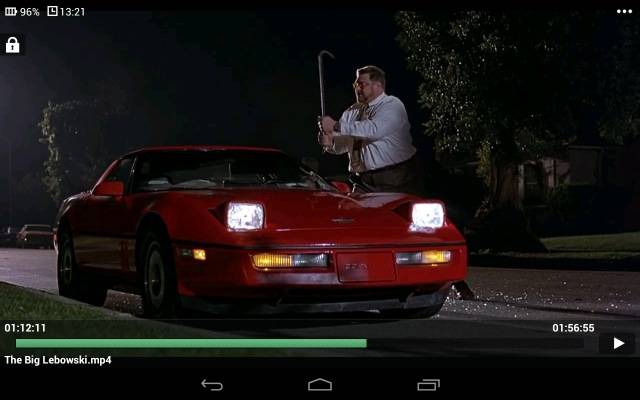 The latest version has brought hardware accelerated decoding and rendering to MKV, AVI (DivX/Xvid), QuickTime, FLV, TS, M4V and 3GP files which should keep the vast majority of film buffs satisfied and reduce battery drain. It will also play 1080p files with dismissive ease, supports near enough every audio codec known to man, all common subtitle formats plus a few I've never heard off, and can it handle streamed content. The pinch-to-zoom feature is pretty cool too.
If you want to try it out the app is yours free for seven days after which you'll need to buy the £1.99 unlocker. But that's a very small price to pay.

Reg Rating 90%
Price Free for 7 days then £1.99
Size 14MB
Google Play Download