Original URL: https://www.theregister.co.uk/2012/08/10/review_huawei_ascend_p1/
Huawei Ascend P1 Android review
HTC worrier
Posted in Personal Tech, 10th August 2012 07:10 GMT
Huawei's entry level Ascend G300 smartphone has already been favourably reviewed in these pages and the eagerly awaited Ascend D quad is only a few months away. Between those two devices sits the new Ascend P1 – a handset aimed not at the impecunious or the power-mad but at Joe Average. Evidently, it's a phone designed to steal market share from HTC.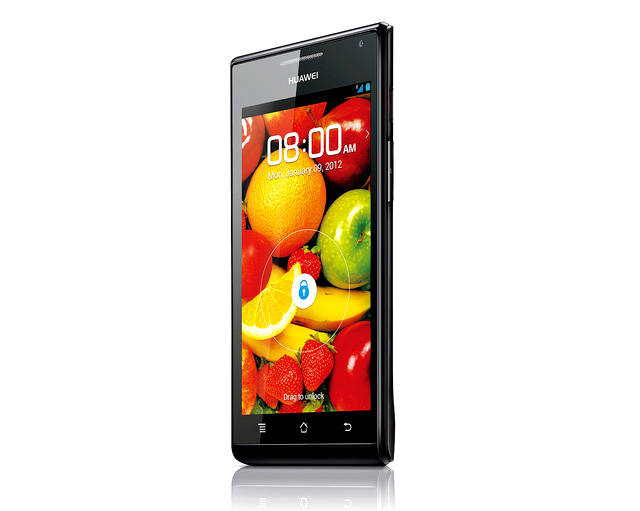 Rising signs: Huawei Ascend P1
What the P1 offers is a 4.3in 960 x 540 Super AMOLED screen, a 1.5GHz dual-core TI OMAP 4460 CPU with 1GB of RAM, 4GB of storage, Ice Cream Sandwich and 8MP/1.2MP cameras all for £26 a month on a Vodafone contract or around £370 unlocked.
Despite having a 300MHz advantage over the same chip as fitted to the Galaxy Nexus the AnTuTu benchmark score came in at a not dissimilar 6390 but that's still more than enough to deliver a very fast and fluid user experience. 4GB of storage may not sound like much but a decent 2.3GB is free for app and file storage, while microSD cards up to 32GB are supported.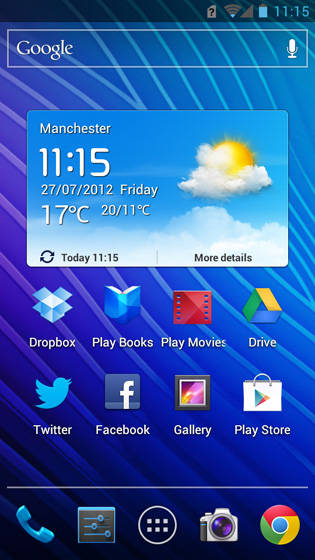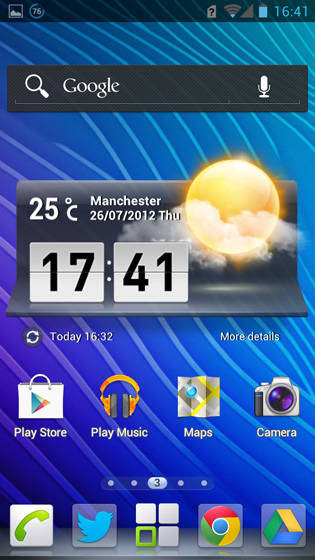 2D and 3D home screen styles
The display has brightness and contrast aplenty and performs very well outdoors. Viewing angles are broad and its crisp 256ppi matches the HTC One S pixel for pixel. The only fly in the ointment is that it uses a PenTile matrix but that shouldn't bother most people. It certainly didn't bother me.
Huawei has left Android 4.0.3 pretty much well alone on the Ascend P1, simply preloading an optional 3D launcher and some 3D widgets. Having the choice to easily default to the stock Android launcher is a mark in the P1's favour.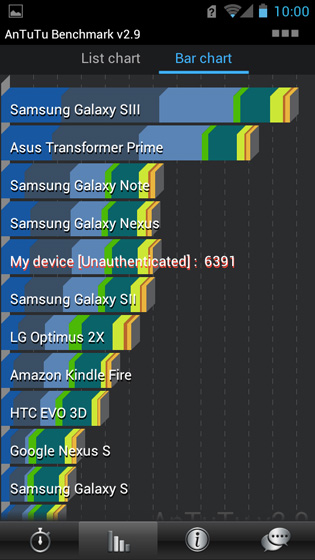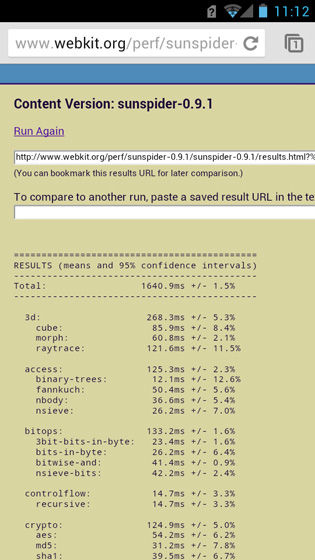 AnTuTu and Sunspider results
Physically there's more than a whiff of the Samsung Galaxy S II about the design right down to the position of the volume rocker, the chin on the rear and the raised camera housing. It's near enough the same size and weight too.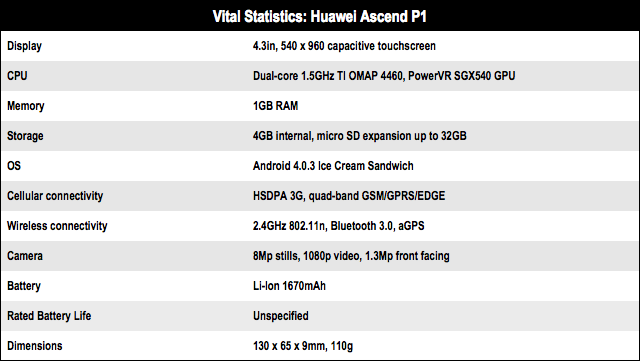 Video niceties
Though it's solid enough the P1 isn't quite built to Samsung standards. The entirely plastic and gloss-finish body feels slippery in the hand and it shows up fingerprints badly. There's also a very slight rattle from the volume control buttons when you shake it.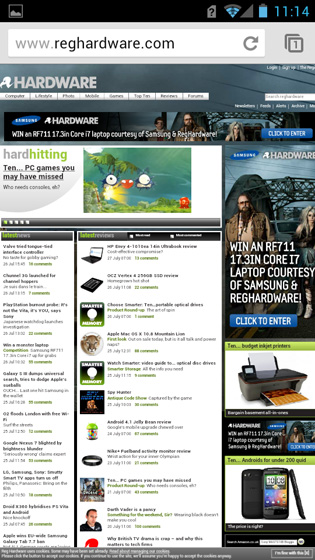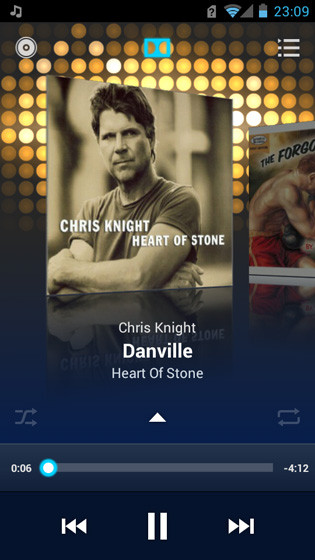 Browser and music player
The flaps that cover the SIM and microSD card slots are tough to prise ajar but thankfully the micro USB and 3.5mm audio jacks at the top of the device are open to the air. The P1 lacks anything in the way of an HDMI port but the micro USB socket is MHL-compatible so you can can still watch 1080p videos on your telly.
The 8MP camera is rather impressive - certainly better than I was expecting - and also has some funky effects like a crowd mode similar to that fitted to HTC's One phones. Take a burst snap of a group and you can swap up to 25 facial images from any of the five images taken making the inadvertent pic-spoiling blink or stuck-out tongue a thing of the past.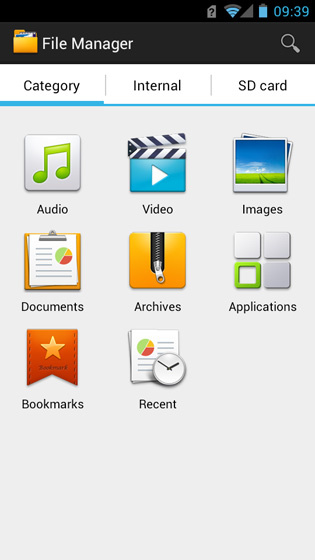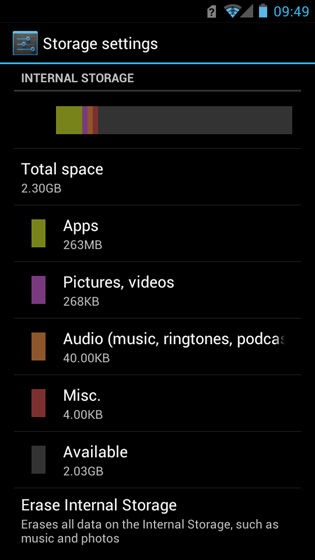 File manager and storage allocation
Mercifully there's little in the way of software bloat just the always welcome Polaris Office, a good file manager and something called Security Guard which is a handy little app for blocking unwanted calls and texts. You also get Dolby Mobile 3.0 which has an impressively positive effect on the sound you get from audio files especially if you are using a half-decent pair of headphones. Though Huawei's website says the P1 has an NFC radio my sample didn't.
Curiously the gallery app on my handset wouldn't sync with my Picasa account so all I could see were locally stored images. I'm waiting on clarification from Huawei about this but hopefully it's a bug that will be fixed by the time handsets make it to punters later this month. On a more positive note the built-in 1670mAh battery is easily good for a 36 hours of heavy use and and will keep the video player running a 720p file for a pretty impressive 5 hours 15 minutes.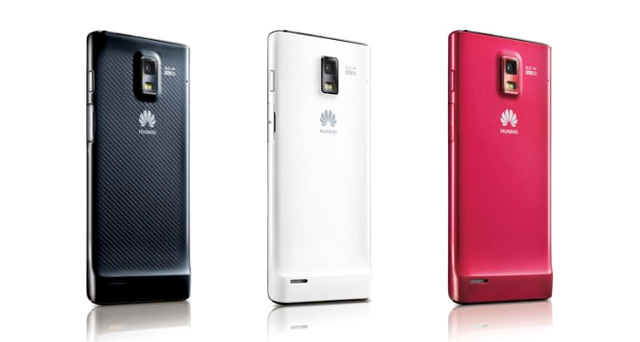 A decent camera and a respectable spec for the price
Verdict
Despite its slightly cheap body the P1 ticks a lot of boxes. It has ICS from launch and while both thin and light still packs a decent battery. The screen is bright and vivid, it has a microSD slot and the camera is not half bad. The chipset may not be the latest word in modernity but it offers a more than sufficient amount of grunt and the option to use the stock ICS launcher is welcome. If it weren't for the Gallery app sync issue, the mystery of the NFC functionality and a few rattles, I'd happily give it a higher rating. ®
More Android Smartphone Reviews

Sony
Xperia Go
LG
Optimus 4XT
Ten... Androids
for under 200 quid
Samsung
Galaxy S III
Orange
San Diego