Original URL: https://www.theregister.co.uk/2012/08/09/review_amazon_kindle_touch_wi_fi_ebook_readerreview/
Amazon Kindle Touch Wi-Fi eBook reader review
Wordy tappinghood
Posted in Personal Tech, 9th August 2012 07:00 GMT
Having so many unread books at home, the Amazon Kindle and its numerous variants never really captured my imagination. I just wasn't that fussed about e-Books and using them was a slow burn, starting with iBooks on my iPhone – I'm blessed with good eyesight – followed by musing over tomes on an iPad 2.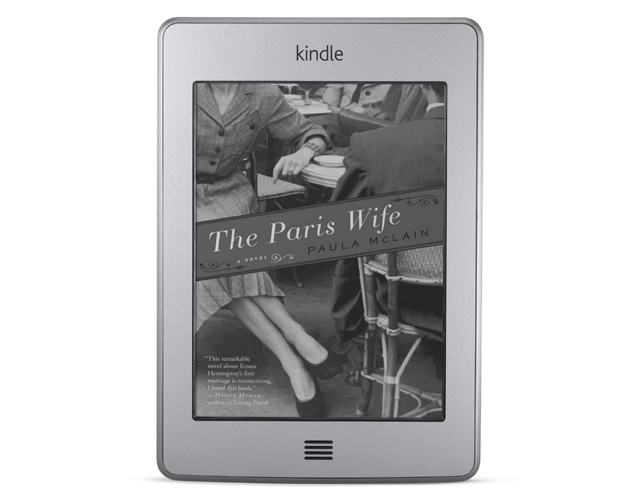 Finger friendly: Amazon's Kindle Touch
I realised the conversion to this mindset was complete though when I was searching on-line for a review product PDF manual to add to iBooks to read on the tube. I gave up, pushed my laptop to one side and then noticed the paper manual of the product on the table that I'd been blind to. Oh, how I laughed, ahem.
And then my boss handed me a Bookeen Cybook Odyssey – he's no fool, he'd used it. Actually, if it weren't for a niggling accelerometer bug, a crappy on-off switch and book store that's all in French, it would be a decent bit of kit. And thus I was bathed in e-ink and a battery life that needs a calendar rather than a watch. At least this transition wasn't too troubling as this reader features a touchscreen.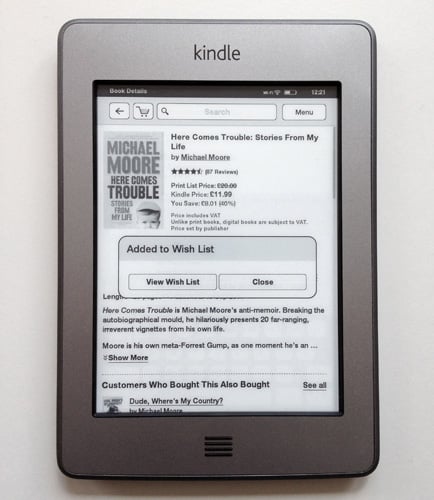 Just like the real thing, the Kindle bookstore has plenty of recent titles at discounted prices
So as a relative novice, getting my hands on the Amazon Kindle Touch seemed an exciting prospect. Given the Kindle range has a dedicated bookstore, presumably these guys set the benchmark on how to build an e-Book reader. Yet I have to admit that – following on from the Cybook Odyssey – the perceived thickness with its flat less tapered back, deeply recessed screen and 10 per cent extra weight of the Touch came as a bit of surprise.
Both readers feature a 167ppi 600 x 800 resolution 6in touchscreen display that outputs a 16-level greyscale – you'd be pushed to tell them apart. However there's no SD card slot on the Kindle Touch but you're unlikely to miss it. There's a Home button below the screen along with both micro USB, headphone sockets and a power button in the base. Turn it over and you see a pair of speaker grilles at this end – sonically it delivers the requisite excruciating gutlessness of any self-respecting tablet.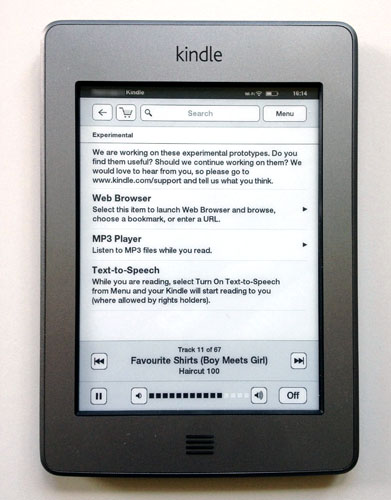 Work in progress: all functional but in need of refinement
Indeed, audio comes across as a bit of an afterthought given that the makeshift MP3 Player and Text-to-Speech functions are tucked away in the Experimental section, along with the Web browser. More on these later, but as you'll have guessed, the Kindle Touch has Wi-Fi on-board providing easy access to Amazon Kindle book store and there's a 3G version available too.
Buy once, read many
If you've an Amazon account – who hasn't these days? – then setting up is pretty straightforward, or so it seems. I'll admit that I wasn't too keen on having to initiate 1-Click payments – something I've avoided thus far as the Free Super Saver deliveries are not a default option – but with on-line book buying it seems to make sense.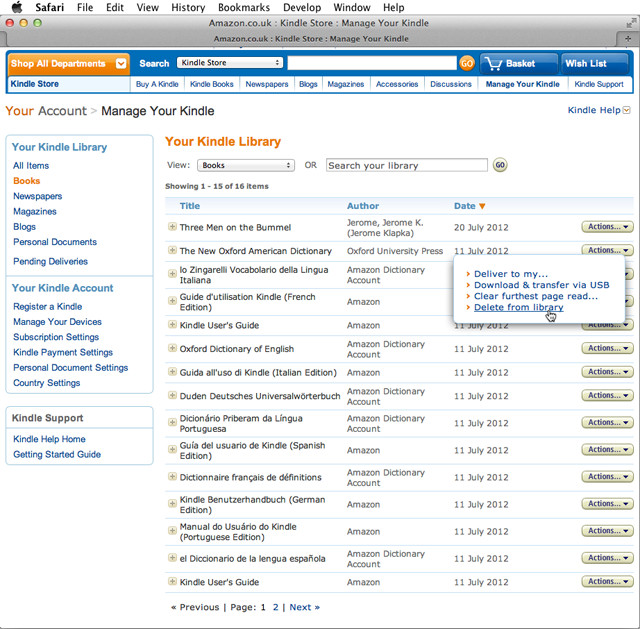 Manage My Kindle: there's a lot of clutter to deal with from the off
I'm not sure about the merits of having to set up your own @Kindle.com e-mail address though. This will only receive mail – attachments you'll want to read – from designated e-mail addresses. As soon as I tried to use it a few days later, I'd forgotten the e-mail sender address I'd chosen and had to check the Manage My Kindle section on-line and send the mail again. No doubt it cuts down on handling spam, but this arrangement seems to be more for Amazon's convenience than for its users.
Your mailings become part of your Kindle's library and end up alongside foreign language versions of the device's dictionaries and user guides. Luckily, you can delete or archive items and filter them to show Books, Newspapers, Magazines and the like, and your Personal Documents where all you mailings will appear together.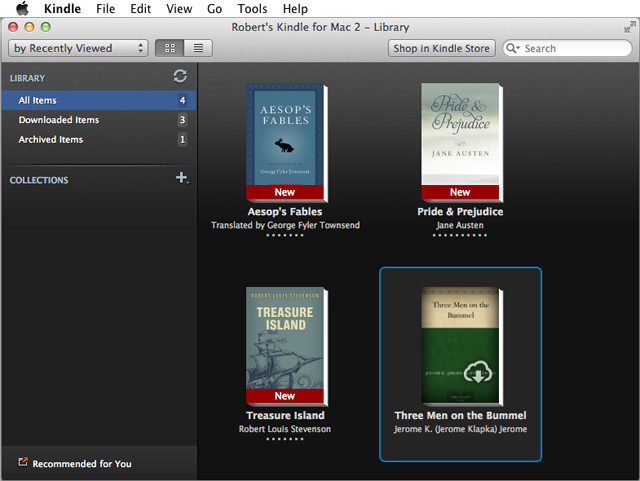 Purchased content appears on the desktop app too
And then there's the Kindle Desktop application which, truth be told, rather confused me. So there's all this stuff showing up on your on-line Kindle account, but the Kindle application shows a handful of classics provided for free and any recent purchases. The items e-mailed to your Kindle account are absent, but then again, maybe this makes sense as you most likely sent them from your computer anyway. Still, unless I'm missing a trick – beyond drag and dropping the files to the device over USB – the free classics don't appear on the Kindle Touch itself and seem to be there merely to demonstrate the reading capabilities of the Kindle desktop application.
The connectivity extends still further as there are Kindle apps for iOS and Android. The upshot of it all is that no matter whether your using a computer, mobile device or the Kindle itself you can view your purchased books. And thanks to the Wi-Fi connectivity on all of these options, Whispersync ensures the pages will always be at the place in the book you were last reading regardless of device you were last reading on. So that's all right then. Well, it would be if the Kindle desktop app supported PDFs – oh well, it was all so very nearly joined up.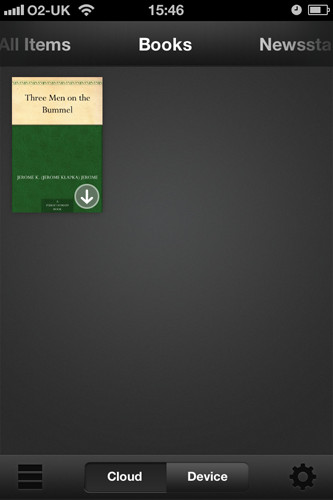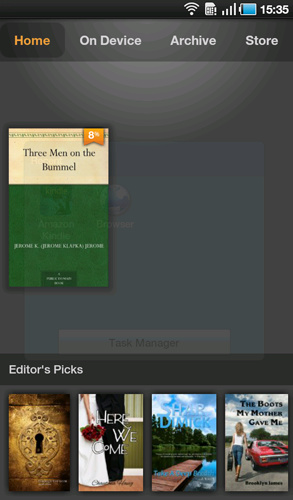 Kindle apps on iOS and Android
Alas, books converted to Amazon's favoured MOBI/AZW formats using apps such as Calibre and transferred using USB don't get sync'd to the cloud either.
Sixteen shades of grey
On the bright side, the Kindle store does have plenty of free titles available. I even found a freebie offering of my Dad's favourite tome The Men on the Bummel – no sniggering at the back – which managed to procreate to every Kindle app enhanced device I used and proved Whispersync to be a very useful feature.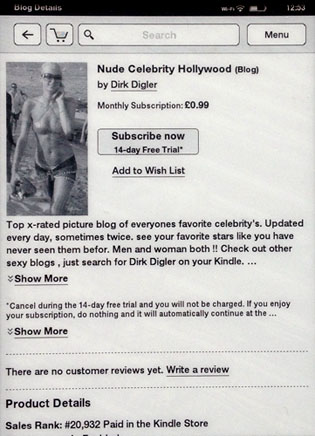 Store menu and dubious blog offering
Checking the categories the Kindle store offers, some of the content seems less enticing with Blogs being offered at 99p a month. One of which, I noticed, is a pic posting site. Unless you've a fad for 1940s-style greyscale glamour, it begs the question why you'd bother.
So when you have finally waded through all this and added enough content to fill up the first page of Kindle Touch's items screen, you'll find that, unlike all the other options available, this eBook reader doesn't show any thumbnail images of the titles. You get eight title listings per page and the usual sort choices, plus folder creation to make Collections.
The listings on the Kindle Touch do look rather drab and I rather miss the thumbnail cover art of my Cybook Odyssey, iPad, iPhone and Galaxy Tab to boot. Considering that this e-reader is called the Touch, tapping on icons is perhaps the most intuitive approach and also provides a tidy way of presenting a lot of content in a limited space. Yet I think this another Amazon mindset issue: you're supposed to be buying a handful of books and working through them and not looking at content such as PDF manuals, reports and suchlike sourced from elsewhere.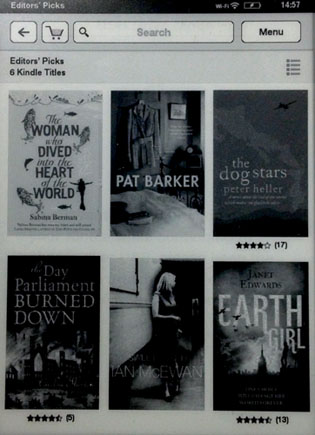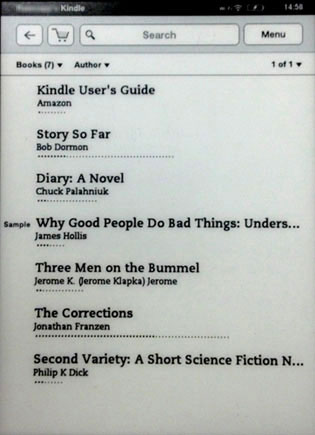 Store Picks has thumbnails but the device listing lacks them
I wouldn't be at all surprised if thumbnail viewing is introduced in the near future given that all the Kindle software available for other platforms has it. Still, you can look at the cover art but you have to tap the top of the page to bring up the relevant Go To option. Interestingly, this will also show the page number you're on. Amazon uses Location Numbers which appear somewhat cryptically as say, Loc 316 in one corner and 3% in the other. The idea is to avoid confusion regarding where you are in a book if you change font size.
Considering that I always use the smallest condensed font size and the tightest spacing – all of which minimises repeated page turn taps – I'd rather be confused and have page numbers I can easily remember as a viewing option. Visual prowess notwithstanding, there is a downside to using dense text though. Unless you set the page to refresh with a black flash on every page turn, you'll get a progressive bleed through of previous pages interfering with the contrast of the text. With larger fonts and bigger spacing, this is less pronounced. Still, there is an automatic refresh every six page turns.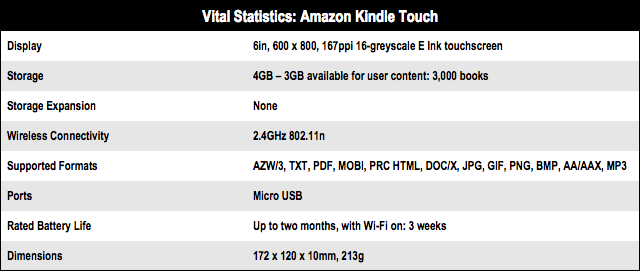 Refreshing moments
The web browser isn't too sluggish but really only suitable for reading news and reference sites but if you give it a spin, you might want to set the refresh to every page. Grey graphics linger in the background as you click through sites, like print showing through from the other side of a newspaper. Also, the graphics that the Kindle Touch shows when asleep will remain ghosted when you fire it up to read, even though it does a refresh beforehand. But if you press the Home key, it'll perform a refresh if it gets too intrusive.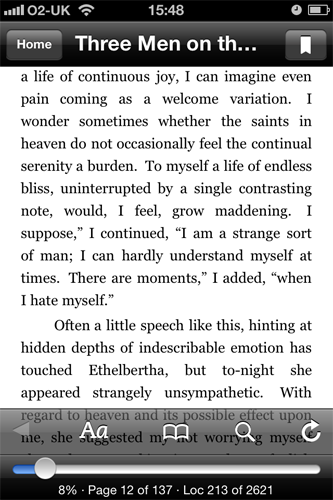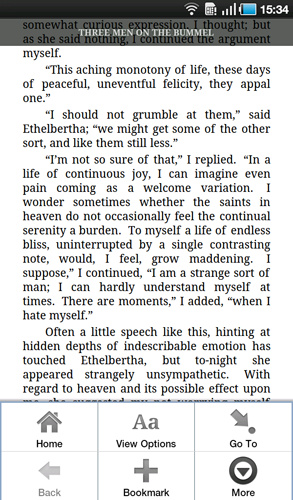 Kindle books viewed on iPhone 4S and Galaxy Tab
As for the MP3 player, Experimental does seem to sum it up, as there's no way of navigating it apart from skipping back and forth through tracks. However, I do rather expect this to be improved upon as Amazon surely has an iTunes-style music downloads plan for its portable devices. Perhaps movies too, with Persepolis, Manhattan and Buster Keaton all lending themselves well to greyscale viewing.
The Text-to-Speech sound is fairly monotone and, unless you're working through an Ikea self-assembly manual, it lacks adequate expression for long listens and ignores punctuation within speech marks. Having used so many alternatives for e-reading now, I found that the Kindle Touch seemed to demand more taps to navigate than most to get to useful features and functions. It's pinch zooming on PDFs was also quite crude, typically over-magnifying when just a subtle enlargement was needed. Incidentally, when reading eBooks, this works as a neat shortcut to change font size.
Selecting text seemed pretty hit and miss with PDFs, as it would frequently highlight one word and the dictionary then would pop-up. However, a nice touch is that selected text can be translated. You can also share highlighted text as well as add it to the Notes and Marks sections – ideal for students and pedants alike. That said, I would have liked the option to Clear All rather than having to tap and hold to delete annotations individually.
Yet perhaps the most consistently annoying aspect of the Kindle Touch turned out to be its power button placed somewhat unintuitively to the right side at the base of the unit. Sure, it has to be somewhere out of the way, but for some reason I kept assuming it would be in line with the home key and found I aways had to fumble for this, more so when tucked inside Griffin's rather fetching made-to-measure Small Elan Passport case.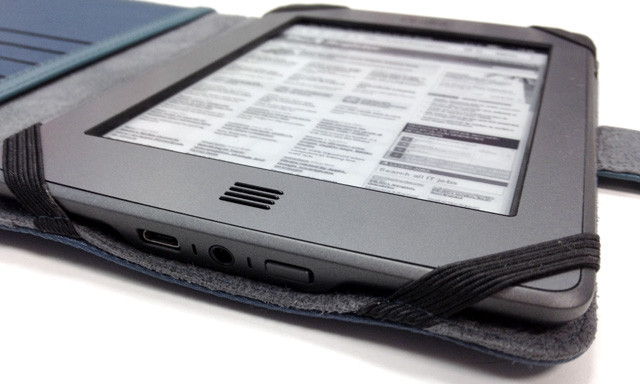 Powering on the Kindle Touch has a certain fiddle factor to it
Verdict
Initially, I had misgivings about Amazon's Kindle e-readers due to format constraints, but having used the workarounds available to good effect, this no longer remains a concern. The Kindle Touch is just the right size and its touchscreen makes for an uncluttered viewing experience. That said, navigating the user interface felt cumbersome at times and the list viewing of stored titles seems somewhat inelegant. Indeed, Amazon really should be thinking more about user expectations of touchscreen devices here, but for now, the experience is more functional than finessed. ®
More e-Reader Reviews

Kobo Vox
Amazon
Kindle Fire
Kobo Touch
Amazon
Kindle 4
Bookeen
Cybook Odyssey