Original URL: https://www.theregister.co.uk/2012/08/09/building_an_olympian/
How talent-spotting boffins help Team GB bag Olympic gold
Amateurs plucked from obscurity, shoved into sporting history
Posted in Science, 9th August 2012 08:03 GMT
Fancy a trip to Rio in 2016? Getting on the British Olympics team might be one way of doing it.
Sound ridiculous? Maybe not: Helen Glover, who last week won Britain's first gold medal at London 2012 along with rowing partner Heather Stanning, only started rowing four years ago in 2008. London was her first Olympics competition.
Glover was a teacher drafted into Team GB using a 2007 programme started by gold-medal rower Sir Steve Redgrave for UK Sport called Sporting Giants. The goal of the programme was to find tall and talented contenders in the fields of rowing, handball and volleyball: sports for which it is traditionally hard to find contenders, or where Britain had little presence – such as in handball, which has been an Olympic sport since 1936.
Overall, 11 athletes were selected for London 2012 in rowing, canoeing and handball using Sporting Giants and six similar programmes by UK Sport, listed here.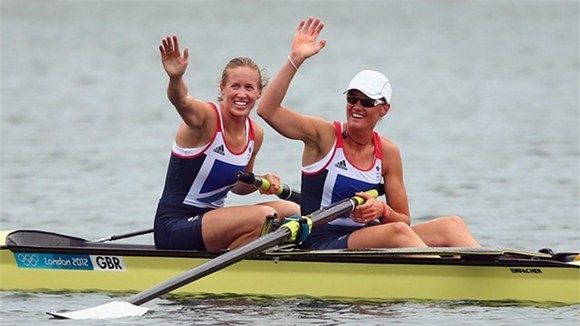 Glover, left with crew mate Stanning: London 2012 was Glover's first Olympics. Pic credit: London 2012
Their presence has helped nudge Great Britain to its best Olympics performance in a century, certainly within recent years. Glover, with Stanning, might also have provided a vital psychological boost for Team GB after we missed out on "guaranteed" gold in men's road cycling during the weekend before.
By Tuesday, team GB had beaten its Beijing haul. The British team won 19 golds and 47 medals in total during the previous Olympics in 2008 – where we ended up fourth behind China, the US and Russia.
Programmes like Sporting Giants represent a growing application of science and selective rigour to sport by nations like Britain in a world where performance enhancement drugs are banned and microsecond performance vital as records keep tumbling.
UK sport has run programmes across 17 sports including taekwondo, flat-water canoe/kayak, skeleton and bobsleigh, archery and – yes – cycling, where we have dominated the gold-medal tables, snatching both existing titles and a few new ones.
Former British Olympics team coach Ben Oakley, who coached Team GB for the South Korea and Barcelona Games, spoke to The Reg about the tighter marriage of science and sport. Oakley now heads up sport and fitness for the Open University.
The former coach said: "There's an increasing use of science within sport, of sport and science to gain minimal margins. The 'sciencification' of sport, has been going on for a while but as the stakes get higher you see more of these initiatives."
Prior to Sporting Giants, Britain seems to have dabbled with placement of athletes using something known as "talent transfer". This is where existing athletes swap their existing discipline, where people with specific skills and body types are matched to another suitable discipline.
Remember Rebecca Romero? She first won silver for Britain rowing the quadruple scull at the Athens Games in 2004 and only took up cycling in 2006, winning two golds for Great Britain at the 2008 Beijing Olympics.
Britain has not been alone in applying talent transfer to get results. China moved Chen Zhong from basketball to taekwondo in 1995 and within five years she had been selected for the national team. Zhong went on to win gold at the 2000 Olympics - where taekwondo made its debut as an Olympic sport.
A time for tall people
In an age of reality TV programmes such as Britain's Got Talent or The Voice, Sporting Giants' process has a ring of the familiar: it searches the public for new talent, selects a few and then watches them perform to see who comes out on top.
In reality, they couldn't be more different. Competition to join Sporting Giants was intense: Glover was one of 4,500 applicants who initially signed up in 2007 and she was part of one the 200-strong batches of people that were tested at a time at the England national sport centre in Bisham Abbey.
The basic entry requirement was also strict. Never mind a sneaking sense you'd quite like to give rowing a go, first you had to be tall: the tallest woman on Sporting Giants was 192.7cm (6'4") and the tallest man 217.3cm (7'2").
When it comes to rowing, the taller the better – ideally six feet and more. Also considered is wing span – the distance from hand tip to hand tip – with the greater distance favoured: a long wing span indicates "long levers" and a long stroke length – rather like Usain Bolt's huge stride length on dry land. A weight lifter would have a different body type: shorter with shorter wingspan.
Right body and mind?
Other physical attributes were also assessed, such as a lung capacity – bigger is better - and the ability of to rapidly transfer oxygen to the muscles. This is known as VO2 Max.
Closely connected to VO2 Max is the research of Claude Bouchard, who looked at the influence of genetics on athletes' responses to training in 2011. Genetics, after all, influence factors such as height, muscle mass and so on. Having tested hundreds of previously untrained volunteers over a period of five months, it was noted that some had improved their VO2 Max score by less than 5 per cent while others improved by 30 per cent. Bouchard's work identified certain genetic factors responsible for the different results.
You can assess your own suitability to specific sports using Oakley's Olympisize Me test here.
What this means is that it's probably unlikely somebody straight off the street would make the cut for Team GB. Glover, for example, had already been physically active: playing hockey for the England satellite squad, captaining her county team and also playing tennis and swimming for her county at 14. After being selected to run for England, Helen studied sport and exercise science at the University of Wales.
However, mental attitude is also important. Coaches assess how the person responds to psychological pressure, increasing levels of competition and inevitable setbacks – especially setbacks.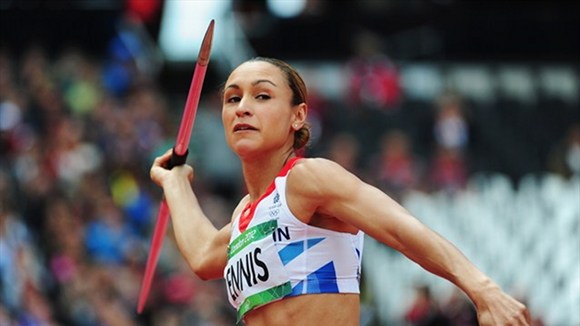 Behind the body, the mind: Jessica Ennis had the mental strength to pull back from earlier injury to strike gold in London.
Pic credit: London 2012
The mental part is easily overlooked when you see the kind of buff and ripped physiques on display in the Olympic Stadium where, on Saturday, two British athletes struck gold having suffered major physical setbacks earlier in their careers.
Jessica Ennis broke her right ankle in time for Beijing 2008 and was warned she might never run competitively again. However, she was determined enough to change her technique and training. Long-jumper Greg Rutherford missed out on competitions through 2007 and was ruled out of the 2010 European Championships thanks to different injuries. He has since adapted his running and jump style to be more like four-times medalist Carl Lewis.
It seems the days of the talented amateur training alone are disappearing, along with the idea that it's enough for teams to produce just one or two hits followed by fallow periods.
One reason for this is the need for results in an increasingly tough competitive world.
Bolt's cruise to victory in the 100 metres on Sunday is proof of just how tight the margins are and of the need for more precise and systematic selection and grooming of athletes. Bolt won on 9.63 seconds compared to 9.69 four years ago in Beijing. But his competitors were also faster than before: four of those racing against Bolt were faster than the runner who came second against Bolt in Beijing.
The pressure for precious metal is particularly acute for nations hosting the Olympics, Oakley reckons, and this means that there is more focus on training and more funding of sports programmes in the run-up to the Games in the host countries. UK Sport, founded in 1997, spends £100m per year in national lottery and taxpayers' money to develop athletes in what it calls "high performance" sport.
Every country, except the USA in 1996, has increased its medal tally by a "huge amount", Oakley says, by spending more on sport.
So much for the nebulous "home advantage" phrase that's been bandied about this week. The effects of money and investment are easier to gauge.
"Whenever you host your own Games, people talk about home advantage. There's lot of examples where you can see home advantage, but there's also the political impetus and momentum where you cannot afford to fail at your own games so lots of money an effort get spent on it in before hand," Oakley says.
After London, what?
As Team GB hit parity with Beijing on Tuesday thoughts are now slowly turning to the next Olympic games in Rio, and how we can stop being overtaken by the rest of the world. In the gladiatorial din of the velodrome, especially, we saw off renowned cycling nations such as Australia, Germany and France. But they will learn and adapt. Britain so far has nine medals in cycling – seven gold – with second-place Australia a long way behind on one five medals and just one gold. But you can bet they will be back.
Britain will need to have more systems in place to find, fund and train even more great athletes before we run up against the rest of the world in South America.
Already the debate has begun about school sporting facilities.
But what about the role of UK Sport – what does it have up its sleeve for the next Games? So far, the authority is keeping quiet. Of all the programmes that brought those 11 outsiders to Team GB in 2012, just one is currently running: Power2Podium.
Asked if more programmes like Sporting Giants are planned, a spokesperson diplomatically told The Reg: "[We will] continue to look at front line campaigns/programmes wherever we can, identify where there is a clear performance-driven reason for delivering them, working with sports to improve their talent identification and verification processes."
See you in Rio. Maybe. ®