Original URL: https://www.theregister.co.uk/2012/08/06/review_acer_iconia_tab_a510_10in_android_tablet/
Acer Iconia Tab A510 10in Android review
Quad-core cost-cutter
Posted in Personal Tech, 6th August 2012 11:13 GMT
In my view, the 16GB Google Nexus 7 is pretty much the ideal Android tablet, but if that form factor is too small for you, then you might be interested in what Acer has cooked up lately. Say hello then to the Iconia Tab A510. Targeted at those who want a quad-core machine, it offers a 10.1in screen, 32GB of storage and for a reasonable price – around £320 if you look hard enough.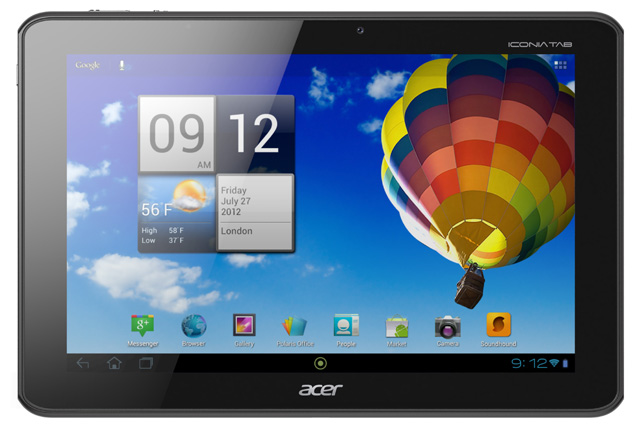 Tegra 3 tablet: Acer's Iconia Tab A510
Externally Acer could have been a little more adventurous with the design. As it is the A510 looks very similar to the Tegra 2-based A500. At over 10mm thick and weighing 680g it's not particularly slender or light but the dimpled back makes it comfortable to hold and it feels very solid.
With tablets now looming on the horizon with 1080p screen resolutions the A510's 1280 x 800 panel may seem a bit old-fashioned and the pixel density of 140ppi can't match the Nexus 7's 216ppi. Still, it looks perfectly crisp and clear to my eyes and the dpi number is better than the similarly priced 16GB iPad 2's figure of 132ppi.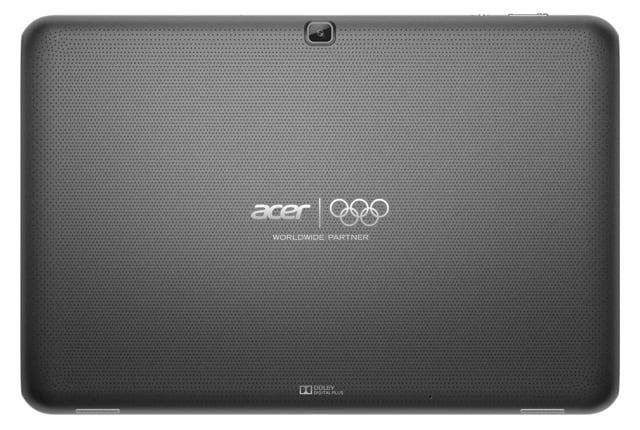 Olympic fondleslab, anyone?
Of course, the A510 can still play 1080p video with perfect ease and throw a full-HD feed out over its micro HDMI port. The 5MP camera at the back is nothing special but it can at least record 1080p video while the 1MP webcam works a treat with Skype and can record video at 720p.
The screen itself is a simple TFT LCD panel rather than an AMOLED or IPS affair. This means it's not quite as bright or vivid as some of the opposition, nor does it support such wide viewing angles. But again, to get a better screen you need to spend more money and frankly if you are planning on using your tablet predominantly indoors and on your own the A510 is more than adequate.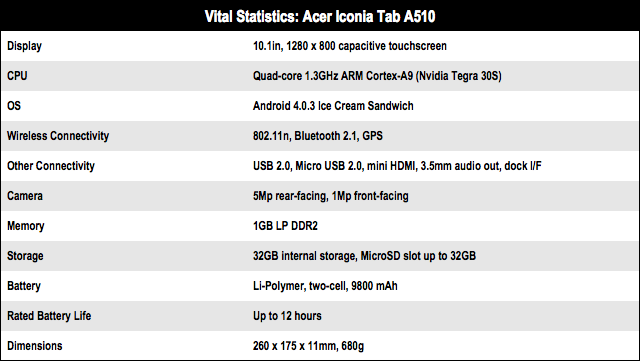 Making connections
Music and video playback are both enhanced by a particularly fine and loud pair of built-in speakers and Dolby's Digital Plus sound modification. Hook the A510 up to a good set of headphones or a decent dock and it makes a very competent music player.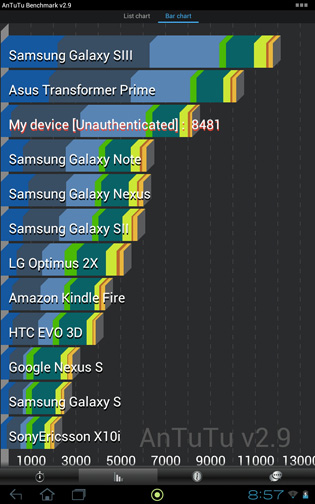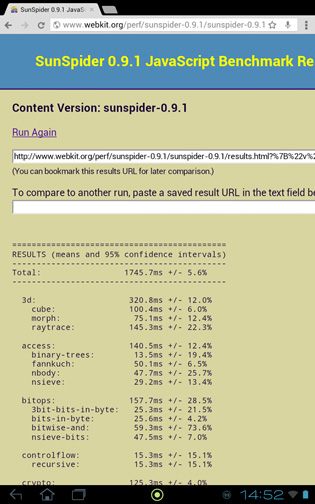 AnTuTu and Sunspider results
Acer has built the A510 around a T30S Tegra 3 chipset with a quad-core processor clocked at 1.3GHz. Despite having a CPU dialled-back from the 1.5GHz speeds found in some tablets it still has more than enough raw power to run the latest generation of 3D games with perfect smoothness. So potential buyers shouldn't be too concerned about it being obsolete this time next year.
To put some numbers to that statement the the AnTuTu benchmark app returned an average score of over 8,400 while the Sunspider browser speed test came in at a more than reasonable 1,745 using Chrome.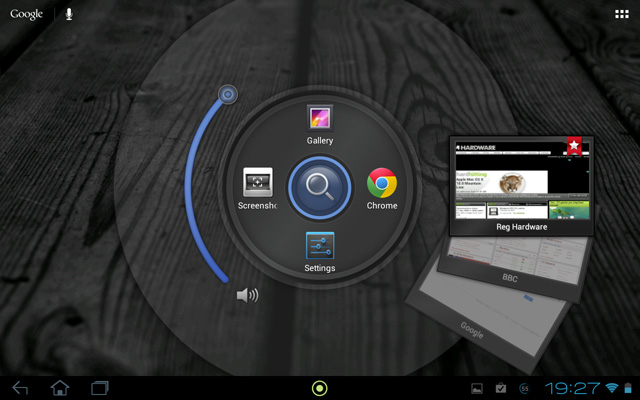 Acer's ring: ready for poking
Thanks to the Tegra 3 chip and Android 4.0, the A510 is both fast, easy and pleasant to use. Unlike some tablet makers Acer hasn't messed about with Android, so the version here is very close to stock ICS with only a few minor design tweaks and the Acer Ring launcher which you can disable.
Acer has a decent reputation for rolling out updates, so I suspect Jelly Bean will bounce onto the A510 sooner rather than later, even though nothing has been officially announced at the time of writing.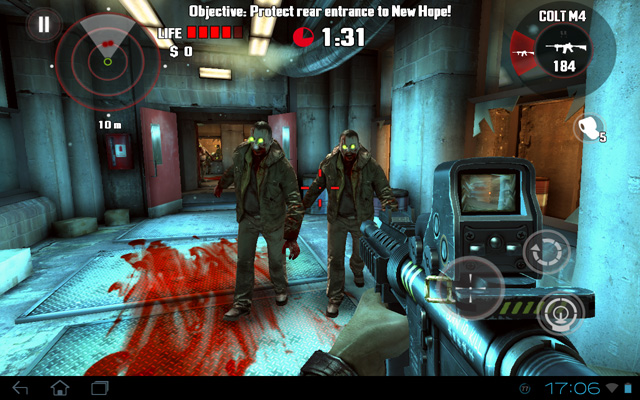 Dead Trigger gets an outing
The old A500 had a full-sized USB port which sadly the A510 has done away with in favour of a micro USB socket. Asus does, however, include an adapter for attaching USB storage which is commendable, as is the fact that the A510 will power external hard drives. The A510 also takes a microSD card letting you add up to another 32GB of storage.
Powering the A510 is chunky 9,800mAh battery that Acer reckons is good for 12 hours of video playback. Looping a 720p video with the screen brightness at 80 per cent it only managed 8hrs 30mins but that's still pretty good. Unless you hammer it like a recalcitrant nail, you shouldn't need to look for a power socket more than once every two days.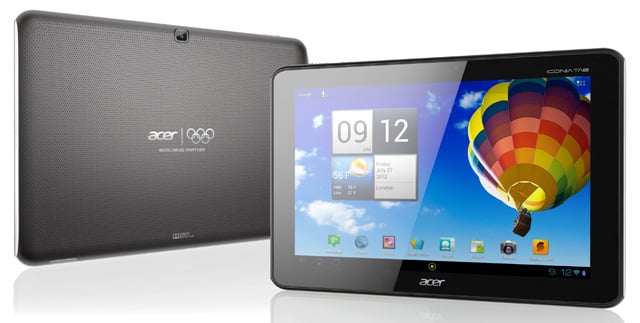 It may appear a little unexciting, but it has storage and connections aplenty
Verdict
A 32GB A510 will set you back £130 more than a 16GB Nexus 7. For the extra you get a larger screen, twice the storage, an expansion slot, an HDMI port and that handy USB adapter. On the downside the screen isn't as good as the latest AMOLED and IPS devices and it's a bit plain and heavy. Still, until a Nexus 10 arrives – if it ever does – the Acer makes a lot of sense and represents good value for money. ®
More Tablet Reviews

Samsung
Galaxy Tab 2 10.1
Asus
Transformer Pad
TF300 10e
Android 4.1
Jelly Bean
Google
Nexus 7
Lenovo
Thinkpad
Tablet