Original URL: https://www.theregister.co.uk/2012/08/02/review_humax_youview_dtr_t1000_iptv_freeview_pvr/
Humax YouView DTR-T1000 IPTV Freeview PVR review
In time for the Olympics, but is it a champ?
Posted in Personal Tech, 2nd August 2012 07:00 GMT
YouView is the ambitious but agonisingly delayed joint venture from the UK's main broadcasters involved in Freeview along with telcos BT and TalkTalk. As expected from that bunch, it combines a digital terrestrial recorder with internet-TV extras such as catch-up programme players and (soon) on-demand video, including optional pay-TV packages.

Hybrid box: Humax's YouView DTR-T1000 IPTV Freeview DVR
Most Brits' experience of PVRs is through Sky+. It's said that just a third of Freeview-only homes have a hard-disk recorder. YouView is chiefly aimed at non-PVR viewers who have an aversion to making direct debits to media conglomerates but want a no-fuss way to see free catch-up content on their HDTV, and then maybe sample the hedonistic pleasures of pay-TV in a small way.
Made by Humax, the DTR-T1000 is the first piece of YouView hardware. There's a similar one due from Huawei, which TalkTalk will use for its IPTV service and supply free to subscribers paying at least £24 a month for its phone and broadband. At the time of writing, BT had not announced its YouView pricing.

Installation simply involves plugging in the aerial, Ethernet and HDMI
The Humax version appears to be based largely on its popular HDR-FOX T2 recorder. It costs about £70 more but makes better use of its network port and wears a slick YouView skin on its user interface. If your TV is near a router, it's just a matter of plugging in the aerial, mains, Ethernet and HDMI leads – the latter two cables are provided.
YouView's chairman Lord Sugar famously said at the product launch that if you can't work that out, "you probably shouldn't be watching TV". That's a little harsh. If your telly isn't near the router you must find another way: laying a longer cable; configuring a Wi-Fi-to-Ethernet extender – it lacks built-in wireless or dongle compatibility at the moment – or using a pair of PowerLine adapters. The latter is YouView's preferred option if the router is far away, as it offers the least hassle.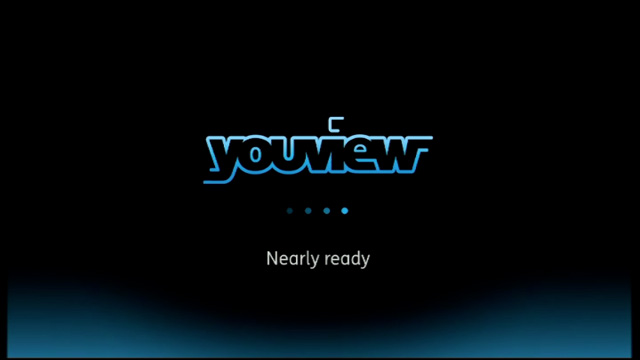 They've been saying that since 2010. Even now it's here, this box is rather slow to wake up
An internet speed of at least 3Mbps is recommended for an acceptable quality of service. A partition of about 1GB on the HDD is used for buffering video to ensure that there aren't many obvious on-demand hiccoughs. Online programmes can't be stored on the hard drive – they are for streaming only.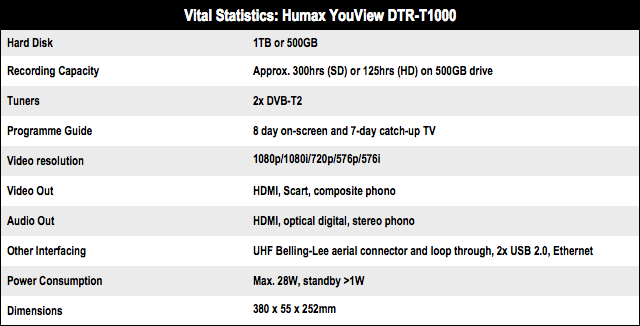 Scheduled services
The set-up is straightforward. Tuning Freeview channels and configuring the network connection are mostly automatic with little action required on your part. All on-screen messages are in practical, jargon-free plain English. Given the mainstream users YouView is targeting, this is bang on.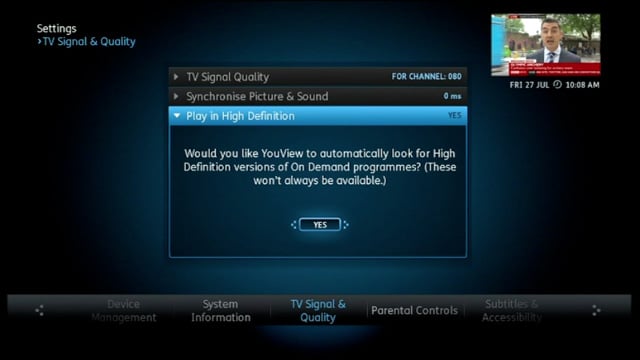 It allows an auto preference for HD on-demand if your connection is up to scratch and the source supports it
Overall picture quality is high, and the built-in scaler does a fair job in adding what detail it can to SD channels and the non-HD content that still dominates the (non-BBC) catch-up services. ITV Player, 4oD and Demand 5 have a smattering of non-skippable ads before and during programmes, which could irritate any veteran ad-skipping PVR users.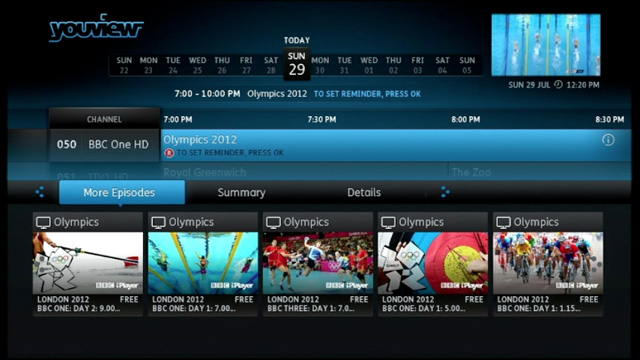 The guide's info screen also helpfully brings up any available previous episodes
A blue 'Y' button takes you to the main menu, where you can scroll to any sub-section, such as the TV guide, the catch-up players menu and your planned or previous off-air recordings. It's brisk and simple to navigate. Nothing seems too counterintuitive and the interface is clean, not a mass of random icons for low-rent web video portals and bizarre smart TV apps you'll never use.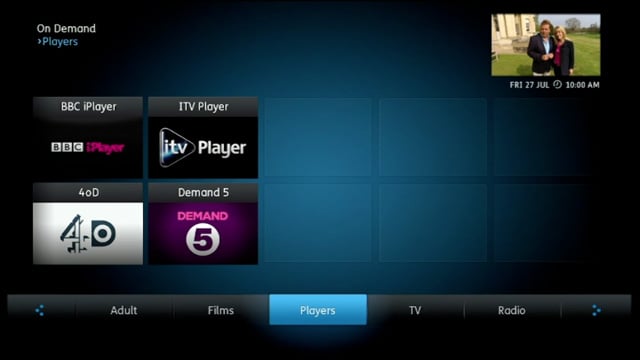 The Players menu has all the main networks' catch-up portals, with Sky Now TV and more promised
One of the best features is the on-demand section, which subdivides into a line-up of recent or popular shows, regardless of the host channel, or it can be browsed by genre. This is handy for 'content discovery', as the industry calls it. You can also go into the iPlayer, ITV Player, 4oD and Demand 5 individually. The look of the UI then changes according to the service. This menu will carry others – like Sky's Now TV – when they join YouView later.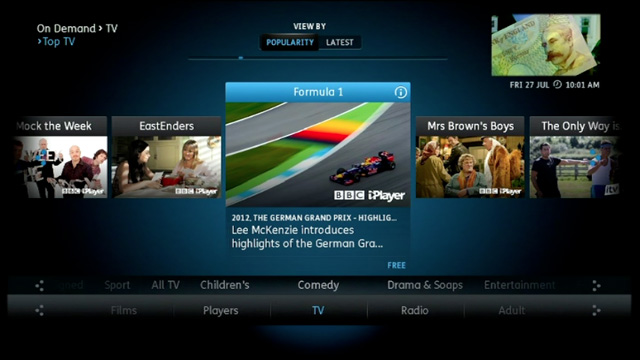 You can also browse the catch-up TV menu, arranged by genre, newness or popularity
Other movie suppliers, like Netflix and LoveFilm, which are plastered all over other connected platforms remain absent here, but that could change soon.
You can also reach catch-up programmes from the Guide's info button or by going backwards in the schedule grid, like Virgin Media's TiVo. Or you can hit the title search, which lists everything it can get in the catch-up portals from your entered keywords. It auto-suggests various titles, based on popularity.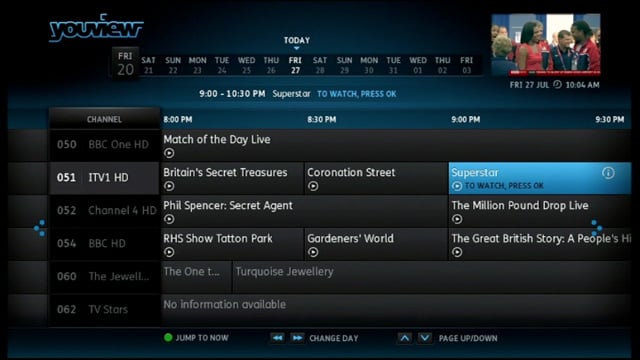 Going backwards in the EPG is one of the quick ways to play catch-up TV
Weirdly, it doesn't bring up programmes from forward schedules. So if you are trying to plan HDD recordings and you don't know precisely when they're on, the title search won't help. This differs from both Sky+ and TiVo, which bring together shows that are recorded, scheduled or on-demand, so you can pick how to watch them.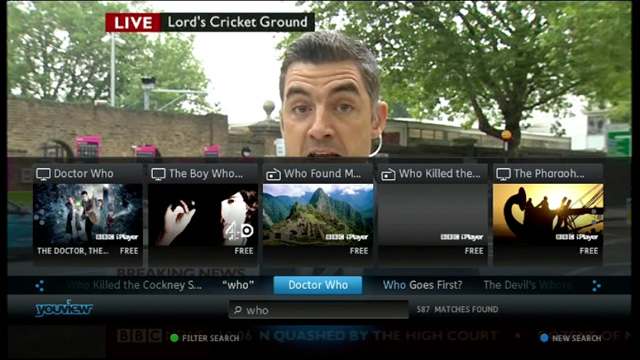 The smart keyword search is only useful for catch-up content, not for setting recordings
The box isn't overly supportive with timer conflicts either. Try to set three overlapping recordings and it won't suggest alternatives, you've got to hunt for them. If there's a +1 channel, that's a doddle; less so when the next showing is hours or days later, or unscheduled. These sorts of features are baked into numerous Freeview HD PVRs, so hopefully they'll eventually find their way onto this platform and any other YouView hardware.
Bug hunt
You can record up to two channels and watch anything at the same time from HDD or online. It does the usual Humax trick of allowing a live channel to be watched while two others are being recorded, as long as it's in the same multiplex being used by one of the tuners.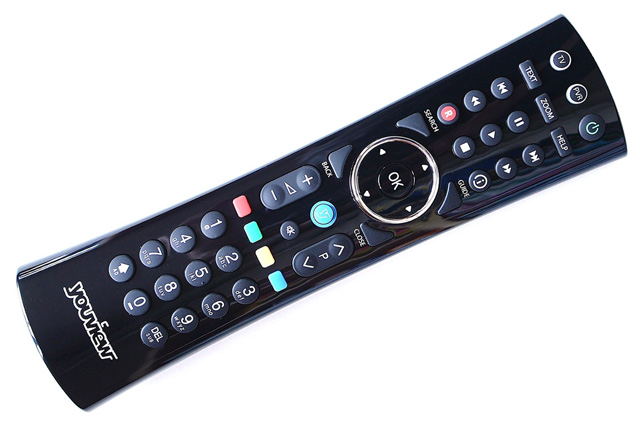 The remote is uncluttered and intuitive, but cursor keys are a bit loud and clicky
A 1TB version is due, along with a possible cheaper zapper box that is to have no HDD and only one Freeview tuner, but will still carry the online portal. Apps for smartphones and tablets to act as a remote control and for remote booking recordings are apparently on the drawing board, to bring it in line with Sky and to some extent TiVo.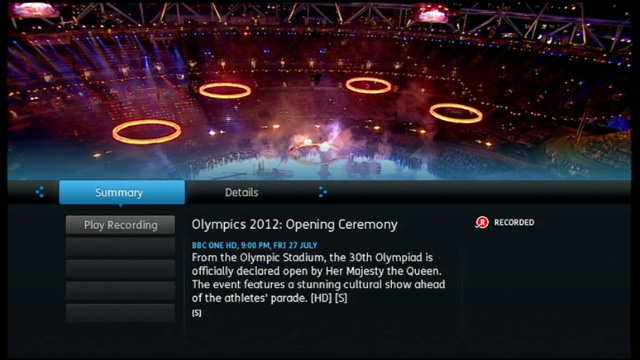 At its heart is a well built Humax Freeview HD recorder
The box takes about 30 seconds to boot up, or more than two minutes if you set it to power-saving deep sleep. There is no media playback from network or USB sources, nor streaming from the HDD as a server. There are hints that these could follow in firmware updates because they are features Humax provides elsewhere. At launch, YouView is keeping it simple.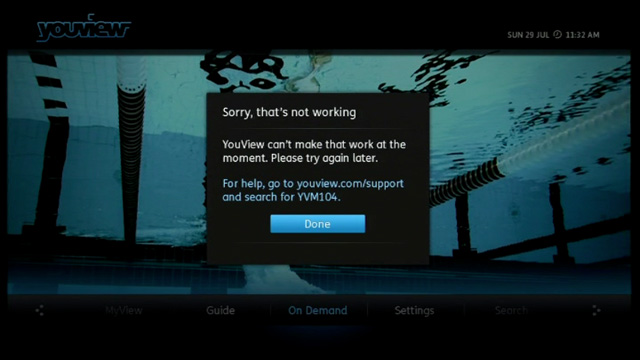 Oh dear, this was happening a lot, inexplicably dropping its network link
That makes sense, especially as there are still annoying bugs to be fixed. For instance, my review sample sometimes wouldn't go back online when a catch-up programme had finished, or when the box had been resting. There's already a catalogue of error codes in YouView's FAQ. If these prove widespread, they have to be fixed fast or customers will wonder what they are getting for their money.

Needs some refining but could be a winner among the Pay TV refuseniks
Verdict
The terrestrial networks account for the majority of TV viewing, even in homes that have satellite or cable. So by pitching YouView at pay-TV refuseniks, it has the concept right. The launch price equals about 14 months of basic Sky payments; however, it's currently too expensive to go flying off the shelves.
There are plenty of YouView naysayers but I think there's a need for a unified free-to-air digital and internet-TV hybrid like this. Taking the box in its own right, it's more user friendly than most 'connected TV' screens and set-top gadgets. When it comes to the catch-up services that people use regularly, then it's got those sorted, with plenty of potential to improve. ®
More AV Reviews

Ten... monster TVs
for all budgets
Build a bonkers
Hi-Fi
Panasonic
DMP-BDT320
3D Blu-ray player
Apple TV
2012
Ten... Freeview HD
42-47in TVs