Original URL: https://www.theregister.co.uk/2012/07/27/review_hp_envy_4_1010ea/
HP Envy 4-1010ea 14in Ultrabook review
Cost-effective compromise?
Posted in Personal Tech, 27th July 2012 07:00 GMT
HP made quite a fuss when it launched its Spectre Ultrabook back in May, and whilst we praised its gleaming, glass design we also noted that the Spectre was a bit on the porky side for what was meant to be an 'ultraportable' laptop. It was also burdened by a £1200 price-tag that might make even Apple blush.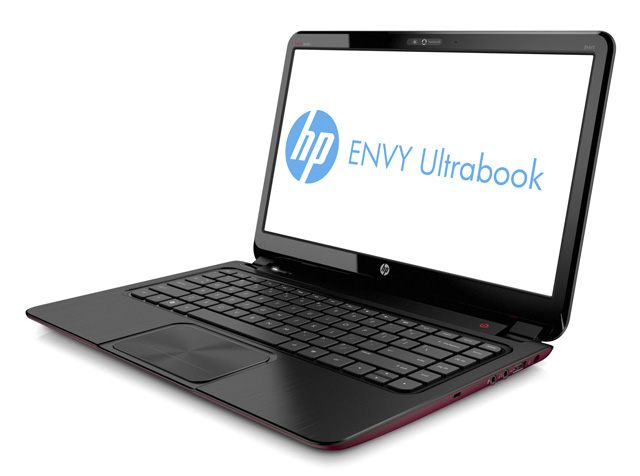 Surprisingly nifty: HP's Envy 4-1010ea Ultrabook
So now, with considerably less fanfare, HP has quietly released the Envy 4, a second Ultrabook that – while still somewhat well-upholstered by Ultrabook standards – costs considerably less than the Spectre. In fact, at £649, the Envy 4 is one of the least expensive Ultrabooks we've seen so far.
For that price there are sacrifices and the Envy's spec is relatively modest. It's equipped with a 1.4GHz Intel Core i3-2367M processor, running at just 1.4GHz. Indeed this is last year's Sandy Bridge CPU but it's worth mentioning that there will also be a model called the Envy 4-1020ea that will offer an Ivy Bridge Core i5 CPU for a still attractive £700. No doubt the price of this 2nd gen Core i3 review Ultrabook will fall further when that model materialises.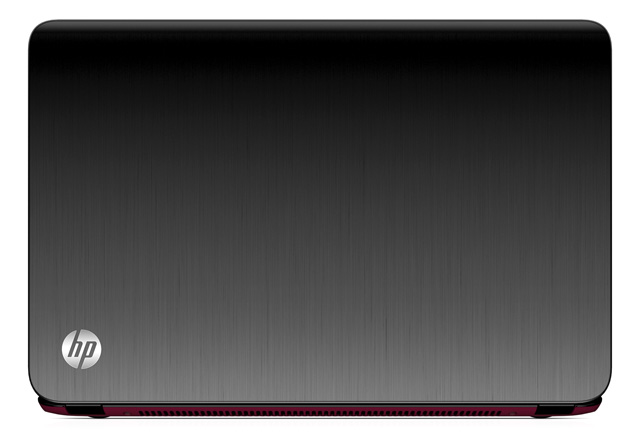 Leave your fingerprints here
The Envy 4 has on-board 6GB of RAM and a 500GB hard disk that is backed up by a 32GB SSD module. This hybrid set-up helps to keep the price down, while improving the boot time – 25 seconds from a cold start. This works out as twice as fast as my non-ultra Sony Vaio laptop. This SSD/HHD combo also allows it to wake from sleep with barely a two-second pause to gather its thoughts.
Performance is good too, with the Envy 4-1010ea managing a score of 2743 when running PCMark 7. That comfortably outpaces Toshiba's more expensive Portégé Z830 Ultrabook, which has the same processor and a 128GB SSD drive too. In fact, it even produced a better result than some of the Core i5 laptops we've seen recently – including the score of 2450 from testing a Boot Camped Apple's 13in MacBook Pro.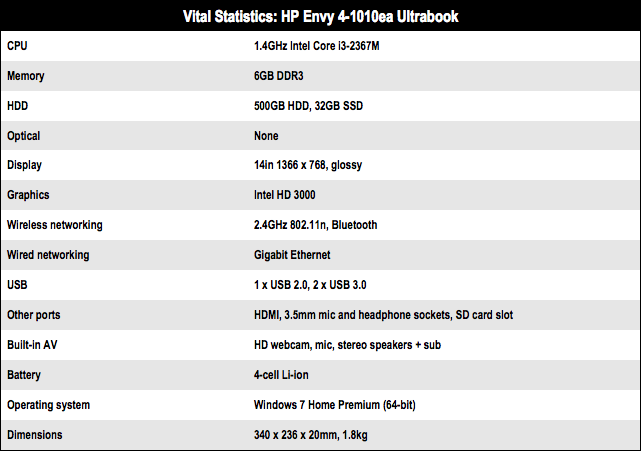 Power broking
The use of the Core i3 processor also helps to eke out pretty good battery life. The Envy 4 managed a robust 3hrs and 20mins with the PowerMark 11 benchmark software, and hit a full five hours when using Wi-Fi to stream the Beeb's recent Shakespeare marathon on the iPlayer. You'll probably get close to a full day's work out of it if you're just doing a bit of casual web browsing or running an Office suite of apps.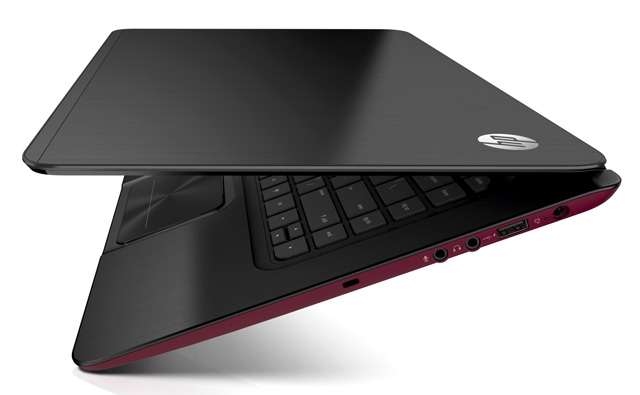 Slim enough for Ultrabook standards
Build quality is quite good too, even if the Envy 4 lacks the Gorilla Glass armour plating of the Spectre. It's plastic all over, but the matt black-and-red casing is solid enough, and looks quite smart and businesslike – although it does pick up finger smudges the moment you touch it.
Like all Ultrabooks, the Envy 4 lacks an optical drive, but it has a large, comfortable keyboard and mouse, and I was pleased to see that it includes Gigabit Ethernet in addition to the 802.11n Wi-Fi. There's also a pair of USB 3 ports, one plain old USB 2, a memory card slot and ports for headphones and microphone.
PCMark 7 Results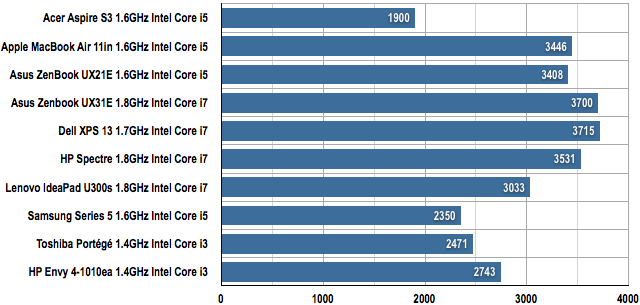 Longer bars are better
So far, so shiny – but here's the odd thing. Like the Spectre, the Envy 4 has opted for a 14in screen, rather than the 13in displays found on most Ultrabooks. Now, to be fair, it's a very nice screen – bright and colourful, and the 1366 x 768 resolution worked perfectly well when watching the BBC iPlayer. It's a shame, though, that HP's much-touted Beats Audio speakers sound just as thin and tinny as any other laptop speakers.
However, the 14in screen automatically means that it's less portable than the 13in Ultrabooks that seem to be the norm at the moment. Despite foregoing the Spectre's chunky glass accoutrements (and its 1600 x 900 display) the Envy 4 has the same 1.8kg weight – whereas most 13in Ultrabooks come in at less than 1.5kg. It's virtually the same thickness as the Spectre too at just under 20mm. Yet the Envy 4 is about 13mm wider and deeper than the Spectre, which means that it's really stretching the definition of 'ultraportable' to its limits.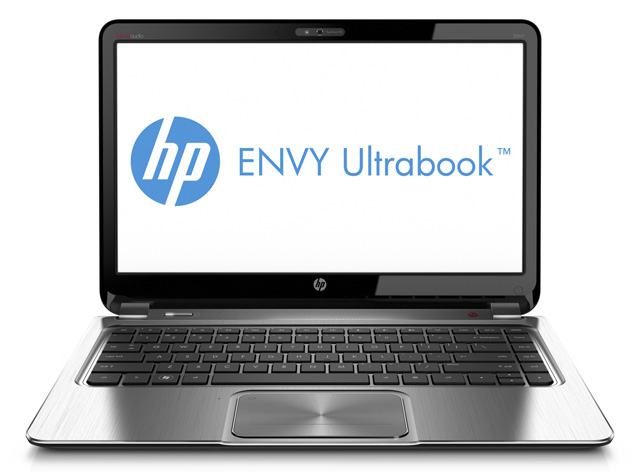 A 14in screen, but alas, not full-HD resolution
Verdict
This is one of those 'glass half full' situations. If you consider portability to be the be-all and end-all of an Ultrabook then the Envy 4 – like the Spectre – falls short when compared to its slimmer, lighter 13in rivals. On the other hand, it's cheaper than most Ultrabooks, whilst also being a lot lighter than most conventional 15.6in notebooks. So if you're looking for a lightweight, affordable laptop with a decent screen and performance, and impressive battery life then the HP Envy 4 may well satisfy. ®
More Ultrabook Reviews

Ten...
Ultrabooks
HP Envy 14
Spectre
Toshiba
Portégé
Z830-10N
Asus
Zenbook
UX31E
Dell
XPS 13