Original URL: https://www.theregister.co.uk/2012/07/26/portable_optical_drives/
Choose Smarter: Ten…portable optical drives
The art of spin
Posted in Personal Tech, 26th July 2012 07:00 GMT
Product Round-up Optical drive is the collective term for CD, DVD and Blu-ray readers, recorders and rewriters, the mainstay of swap-in-swap-out storage in notebook and desktop computers.
For many reasons, optical discs remain a useful storage option and having a portable unit allows you to get the best of the latest laser tech without having to take a machine apart. Likewise, ultraportables can all use an optical drive from time to time. Whatever the application, there is a variety of drives, formats and price points to choose from.
Buffalo BRXL-PC6U2B


Buffalo's BRXL-PC6U2B is a Blu-ray disc (BD) model that burns to both BD-R (write-once) single and dual layer media at 6x speed and BD-RE (rewritable) single and dual layer at 2x.
The drive also supports the new BDXL standard, which utilises four-layer media to bring capacity up to a stonking 128GB of data on a single disc.
 The unit relies on a USB 2.0 interface and at 145mm x 153mm x 19mm, is slim enough to fit in a roomy coat pocket. As is so often the case, the glossy black finish looks looks stylish but is also a bit of a magnet for finger prints.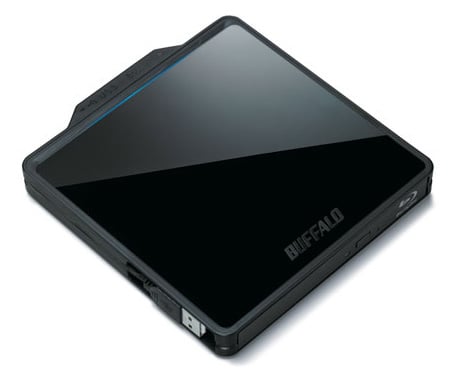 Freecom Blu-Ray ReWriter (35011)

Slimline it's not, as this is a full-sized drive in an external case and at 1.2kg is on the borderline of what you might call portable. Freecom's external Blu-ray drive has a USB 2.0 interface which burns a single layer BD-R at 10x speed, BD-R dual layer at 8x and both single and dual layer BD-RE discs at 2x.
It supports Lightscribe technology for labelling discs and not only comes with a copy of Roxio's Creator XE (v10.3.0.81) software but also two Verbatim discs: 6x BD-R and 2x BD-RE. The drive is also available in the Pro version (35012), which adds a FireWire 400 interface to the USB 2.0 one and about a tenner to the purchase price.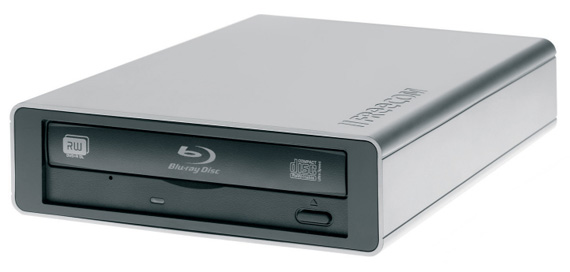 Reg Rating 70%
Price £119
More info Freecom
HP DVD556s


What if you don't need a fancy Blu-ray drive but still want a good external burner? No problem, there are a good few to choose from. For instance, HP's DVD556s is a compact DVD burner not much bigger than a jewellery case, so it is just the job for carrying around with an ultra-portable.
It has a USB 2.0 port but you will have to make sure you have two USB ports free to provide the drive with enough power to burn DVDs. The drive supports burning DVD+/- R and +RW up to x8 speed and DVD–RW and DL+/-R discs at up to 6x speed.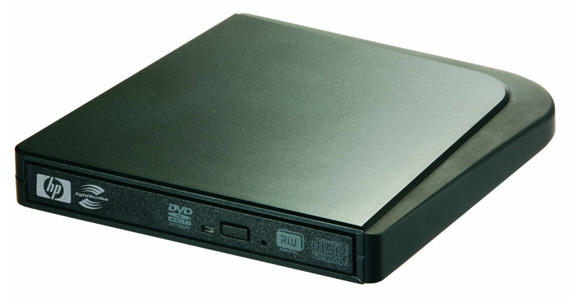 Reg Rating 75%
Price £37
More info HP
Lite-On eSEU206


Not quite as slim as Buffalo's BR-PX68U2 drive, the Lite-On eSEU206 Blu-ray combo drive writes Blu-ray media at 6x for a single layer discs, dropping to 4x for a dual layer. It burns DVD single layer and DVD+RW media at 8x, DVD-RW at 6x and dual layer DVDs at 4x speeds.
The drive comes with LightScribe as well as Lite-On's own SmartBurn and Smart-X technologies, which endeavour to deliver the best write quality and read performance possible. At 145mm x 15mm x 21mm and weighing 350g, it is easy to carry around. Lite-On bundles Cyberlink's Blu-ray diagnostic suite with the drive, to ensure authoring is hassle free.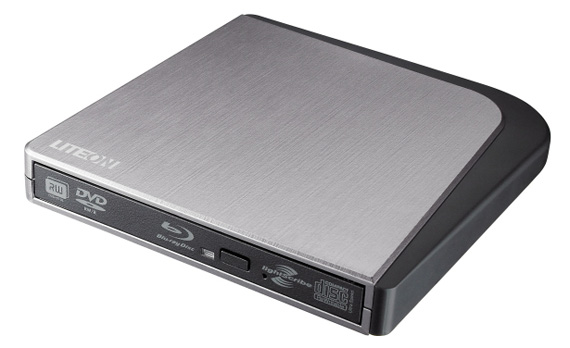 Reg Rating 80%
Price £84
More info Lite-On
LG BP40NS20


Yet another portable drive on a familiar theme: compact, USB 2.0 interface and a 6x speed Blu-ray burn speed. The maximum write speed of the drive is 6x for BD-R and BD-R dual layer and BD-RE dual layer discs, while BD-RE discs are written to at a maximum of 2x speed.
The drive's case is made out of a silver coloured plastic with a UV coating that makes it more resistant to scratching – useful if it spends its life in and out of a notebook bag. The drive supports Lightscribe labelling technology and comes bundled with CyberLink's Blu-ray disc suite.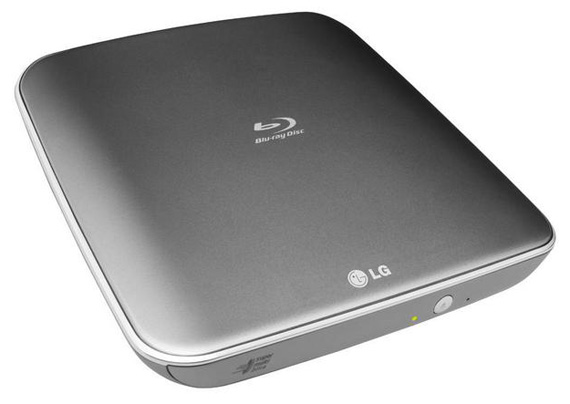 Reg Rating 75%
Price £99
More info LG
Plextor PlexEasy (PX-650US-135)


Now for something a little different. Plextor's PlexEasy is a DVD burner with a secret: it can be used to back up or transfer data onto CDs or DVDs without the need for a PC anywhere near it. It manages this neat trick by supporting PTP (Picture Transfer Protocol), which is what many digital cameras and smartphones use to print images.
It transfers images or data from a supported device to the optical media using its USB 2.0 port. If that isn't enough, it also has a flash card reader built in compatible with SD/SDHC/MMC types. The LCD display and three control buttons on the PlexEasy let the user control the copying process. In normal, plugged-into-a-PC mode it will burn a DVD at 8x speed.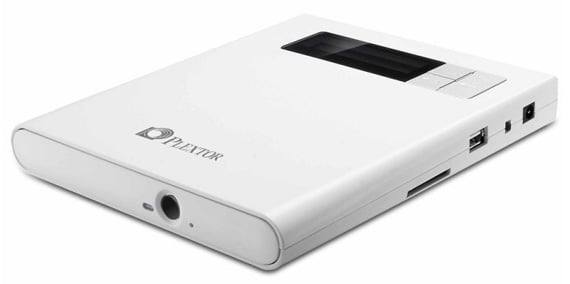 Reg Rating 80%
Price £81
More info Plextor
Plextor PX-B120U


If a multi-function disc burner doesn't appeal, how about a straightforward, no-frills Blu-ray ROM drive. Plextor's PX-B120U is a top-loading drive that reads Blu-ray discs at 4x speed (8x for DVD) using a USB 2.0 connection. Taking power from the USB host, it's truly mobile BD-player.
At 165mm x 165mm x 35mm, it is too big to stick in a coat pocket but it weighs only 600g and is easy to carry in a bag or case. It's rather snazzy too, with its all-black finish set off by a water ripple effect on the lid.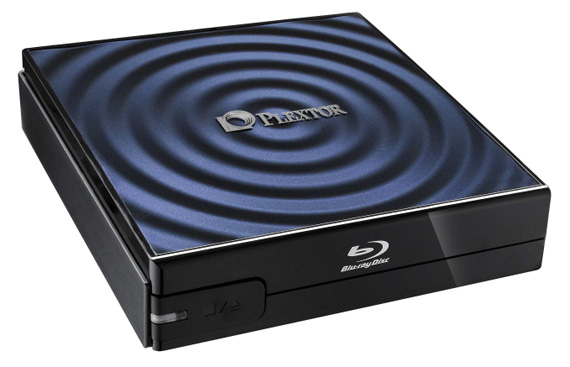 Reg Rating 70%
Price £58
More info Plextor
Pioneer DVR-XD10


Pioneer claims that the DVR-XD10 is one of the smallest and lightest external drives around, and a glance at the specification shows this is no idle boast. Measuring a mere 133mm x 133mm x 14.8mm and weighing 240g, it can't have many rivals that are smaller.
Despite its diminutive size it is a capable drive, burning DVD-/+R, DL-/+ R and DVD+RW media at 8x speed and DVD-RW at a 6x speed, but you will need two free USB 2.0 ports to give it enough power to do the job.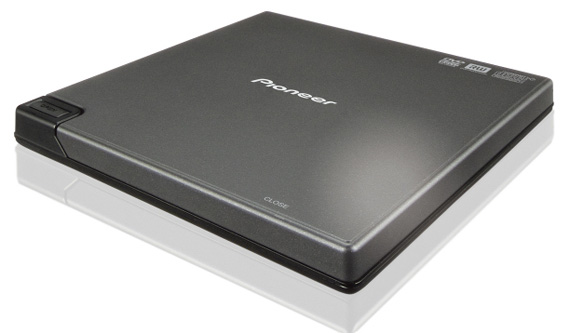 Reg Rating 75%
Price £31
More info Pioneer
Samsung SE-506AB

At a mere 356g and measuring just 141mm x 161mm x 21mm, this is the perfect size to accompany an Ultrabook. It is also quite a looker, with its fingerprint-attracting glossy black or white finish, and is Mac compatibile too.
Using a USB 2.0 interface, the drive can burn BD-R discs at 4x speed and BD-REs at a more modest 2x speed. When it comes to burning DVD media the SE-506AB writes at 8x speed for DVD+/-R and DVD+RW, dropping down to 6x speed for +/- dual layer and DVD-RW discs.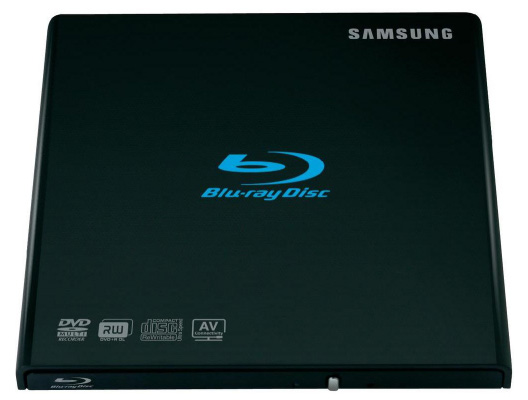 Reg Rating 80%
Price £80
More info samsung
Sony BDX-S600U


A compact drive at 136mm x 152mm x 19mm, this 6x BDX-S600U Blu-ray burner comes in a lightweight black plastic shell with a matt finish that won't show the grime of everyday use as much as a glossy one. Powered from the USB 2.0 bus, it comes with two USB cables neatly stored under the drive.
The bad news is you need to use both USB connectors as one is dedicated to power, the other to data transfer so there is no way round the need for two usable ports on your notebook or PC. It does, however, have an impressive 6MB buffer, whereas many other drives have just 2MB or 4MB ones. Sony bundles Cyberlink's multimedia Media Suite 8 with the drive and backs it with a two-year warranty. ®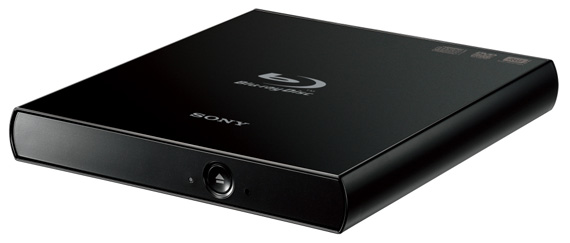 Reg Rating 70%
Price £106
More info Sony