Original URL: https://www.theregister.co.uk/2012/07/25/first_look_apple_mac_os_x_10_8_mountain_lion/
Apple Mac OS X 10.8 Mountain Lion review
Out on sale today, but is it all talk and power naps?
Posted in Software, 25th July 2012 12:31 GMT
First look So, here it is at last, the latest big cat in the Apple game reserve. There are plenty of new features, and numerous improvements but are they enough to tempt Mac users who felt bitten by the radical changes Lion to upgrade?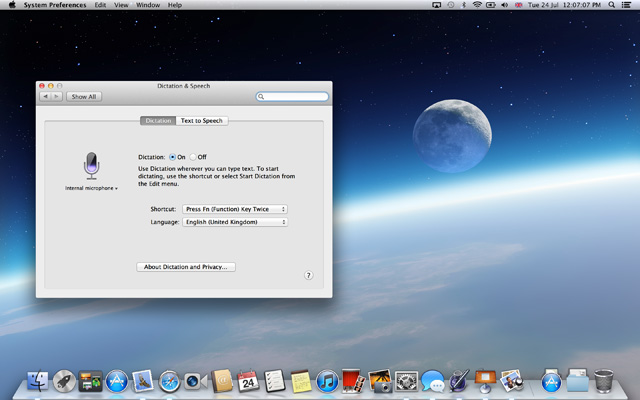 Call of the wild: Mac OS X 10.8 Mountain Lion talks up its dictation functions
Well, OS X 10.8 is not all about bug fixes. First off, I'm dictating this review because one of the new features is the facility to enter text by voice. It's pretty accurate, although I've since been back to tweak the text a little. It has strong word recognition and you can talk for ages or even pause at length, as you speak to it without a hitch.
It understands a sentence like "Is there any chance they're playing their song?" This demonstrated it understood which of those homophones was needed at which time and I simply had to say "Question mark" at the end for it to insert the appropriate punctuation. It's not perfect, for instance, it doesn't take kindly to expletives, but it's certainly good enough to have speech recognition companies worried.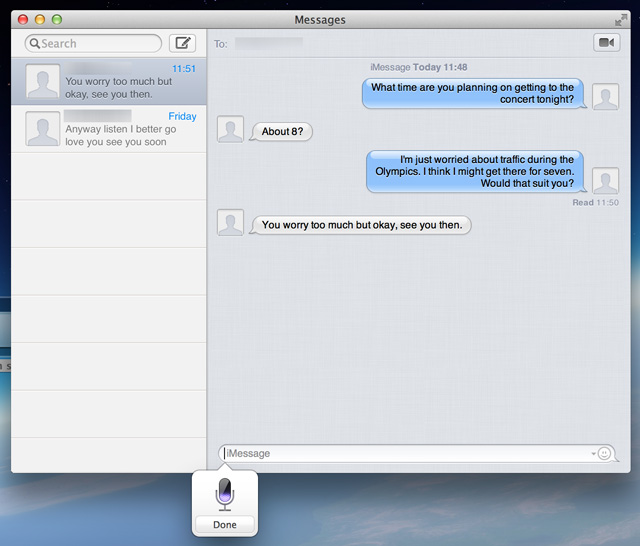 Talk your text when messaging: there was a time when people would use the phone
Not Nuance, though. Its technology is behind some Apple products, presumably including Siri, the iPhone 4S voice recognition feature, so it's almost certainly involved here. Dictation is a neat feature, launched by pressing the function key twice. How much I will use it in the future is anybody's guess, especially in a busy office with company and background noise. But for now, it's proving both useful and fun. It works across the system, so you can as easily dictate to Microsoft Word as you would Messages.
Now, Messages has already been available as a beta on Lion and it enables you to send iMessages from your Mac to other Mac users running the app and iOS devices too. It's rather like BlackBerry users have BlackBerry Messenger but on the Mac you get a desktop version. However, you'll need to be running Mountain Lion now. Still, any iPad, iPhone and some versions of iPod touch can receive iMessages complete with text, photos or even videos. Like BBM, you can see when the other party is typing their response.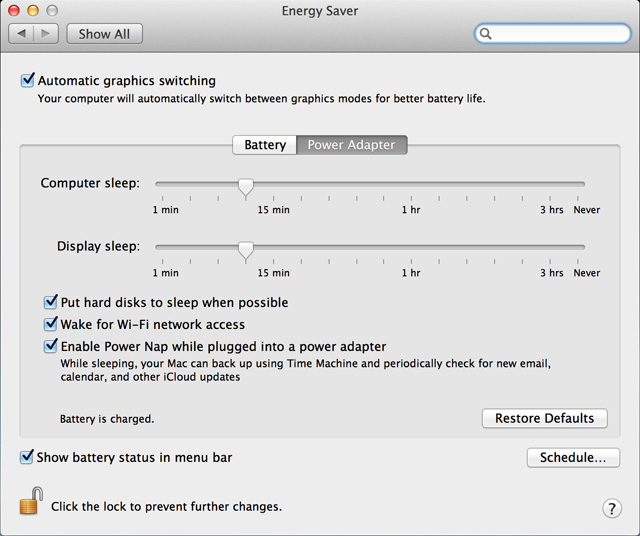 Power nap features in the Energy Saver control panel
There are, apparently, 200 new features in Mountain Lion or, as we at Reg Hardware have taken to call it, Hillside Cat. Many of these are things many users will never knowingly come across and anyway, you don't want to read a list here – Apple has one instead. Still, Mountain Lion has headline features which certainly catch the eye. Chief among these is Power Nap, which persuades your Apple Mac to do some work when it's sleeping.
Sleep, perchance to stream
During the night it will wake periodically, and quietly, to check for e-mails or other notifications waiting for you. Even better, if it's plugged into the wall it'll even download software updates, too. It won't install the update though, which is probably just as well – you need to initiate that. Even so, it's a time saver and, with night time downloads, it could be a money saver for those labouring under ISP data traffic metering schemes in the day time. It also updates Reminders, Notes, Photo Stream and more while you're snoring the night away.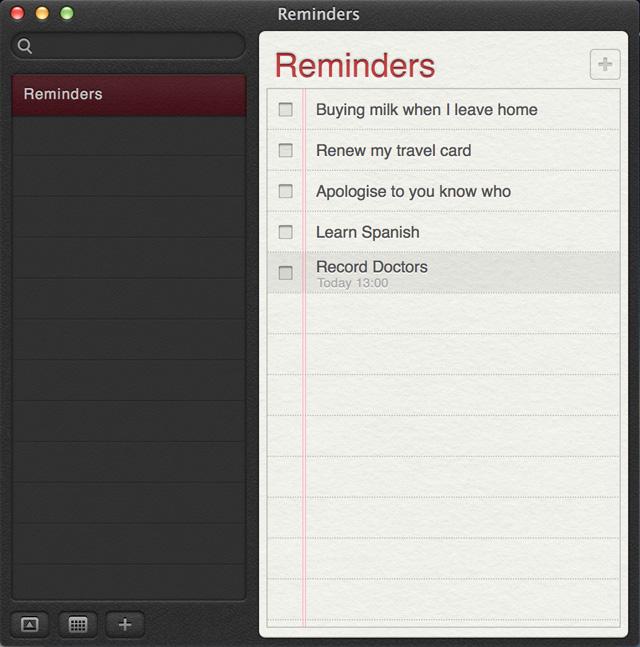 Reminders appears more akin to the iOS version than the feature offered in iCal
Like Lion, which snubbed early Intel Mac models that weren't 64-bit savvy, Mountain Lion can't be installed on every Mac. If you have a MacBook, it needs to be one from early 2009 onwards, and MacBook Airs from late 2008 only need apply. Beyond that, specific functions have their own demands. Power Nap only works on MacBook Air models from late 2010 and the MacBook Pro with Retina Display. So this key feature won't work on the non-Retina Display MacBook Pro models in the last six weeks.
The explanation is simple: Power Nap relies on flash memory to work and doesn't function with hard disk drives. Even so, it's a story Apple needs to tell clearly, as customers buying an expensive, powerful MacBook Pro (without Retina glory) could justifiably expect all the latest features, irrespective of what kind of storage their machine boasts. It remains to be seen if a retrospective SSD upgrade in HDD models will wake up the Power Nap functions.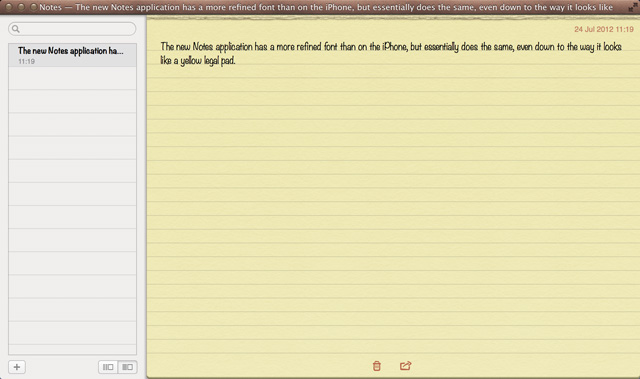 Likewise Notes has taken on iOS form – previously found embedded in Apple Mail
Other features include a further alignment between OSX and iOS. Notes and Reminders, as mentioned above, now appear as separate apps on the Mac, in keeping with their iOS presence. Both work well and make use of iCloud, so your data is kept current on all your devices. And the Notification Centre from the iPhone comes to the Mac as well.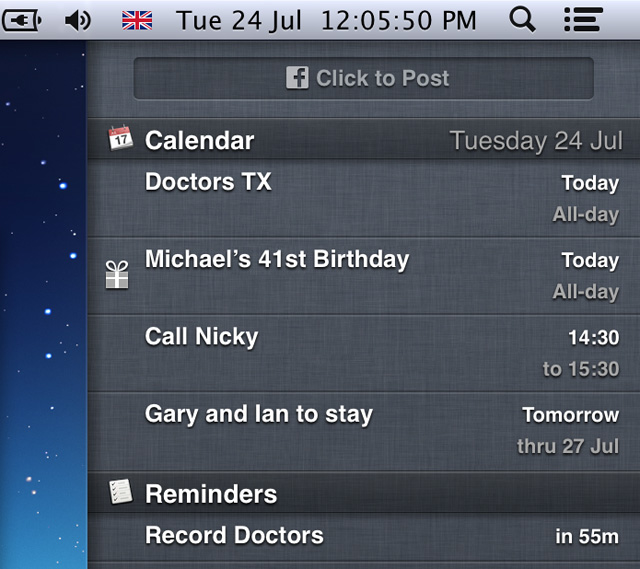 The Notification Centre is a new addition to the Menu bar
These notifications bring a new gesture control: swipe from the edge of the trackpad with two fingers and your upcoming appointments, new messages, reminders and more all slide neatly into view. It's a highly satisfying way to do it and you can banish individual messages that appear in the same way, flicking them out of sight with disdain.
Made for Sharing
It's another way to make a computer more like an iPad but it really feels like suddenly the Mac has useful extra functionality. Indeed, this is a feature I'll keep using. I also like Sharing – you can see it on Safari as an arrow icon – as it enables you to send a photo, video and other content with ease by e-mail, Twitter, Flickr and more. Facebook will be added to that list soon too. It's useful, simple and though I've never felt the need for it before, it may inveigle itself into regular use because it's so effortless.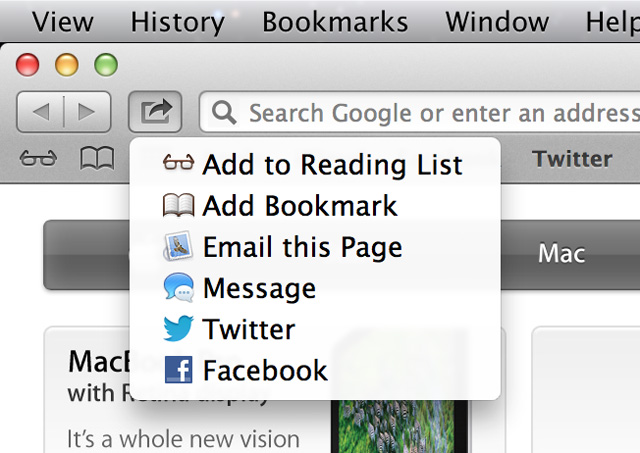 Sharing options on the Safari browser
Less compelling is Game Centre which has slipped across from iDevice to Mac, too. I rarely focus on this on the iPhone, so I suspect my usage on the computer will be the same. There's more, lots more, including a souped-up Safari browser which is noticeably faster than before and Twitter functionality baked right in, but these are the shiny features which have claimed my attention.
A word on pricing: at £21, last year's Lion software was not exactly expensive – about half the price expected for Windows 8 later this year – although there are always those who argue that some Apple upgrades seem more like service packs. That aside, this year's update is even cheaper – just £14 and for that, you can instal it on as many Macs as you have in your household.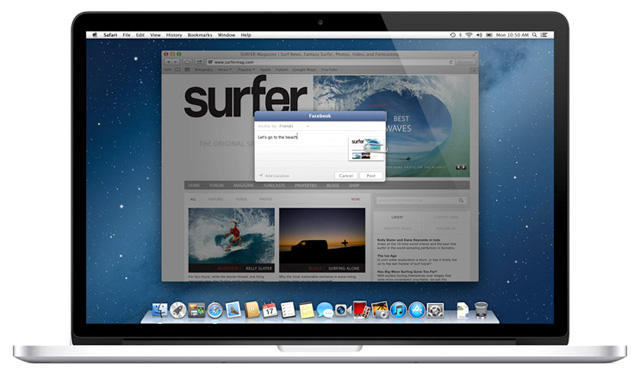 Sharing to Facebook is coming this autumn
Stability aside, it's the feel of an OS that matters for continued use, and this cat comes across as slick and confident. Apple is known for its capacity to deliver intuitive products and here the new applications feel innovative but also comfortable and recognisable. It's almost as if they weren't new at all, they feel so familiar so quickly. In a month or two, Microsoft will have its own new baby on display, and it may try and steal a march. But for now this is an OS that's powerful, attractive and even cool. The temperature may change when we found out more about how well it plays with third party products and discover if Mountain Lion is a pussycat or if it needs more taming. We'll let you know with a more in-depth review in due course. ®