Original URL: https://www.theregister.co.uk/2012/07/24/review_jelly_bean_android_4_1_mobile_operating_system/
Android 4.1 Jelly Bean review
Google's mobile upgrade chewed over
Posted in Personal Tech, 24th July 2012 07:00 GMT
Only eight months have passed since I took a shufti at Ice Cream Sandwich, back then it was the new version 4.0 of the Android operating system for mobile devices. A few days ago, my Asus Google Nexus 7 tablet landed on the doormat. It's preinstalled with Jelly Bean, the ICS replacement and lends itself to poking with the Register Hardware stick.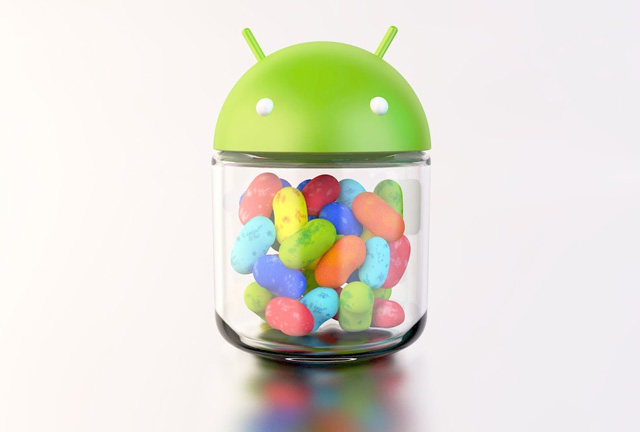 Android 4.1 Jelly Bean appears while many users are still waiting for ICS upgrades to existing handsets
The most obvious improvement is the increased smoothness of the user interface. Google calls it Project Butter, which, assuming your dairy spread hasn't been left in the fridge, suggests it works with ease. Indeed, the entire interface now runs at 60fps with the display refresh signal or vSync maintaining a consistent frame rate across the board for all drawing and animation tasks.
The display graphics can also now be triple-buffered when needed and, from the moment your finger touches the screen, the CPU ramps up ready to devote its full attention and capacity to UI animation. This is what Google describes as Touch Input Boost.
The end result is a supremely smooth user experience. Prior to Jelly Bean I was always aware, in the darkest part of my 'droid-fondling soul, that Android's UI wasn't always as fluid as the fruity opposition or even Windows Phone 7. Now, hand on heart, I can say that Jelly Bean moves, slides, glides, oozes and transitions more smoothly than either.
To accompany this new-found smoothness, the design of Android has been given a once-over. The dominating colour is now more of a whitish grey than a blue, which may sound like a recipe for boredom but, in reality, makes everything look a good deal more clear.
Much of the UI text has been switched from the bold Roboto font common in ICS, to a larger, thinner weight which combines well with the new colour scheme. I'm sure a competent graphic designer could give you a detailed technical explanation of just why the new colour scheme works. All I know is that like Britain's motorway signs, it just does.
Unsurprisingly, to take full advantage of Project Butter there is some new and rather impressive eye candy in Jelly Bean. To start with, Android is now positively stuffed with new animations even for the most petty of actions. For instance, the lock screen has a cool new ripple effect that mimics the dipping of a finger into a limpid pool – Samsung Galaxy SIII users will be used to something similar, but this is better.
If, like me, you are a compulsive re-arranger of icons and widgets the new auto-alignment function should get your juices flowing. Move anything on a home screen and everything else rearranges itself to make room. Widgets even automatically resize themselves if there is too little space.
Notified buddy
So much for how Jelly Bean looks to the eye and reacts to the touch. Yet where it has improved the most obviously is in the notification area. Notifications are now larger, show more information and can be expanded or collapsed. For instance, if you get a new Gmail the notification shows you a preview of what the mail says.
Similarly, you can see the details of your social network notifications – including photographs – and like or retweet from the notification menu. In fact, the notifications system now functions like a stripped-down OS in its own right.
An entirely new presence on the lock screen is the Google logo. You either drag it or swipe up from the bottom of the screen at any time and Google Now launches. This is Android's much-vaunted local and personal information feed. Based on your searches, calendar info and suchlike, Google utilises what it knows about you – which for good or ill seems pretty much everything – and then predicts what information you might like to see.
So, the next train from the platform you are standing on; the traffic en-route to a location in your calendar; a good place to eat nearby or the journey time to the airport for a flight you Googled, all this will pop up as and when Android thinks it germain. What's more, it even works here in Blighty and quickly started to show me cards relevant to my daily activities.
The new implementation of Voice Search, however, is something I will be using more often as it turns out to be very good. The system's ability to understand natural language and reply in the same is certainly on a par with Siri on the iPhone. As well as speaking back search results, Android now presents an easy-to-read index card showing you the information you requested. Swipe this away and you find the more traditional web results below.

Voice Search speaks and shows answers
The keyboard looks much the same as before but now has improved predictive abilities though they are nothing you couldn't get before from a third party keyboard app. Far more useful is the new off-line voice typing facility, which lets you dictate into your Android device even if you don't have a data connection. That's seriously useful on the 3G-less Nexus 7.
Magazine issues
A no less valuable improvement is the new facility for apps to update by downloading only what's new, rather than the entire modified installation file. This is a logical move after the increase in application installer pack size from 50MB to 4GB announced back in March.
It's not all rosy in the garden though. There's still no sign of the full Google Music service on this side of the pond, nor the magazine subscription service our colonial cousins enjoy. Also the Nexus 7's speech system is noticeably more competent at pronunciation when set to Americanese rather than British English. Ask it who the Prime Minister of Israel is while set to US English and the reply – Benjamin Netanyahu – gets pronounced properly but in UK English the name is quite badly mangled.
Yet if you set the system to American, it is far less capable of understanding what's said to it in the Queen's English, making you repeat questions several times. Best then to live with the wayward pronunciation of odd names, unless you are happy speaking in a fake American accent.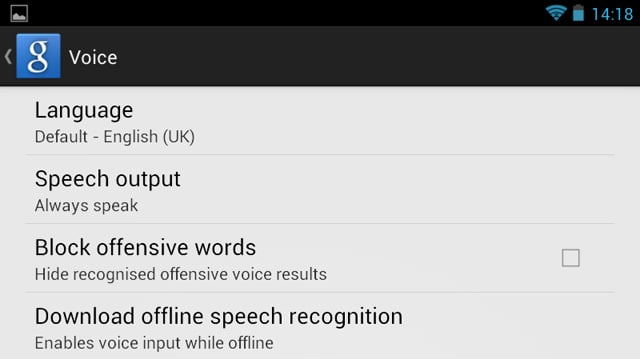 Separated by a common language: US or UK voice recognition and speech preferences
Verdict
From Ice Sandwich to Jelly Bean isn't as great a leap forward as Gingerbread to ICS was. Nevertheless, the update delivers increased performance and new features in spades. Is Android now the most refined and powerful mobile OS currently available? The case could certainly be made. ®