Original URL: https://www.theregister.co.uk/2012/07/24/emc_q2_2012/
Storage top dog EMC shows off swollen Q2 profits
But full-year outlook remains the same
Posted in Storage, 24th July 2012 15:22 GMT
Networked storage appears to have given EMC a boost, after the storage giant declared another solid set of results, with revenues and profit in its second 2012 quarter increasing on both an annual and a sequential basis. There was no visible sign of any wider economic issues restricting the company's performance.
Revenues were $5.31bn, a 10 per cent increase on 2011's second quarter, and 4 per cent higher than the first 2012 quarter. The Hopkinton company declared a profit of $650m, up 19 per cent annually and 11 per cent sequentially. At the end of the quarter it had cash and investments totalling $10.9bn – a reasonably stuffed war chest.
Chairman and CEO Joe Tucci flew the cloud and Big Data flags in his canned statement and talked about security and trust: "Organisations are moving quickly to adopt cloud computing and take advantage of both the efficiency and agility that comes with running IT-as-a-Service," Tucci said. "Customers are also looking to deploy a new generation of Big Data applications to gain competitive advantage and differentiate their businesses. And they demand that all this be done in a secure and trusted way."
It's not that RSA security products are going gangbusters, although RSE product revenues of $220.8m did grow 13 per cent year-on-year. Tucci seems convinced that data, access security and the "overall trust" of customers in cloud computing is vital for the future of the technology. He mentioned trust in the same context in his first quarter statement too.
David Goulden, newly promoted to president and COO while retaining his CFO slot, mentioned in his statement, as he generally does, EMC's "triple play". Gould said: "We remain on track to deliver our 'triple play' – simultaneously taking market share, reinvesting for growth and delivering improved earnings – and are well positioned for our next major phase of growth."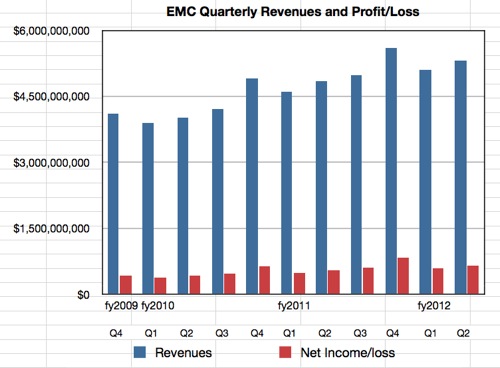 EMC Revenues and profit Q4 2009 - Q2 2012
We're told in EMC's earnings release that its information storage business revenues grew 7 per cent annually. Within that the networked storage business, the hardware storage platforms, grew 7 per cent also. Within that Symmetrix product revenues grew 3 per cent while the mid-range or the rest – meaning VNX, CLARiiON, Celerra, Centera, Data Domain, Isilon, Avamar and Atmos – grew 10 per cent.
The Documentum content management area let the side down; revenues of $153m were down 4 per cent annually, though were 5 per cent higher sequentially.
There was no mention of large account weakness or public sector sales difficulties or European economic difficulties in EMC's statement, although southern European weakness was mentioned in the earnings call. Whatever is affecting the results of companies like Intel, AMD, SanDisk and Super Micro isn't making EMC break step, although EMC majority-owned subsidiary VMware did see a 12.9 per cent profit fall in its latest results.
In the earnings call, EMC said it had lowered its IT spend from 3-4 per cent to 3 per cent, indicating some impact from general economic issues. Tucci said EMC was getting revenue from VFCache sales. Goulden said EMC had 100 VFCache customers and the product would get EMC-developed deduplication in the second half of this year. This should make it a much stronger product from the competitive point of view.
Goulden also singled out Isilon as the fastest-growing product in the mid-range. EMC, he said, sees more value in storage sales coming from software and is working to increase the software component in its deals.
He said EMC had a 19 per cent growth rate for its mid-tier products over the past four quarters versus (an EMC-estimated) 4 per cent for NetApp. Adding in Symmetrix gives EMC a growth rate of 12 per cent, still outstripping NetApp, if EMC has its figures right.
Goulden agreed that he had featured quite a lot on the call - are we seeing EMC's next CEO in action here? - and that EMC was focused more on taking share from the server vendors generally than from storage vendors or NetApp in particular.
EMC's full year outlook is for revenues of $22bn and net income attributable to EMC of $2.75bn. Add to that the $148m it expects to get from VMware and that's a nice chunk of profit for the year. ®