Original URL: https://www.theregister.co.uk/2012/07/23/review_nike_plus_fuelband_activity_monitor/
Nike+ Fuelband activity monitor review
Wrist action for your inner Olympian
Posted in Personal Tech, 23rd July 2012 11:00 GMT
I'm on a roll. Well, a streak, actually. That's what Nike calls it when you hit your activity target for three days on the trot. The Nike+ FuelBand aims to get you fitter by scrutinising what you do.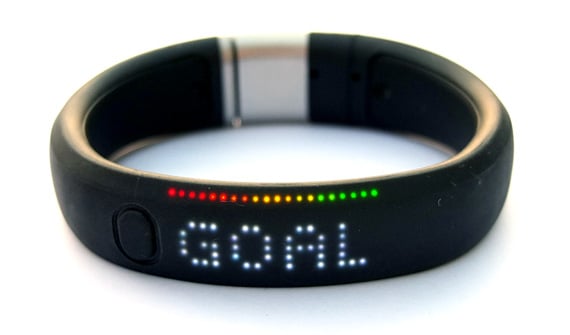 Motion carried: Nike+ Fuelband activity monitor
The theory is that by keeping tabs on how many steps you take, how quickly you're burning calories and so on, the act of tracking makes you more active. Jawbone, makers of the rival Up wristband, claims activity increases by 26 per cent when monitored.
The FuelBand is a matt black rubber-coated bracelet with metallic clasp. If it's not the right fit you can add a spacer, or remove one, until it's comfy. Although the band is chunky (and heavier than Jawbone Up, say) it's light enough to be quickly forgettable. That said, you should remember to take it offbefore swimming as it's not waterproof. Still, Nike says it's water-resistant enough for taking a shower or "dancing in the rain".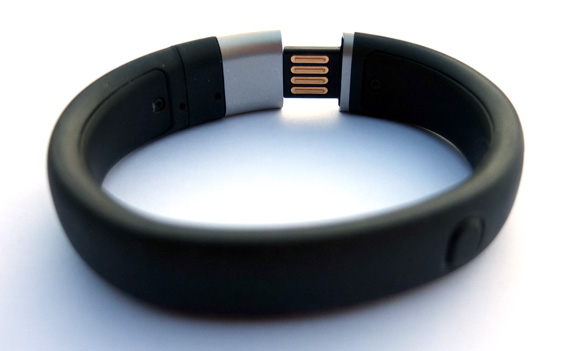 USB charging
Unlike the Up, this bracelet has an LED screen embedded, which counts your every move. One touch of the large rubbery button and the display shows the number of steps you've taken today, calories burned and the time in white characters bright enough to read in sunshine. You can configure which way up this display works according to whether you wear the FuelBand on your left or right wrist.
There's one other metric: NikeFuel. Although it's hard to work out the equivalent in steps, this measurement is based on oxygen uptake which Nike says is a reliable way of assessing activity. This is calculated with "NikeFuel algorithms using oxygen kinetics". If that sounds a bit woolly, don't worry. The main thing is it's a consistent figure so you can work out how you're doing compared to yesterday.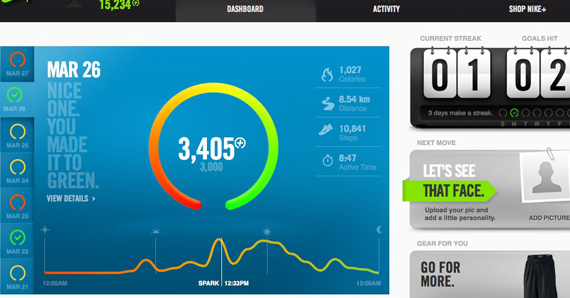 Going green: monitoring software aims to lift you out of the red
I set my NikeFuel goal to 3,000, an average level, which seems to be roughly the same as 10,000 steps. You attach the bracelet to the supplied USB connector for charging. It's on full charge again after about an hour and lasts for three to four days before it's running low.
When you're charging from a computer, the band launches the Nike+ website which displays how many goals you've hit, showing what the last seven days' activity amounted to and how you compare to other people in your age group. The site is comprehensive, showing exactly when each day your exercise spiked. And it colour-codes how well you've been doing, from red through to green.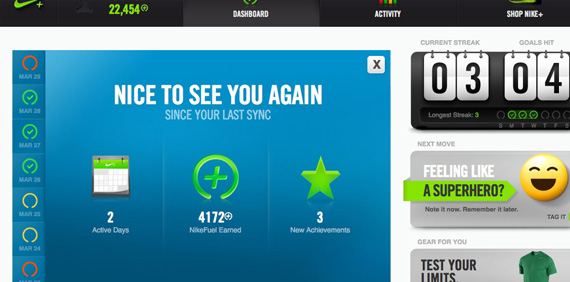 Prepare to be patronised...
This is the other detail on the bracelet. Press the button to reveal your NikeFuel gauge and on the top edge of the band a row of coloured lights appear, ranging from red through amber to green. One green light flickers tantalisingly faraway on the right to show you just how much busier you need to be to reach today's goal.
There's also an iPhone app which pairs with the Fuelband using Bluetooth and keeps your data in sync. It also has a series of colourful and mildly entertaining animations, where a cartoon figure helps you celebrate as you reach a milestone such as your longest streak or a total of 50,000 NikeFuel units.
This is where the Fuelband really scores: goals reached feel like triumphs and keep spurring you on. Touch the band at the right moment, when you've reached your target and the display shows a flashing "GOAL". It becomes addictive – you don't want to disappoint the Fuelband by not reaching your score tomorrow.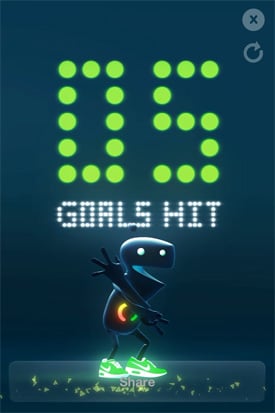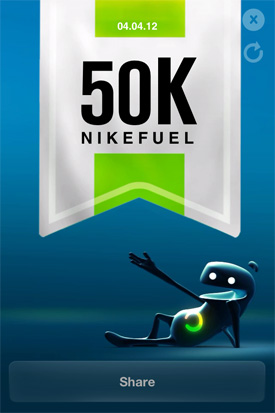 Hitting targets
Indeed, a fitness monitor is there to change your behaviour, but it can make you do things its way. I was brought up not to walk around with my hands jammed in my pockets. And now I make sure I don't – because the Fuelband doesn't rate smaller movements as highly as jauntily swinging arms.
This gadget is one of many. The Fitbit that clips to your belt is less intrusive, but forget to transfer it to your shorts at the gym and those steps go uncounted. The Jawbone Up has a handy vibration feature which means you can use it as a very effective alarm to shake you awake in the morning. But the absence of a screen is a shame and the connection of the Up to your phone from a 3.5mm jack is a little clunky.
Verdict
In an increasingly crowded market, the Nike+ FuelBand stands out because of its neat design, clear display and convenient size. It would have been good if it could monitor your sleep, as Jawbone Up and Fitbit can, or wake you with a gentle vibration, but the main benefits are enough. It can quickly become addictive, so if you're near your target as the day wanes, you find yourself going for a walk just to see the GOAL screen light up. Which is no bad thing. ®
More Gadget Reviews

Sony
Smartwatch
Magellan
Explorist 710
hiking GPS
Jawbone
Up
Ten... Satnavs
for all budgets
Motorola
Motoactv