Original URL: https://www.theregister.co.uk/2012/07/18/devolo_dlan_avmini_500mbps_powerline_ethernet_adaptor_review/
Devolo dLAN 500Mb/s powerline network adaptor review
Fast Ethernet through a three-pin plug
Posted in Personal Tech, 18th July 2012 11:09 GMT
Devolo's dLan 500 AVmini adaptors score highly for me for two reasons: they operate at powerline's highest speed grade, 500Mb/s, and they're compact.
Powerline adaptors used to be fairly small, but that was back in the 14Mb/s days of HomePlug 1.0, one of two original competing powerline standards of the early 2000s. Upping the peak speed first to 85Mb/s and then to 200Mb/s fattened up the adaptors as well as the data pipe they maintained.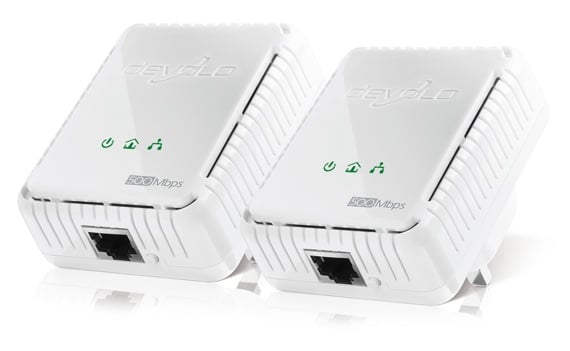 AVmini: the smallest - yet fastest - Devolo powerline adaptors
Miniaturisation has finally caught up, and Devolo's AVmini is smaller than the company's 85Mb/s units I found that I still had in a shoebox somewhere. The two units have the same height and width, but the new model isn't as thick.
There's a catch, of course: the block on which the three UK mains power pins are mounted means the AVmini still juts out from a wall socket by a fair margin, but then so do all UK-centric powerline adaptors.
That includes Devolo's other 500Mb/s adaptor, the considerably more bulky AVplus, but this one has been beefed up to give it a pass-through three-pin power socket. Its face stands only slightly further from from the wall as the AVmini does, but there's less of a gap behind.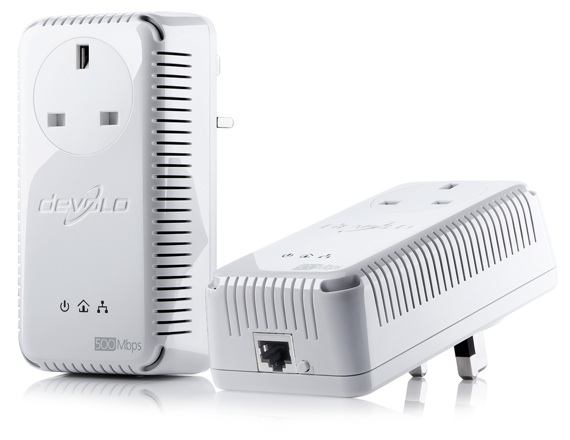 AVplus: bulky but with a very handy power passthrough
It also extends downward much further - the powerline internals are mounted below the pass-through rig - so the Ethernet port is potentially much less readily accessible. You might even find it inaccessible, if your power sockets are mounted very low on the wall. If the plate is too low down, the floor could stop the AVplus fitting into the socket at all.
Still, I can personally attest that the AVplus - and pass-through adaptors like it from other manufacturers - can be darn useful if your house or flat was wired up in an era before today's profusion of gadgets and, like me, you need plenty of socket gangs to keep everything plugged in at once.
Powerline vendors caution you not to plug their adaptors into gangs, but doing so has never caused me any bother. Still, it's good to known that a shortage of wall-mounted sockets need not impede you from setting up a powerline link.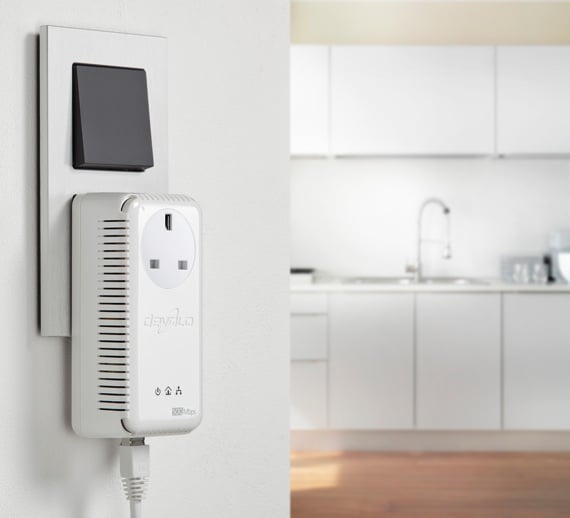 Fine here, but if your power socket's close to the floor, the AVplus may not fit
Powerline for me forms a solid bridge between my wireless router and a number of net-connectable devices, including my TV and Blu-ray player, and the nipper's games console.
I've been using both the AVmini and the AVplus for a while now as the two ends of a busy link that's hosted frequent movie streams and Xbox Live gaming sessions. The adaptors get warm, but have yet to get hot to the touch. They feel cooler than the 200Mb/s adaptors I've been using up until giving these ones a try.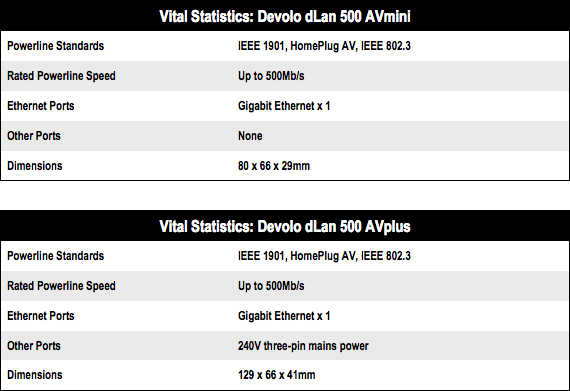 Powerline performance
Performance, measured using a single-direction test with the open source iperf utility, yielded a ten-run average TCP throughput of 172Mb/s, a little lower than other 500Mb/s - the aggregate over-the-mains bandwidth, don't forget, not what you'll see at the Ethernet port; connected computers just present the RJ-45's details - adaptors I've tried, but then the test conditions weren't exactly the same.
Just to give you a guide, I've included test results from past 85Mb/s and 200Mb/s Devolo powerline adaptors, so you can see the improvement doubling the aggregate bandwidth makes.
iperf Test Results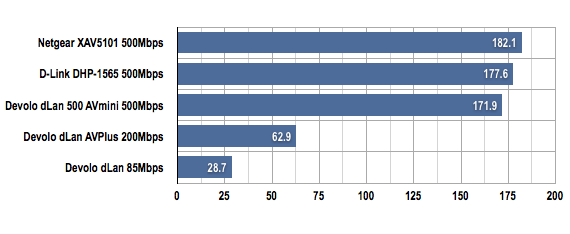 Single-direction data transfer rate in Megabits per Second (Mb/s)
Longer bars are better
Running iperf in UDP mode got me up to 243Mb/s before packet loss nudged up to one per cent.
Both sets of adaptors provide the now-standard 128-bit AES encryption to secure the transmission between adaptors, controlled with a passphrase. Each adaptor can generate its own: just press the wee button by the Ethernet port and make sure you then press it on all the adaptors you want the new passphrase to share.
Devolo's bundled Cockpit app, available for Windows, Mac OS X and Linux, allows you to set the passphrase manually, adding the codeword to any or all of the adaptors the software can see on your network. You'll need the security code printed on each adaptor for that.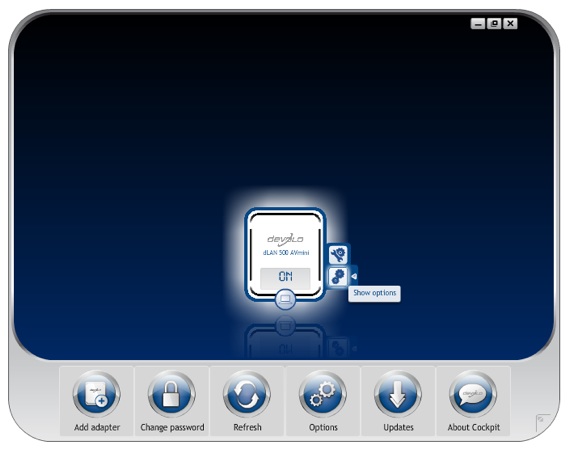 Devolo's Adobe Air-based Cockpit app provides only rudimentary device management facilities
It's pretty software, but vacant. It doesn't do much else, not even handling firmware updates. Click the Updates button and you're simply taken to Devolo's website. Firmware updates are available, but Devolo only provides a Windows-based uploader.
But if the software fails to impress, at least the hardware will. If you're already using 200Mb/s adaptors it's hard to justify an upgrade unless you're flinging rather a lot of HD streams around. After the switch from my regular 200Mb/s units to the 500Mb/s Devolos, the missus and the boy noticed no change or improvement to their regular, respectively, BBC iPlayer and Xbox Live sessions. Modern online gaming systems have enough latency compensation to deal with any the powerline adaptors add.
Then again, that 200Mb/s - 63Mb/s in the real world - is all you have. The more things you have taking a slice of that bandwidth, the quicker you'll hit the limit. Upgrading to 500Mb/s adaptors and getting 172Mb/s gives you a lot more headroom.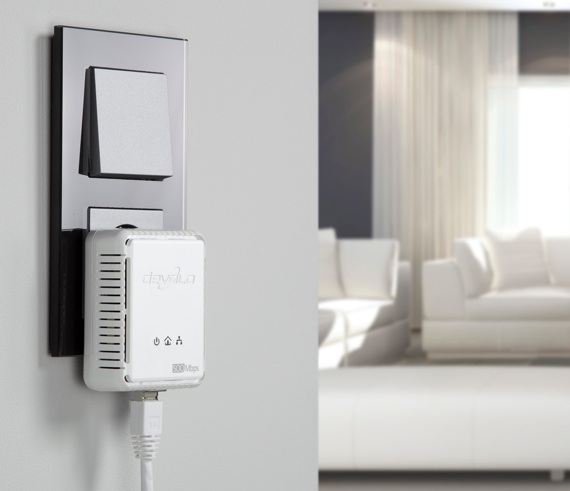 Tastefully styled
If you're struggling with Wi-Fi dead spots, powerline offers a way into them. So does Cat 5 cable, but not all of us want to got to the expense of getting it plumbed in, or fancy having it tacked around the skirting boards. That may not even be possible if you rent your property, or are planning to move in the not-too-distant future.
Verdict
A decent, well-performing set of adaptors, then. But they don't set themselves apart from their rivals. While physically thinner than, say, the Netgear XAVB5101 adaptor I looked at in April, the Netgear's other dimensions are smaller. And by the time you've added in the thickness of the three-pin plug mount, the dLan doesn't hug the wall much more than the Netgear does. There's barely any difference in the price, either.
Indeed, if you don't care much about an adaptor's size, you can buy lesser known brands of powerline kit for two-thirds of the price from the likes of Solwise. It has pass-through power options too. ®
More Networking Gear Reviews

D-Link DHP-1565
Netgear Nano 500
HD JuiceBox
HDMI over Powerline
Ten... dual-band
wireless routers
Ten... Mi-Fi HSPA 3G
wireless mini-routers