Original URL: https://www.theregister.co.uk/2012/07/17/review_dell_inspiron_17r_core_i7_ivy_bridge_notebook/
Dell Inspiron 17R SE 17in Ivy Bridge notebook review
Core i7 beast of burden
Posted in Personal Tech, 17th July 2012 07:00 GMT
I'm currently mourning the demise of the 18-inch Dell XPS that I've been using as a TV/DVD player in my bedroom for the last five years. Hardly anyone seems to make 18-inch laptops anymore, but Dell has come up with a good alternative in the form of the new Inspiron 17R SE (Special Edition).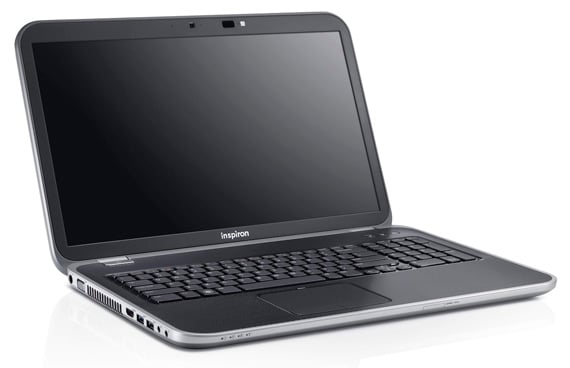 Dell's Inspiron 17R Special Edition Ivy Bridge notebook
There are five models in the SE range, all with the same 17.3in screen. Prices start at £759 for a model with an Ivy Bridge 2.5GHz Intel Core i5-3210M, although on test is the top-of-the-range quad-core model. This comes in at £959 and is home to a 2.3GHz Intel Core i7-3610QM, 8GB RAM, and 1TB hard disk. In addition to the Ivy Bridge integrated HD 4000 this model also includes a separate Nvidia GeForce GT 650M to deliver a graphics boost, with the laptop being able to auto-switch between the two depending on the software that you run.
The 'Special' tag refers to the fact that these models have 1080p resolution, as well as speakers designed by Skull Candy – a brand of headphones favoured by the young people of today, m'lud. There's also an extra special edition with a 3D screen and Blu-ray drive, although that takes the total price up to £1200.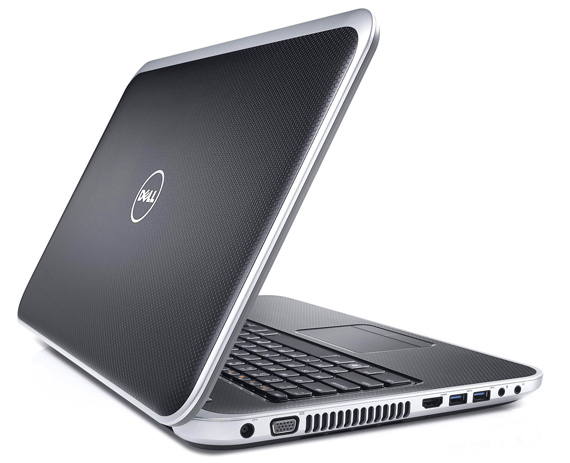 Intel HD 4000 graphics plus a discrete Nvidia GeFore GT 650M GPU
Since reviewing Apple's new RetinaBook recently, I'm not entirely sure that 1080p is all that special these days. Still, the screen on the Inspiron certainly performs well enough – bright and clear, with a non-reflective matt finish that's very much welcome. The viewing angle is also very good – almost a full 180-degrees – so it'll work very well for watching video when you're slumped on the sofa, or for giving a presentation to a group of colleagues gathered around a table.
The speakers are also a step up from the laptop norm, producing a fuller, more solid sound than most laptop speakers. There's still a bit of a tinny edge to the output, but the Inspiron 17R SE can at least handle a spot of casual music playing without resorting to headphones.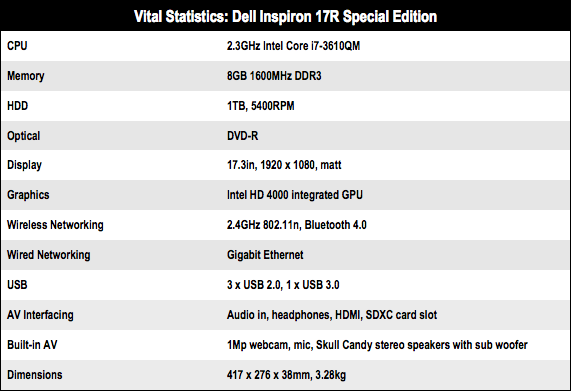 The elephant in the room
There's no such thing as an elegant 17in PC laptop, but the Inspiron has a good shot at it. The matt black finish and silver trim give it a neatly understated look, and my only real complaint about the design is that the keyboard feels a little cramped. The trackpad is pretty large, which is good, of course, but I reckon the trackpad could have been trimmed a little to make a bit more room for the main keyboard.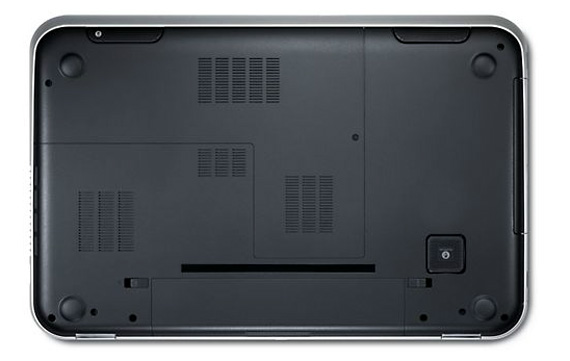 If you really need portability, the battery can be swapped out
I was initially surprised by what appeared to be a relatively modest score of 2700 when running the PCMark 7 benchmark. Then I remembered that the Inspiron 17R is equipped with a conventional hard disk rather than the SSD units found in so many recent Ultrabook models. With the latter, the score can notch up by another 1000 points. Yet for an HDD laptop, it's in line with expectations and it's also a 5400rpm drive, which does leave room for improvement if you need the capacity of a hard disk.
Other non-SSD Core i7 laptops – such as the Samsung Series 7 – deliver a similar score and, likewise, are more than fast enough to cope with routine web surfing and office work, as well as more demanding tasks such as video-editing. Furthermore, the Inspiron's GeForce graphics card achieved a speed of 80fps when running Far Cry 2, so it can handle some decent gaming action too.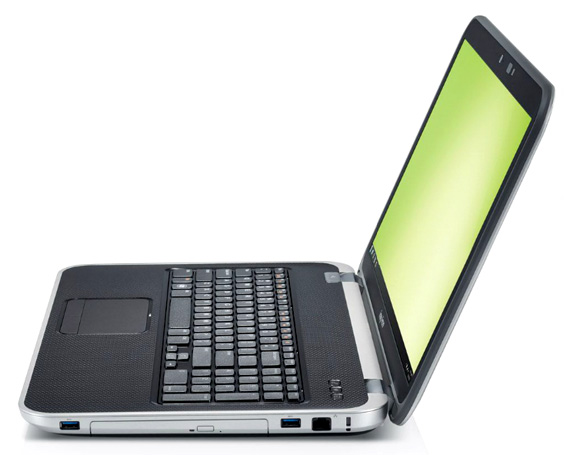 Desktop duties? As always, the big screen impacts on portable power
The only real weakness is battery life. The large screen inevitably requires a lot of power and looping PCMark 7 ran the battery flat in barely 75mins. However, Futuremark's Powermark battery benchmark returned a duration of 90mins. Resorting to Wi-Fi to stream BBC iPlayer video stretched that out to about 2hrs, but that's still a long way from the 5hrs-plus that many smaller laptops now offer. To be fair, there aren't many 17in laptops that provide better battery life, and with a weight of 3.28Kg it's clear that the Inspiron 17R SE is primarily meant to live indoors and within easy reach of a mains plug.
Verdict
The battery life is underwhelming, but that's the only real weakness in the Inspiron 17R SE. Its strong performance and large, attractive screen enable it to handle a wide range of tasks. Certainly, it will be a good choice for anyone that needs a desktop-replacement machine for the office or a versatile entertainment system at home. ®
More Notebook Reviews

Ten...
Ultrabooks
HP Envy 14
Spectre
Toshiba
Portégé
Z830-10N
Asus
Zenbook
UX31E
Dell
XPS 13