Original URL: https://www.theregister.co.uk/2012/07/17/morphlabs_mcloud_helix_openstack/
Morphlabs distills concentrated OpenStack cloudy system
A stiff one for service providers, SMBs
Posted in Servers, 17th July 2012 15:02 GMT
Morphlabs, Are offounded five years ago to peddle a cloud management tool called AppSpace on top of Amazon's EC2 compute cloud, is moving more aggressively into the cloudy hardware business with its second preconfigured cloud-in-the box setup based on the open source OpenStack cloud controller.
This new stack, called mCloud Helix, is probably a better fit for workloads that might need more virtual processors, virtual memory, and virtual I/O than the first box to come out of Morphlabs earlier this year.
That one, announced in April, was called the mCloud Rack Enterprise system, and is based on Dell's C5220 "Viking" single-socket microservers that Dell debuted in March 2011. C5520s is are fine for certain kinds of workloads, but their Xeon E5 chips have only four cores and four memory slots, so they're not appropriate for a lot of heavier workloads.
The mCloud also included a PowerEdge C2100 server used as a storage node running NexentaStor, which runs the Illumos fork of OpenSolaris and the Zettabyte File System is on 12TB of solid state storage.
The setup had up to 36 server nodes and was capable of supporting around 300 typically configured KVM virtual machines for around $180,000, including an Arista Networks 7050T 10 Gigabit Ethernet switch, plus the storage array in a half rack.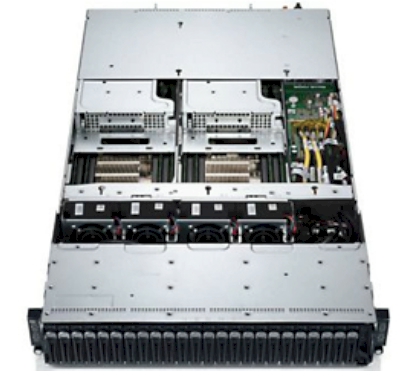 The Morphlabs Helix system, based on Dell iron
With the new mCloud Helix, Morphlabs is again integrating servers and storage inside of a Dell chassis, this time the PowerEdge C6220, a four-node chassis that uses much fatter eight-core Xeon E5-2600 processors and much more scalable main memory.
Three of the nodes in the four-node chassis are designated as OpenStack cloudy nodes for running the KVM hypervisor and virtual machines running Windows or Linux. Each of these three compute nodes is configured with an eight-core Xeon E5-2650 chip (2GHz, 95 watts, 20MB L3 cache) and 64GB of memory, and is linked to six 2.5-inch solid state drives (Samsung 830 series SATA III MLC drives weighing in at 256GB capacity, to be precise) that slot into the front of the chassis and provide superfast I/O performance on the virtual machines. If you are doing a Hadoop cluster, you use this as a master node as well as a compute node.
The fourth node in the machine, the storage software node, is more lightly configured, with a six-core Xeon E5-2620 processor (2GHz, 15MB L3 cache) and 32GB of main memory. It links to six 500GB SATA disks in the front of the machine that provide a total of 3TB of hard disk and relatively colder storage capacity for OpenStack. It runs the NexentaStor storage software, which is the file system as well as de-duping software, and the Nova-volume service, which is akin to the Elastic Block Storage (EBS) that is an add-on for EC2 compute images.
Morphlabs claims that the combination of fast SSD and disk storage running ZFS means you don't need to buy an expensive external SAN.
Morphlabs is also tossing in a system-monitoring tool called Dashboard, which lets you see how your cloud is faring as it puffs up and shrinks down with its virty workload.
Unlike the mCloud Rack Enterprise, the mCloud Helix setup does not include networking, but Morphlabs is recommending 10 Gigabit Ethernet switches from either Arista or Dell that you tuck into the top of the rack to link the nodes together.
And you really can't skimp on the SSD or the networking, says Yoram Heller, vice president of corporate development at Morphlabs.
"There have not been a lot of service providers that can compete with the likes of Amazon or Rackspace," Heller tells El Reg. But with all of that SSD behind the nodes, the boot time on a KVM image is on the order of 8 seconds.
For the HPC workloads that Morphlabs has tested, that means in some cases that a customer could fire up a slew of machines, run the workload across them in a huge burst of activity, then shut down the nodes and return them to the service provider, all in a matter of minutes.
Part of that speed comes from the use of fast 10GE switches, which in this case are not in the price. "If you are taking a lot of snapshots of VMs, then Gigabit Ethernet is not enough," says Heller. "10 Gigabit Ethernet is a requirement for the kinds of things you are going to do on a cloud."
In addition to the "Essex" release of OpenStack, the machine is configured with Ubuntu Server from Canonical, which provides the KVM slicing and dicing on each node. You can get up to 80 virtual CPUs in a 2U footprint that consumes around 800 watts at a cost of $75,000, including tech support from Morphlabs for the entire software stack. That works out to 10 watts per virtual CPU and around $938 per virtual CPU.
What's more, says Heller, the disk-heavy vBlock and Flexpod stacks from Cisco Systems and EMC and NetApp (respectively) and vStart 50 stack from Dell are very fat – or more precisely, tall – by comparison. Disk drives don't wear out like SDDs, however, and that is something to think about, too. But for a lot of customers, it is speed that matters more than needing to replace storage some years hence.
Morphlabs has inked a deal with CoreSite, which runs 14 data centers in the United States with over 700 customers, and with Dell, the underlying iron providers, to give customers who put mCloud Helix servers into CoreSite data centers discounts on the iron – how much, however, Morphlabs is not saying.
The company has also struck a deal with Media Temple, a service provider based in Los Angeles that has over 125,000 customers and runs more than 1.5 million servers, to use the mCloud Helix machines in production. Samsung, Starbucks, Adidas, and Toyota are some of Media Temple's bigger customers. ®