Original URL: https://www.theregister.co.uk/2012/07/17/lawn_chair_balloonists/
US, Iraqi lawn chair balloonists blown out of sky
Record-setting attempt ends around the bend from Bend
Posted in Bootnotes, 17th July 2012 01:28 GMT
A pair of intrepid aerial adventurers aiming to fly from Bend, Oregon, to southwestern Montana in a tandem-seated lawn chair craft buoyed by 350 five-foot balloons had their dreams deferred when their aircraft came down in a thunderstorm 30 miles from liftoff, dumped them off, then sailed away on its own, destination unknown.
"They came down hard," flight organizer Mark Knowles told the AP. "The craft went back up. It's sitting up in the sky right above us."
"Everybody is walking around," Knowles said, adding that he did not yet know whether the team would try to recover their airship, or if they would again attempt the flight. "I think they need a little time to relax," he said. "The landing was very intense."
The flight had taken off on Saturday morning from the Shell gas station and Stop & Go Mini Mart of one of the aeronauts, Kent Couch, who was to intending to share the helium-infused thrill with his fellow flyer, Fareed Lafta, described as "an Iraqi adventurer".
Unfortunately, after clearing a two-story motel, coffee stand, and light post, then floating about 30 miles north and reaching an altitude of about 10,000 feet of their planned 15,000 to 18,000 foot cruising altitude, Mother Nature turned nasty.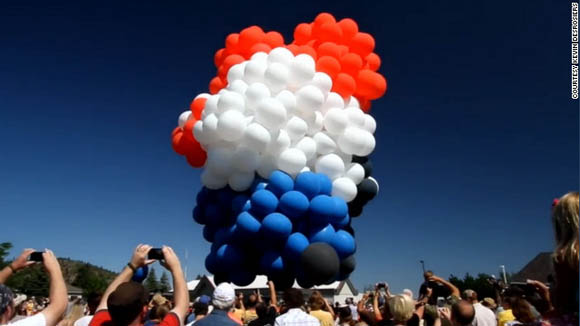 'I have slipped the surly bonds of earth ... and touched the face of God' (image: CNN)
First, winds pushed them south, not east towards Montana. Far worse than the mere misdirection, however, arrived in the form of a thunderstorm, which pelted them with hail and snow, batted them around in turbulence, and thrust them groundward toward their premature ejection.
Couch, first inspired by popular folk hero Larry Walters, the truck driver who captivated the nation with his 1982 flight over Los Angeles, is a veteran of four previous lawn chair balloon flights.
Those flights attracted the attention of Lafta, who had a loftier goal than merely riding in a lawn chair to Montana. "My target is to inspire young people, especially in the Mideast," he told the AP. "I want to tell them, 'I didn't give up. Keep standing. Smile. This is the way to defeat terrorists'."
Although Lafta was not specific about about how flying over Baghdad – their original plan – carried by 350 balloons arranged in a pattern intended to symbolize the melding of the American and Iraqi flags would defeat terrorists. Reuters reports, however, that he had another lofty goal in mind, as well: to raise money for kids orphaned in the Iraq war.
No matter what Lafta's motive, the Baghdad trip seems unlikely now. Not only was it never approved by the Iraq government, but Saturday's trip was intended as a warm-up – a warm-up that was cooled down by snow and hail, with their vehicle now floating willy-nilly over the scrubland of Eastern Oregon, perhaps to be retrieved along with its GPS, navigation gear, satellite phone, radios, cameras, and parachutes.
Even if the craft can't be retrieved, however, The Reg will not be surprised if Couch tries again. After all, the now-wayward craft was not a vast investment – it was built with the help of a local appliance repairman and crafted out of hardware store parts and junk from Couch's garage.
"It's about as redneck as you can get," Couch told the AP – as redneck as the can-do spirit that unites an Oregon gas station owner and an Iraqi adventurer and inspires them to defeat terrorists and help orphans – or at least to have a hell of a good ol' all-American time lounging in lawn chairs as they float into the wilds of southwestern Montana. ®