Original URL: https://www.theregister.co.uk/2012/07/16/review_samsung_galaxy_tab_2_10_1/
Samsung Galaxy Tab 2 10.1
Sammy brings knife to gunfight?
Posted in Personal Tech, 16th July 2012 11:00 GMT
Review Judging by the lawsuits flying around, Samsung's Galaxy Tab 10.1 has been the only Android tablet to seriously worry Apple. Quite why is a mystery, because it has sold in nothing like the numbers of the iPad. Will the Galaxy Tab 2 10.1 prove more of a threat by being cheaper rather than better?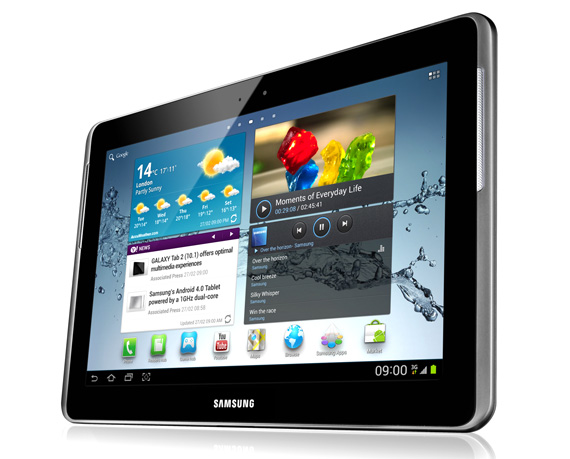 Take two: Samsung's Galaxy Tab 2 10.1
If that sounds like the Tab 2 has been demoted, it has. The top of the Samsung tablet tree is now the thinner, lighter and more powerful Galaxy Note 10.1 which also comes with S Pen support like its smaller, original incarnation. While sharing an obvious – and doubtless Apple-infuriating – resemblance to the Tab Mk. 1, the new 10in Tab is a little thicker and heavier despite only having the same sized battery.

Not as slim as the original 10.1in Tab
The extra thickness does make it more comfortable to hold than the original though and the smooth plastic back is pleasant to the touch. The power and volume controls have been thoughtfully placed out of harm's way on the top left if held in landscape or upper right in portrait.
Rather than quad-core power, the Tab 2 makes do with a 1GHz dual-core CPU and a TI OMAP4430 chipset – not the Tegra 2 rig used in the original Tab 10.1. In today's tablet market, that's like bringing a knife to a gunfight. Alas, I've no AnTuTu benchmark score for the first generation Tab to hand, so I can't tell you if the new machine's 4,800 is better or worse. Still, with Tegra 3 tablets like the Asus Transformer Pad returning scores of over 10,000 it's irrelevant.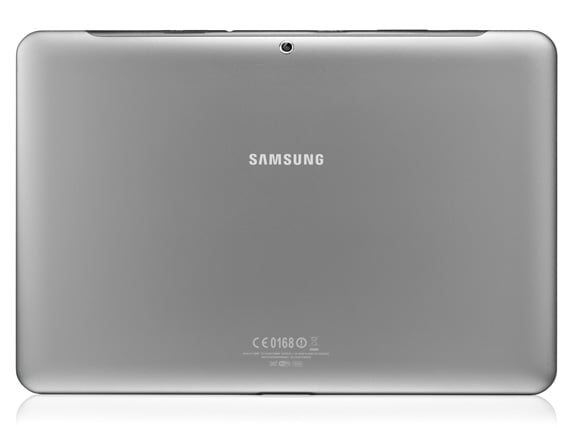 The camera performance leaves a lot to be desired
Certainly, the Tab 2's touchscreen interface does feel a little slicker than the original that ran Honeycomb. Yet that's more down to improvements in Android than any reflection on the device's inherent stump-pulling ability. It's perfectly clear that the Tab 2's PowerVR SGX540 GPU is less capable than the Mali-400MP used in the 10in Note – 3D games like Shadowgun lack the smoothness and reaction to touch found on Tegra 3 machines.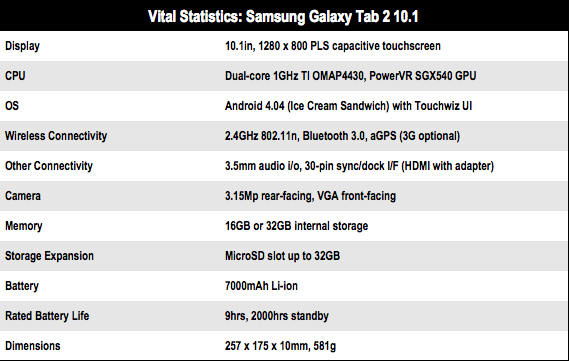 Sound thinking
Turning to the 1280 x 800 screen the colours and viewing angles of the Tab 2's PLS – Plane-to-Line Switching – panel give nothing away to Asus' excellent IPS screens, though it's not quite as bright when turned up to 11. Usefully, storage expansion is now present courtesy of a microSD card slot which is something both the original Tab 10.1 and Google's new Nexus 7 both lack.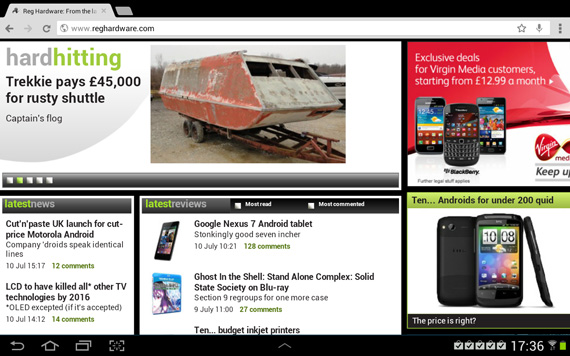 Browser
Samsung has repositioned the Tab's speakers so they now flank the screen facing forward rather than being tucked away on the sides. The change serves to improve sound quality and also makes the Tab 2 look a little less like an iPad to your average Supreme Court judge.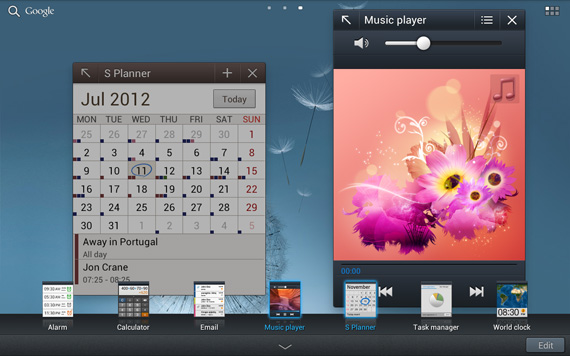 Mini apps
Like all the best new Android tablets, the Tab 2 runs Ice Cream Sandwich but here you also get Samsung's TouchWiz overlay. TouchWiz has some advantages for newbies over stock ICS including a more comprehensive list of settings toggles in the notifications panel. It also has a secondary pop-up menu on the toolbar that launches what Samsung calls Mini Apps for the likes of the world clock, music player and calculator functions.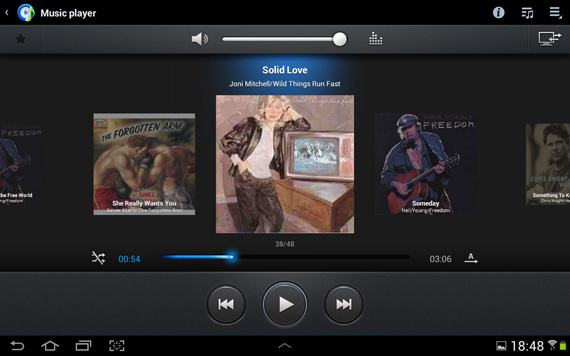 Music player
There are also some decent pre-installed apps including a full version of Polaris Office and a rather fine video player which coped with 1080p video in every codec I threw at it. You also get Samsung's Reader, Music and Video 'Hubs' from which you can buy content.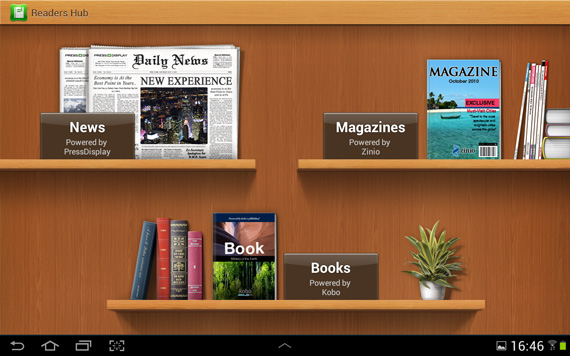 Reader hub
I can see the Reader Hub – with its e-book, magazine and newspaper subscriptions – finding fans. Likewise, the 7Digital-powered Music Hub – unlike Google Music – does at least work in the UK. If you want to hook your Tab 2 up to a telly over HDMI or access files on a USB memory stick you'll need to buy the relevant adapter to utilise the 30-pin dock connector at the bottom of the device.
Yesterday once more
I'm not sure how much use people make of the cameras in their tablets but the Tab 2.0's 3.15Mp camera is a pretty mediocre affair given its oft-times clueless auto-focus together with poor low-light performance, exacerbated by the absence of a flash. Video can be recorded at up to 720p with somewhat better results. The VGA webcam is another indicator of the Tab 2's lower status. In this day and age, 640 x 480 simply doesn't cut the mustard even for having a quick video chat over Skype let alone taking self-portraits.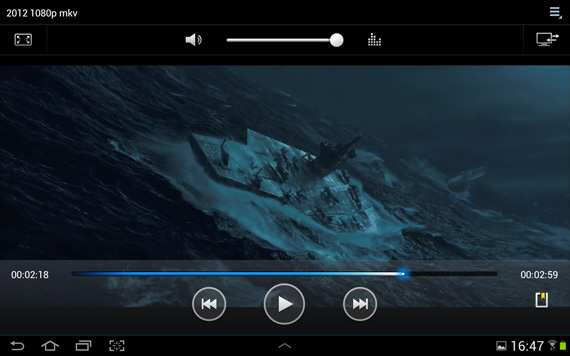 Video player
The 7000mAh battery is the same as that in the Tab 2's predecessor and returns similar numbers. In mixed everyday use you will get between 7-8 hours depending in screen brightness and Wi-Fi use. Loop a 720p video and it delivers just over six hours from a charge, which is about what a Transformer Pad can manage.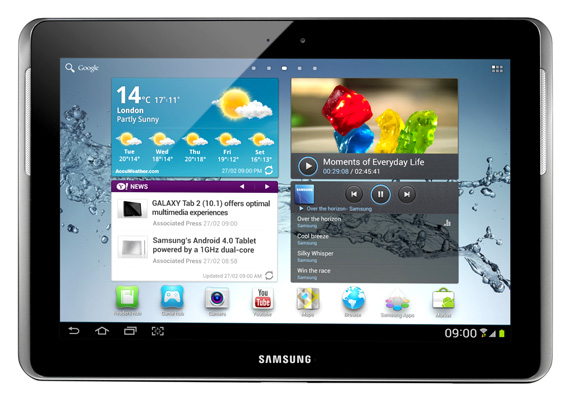 Respectable, yet not so quick on the draw given the competition
Verdict
With Asus' 32GB Transformer Pad available for £399 complete with quad-core CPU, 8Mp camera and keyboard dock, and the smaller Nexus 7 soon to hit the market for £160, the Galaxy Tab 2 isn't quite cheap enough to make a compelling case for itself. It's not a bad device per se, though. Indeed, as little as three months ago I would have rated it more highly. But how much Android tablet you can expect and for how little money is changing with dizzying speed. Yesterday's good is today's average, is tomorrow's also-ran. ®
More Tablet Reviews

Asus
Transformer Pad
TF300 10e
Apple
New iPad
Wi-Fi only
Google
Nexus 7
Lenovo
Thinkpad
Tablet
Ten high-end
Android
tablets