Original URL: https://www.theregister.co.uk/2012/07/16/eye_control_tech/
Boffins build eye-controlled interface out of game-console cams
£40 device lets you play Pong just by looking at it
Posted in Science, 16th July 2012 06:28 GMT
Neurotechnologists in London have invented a £40 device that lets you control computers with your eyes.
Costing hundreds of times less than existing 3D eye tech it could revolutionise the life of the disabled say the team at Imperial University, allowing users to direct a wheelchair by simply looking at where they want it to go.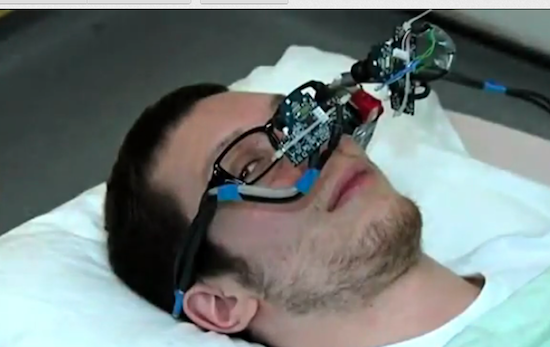 Built with game console cameras and £3 glasses, the device is hundreds of times cheaper than alternatives
Eye control tech has existed before but this device radically reduces costs and could help the lives of millions of people suffering from Multiple Sclerosis, Parkinson's, muscular dystrophy, spinal cord injuries or amputees.
Built with simple off-the-shelf components, the researchers strung together the GT3D device using two fast video game console cameras, each costing less than £20 each and a £3 pair of glasses. Info it can relay to a Windows or Linux system via wifi or USB.
The cameras constantly take pictures of the eye, working out where the pupil is pointing, data which researchers use to work out exactly where a person is looking on the screen. Clicking is achieved by winking.
The cameras also use more detailed calibrations to work out the 3D gaze of the subjects – determining how far into the distance users are looking.
Dr Aldo Faisal, Lecturer in Neurotechnology at Imperial's Department of Bioengineering and the Department of Computing, said:
Crucially, we have achieved two things: we have built a 3D eye tracking system hundreds of times cheaper than commercial systems and used it to build a real-time brain machine interface that allows patients to interact more smoothly and more quickly than existing invasive technologies that are tens of thousands of times more expensive.

This is frugal innovation; developing smarter software and piggy-backing existing hardware to create devices that can help people worldwide independent of their healthcare circumstances.
Demonstrated initially by getting students to control a game of Pong with their eyes, the team foresee the interface as capable of much more complex tasks such as controlling a robot prosthetic arm.
®
'Ultra-low-cost 3D gaze estimation: an intuitive high information throughput compliment to direct brain–machine interfaces' by WW Abbott and A A Faisal is published in The Journal of Neural Engineering