Original URL: https://www.theregister.co.uk/2012/07/14/product_round_up_build_a_bonkers_hi_fi/
Build a bonkers hi-fi
Aural fantasies
Posted in Personal Tech, 14th July 2012 07:00 GMT
Product Round-up And lo the command came from El Reg to assemble a hi-fi so extreme, so "bonkers" that only oligarchs, rock stars and the sporting elite would actually be able to afford one. So, avoiding the obvious temptation to simply cherry pick telephone number hardware, I've assembled a sound system of such extravagant exquisiteness I actually want to buy it… Euro Millions win not withstanding.
Continuum Caliburn turntable

If like me, you've been holding onto old vinyl, perhaps storing it with ill-disguised contempt in the garden shed or loft, then you'll probably want something modest to play it on in your next super-fi system. Sure you could slum it with a Clearaudio Concept, priced at a derisible £1,650 or an EAT Forte S for £5,900 if you opt for the Makassar finish, but frankly that battered pressing of The Lurkers' Fulham Fallout (I have an appreciation for the classics) deserves better.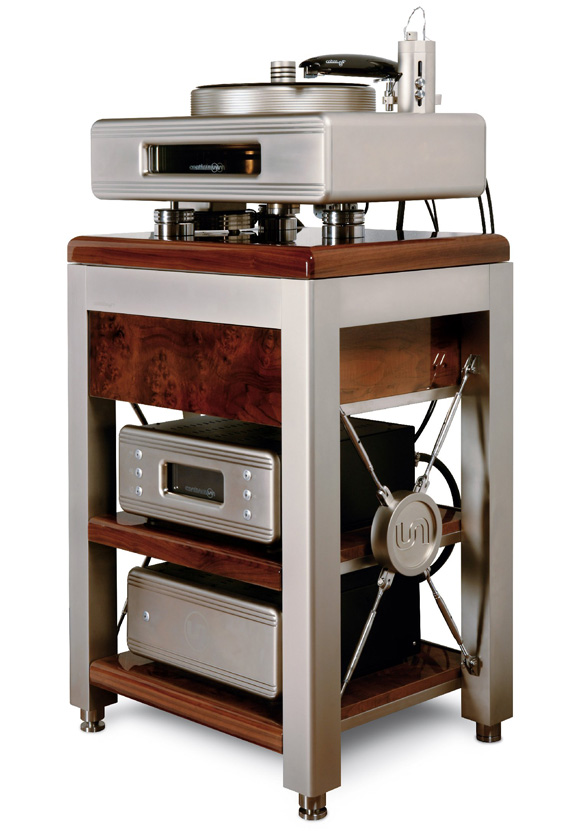 My advice is place an order for a Continuum Caliburn. Priced at a mere 120,000 notes, it's unquestionably the world's finest player of records – and at 40kg, probably the heaviest. The chassis is made of magnesium alloy and features a magnetically levitated platter driven by an impossibly smooth, 'zero cogging' motor.
Records are actually clamped to this floating platter by a silent vacuum pump; this ensures a completely flat surface for the large but light Cobra tonearm. Included in the price is the ingenious Castellon stand, which uses opposing magnetic plates and proprietary pneumatics to isolate the deck from unwanted vibrations; although I doubt it will be able to cope when I start pogoing around the room to Ain't Got A Clue.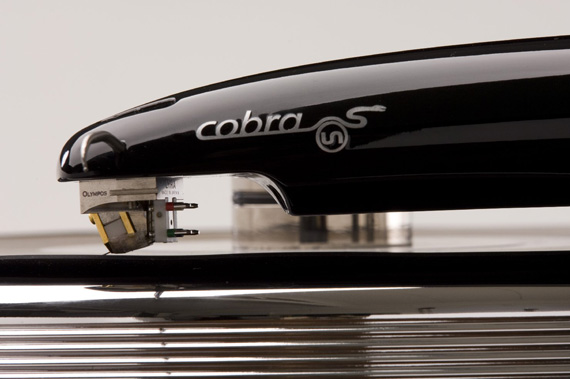 Paris Rating 100%
Price £120,000
More info Continuum Audio Labs
Imerge MS1-3D

Anathema to purists it may be, but you can't really create the ultimate hi-fi without specifying a media server these days. We all need a repository for rips and downloads, if only to kill time between our vinyl and CD sessions. My suggestion may also be contentious, as it's actually a multimedia device: the Imerge MS1-3D.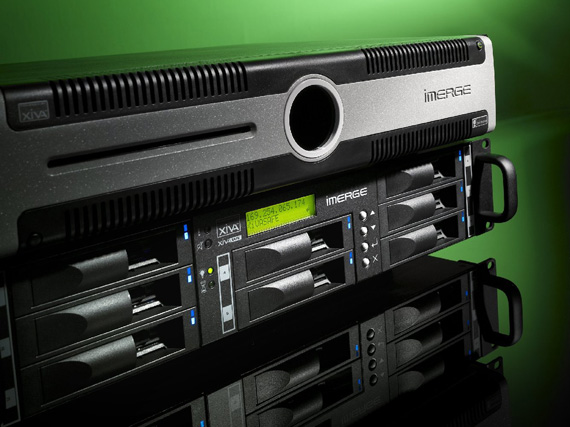 The UK company has a cheaper, dedicated audio server available (the £4k S4000) but it's limited to a miserly 500GB hard drive. The lookalike MS1-3D, on the other hand, is designed to work with the brand's XiVaSafe HDD storage system, which is not only massively expandable but offers industrial grade redundancy protection. Various configurations are available, from 3TB to 18TB.
The MS1-3D rips CDs as 320kb MP3s. While there's no provision for FLAC, a dual encode MP3 and FLAC upgrade is in development, to be made available as a firmware update in due course. Build quality is excellent, with Wolfson Delta-Sigma 24-bit DACs confirming a commitment to higher fidelity. Almost as an aside, the MS1-3D has an integrated music store, with a back-end provided by 7digital, the media giant part owned by HMV. DRM-free downloads are thus integrated directly into its library.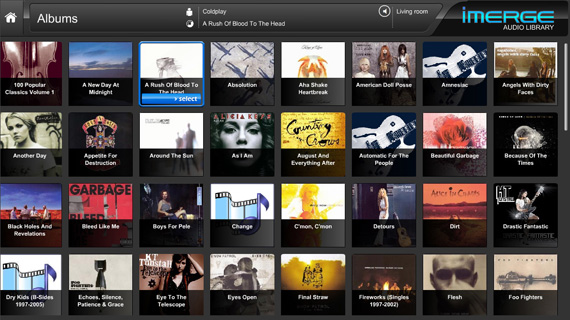 Imerge GUI: click for a larger image
Paris Rating 95%
Price £11,400
More info Imerge
Krell Evolution 402e stereo amplifier

To drive this fantasy hi-fi, I was momentarily tempted by a pair of Momentum monoblocks from Dan D'Agostino – £44k in a BOGOF deal. With distinctive copper heat sinks and sports car speedo, this debut design from the founder of Krell is spectacular in the extreme. However, after due consideration, I deemed it unnecessarily tarty.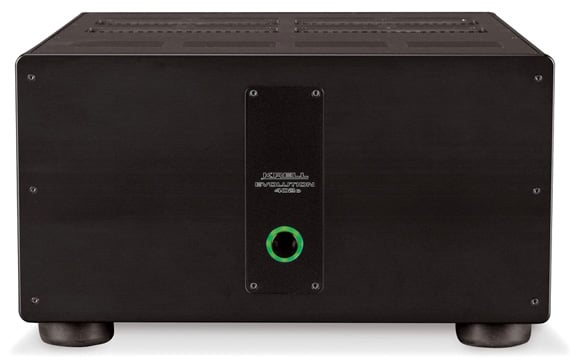 I wanted a stereo amplifier able to combine Kryptonian muscle with effortless, unimpeachable refinement. So I settled on Krell's Evolution 402e. Arguably, pound-for-pound, the finest stereo amplifier ever made, the £18,500 402e really shines in its ability to deliver incredible transients. Power output is rated at a monumental 400W into 8Ω; important as I plan on playing quite a lot of Kiss.
The amp boasts integrated high-current line conditioning circuitry, to guarantee power purity, plus Active Cascode Topology which spreads the voltage load across multiple transistors; this makes huge dynamics possible while keeping a lid on excessive heat.

Companion piece: Phantom II preamp
Partnering this legendary power amp I have Krell's new Phantom II preamp. With its brushed aluminum finish, it's a cosmetic match with the big Evo, and sports a separate power supply for each channel. The Phantom is best connected to the 402e using Krell's proprietary CAST interconnects, designed to minimise noise.
Paris Rating 100%
Price 402e stereo amp £18,500, Phantom II preamp £11,998
More info Krell
Metronome Technologie Kalista Reference CD Transport

A mesmerising example of hi-fi chutzpah from France, this transport-only iteration of the esoteric Kalista CD player, is quite possibly the most gloriously over-engineered object in the world. The casing is hewn from solid aluminium and supported by isolating acrylic 'glass' and stainless steel.
The pickup is a Philips CDM12 PRO 2 with copious custom modifications, used with a weapons grade Perspex clamp. The whole shebang sits upon a 40mm thick perpex 'Silent Base,' drinking from a separate bespoke mains-cleaning power supply. Love at first sight? I think so. And it gets better.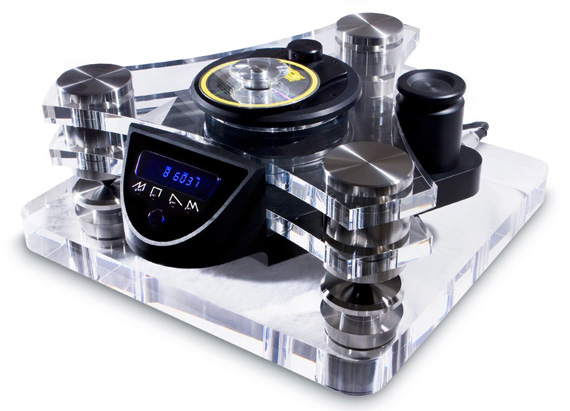 Spinning CDs are bathed in azure light, ostensibly to improve laser reading accuracy. All up, it's the veritable definition of wicked cool. The Reference is delivered in a flight case which can also double as the system support, although I fully intend to sit it on a throne made from fossilised dinosaur bone.

C2-A Signature DAC: and then all goes back to analogue again
Coupled to my Kalista Reference is Metronome Technologie's two-piece DAC, the C2-A. The first box contains dual 24 bit/192khz converters, associated electronics and inputs, plus a tube output stage, while the second houses the power supply. This isn't just any old power brick of course; it features seven transformers to combat electromagnetic and radio frequency interference.
Paris Rating 110%
Price CD Transport £37,000, C2A DAC £18,500
More info Metronome Technologie
Sonus Faber Aida

There's no shortage of high performance, ultra-expensive loudspeakers around. If you really want to splash the cash, then a £200,000 pair of Alexandria XLFs from Wilson Audio takes some beating. They are rather huge though, and a tad vulgar. Alternatively, you could spring for Bowers & Wilkins' Nautilus flagship, or a pair of 800 Series Diamonds. Both though are a little too obvious. My preference is decidedly more eclectic: the £79,000 per pair Aida from Sonus Faber.
No one does statement speakers better than this Italian super-brand. Combining jaw-dropping design with exemplary performance, the marque is to high-end loudspeakers what Maserati and Ferrari are to luxury cars. The Aida – named with a nod to Verdi – is available in walnut, white or red, and both finish and build quality are sensational.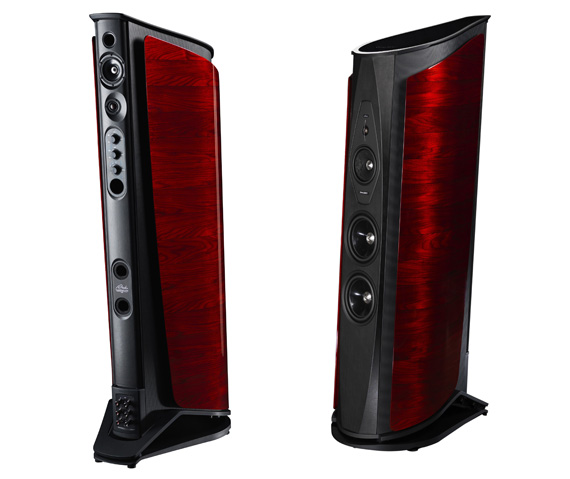 Each floorstander boasts seven drive units; five forward facing, two directed to the rear. A ZVT (Zero Vibration Transmission) suspension system decouples the drivers from the cabinet floor thereby eliminating resonance. The two rear-facing cones can also be separately tailored to the speaker's physical location in a room.
Sonus Faber calls this Sound Field Shaping. The end result is a soundstage as expansive as it is expensive. All that remains now is for someone to put this system together for real. It's not too over the top – you'll have change from £300,000, after all – and I have some extremely dodgy music I'd like to listen to… ®
Paris Rating 95%
Price £75,000
More info Sonus Faber