Original URL: https://www.theregister.co.uk/2012/07/12/toshiba_al13se/
Tosh spins up faster, longer-lasting head-turner for big biz
Double-jointed petite holds 900GB
Posted in Storage, 12th July 2012 09:02 GMT
On the day WD saw red, Toshiba went faster with a 10,500rpm model of its enterprise-grade small-form factor disk drive and bumped capacity to 900GB.
The AL13SE updates the earlier AL12 (MBF2) drive that spins at 10,025rpm and stores up to 600GB of data. There is also a 15,000rpm MKxxxGRRB in the AL12 family using technology acquired with Fujitsu. That's a 2-platter 300GB drive, and the next iteration of that could be a 600GB model - if Toshiba decides there is a demand for such a product against a background of solid-state drives replacing fast disk drives.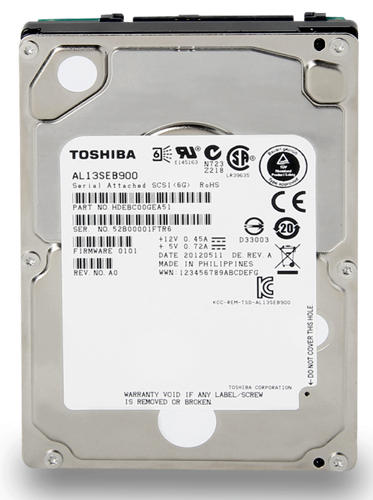 The new spinner stores 900GB on its three platters and shovels data through its 6Gbit/s SAS interface. It also uses a dual-actuator head, following WD's lead, to improve track-following accuracy by having the head hinged near its tip as well as its base. This enables very small head positioning adjustments to be made and so increase the head's ability to follow tracks.
Toshiba says the AL13SE has a 44 per cent higher areal density and a 21 per cent increase in track density, enabled by the new head. It also has a 32 per cent increase in its internal transfer rate compared to the MBF2 drive.
Each drive is expected to last for 2 million power-on hours, 25 per cent more than its precursor, and the disk can be delivered in a SlimFITT 3.5-inch mounting frame. Toshiba says the drive has a lower power consumption when it's idling compared to previous drives.
The competition includes WD/HGST's Ultrastar C10K900, a 10,000rpm 900GB drive, and Seagate's Savvio, also 900GB and 10,000rpm. The Toshiba drive spins 500rpm faster and benchmarks may show it accesses and delivers information a smidgin quicker than the Seagate and WD competitors.
Pricing and availability information wasn't released; go to your usual Toshiba channel partner for such information. ®