Original URL: http://www.theregister.co.uk/2012/07/12/review_apple_macbook_pro_13in/
Apple MacBook Pro 13in
Simply the best? Um…
Posted in Personal Tech, 12th July 2012 11:00 GMT
Review Shock horror – Apple laptop in so-so review scandal. The latest MacBook Pro with Retina Display may be setting a new standard at the top of the range, however, this modest update for the standard 13in MacBook Pro looks rather like it's resting on its laurels.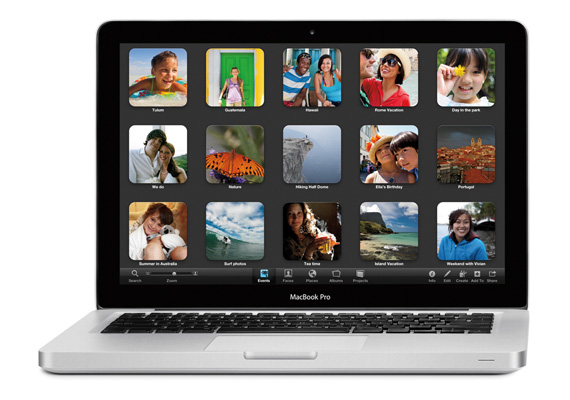 Apple's MacBook Pro 13in: available with Intel Core i5 or Core i7 Ivy Bridge CPUs
Admittedly, it's got some pretty good laurels to start off with. The one-piece aluminium design may be unchanged but it's still one of the smartest, most attractive 13-inch laptops on the market. The build quality makes most of its rivals look like a lump of Lego.
The screen is bright and sharp, and the keyboard and multi-touch trackpad are well-crafted and comfortable to use. And let's not overlook the fact that included is Apple's iLife multimedia suite that provides an impressive range of creative and authoring features straight out of the box.

After a long wait, USB 3 makes its debut
The problem for this year's model, though, is that Apple is still charging a top-of-the-range price for what – in 2012 – now looks like a fairly mid-range specification. The £999 starting price remains unchanged, although the 2.4GHz Sandy Bridge Core i5 has now been replaced with this year's Ivy Bridge version – a 2.5GHz Intel Core i5-3210M.
The modest 500GB hard disk stays the same, as does the 4GB RAM, although the RAM does get its own speedbump from 1333MHz to 1600MHz. And at this price you should really be hoping for an SSD, rather than a plain old hard drive.
There's another 13in model priced at £1249, which runs a 2.9GHz Intel Core i7-3520M CPU, doubles the RAM, and increases the hard disk to 750GB, but that is pretty much it for the 2012 edition. The only other significant change is Apple's belated adoption of USB3 – which is welcome, but at least a year overdue.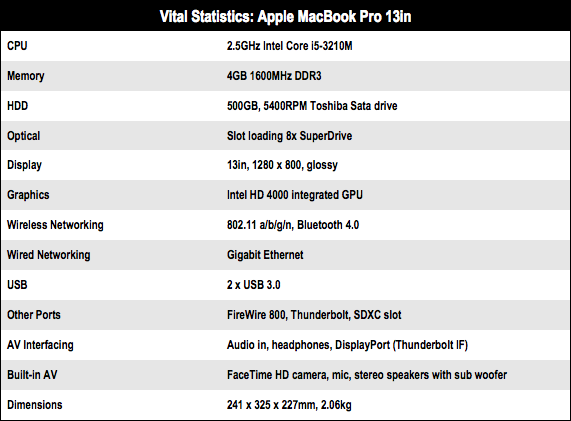 Nice, but...
The faster processor and RAM do produce a modest speedbump – up from 2280 to 2450, when using Boot Camp to run PCMark 7 – but that's not going to have existing users camping overnight to upgrade from last year's model. In fact, from a practical point of view it's the two USB3 ports that will probably provide the greatest benefit in this model as it means that Mac users no longer have to pay over the odds for Firewire or Thunderbolt storage.

Peekaboo
The new integrated Intel HD 4000 graphics provides a slight improvement to 3D graphics performance, but still only just managed 30fps when running Far Cry 2. An Ultrabook or MacBook Air can afford to sacrifice performance in order to cut down on weight, but that level of performance doesn't really impress when you're paying £1000 for a fully-featured laptop that weighs in at 2kg. Dell's XPS 14z weighs the same amount, yet manages to provide a 14in screen and a dedicated graphics card for about £150 less.
Battery life and display quality are as good as ever but, again, they're no longer best-in-category. The screen, admittedly, is a delight, with a bright, sharp image and bold colours, although its 1280 x 800 resolution should perhaps have been tweaked to the slighter more widescreen 1366 x 768 that is now standard amongst 13in PC laptops. There's also no HDMI, unless you cough up another £25-£30 for a third-party adaptor that won't carry Apple's guarantee of compatibility.
Thrashing PCMark 7 non-stop runs the battery down in about two hours, although less taxing tasks such as Wi-Fi streaming on the BBC iPlayer were able to last for a good 4.5 hours – pretty much the same as on the previous model. In practice, that should last most people for a full day – it's just that there's plenty of competition that can now match it and even do better.
Verdict
When my esteemed colleague Dabbsie reviewed the 2011 model last November he bemoaned the MacBook's high price but concluded that it was justified as this was 'the best bloody entry-level laptop in the world'. This year's model is just as good, but the Windows PC competition is now catching up and, at this price, it's hard to argue that it's still the best. ®
More Notebook Reviews

Ten...
Ultrabooks
HP Envy 14
Spectre
Toshiba
Portégé
Z830-10N
Asus
Zenbook
UX31E
Dell
XPS 13