Original URL: https://www.theregister.co.uk/2012/07/12/pure_contour_200i_air_airplay_wireless_music_system/
Pure Contour 200i Air wireless music system
There's more to this than just AirPlay
Posted in Personal Tech, 12th July 2012 07:00 GMT
Review Sometimes, the only way to appreciate what a new technology or product can do for you is to actually try it. So when Pure dropped by the office and left a Contour 200i Air – its latest AirPlay savvy wireless music system – I felt dutybound to use it.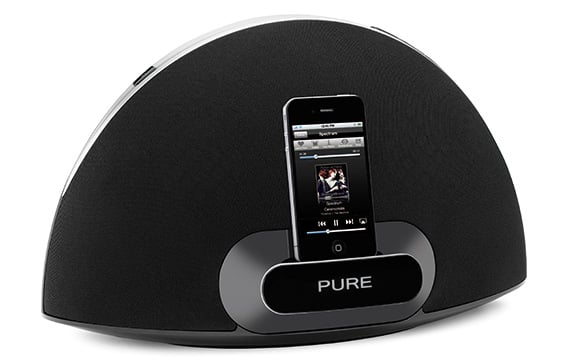 Pure Contour 200i Air AirPlay wireless music system
Now, I'm no stranger to wireless music players. I tested a Sonos ZonePlayer bundle back in 2005 and was wowed by the multiroom playback functions, as well as the iPod style colour LCD CR100 remote control showing all the artwork. The speakers weren't bad either – shame I had to give it back.
Years later, I succumbed to the temptation of AirTunes using an Apple AirPort Express but found it was easier to reach for a CD than wait for my Mac to boot up. Likewise, it was a similar experience playing audio from a Netgear Nas box – I needed Twonky media server to run for my Pure Evoke Flow to turn on, tune in and er, drop out occasionally. As for Bluetooth speakers, its limited range and power consumption impact on portable devices meant it remained disabled most of the time.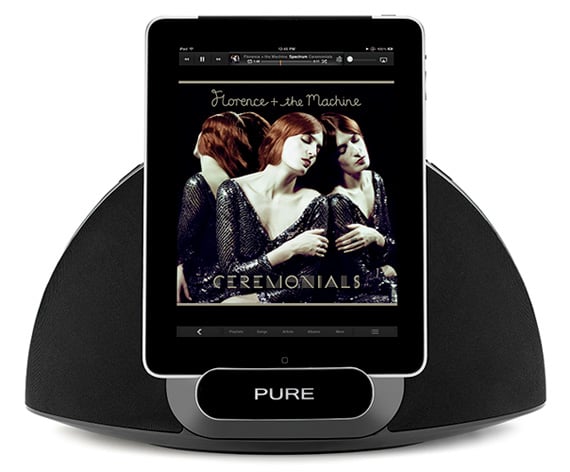 Direct playback from the dock if need be, but a handy charger too
And now, with my home graced with a Pure's Contour 200i Air, I'm wondering what this rendition of Apple's AirPlay can deliver that had me leave the alternatives by the wayside? In fact, I didn't even need to get the device home for an answer to that. The office demo revealed all. Just one word: simplicity.
Don't be fooled, the Contour 200i Air is not a one trick pony for iOS-only devices, although it does feature a rather splendid companion app that I'll come to later. It can work with other networked devices that run iTunes and there's an analogue Aux input too, if you really run out of options. Although it can be controlled directly from an AirPlay connected host, it also includes and chunky credit card remote which is very handy when your iOS device is charging during playback.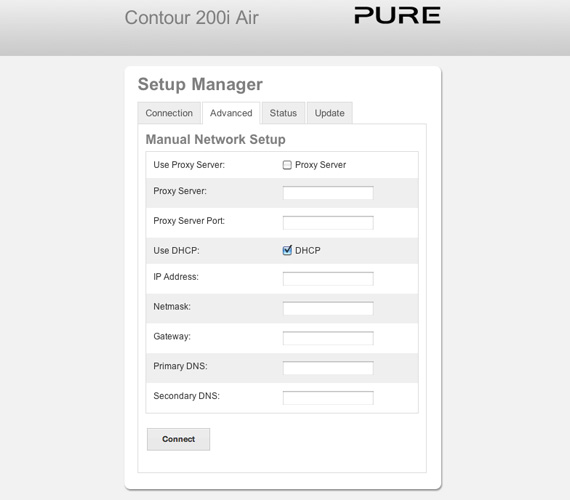 Ethernet proxy configurations are available when accessed from a browser
The device itself follows the styling of Pure's original Contour that featured a neat pop-out dock. However, the dock here is permanently protruding, and while not so swish, is no doubt a practical consideration providing the strength to accommodate an iPad as well as other iOS variants.
Status symbol
Dock aside, there's little else out front apart from an LED status indicator hidden behind the fabric adorning its crescent shape – if you forget what the flashes and colours mean, there's a guide on the base. Along the outer edge are controls for power/standby, with volume and mute on the other side. The unit houses two full-range 3.5in drivers with twin downward firing bass ports. The total output is rated at 36W RMS which is plenty loud and, apart from testing, I never needed to drive it too hard to get a satisfactory volume level from it.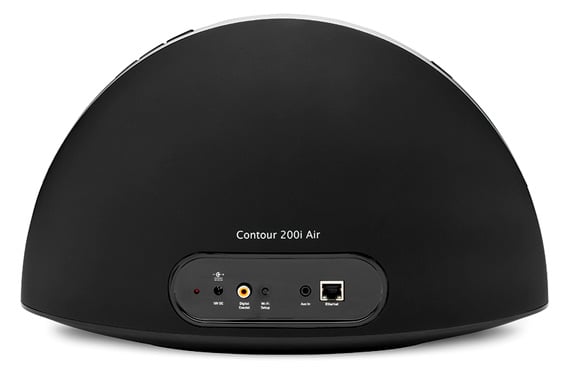 Not much here, but the Wi-Fi sharing button makes light work of configuration
The back panel has a bit more going for it: the Ethernet port not only provides a more robust connection to a Wi-Fi router, but delivers alternative access and is also used to dial into the Pure Contour 200i Air for software upgrades. Other connectivity includes the 3.5mm stereo jack Aux input, a coaxial digital output and the 12V DC power socket. Also lurking is the pièce de résistance – a simple Wi-Fi set-up button.
I don't know about you, but I find typing in Wi-Fi base station passwords on a mobile device is one helluva faff when battling with both numerals and different character cases – lest we forget the ever-so-helpful and tirelessly vigilant autocorrect. It seems Pure is aware of this issue too and the Contour 200i Air neatly avoids you having to go through this process again to set it up for use.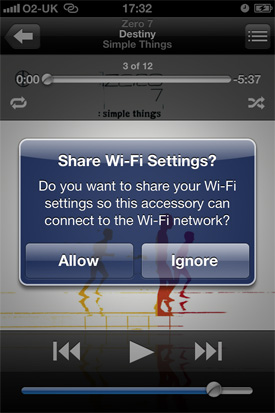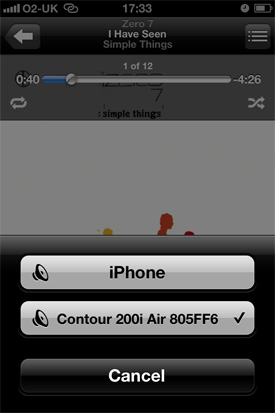 Wi-Fi sharing and AirPlay selection
If your iOS device is already working on your Wi-Fi network, then all you have to do is dock it to the Contour 200i Air and then press the set-up button at the back. A "Share Wi-Fi settings" dialogue box appears on the iOS device and you choose Allow (or Ignore). The password to your base station is extracted from your docked iPad, iPhone or iPod Touch and that's that. You can undock and stream the content over AirPlay.
Now the Contour 200i Air has your network password, all other iOS devices connected to the host wireless base station can access the speakers for AirPlay use too. Also, any computer with iTunes can do likewise. And if you need to relocate the Contour 200i Air, then you just do the same dock-and-share dialogue routine with a connected iOS device. And if you've not got one to hand, then the Wi-Fi button at the back can turn the Contour 200i Air into a base station, which is handy if you've no Wi-Fi router either. There's also the Ethernet option to get things talking with wired computers running iTunes.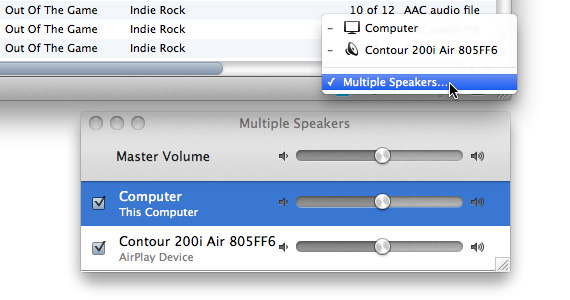 iTunes enables playback from both the computer and the Contour 200i Air
OK, so connections for playback can be established in a variety of ways and, if necessary, the innards can be tapped into for more sophisticated networking tweaks. The firmware updates automatically over Wi-Fi, but can also be performed manually over Ethernet. Music playback from an iOS device takes a few seconds, halting is pretty much instantaneous and wandering around the home with your iPhone streaming makes no breaks in connection so long as you remain in Wi-Fi range.
Playing dumb?
Having always been somewhat disgruntled that DVD playback on the Mac didn't deliver the audio over AirTunes, I was pleased to see that movies played on the iPad played in sync from the Contour 200i Air. Now, I wonder if movies with a surround soundtrack could make it unfettered across AirPlay, then out of the Contour's digital interface and into an AV receiver and deliver multichannel audio... and in sync? Answers in the comments please.
On the surface, Pure's Contour 200i Air appears to be just a dumb AirPlay speaker and dock and indeed it would be if it wasn't for the ecosystem that lies behind Pure's own music services. The Lounge is Pure's on-line portal that originally provided the means for its Wi-Fi radio users to set-up content for their devices. Rather than squinting at a tiny LCD screen, The Lounge sorts out playlists and allows easy searching of internet radio stations and podcasts that can be set as Favourites and then easily accessed from the radio itself.
The Lounge has long since expanded beyond search and save though. Pure's Wi-Fi radios have tagging on-board – identifying tracks using Shazam's technology – with purchasing directly from the radio too. Purchased music can be played directly from the radio or downloaded as MP3 files from The Lounge. The tagging list also appears on The Lounge.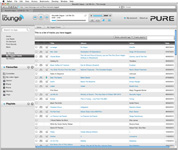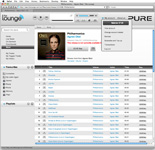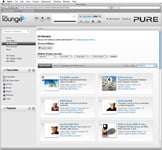 The Lounge: Listings of tagged songs from Pure radios, music purchase and Listen Again content search
Click for larger images
Now things get a bit more interesting. Although The Lounge registration is free – and you can buy songs à la carte – at the beginning of the year, Pure introduced its own all-you-can-eat subscription service. It's a £5 a month Spotify rival without the Facebook prerequisite, nor the ads – we compared the two in detail here. So now you can go through your tagged listing and instead of buying the track, you can choose to stream it. In fact, you can dig out the whole album for a listen.
So what's this got to do with AirPlay? In short, just about all of these features are available from the Pure Lounge app. This transforms the Contour 200i Air from being a humble wireless speaker for iTunes content, into music hub courtesy of your iOS device. Unlimited music streaming, purchased tracks, internet radio plus on-demand content and podcasts are all accessible from the app for playback – and it will work with any AirPlay device too.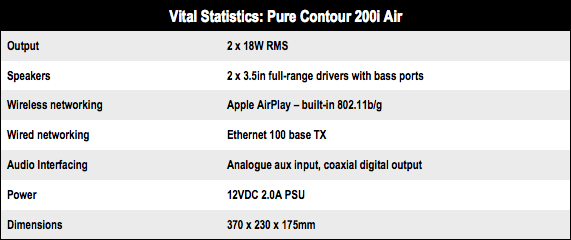 Conversation piece
In use, the app works fairly intuitively with some minor quirks. You can't tag songs playing from internet radio stations within the app. However, you can fire up Shazam, but that temporarily kills the AirPlay connection and the audio continues playing out of the iOS device's speaker and is tagged that way. Afterwards, the AirPlay connections is re-established. Still, that does mean the tag doesn't end up on your Pure Music listing.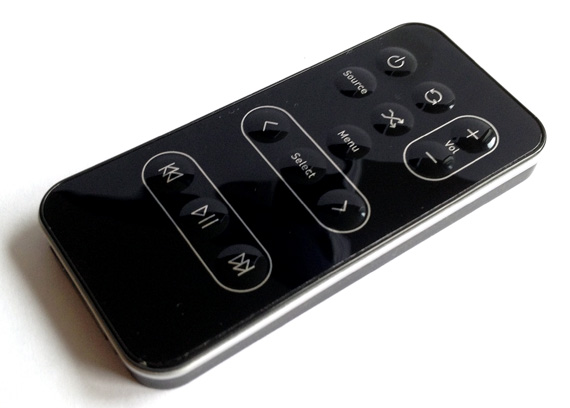 The remote is well made, responsive and delivers finer volume increments than control from iOS devices
If the iOS alarm clock goes off while streaming the radio, it drops the connection and doesn't resume. In fact, it froze on me and I had to quit the app. However, phone calls work fine, resuming after the conversation. Also, texts bleep locally from the iPhone and the AirPlay stream is unaffected. If I'm to be really picky, it would be good to have a full screen version of the app for iPad too. Apparently, it's in the works.
Incidentally, you can stream music whilst logged on to The Lounge from a web browser and your iOS device and play different music sources simultaneously. However, on the Pure Lounge app you can't notch up subscription artists as Favourites. You need to search for them each time. However, a workaround is to create playlists from The Lounge portal. Also, unlike podcasts, stopping a subscription track will take you back to the beginning when you resume.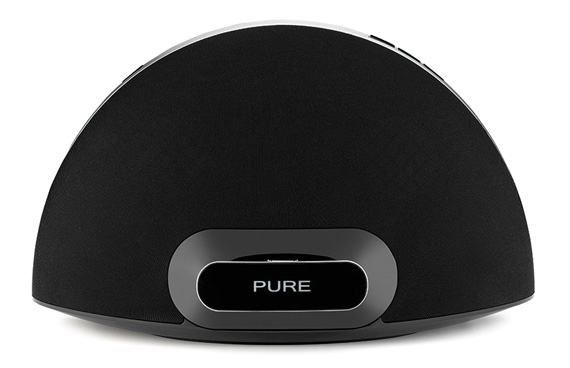 Simple to use, yet has a wealth of content sources available to it from the Pure Lounge app
My old iPhone 3G, now relegated to PMP duties can't utilise AirPlay, but it worked fine when docked. I tested the Aux input with a Creative Zen Touch 2 which was a bit disappointing in terms of volume. It was a reasonable output, but nothing like intense volume delivered over AirPlay or with a docked iOS device. No doubt an Aux line level/impedance matching issue – your mileage may vary.
Sonically, the Pure Contour 200i Air can belt it out, even driven hard it keeps distortion to a minimum and avoids becoming unpleasant. It seemed well suited to the sparse musings of Bill Evans and Jim Hall's Undercurrent and likewise Idil Biret's performance of Chopin's Nocturnes. Katy Perry's Teenage Dream was more demanding at high level – its bandwidth revealing the inherent resonance of the unit's drivers, but a robust performance all the same from this subscription stream.
Being accustomed to Tannoy floor standing speakers and a Yamaha AV amp, I rather missed lavish warmth in the bottom end. Yet given the size of the device, bass is not going to be overwhelming but it's not a thin sound and, overall, seems a fairly well balanced output.
Verdict
Taken as just a wireless music speaker, 200 quid seems like an awful lot of cash even though the audio output is loud and clear. Yet the clue is in the description: Pure's Contour 200i Air is a music system. It integrates the best of Pure's own music services on both its Lounge portal and Wi-Fi radios and makes it available to the iOS user to stream.
The Pure Lounge app takes AirPlay beyond being an iTunes mouthpiece and does some extremely clever things that listeners of all kinds will appreciate. If you're iOS user and already tagging on a Pure Wi-Fi radio, then the enhanced user experience makes the asking price of the Contour 200i Air a little easier to reconcile. ®
More AV Reviews

Bang & Olufsen
Beoplay A3
Teufel
iTeufel Air
Eight... AirPlay
speakers
Apple TV
2012
Bang & Olufsen
Beolit 12