Original URL: http://www.theregister.co.uk/2012/07/10/review_nexus7_android_tablet/
Google Nexus 7 Android tablet
Stonkingly good seven incher
Posted in Personal Tech, 10th July 2012 10:21 GMT
Review Amazon may have done more that most to get Android onto tablets, but Google's Nexus 7 tablet, built by Asus, isn't so much a shot across the bows as a full torpedo attack on Jeff Bezos' ambitions in the fondleslab market.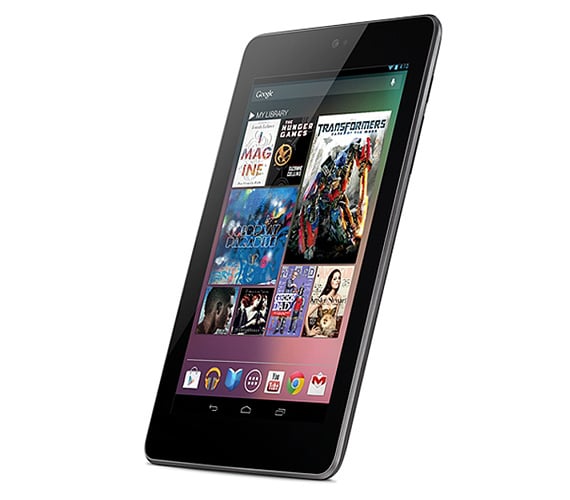 Amazon attack: Google's Nexus 7, built by Asus
At £159 ($199) for the 8GB unit and £199 ($249) for the 16GB, the Nexus is priced to compete directly with Amazon's Fire, and it's a generation ahead in hardware specifications. The Nexus is powered by a quad-core Nvidia Tegra 3 processor, a 12-core GPU and carries a 1GB of RAM. The 1280 x 800 display has 216 ppi, which isn't up to the standards of the latest Apple iPad but puts a lot of the direct competition to shame.
Inside, there's a full set of goodies, including Bluetooth, accelerometer, gyroscope, GPS and digital compass, with near field communications hardware that allows touch data transfer over Android Beam. All this is packed into a 198.5 x 120 x 10.45mm shell that weighs 340g and is easy to use one-handed on the commute and works for thumb typing in portrait or landscape mode.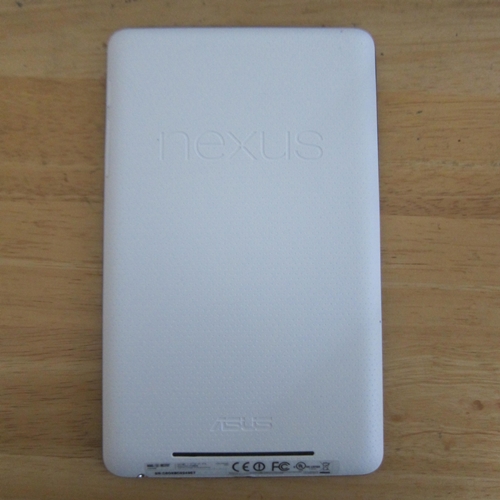 The white rear panel will be replaced by a grey retail version
The Nexus feels solid and well put-together, with a front fascia that's button-free. The review sample features a dimpled white polycarbonate rear shell which looks like it could pick up fingerprint dirt, but the retail device will have a dark grey exterior. There's a single 1.2MP camera that's forward-facing for videoconferencing.
In terms of connectors, the hardware enthusiast will be disappointed. Evidently, Google envisages the Nexus 7 primarily as a streaming device, as there's no SD port or HDMI output. It's charged using the micro USB port and all updates are being delivered automatically using Wi-Fi rather than needing a computer hook-up. Also, the USB link works with both PC and Mac – the Nexus 7 can be used as a mass storage device to transfer media between platforms.

Evidence of some connectivity for a dock or charging crade on the edge
Google claims the 4325mAh battery is good for 9hrs of HD video and 300hrs of standby. In a factory setting test, using the copy of Transformers 3 included with the device, the Nexus 7 managed 7hrs 30mins of video playback at full volume, with a couple of reboots when the player borked. Meanwhile 100hrs of standby cut a full charge to 68 per cent, which makes the official figures appear credible. However, the Nexus is not quick to recharge, taking just over 3hrs to fill up from flat.
Jelly Bean ingredients
The only buttons on the shell are for power plus a volume rocker. A 25W strip speaker is built the bottom of the back shell that provides enough volume to be really annoying on public transport – although there's also a headphone jack in the bottom right corner of the tablet.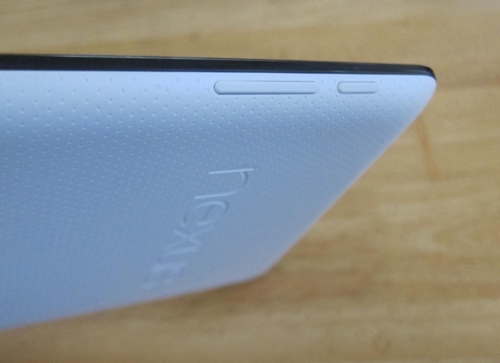 A minimalist approach to hardware controls
In an unofficial drop test performed by my cat jumping on the table, the Nexus survived 32cm fall onto a wooden floor. It suffered little damage beyond the casing popping open slightly on one corner, which clicked back together easily. The front of the device is equipped with Corning scratch-resistant glass and it's good at not picking up smudging.
The Nexus 7 is going to be the only tablet running Android 4.1, aka Jelly Bean, in the near future, which is both a blessing as a curse. The new operating system is noticeably quicker than its predecessors, with much smoother graphics and less jerkiness. Yet it's also dependent on Google finding enough developers to tweak apps for the new build, at a time when most Android devices haven't even made it to the Ice Cream Sandwich 4.0 build. Incidentally, Jelly Bean wouldn't allow AnTuTu to instal, reporting that it was incompatible, so no benchmarks here, alas.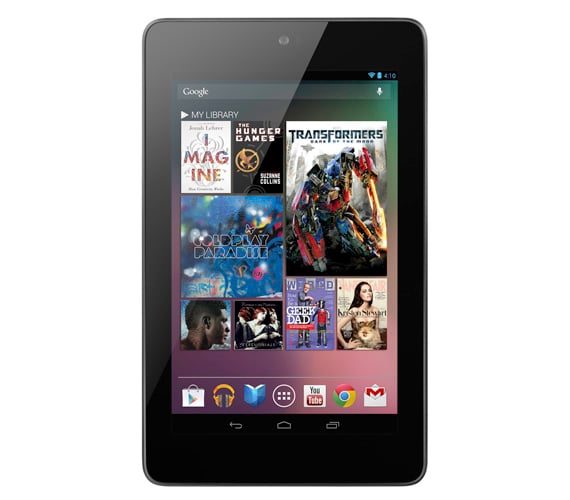 Portrait-only for the home screen
Curiously, Google has made the Nexus home screen portrait mode only, with the landscape setting reserved for applications. There are seven application start buttons along the base of the screen, along with the three navigation buttons for the back function, go to homepage and view currently running apps.
The notifications bar – traditionally a strength with Android – has been beefed up further, so that it looks more like a social networking news feed. Tapping results can open menus within the notification, add in news sources and offer some sample replies to messages. There's the usual mapping and navigation function, with free downloadable street and transport maps.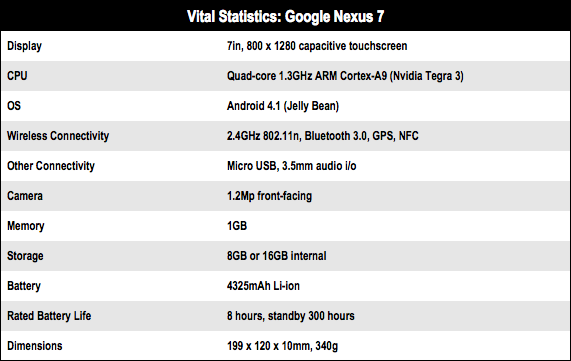 Sweet talk
Google has also rewritten its speech recognition engine for Jelly Bean, so that it works independently of a data connection. In tests, it's very good, although it did show problems with the word "virgin," which was a pain when trying to book a flight. The software keyboard is also much improved over past Android builds, with better predictive capabilities.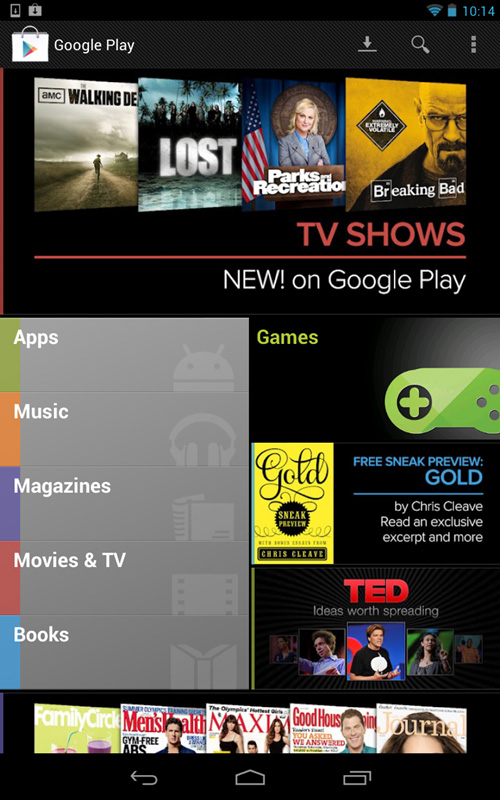 The Play Store lacks the content of the competition
Jelly Bean also comes with Google Now, which the Chocolate Factory is billing as the next generation of personal search. The application is accessed by swiping up from the bottom of the screen and displays a series of information widgets, which it generates using data like location, calendar and search history – all on an opt-in basis.
The idea is that Google Now will build up a profile of the user and be able to do useful things, like calculate the journey times to appointments without being asked or suggest music or films you might like. It's certainly relatively smart, but whether or not people like Now is going to depend a lot on their attitudes to privacy – Google will have to step very carefully to avoid alienating users.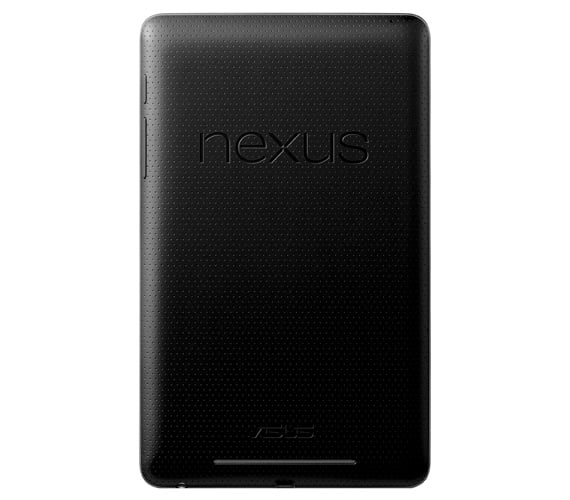 No rear facing camera, just the 1.2Mp shooter at the front
The Android Play Store offers reasonable number of applications and content for the device, and users get a £15 ($25) free gift card to get them started. Google still can't match Apple and Amazon in terms of the range of content available – or frequently on price. Google also claims the world's largest ebook collection and has included a copy of Eric Van Lustbader's Robert Ludlum's The Bourne Dominion with the Nexus.
Regarding security, the Nexus is simple to encrypt and can cope with a variety of CA and client certificates, and supports x.509 encryption certificates saved in .crt, .cer, .p12 or .pfx files. Google has also included the face unlock feature, using a picture taken from the forward facing camera, but the company even admits that this is the least secure option for the fondleslab.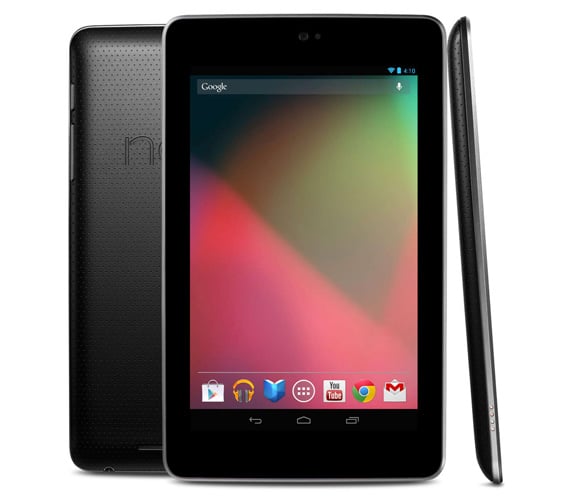 Look no further for a first taste of Jelly Bean
At the price point, there's nothing to beat the Nexus 7 and it leaves more expensive fondleslabs looking very underpowered and dowdy. That said, it doesn't compete with the iPad, but it's not meant to. Instead Google has come up with a tablet that's ideal for the morning commute, most flights or as a second screen device for the home.
This size of device will fit most inside pockets or purses, can be held one-handed comfortably for longish periods, and is perfect for gaming. Angry Birds on the Nexus 7 is fun to play, compared to a smartphone-sized screen, and the size and tactile response makes it suitable for a generation of gamers raised on hand-held consoles.
Verdict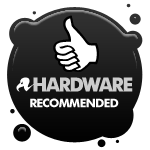 Admittedly, the Nexus 7 needs a 3G version for true data portability, an absence which might deter some. Likewise, it can't match the media choices of Apple or Amazon and it won't give the massive battery life of an e-ink reader either. Even so, the Nexus is good enough to make it a logical choice for anyone thinking about a smaller tablet for reading or watching video while out and about, and it's a steal at the price. ®
More Tablet Reviews

Asus
Transformer Pad
TF300 10e
Apple
New iPad
Wi-Fi only
Toshiba
AT200
Lenovo
Thinkpad
Tablet
Ten high-end
Android
tablets