Original URL: http://www.theregister.co.uk/2012/07/09/review_gitsac_solid_state_society_blu_ray/
Ghost In the Shell: Stand Alone Complex: Solid State Society on Blu-ray
Section 9 regroups for one more case
Posted in Personal Tech, 9th July 2012 11:00 GMT
Review First released in its native Japan in 2006, GITS:SAC:Solid State Society (to contract its convoluted full title) was not created for cinemas but as a feature-length original video animation (OVA) destined for TV broadcast and DVD sales.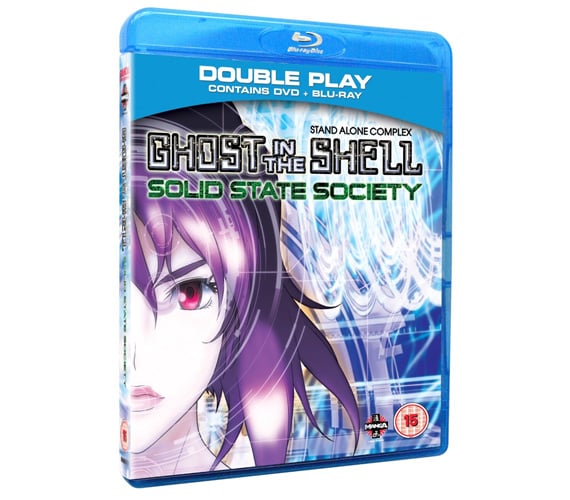 GITS:SAC:Solid State Society gets the Blu-ray brush-up
Unquestionably the least-known instalment of the Ghost In The Shell anime franchise here in the West, Solid State Society has enjoyed considerable success in Japan with even a 3D cinema version being released last year.
For those less familiar with Ghost In The Shell, here's a quick backgrounder. It's a cyberpunk military police thriller set in a futuristic Japan in which cybernetic surgery has become commonplace. Originating as a late-1980s manga by Shirow Masamune, it follows the efforts of a covert police unit called Section 9 led by cyborg-babe 'Major' Kusanagi to deal with cybercrime and state security.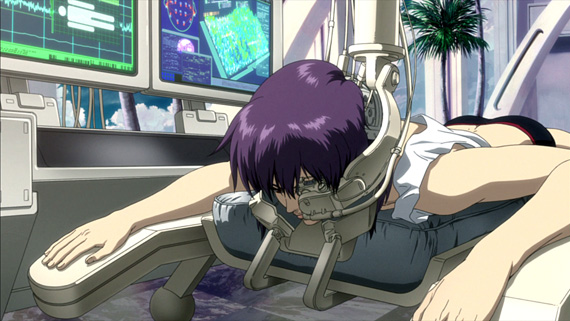 Major Kusanagi enjoys the benefits of Section 9's private health insurance
A good-looking but po-faced movie adaptation of the manga was released to cinemas in 1995, followed nearly ten years later by the extraordinary, jaw-dropping, bladder-loosening, impenetrable mind-fuck that was Ghost In The Shell 2: Innocence in 2004.
These spawned two immensely popular 26-episode TV series under the title Ghost In The Shell: Stand Alone Complex between 2002 and 2005. These provided a reboot of the scenario, inserting more variety and humour with unspeakably complex storylines concerning political intrigue, immigration and terrorism.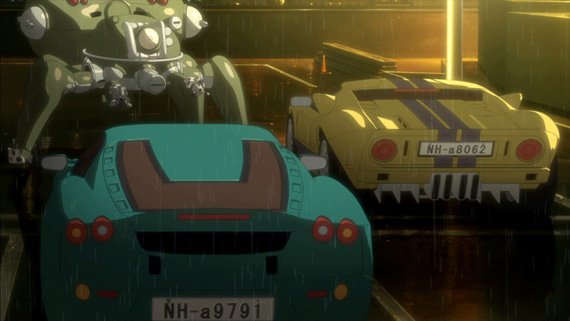 Nissan designed these two concept cars for the film
Solid State Society continues the timeline from the end of the TV series, not the two cinema films. Kusanagi has resigned from Section 9 to be replaced by Togusa, the rookie cop from GITS:SAC. However, it soon transpires that his team and the freelance Kusanagi are chasing the same enigmatic cybercriminal 'Puppeteer' in a sprawling tale of hacking, cybernetic ethics, child abduction and social care for the elderly.
Where the action is...
Visually, the OVA is rich in detailed 3D mecha and depth-of-field effect backgrounds, with (I believe deliberately) flat-looking animated characters in the foreground. It's a jarring style that keeps you concentrating on what's happening rather than getting obsessed with how clever it all is and trying to trace the nipples on 3D women à la Avatar.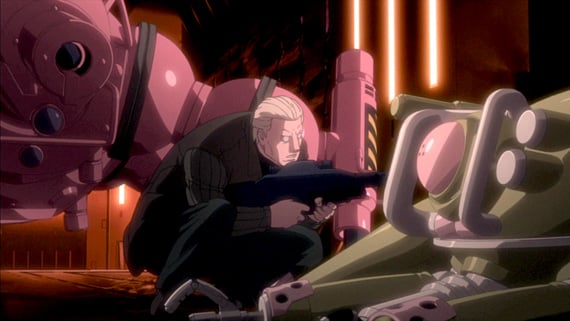 Batou is back, surrounded by heavy metal mecha as usual
What it lacks, however, is action. Apart from a bit of running around at the beginning, a mecha-run-amok scene early on and the thrilling break-in sequence at the end, most of the film involves people standing around talking to each other in corridors, walking in and out of rooms and staring at computer screens.
Although it's not quite like that notorious episode of the GITS:SAC TV series in which virtually the entire 30 minutes comprises internet nerds arguing around a table, Solid State Society could have done with more action set-pieces, however contrived.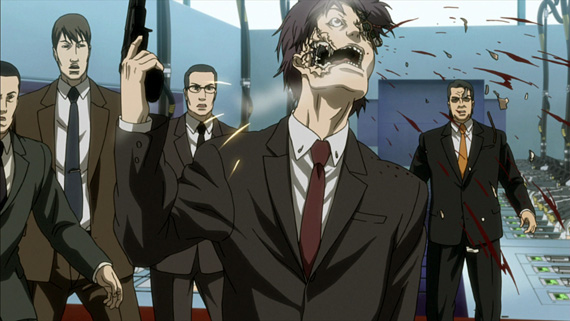 Tense, nervous headache? Try a course of Solpa... oh
Another warning: if you have not watched at least a few of the GITS:SAC episodes, preferably from the second series (2nd Gig), you probably won't have a clue what's going on in this film.
The big question for dedicated fans, though, is whether it's worth buying this frankly expensive Blu-ray release if you already own the DVD from 2007. Manga justifies the price by bundling DVD (movie only - no extras) and Blu-ray discs in one box, but why? I'd rather it had bundled a digital copy I could put legally on my phone or tablet.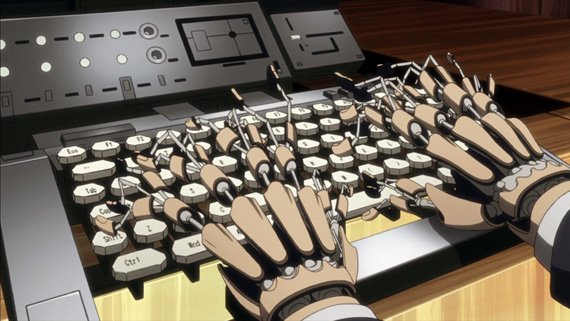 Why re-invent the keyboard when you can get your hands replaced instead?
Unlike the 2009 Blu-ray releases of the first two GITS films, both of which enjoyed 'Redux'-edition cleaned-up audio and video plus additional CG-generated scenes, Solid State Society on Blu-ray is exactly the same as it was on DVD but at hi-def. This means you can see individual raindrops fall during the opening sequence, but after that, I can't remember a single scene that Blu-ray made look better.
More of the same?
The soundtrack is extremely well produced and the music is pretty good, if a little lost behind the talking and occasional gunfire, but this is the same as on the DVD that came before it. Even a bundled OST audio CD might have been nice to have, but there you go.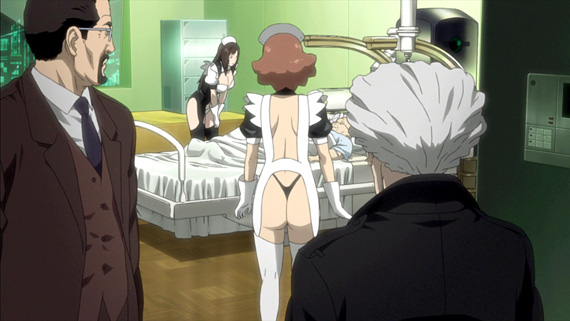 Another example of that private health insurance. Where do I sign?
The Blu-ray extras are also the same as those on the earlier DVD release: a making-of documentary, a piece about the mini Tachikoma robot built for the launch party, a piece about the Nissan-designed concept cars seen in the film, a short Uchikomatic Days animation (GITS:SAC fans will understand the joke), interviews with the production teams in Japan and the US, and trailers. None of the video documentary stuff appears to be in native hi-def.
Verdict
If you already have Solid State Society on DVD, don't buy the Blu-ray release: there's nothing to be gained. However, if you don't, you may find the five-year-old DVD harder to source than expected. If the alternative means paying £20 or more for an import copy or wasting a fiver on a scratched, second-hand pirate disc from eBay, the brand new Blu-ray release doesn't seem quite such poor value after all. And if you're any kind of GITS:SAC fan, you will like Solid State Society very much indeed. ®
More Blu-ray Movie Reviews…

The Beatles
Yellow Submarine
Blu-ray disc set
Monty Python
and the Holy Grail
Blu-ray disc set
Aliens
Blu-ray disc set
Akira remastered
Blu-ray disc set
Star Wars:
The Complete Saga
Blu-ray disc set