Original URL: https://www.theregister.co.uk/2012/07/06/olympics_network_challenge/
Behind every great athlete is a nervous network engineer
A short history of Olympics communications
Posted in Networks, 6th July 2012 11:57 GMT
London Olympics Had there been a functioning mobile network in Greece in 490BC, the messenger Pheidippides wouldn't have had to run from Marathon to Athens, only to breathe his last as he delivered news of victory over the Persians.
The modern reenactment of his feat in the Olympic marathon would have been a much shorter event, although the sight of 100 puny men competing to send a text message might not be the spectator attraction the broadcasters require.
Easier to get corporate sponsors, though.
Nothing but the booth
Fast-forward 2,437 years and mobile telecommunications networks of a sort were already delivering up-to-the-minute results in 1948, the last time the Games were staged in London.
Red telephone boxes along the marathon route were commandeered by the organising committee so that spotters could watch the race through the little glass window panes and report on the runners' progress.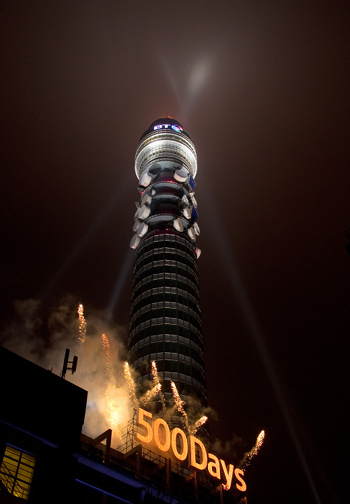 Media offensive: Sponsor BT will plant its OpenZone hotspots
all over the city. Pic credit: BT
In 2012 BT, sensitive to the fact that every tourist visiting London takes at least one picture of a companion leaning out of a phone box, is repainting 400 of the traditional kiosks near Olympic venues.
Since BT is the official telecommunications supplier to the games, however, this is by no means the limit of its involvement, as we shall see.
Telecoms project management has become one of the biggest team sports in the Olympic Games. For example, the mobile network around London's Olympic Park will feature half a million BT OpenZone hotspots in the highest-density Wi-Fi zone ever created.
Contrast this with the technology needs of the Atlanta Games in 1996, the first such event to have its own website.
The first "Internet Olympics" had precious little mobile data, with IBM managing capacity for 9,000 mobile phones and 2,500 pagers (ask your dad). IBM created a "surf shack" in the village with 30 computers for those of the 16,500 athletes who had email. It would have been easier to run home with the news.
The Atlanta Olympics would hardly have supported the communications needs of the skeet shooting in Sydney four years later. IBM had installed about $100m worth of technology infrastructure to support the entire Atlanta games; in Australia, that much was spent on upgrading mobile networks alone.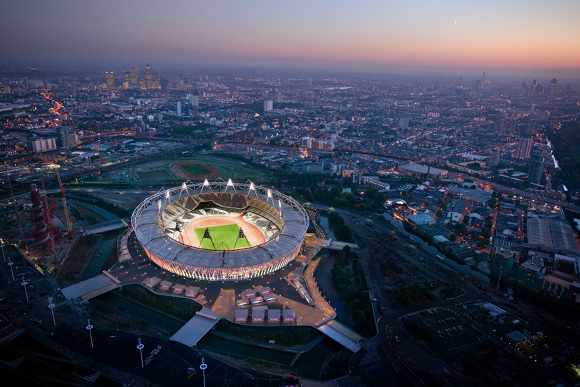 Not a phone booth in sight: The highest-density Wi-Fi zone ever created will hum around the Olympic Park...
And if all else fails, there's always 3G. Pic credit: London 2012
Mobiles had become commonplace and so Telstra, Optus, Hutchison and Vodafone all added capacity to their networks, employing Ericsson (for GSM) and Nortel (for CDMA) to install 200 microcells in the Olympic Park.
Even then, the target figure was 2,000 concurrent calls (and mobile data at this time meant no more than an SMS). The marathon was followed by mobile base stations, much to the relief of the phone-box users of Sydney.
An exciting new technology called GPRS was being piloted, with the prospect that it could soon be used to upload pictures almost in real time. And instead of balancing loads on the network every hour, traffic was – for the first time in Australia – monitored every minute.
Recurring nightmare
One of the challenges for mobile technology suppliers is that the Olympics, with its once-in-a-lifetime supply of problems, happens every four years.
Things tend to change quite a bit in that time, so there is always an element of risk. That risk is minimised by designing the hell out your infrastructure.
For London 2012, this is effected by the Mobile Experience Group (MEG), a committee made up of mobile and Wi-Fi operators, content providers, vendors, Ofcom, the Mayor's office and the London Organising Committee of the Olympic and Paralympic Games, or Locog, which has been in place for three years.
There is also the Joint Olympic Operators group, which works out how to share network infrastructure and backhaul.
MEG does what committees do: it makes sure that the operators don't step on each others' toes, that they have a common idea of demand and planning, and that they co-operate in secret simulation exercises for testing the response to extreme events.
MEG also handles the tedious job of satisfying contractual confidentiality requirements by giving bland answers to journalists.
"All the UK's network operators have been working hard to get as much capacity into and around the Olympic venues as possible," says chairman Stuart Newstead.
"We expect unprecedented levels of demand over the 17 days of the Games, and we've seen unprecedented levels of investment and co-operation by the industry to meet this demand."
IEEE boffin: 'It's a perfect storm for mobile data – they have to try to plan when they really have no idea'
We turn instead to William Webb, IEEE Fellow for leadership in the deployment of third-generation mobile and wireless LAN technology, and also CTO at Cambridge-based wireless boffinshack Neul.
He thinks the 2012 Olympics is a "perfect storm" for mobile data.
"It's a real unknown, because they have to try to plan when they really have no idea. On the cellular side, it's all a bit finger in the air," he says.
Mixed signals
One problem is that you simply can't keep stuffing more capacity into a small space. Wireless operators at the Olympics will populate the site with femtocells, which can backhaul through a broadband gateway to the operator's network.
Terrific! But interference from other femtocells and macrocells limits capacity.
"It is relatively easy to deploy small cells and reuse the kit but 3G cells all use the same frequency. At least when the system degrades, it degrades gracefully," says Webb.
4G LTE technology could have doubled or tripled capacity around the park, but that was never an option: it is not the network that counts, it is the devices using it. Give it another couple of years, and 50 per cent device penetration might make 4G a practical proposition. That will be for Brazil's telecoms engineers to deal with.
So for the mobile operators in London, there will be some known knowns, some unknown known unknowns, a few known known unknown knowns… well, you get the picture.
The "mostly known knowns" category includes the smartphone, which uses 35 times as much data as a standard phone. O2 published research in June to show that smartphone users spend an average of 25 minutes a day on the internet, 17 minutes social networking, 13 minutes playing games – and 12 minutes making calls.
The load placed on the network by smartphone signalling has been the cause of worldwide angst. A single instant message can generate 30 signalling messages, about the same number as a voice call; a smartphone sitting in someone's pocket, but updating itself regularly with Facebook messages about Olympic events which are then retweeted by all the owner's mates, will generate the same traffic as 1,000 voice calls a day.
It is unlikely that many smartphones will be kept in visitors' pockets. The BBC, having taken the decision to supply live feeds from all events, expects to be supplying 1Tbps of data at peak times – much of it through iPlayer apps installed on the little beasts.
The problem is not limited to the Olympic Park: all over the UK, bus passengers will experience the Olympics via the phone of the guy sitting next to them.
Neil McKinlay, director of product management at Empirix, a testing and monitoring specialist, explains that operators have not only had to spot bottlenecks and add temporary overlay networks, but also put a stop on any network changes until after the games.
Guessing games
But as Webb says, it is no more possible to forecast peak demand than to predict who will win each event.
"I don't think the networks can cope seamlessly. No one is completely sure that we will all be able to get the replay of the 100 metres final as soon as it is finished," he says.
"There will undoubtedly be a headline at some point saying that someone couldn't download a video clip."
Still, if 3G is overloaded, there's always the Wi-Fi, delivered by a partnership between BT, Cisco (official network infrastructure provider) and Atos (official gluer-together of different bits of kit).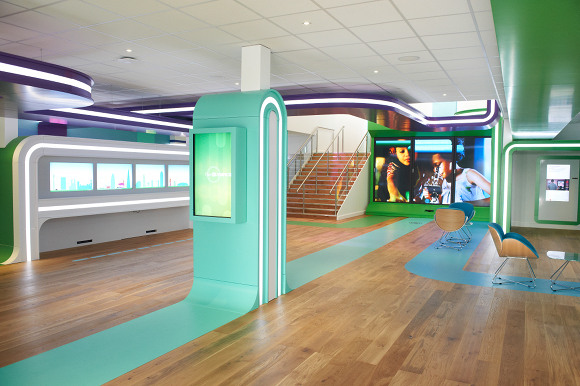 The suite life: Inside Cisco House, the official Olympics' voice and data provider's Olympics hospitality suite.
Cisco is responsible for making sure that all voice and video data from the games is transmitted safely, and it has had engineers seconded at Locog HQ for two years.
Its core network transmits data from 36 competition venues, 20 further venues such as the Olympic Village and operations centre, and approximately 50 other spectator and athlete sites. Cisco is capable of transmitting more than 60Gbps in the core network.
Bet they used all the secret flashy stuff from Cisco's secret lab. Er, no, says Ian Foddering, CTO of Cisco UK and Ireland.
"Most people expect that. But Locog wanted tried-and-tested technology that has been deployed for at least two years elsewhere," he says.
Never fear, we can still make this the Buzzword Olympics. This will be the first Cloud Games, with Cisco acquisition WebEx using cloud deployment for videoconferencing among staff. Cisco is also making it the IP Telephony Games, with 16,500 IP handsets.
So whether you are visiting the Olympic Park so you can send film of yourself pointing at the wonky sculpture or just enjoying the beach volleyball on your smartphone at work, remember: behind every great athlete there's a very tired network engineer. ®