Original URL: https://www.theregister.co.uk/2012/07/06/haggis_huevos/
Post-pub nosh deathmatch: Haggis pakora v huevos rancheros
Braveheart battles Pancho Villa
Posted in Science, 6th July 2012 14:31 GMT
It's been more than a month on the salads and with our necks in the fruit bowl for the Special Projects Bureau's elite post-pub nosh deathmatch team, following the mealy pudding v migas clash of titans.
We reckon our arteries have recovered sufficiently to make another foray into the calorie-packed world of nourishment designed to mitigate the worst effects of a night on the sauce, so let's get to it.
Our first contender sees a return to north of the border with haggis pakora, which is a highly improbable Indo-Caledonian alliance making use of the Scots' most potent culinary weapons: sheep pluck and deep-fat frying.
Fans of Indian food will need no introduction to the pakora concept - traditionally vegetables, such as spinach, or fresh cheese, fried in a gram flour batter to make palak pakora and paneer pakora, respectively.
We gather the Scottish are a bit fond of pakora, so the haggis variant was an inevitable carnivore-friendly excursion into international fusion cuisine.
Having assembled the necessary ingredients (see below) for this slightly unholy dish, we headed to Bar Almanzor in my local town of El Barco de Avila, where owners Juanjo and Begoña were ready as ever to lend a hand. It's a round of applause for Begoña this time round for doing the actual cooking, freeing Juanjo to prevent inquisitive nippers from dipping their fingers in the chilli powder.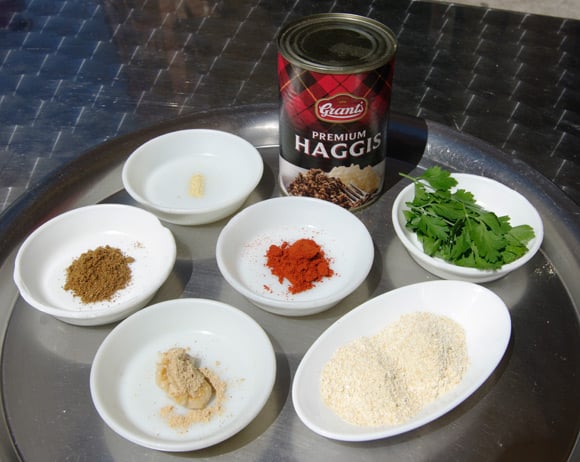 You will need, seen here clockwise from top: 500g or so of Haggis, a handful of chopped coriander, 150g of gram flour, one teaspoon of garlic and ginger paste, half a teaspoon of Garam Masala, a pinch of fenugreek and (centre) half a teaspoon of red chilli powder. You'll also need a teaspoon of salt.
As you'll have noticed, haggis is a bit hard to come by round these parts, so I'm obliged to fellow SPB operative Bill Ray for posting me the tinned variety.
In fact, pretty well everything is hard to come by round these parts, so I was obliged to buy the exotic curry ingredients on the interwebs, as well as substituting parsley for the coriander.*
Haggis pakora should be served with a spicy sauce. Head to your local supermarket for...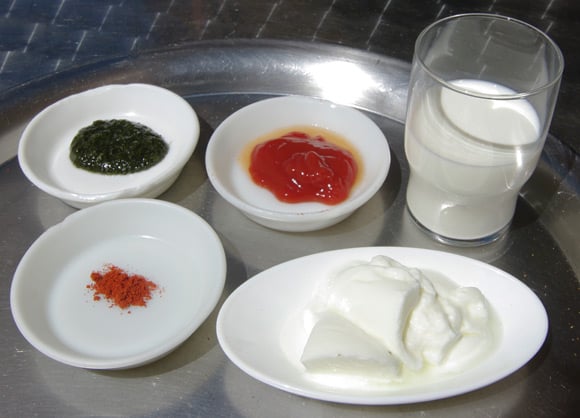 ...200ml of yoghurt, 150ml of tomato sauce, one teaspoon of mint sauce, quarter of a teaspoon of red chilli and and 50ml of milk. Add one teaspoon of sugar and half a teaspoon of salt to your list and you're good to go.
First up, the pakora itself, as per our traditional handy photo guide: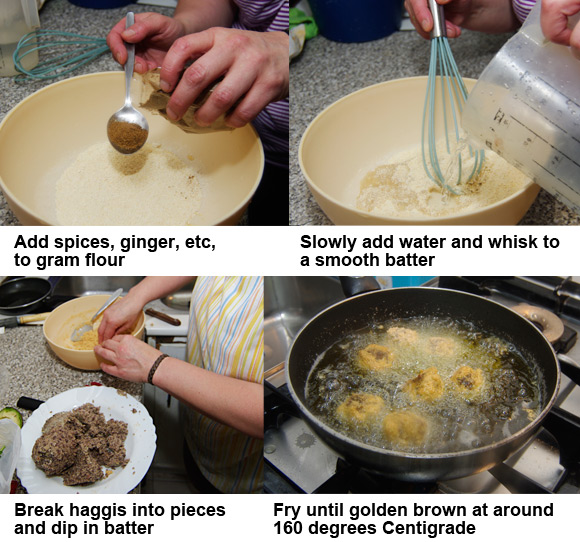 Getting the consistency of the batter just right is a matter of trial and error, and you should add the water with caution. If the batter drips off the end of a spoon, you've overdone it. It should hang in the air, without being too thick.
Now the sauce, which is just a matter of throwing the ingredients in a bowl and mixing: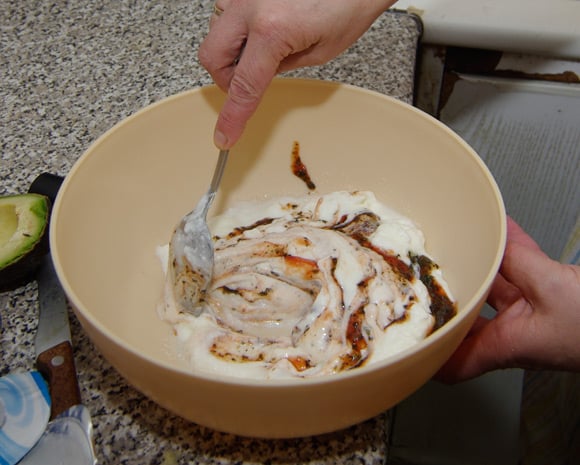 Having tackled the haggis pakora, we turned our attention to huevos rancheros, which is commonly translated as "country-style eggs".
This most Mexican of delicacies traditionally requires nothing more than corn tortillas and eggs topped with a chilli-spiced tomato sauce. Additional elements might include refried beans or sliced avocado, and queso blanco, (literally "white cheese"), is a common topping in the US variant of the recipe.
We decided to go with the Americanized huevos rancheros, and deathmatch regulars will recall we knocked up some queso blanco - effectively cheese curds - as a prelude to last year's parmo v poutine showdown.
It's hardly rocket science - involving simply milk, lemon juice, a pinch of salt and some cheesecloth - but you'll have to do it the night before tucking into your Mexican treat. Here's my son Rui applying himself to the task: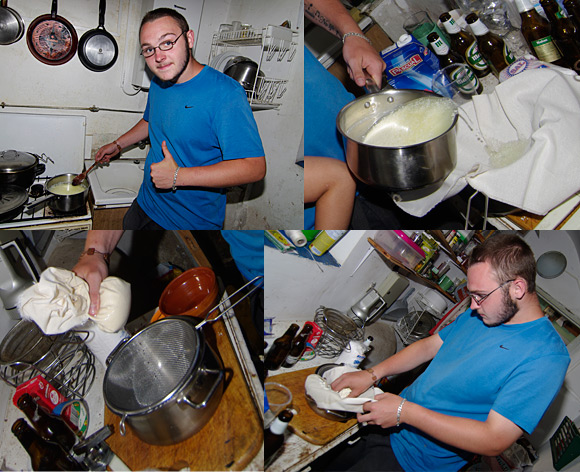 Once you've got your queso blanco sorted, assemble the following: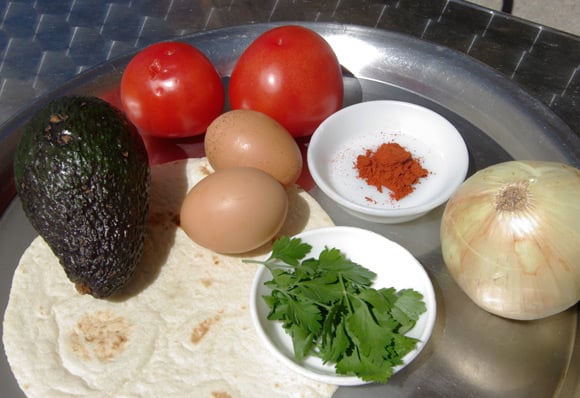 Per person you're looking at two corn tortillas, two eggs, half an onion, two tomatoes, some avocado, half a teaspoon of chilli powder, and a handful of coriander leaves.
It's as simple as this: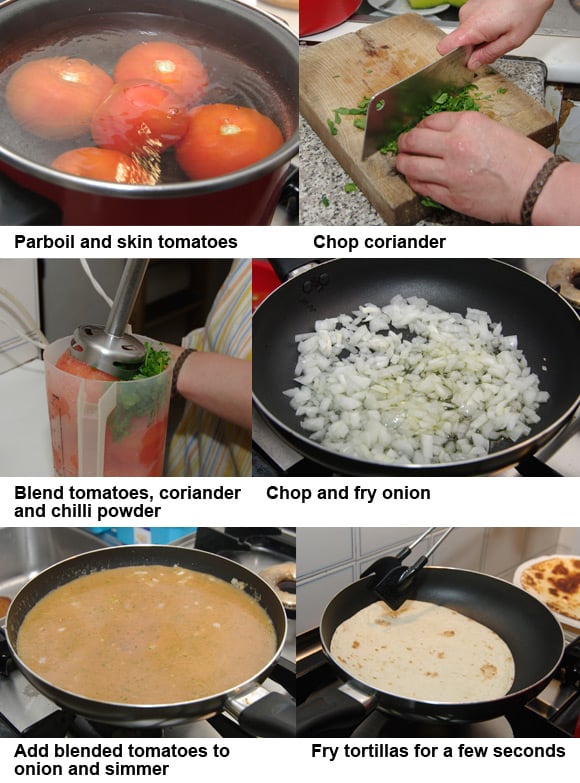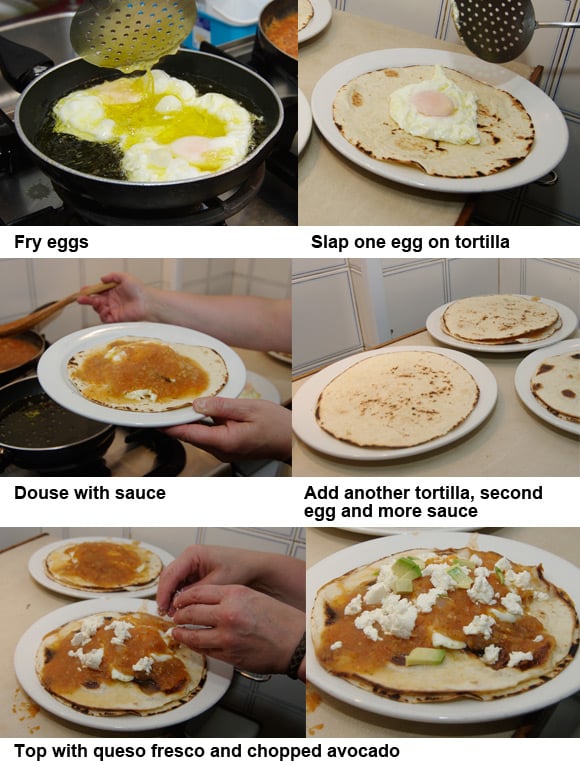 Lovely. So, with the regular gourmet jury assembled, guest waiters Andrés (the tall one) and Diego (the short one) were on hand to present the rival dishes: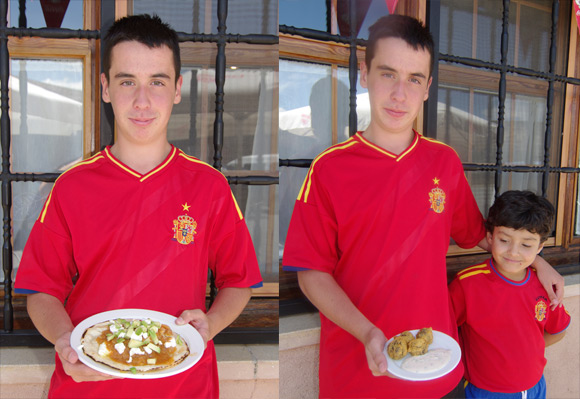 You'll note that this time round our serving staff are not wearing their SPB t-shirts. The above photo was taken last Sunday afternoon, a few hours before the Spain versus Italy footie deathmatch, so now you know why.
The first platter laid before the judging panel was the huevos rancheros...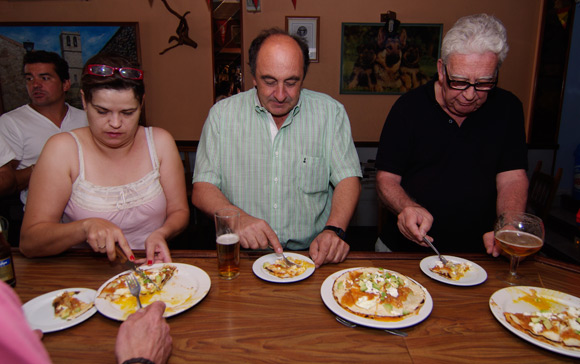 In the centre we have local builder Fernando, flanked by Yoly and PARIS vet José María Pita.
History records that Fernando wasn't much taken with mealy pudding, but in this case didn't require emergency beer intake to mitigate the effects of foreign food poisoning.
In fact, the bloke tucked into his huevos rancheros with gusto, although Luis Angel (seen left in photos above and below**) took a little more convincing: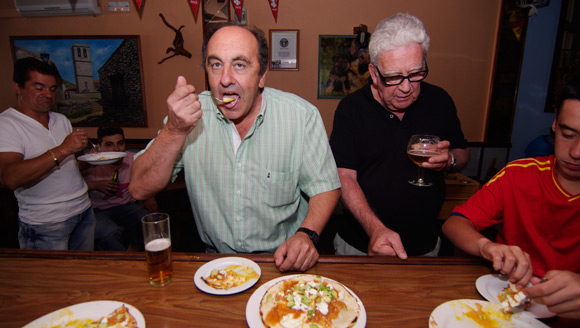 Regarding the overall verdict, it took locals around five minutes to demolish three servings of huevos rancheros, which one satisfied customer declared "the best recipe you've done since kapsalon".
High praise indeed. The moment had now arrived to roll out the haggis pakora, and since Spanish palates aren't well suited to spicy food, I feared the worst.
Begoña had already refused point blank to try this Scottish delight before we even got to the frying bit of the recipe. Detinning the haggis with a look of horror and disgust, she declared: "I might feed this to a cat, but only if I really disliked the cat."
Here's José María Pita and his other half Fina gamely tucking in, while Diego monitors the situation in case he needs to call an ambulance: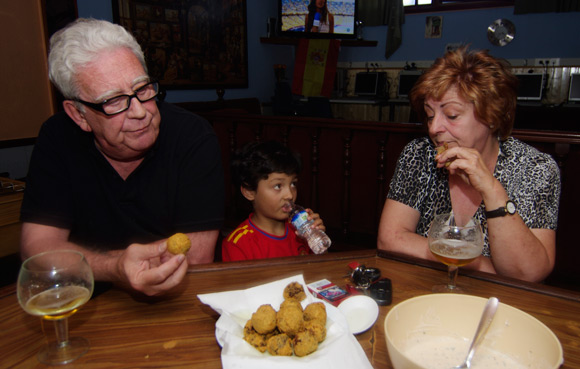 Fernando had already disappeared in a puff of smoke, having quaffed two emergency beers in vain. His missus Lourdes stood her ground rather more gamely, although her face shows she's not much of an Indian spice aficionado: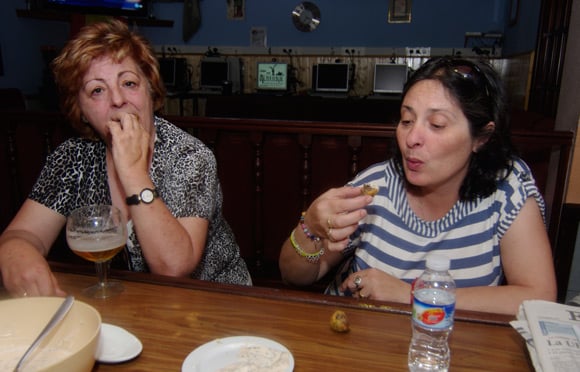 Surprisingly, it was young Andrés who really took a shine to haggis pakora, enthusing he'd "eat that anytime"...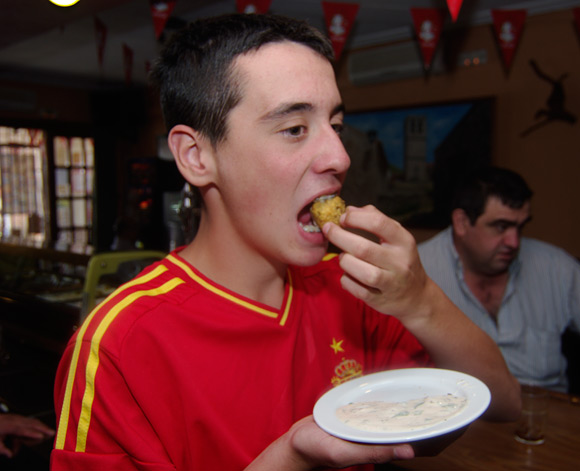 I would, too. In summary, we'd advise readers to add both huevos rancheros and haggis pakora to their post-pub nosh manifest.
We're currently compiling a list for future culinary contenders, so if you've got suggestion for a dish you'd like to see enter the arena, you can make your pitch right here. ®
Bootnotes
*In my quest to find fresh coriander, I may as well have been asking local shopkeepers for boiled lark's tongue in sea urchin purée.
**If you look carefully, on the wall behind Fernando's head is our PARIS Guinness World Record certificate, which is displayed with much pride in Bar Almanzor.