Original URL: https://www.theregister.co.uk/2012/07/06/dell_quest_dp/
Dell's partners fear divorce after firm beds new squeeze
Quest acquisition could upset CommVault and Symantec deals
Posted in Storage, 6th July 2012 08:17 GMT
CommVault and Symantec will be getting the jitters now that Dell is buying Quest, having acquired AppAssure and its continuous data protection technology just a few months back. Now it looks like the hardware giant is plumping up its portfolio of software with its latest acquisition... which might make its partnerships with the software firms redundant.
New acquisition Quest bought BakBone for $55m in November, 2010, gaining the NetVault product line and customer base. It joined Quest's application-specific LiteSpeed products, which cover databases like SQL Server and Oracle, its vRanger virtual server protection software and its Recovery Manager product line. These four products are being unified under a common NetVault XA architecture and management interface, which offers service-oriented data protection reporting, monitoring, alerting and control across an enterprise's multiple sites. This is usable by general line of business managers and IT people as well as specialised storage admin staff.
It presents an enterprise-class UI across Quest's four data protection product lines and provides a great road ahead for new technologies to be brought in underneath, the existing products to be developed and the UI to grow its own capabilities. Now Dell has got this whole data protection shebang and can add it to the AppAssure technology. This is application-aware and, as we wrote at the time, "can restore complete application infrastructures in minutes, via Live Recovery, or individual files or emails, and uses snapshot integration, deduplication and compression to reduce disk space and replication bandwidth."
It's pretty obvious that Dell can add AppAssure as a product technology module underneath the NetVault XA GUI and have a 5-product combo underneath the single UI and this is all neat, tidy and dandy.
Dell has its DR4000 disk-to-disk backup storage array using Ocarina data deduplication and compression technology. This is positioned as a small/medium enterprise(SME) product. It's expected that Symantec OST capabilities will be added so that backup data submitting media servers can do some dedupe work themselves and so match Data Domain Boost performance levels.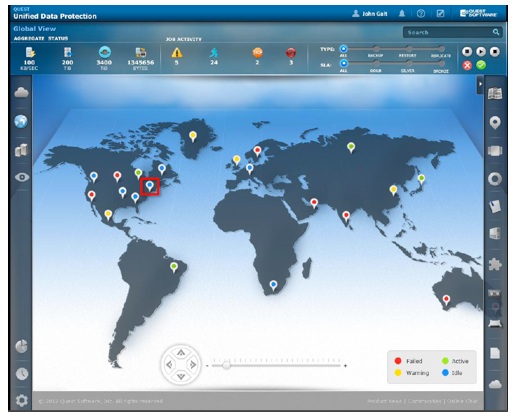 NetVault XA data protection monitoring screen
Dell also has an Email and File Archive product using OEM'd CommVault or Symantec software storing data on either a DX6000 or EqualLogic PS array. Its website also lists a PowerVault DL Backup to disk appliance powered by CommVault or Symantec Backup Exec.
It is apparent that Dell wants its own data protection IP and now has it. The Round Rock company could have tried to buy CommVault or even Symantec. Our thinking here in El Reg strategic analysis corp is that CommVault is too much of a one-trick pony with Simpana. It's a very impressive product, with a raft of different but integrated and co-ordinated functions – rather like a NetApp approach to backup. But it is fairly mature and Dell may have judged it to be too limited in its appeal, too niche.
Symantec is more of an EMC-style software supplier, with several different product lines, including the Backup Exec and NetBackup products, which are mature and highly popular. Dell might have liked the idea of buying these but would probably have had to buy all of Symantec to get them, currently capitalised at $10.7bn. Too many niches and too much dough.
So it's gone and bought Quest for a more affordable $2.4bn and got itself a five-product data protection portfolio for probably well south of $750m. What's it going to do with it and will it still need CommVault and Symantec?
We figure Dell will add its DR4000, DX6000 object platform and PowerVault DL hardware products as targets for the data protection products. This will happen alongside AppAssure being integrated into the NetVault XA technology. Then new and more powerful hardware platforms along with extended and developed versions of AppAssure and NetVault will reduce the need for OEM deals to sell Simpana and Backup Exec.
It won't happen straight away but, in three to five years' time, Dell's need for these OEM deals will be considerably less, by our reading of its strategy – which is to build integrated sets of its own products. "Better together" and under a Fluid Data rubric, as it might say. I think we can be sure Dell is going to be much less simpatico with Simpana and Symantec in future. ®