Original URL: https://www.theregister.co.uk/2012/07/04/ten_alien_invasions/
Ten... alien invasions
Take me as your leader
Posted in Personal Tech, 4th July 2012 16:28 GMT
Sci-fi round-up Earlier this week, alien hunters donned their tinfoil hats for World UFO day and with Yanks celebrating Independence Day today, the topic of extra-terrestrial takeover lingers in the air. The public has even been debating who would be best equipped to tackle an alien invasion.
Whether that's Mr. Obama, his political opponent or Batman, let's hope we never have to find out. Then again, not all Martian mergers with Earth are malicious. Although, as with most news stories, people love a bit of shock and awe, otherwise what's the point?
Either way, here's a look at ten popularised alien invasions to feed your little green man obsessions.
Childhood's End
This 1953 Arthur C. Clarke novel is a true exception to the norm, with a extra-terrestrial takeover that's actually peaceful. Well, sort of. The arrival of mysterious Overlords ends all war, helps form a world government and transcends Earth into a peaceful utopia. Cracks soon show, of course, with the transformation – which sees children develop telekinetic powers – not quite as harmonious as planned. Plans for a film have been in disarray due to various rights options – Kubrick even pondered on it but opted for 2001 instead – and the BBC knocked out a radio dramatisation of the novel in 1997.
District 9
This South African thriller, synonymous with the country's apartheid era, sees aliens arrive in a large spacecraft above Johannesburg. Removed from the ship and given basic food and shelter, the prawn-like creatures slowly descend into civil unrest and tensions increase. District 9 Protagonist Wikus van de Merwe – originally tasked with relocating the beings – finds himself mutating into one and goes on the run from those who used to employ him.
The 'prawns' challenge The Predator – another Earth inhabiting alien – for first place in the "flange face" category. Liptastic.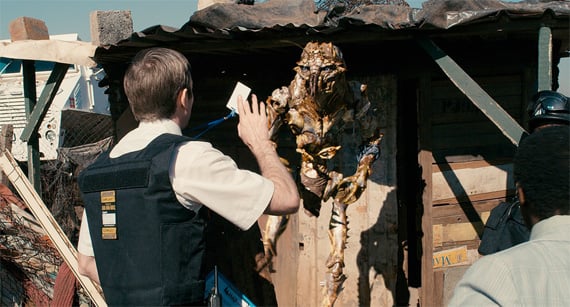 Independence Day
Being the day that it is – and the record breaking box office figures it set at the time – we'll throw Roland Emmerich's Independence Day in the mix, you can't really ignore it. You know the drill: alien beings come to Earth with attack in mind and American authorities make plans to counteract the threat.
Will Smith – whose inclusion here means his role in a black suit and sunnies goes unmentioned – predictably saves the day. Was that a spoiler?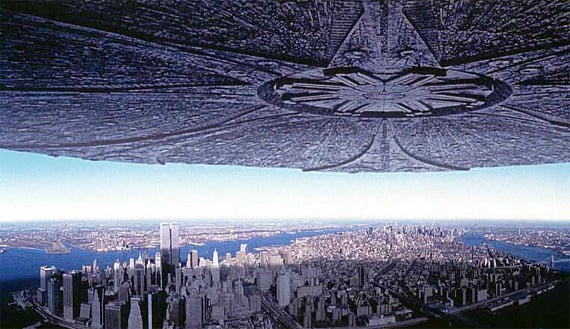 Invaders from Mars
1953's Invaders from Mars was unique in many ways. Not only did it tell the invasion scenario through the eyes of a child, but its use of imaginative set designs and odd atmospheric soundtrack helped the film standout from the hordes of extra-terrestrial B-movies that littered the era. Essentially it's another alien inhabits human body concept, though.
As distributors here in the UK were unhappy with the film's ending, Invaders was re-edited for Blighty to exclude the "was-it-just-a-nightmare" situation in favour of a more definitive conclusion. Been there, done that, more ideas please.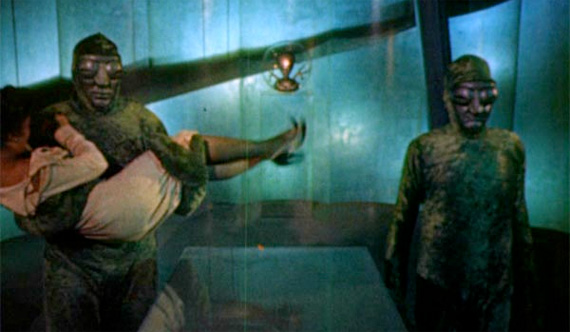 Invasion of the Bodysnatchers
Actually, scrap that sentiment, we're sticking with the body inhabitation theme for now.
This time-honoured alien flick dates back to Jack Finney's 1954 novel The Body Snatchers. It depicts an invasion in which a gelatinous alien life-form colonises human bodies, leaving them devoid of emotion and personality. It's a similar premise to several stories of the time including Robert A. Heinlein's The Puppet Masters, in which slug-like creatures take over the minds of human beings after leeching onto the back of their necks.
The original film adaption, Invasion of the Bodysnatchers in 1956 was followed by a magnificent remake in 1978, which has since been duplicated on Blu-ray. Quality.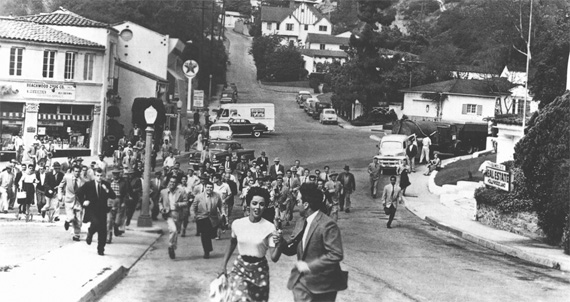 Mars Attacks!
Tim Burton's humorous take on the invasion genre has roots in a classic trading card game and was quite the top trump when it hit cinema screens in 1996. The crazy, big-brained aliens in Mars Attacks! attempt a typical Earth takeover with ray guns and brute force, destroying various wonders of the world and killing the president. Wonderful must-see Martian masterpiece with an all-star cast to boot.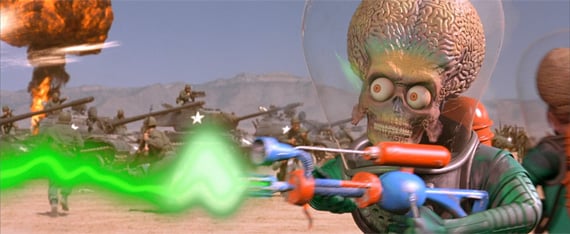 The Quatermass Experiment
This six part serial that ran on the Beeb in 1953 told the story of the first manned flight into space. Of course, at that time, this was a theoretical imagining. In The Quatermass Experiment, just one of the three astronauts involved return and with that particular crew member acting strangely. It soon becomes apparent an alien presence is at work and the safety of planet Earth is in doubt.
The show provided inspiration for various sci-fi ventures, including Doctor Who, 2001: A Space Odyssey and Alien.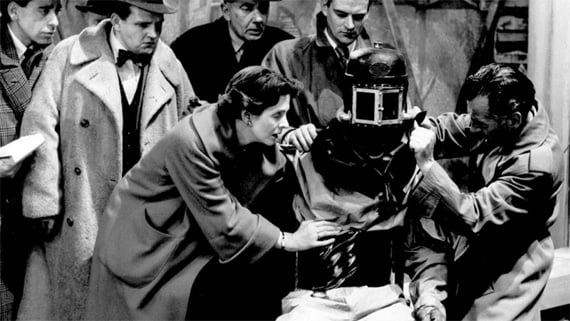 They Live
John Carpenter's 1988 film sees a drifter come into possession of special sunglasses that reveal the true bleak nature of a world where most people with authority are actually humanoid aliens.
The theme They Live provides takes a stab at consumerist culture and a declining economy swallowed by a culture of greed. Sound familiar? Kill them all.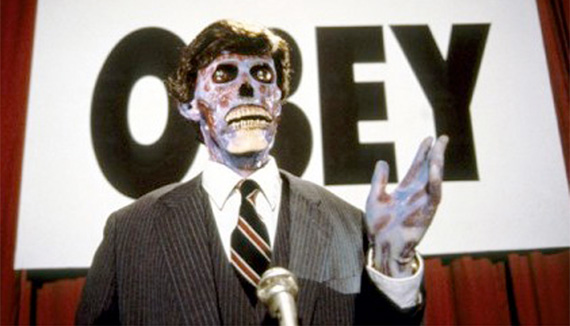 V
If David Icke is to be believed, the Earth is already run by a lizard race that cloaks its identity in humanlike form. The 1983 miniseries V vaguely resembles such conspiracy, with reptilian 'Visitors' that rock up in a synthetic human-like skin and are full of deceptive promises of peace.
As the aliens' real intentions begin to seep through to the unsuspecting masses, a resistance is formed and a battle to expose the Visitors ensues. The series was remade a couple of years ago, however, the second season failed to impress critics and ABC cancelled the show.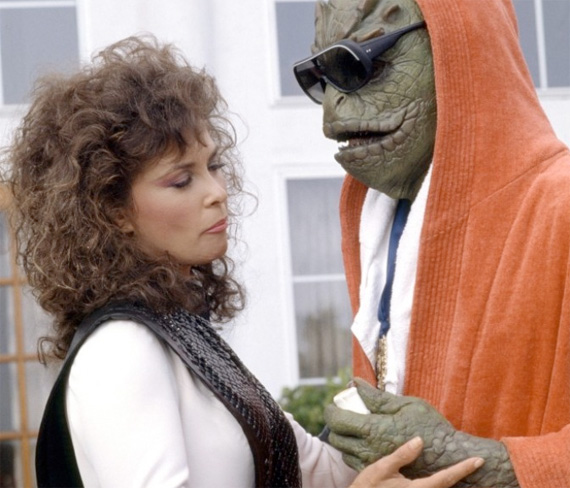 War of the Worlds
Well, we couldn't leave it out could we? H. G. Wells' 1898 novel is one of the earliest accounts of conflict between mankind and aliens. It's a masterpiece that has spurred countless film and TV adaptations, as well as one hell of a musical rendition. This first-person account of the country as it finds itself gripped by Martian invasion is split into two parts, describing the invasion itself and life under alien-rule, respectively.
Word has it, Tom Cruise stood on the novels during filming for the 2005 War of the Worlds remake, so he wouldn't look like a leprechaun in the final piece. OK, I don't know that for certain, but it figures, right? ®