Original URL: https://www.theregister.co.uk/2012/07/02/fujitsu_helps_blind_with_smartphone_directions/
Fujitsu phones to guide the blind through homes
Golden receivers
Posted in Personal Tech, 2nd July 2012 13:42 GMT
Fujitsu has helped develop an indoor support system that utilises impulse radio ultrawideband (UWB) tech to guide blind and partially sighted people around their homes.
The system - co-created with Japan's National Institute of Information and Communications Technology - gives audio instructions on distances and directions to a destination. It does this with pulses sent out in the 7.25-10.25GHz band to determine the user's distance from base-stations positioned throughout the room.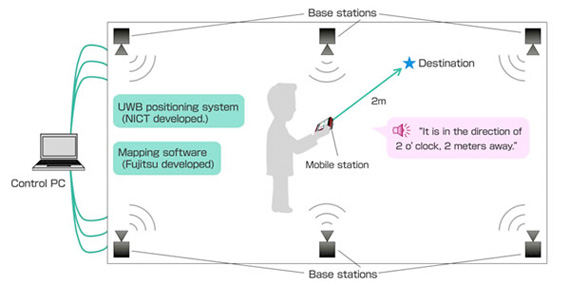 A host computer calculates the person's position from the distance supplied by each base-stations. That information is relayed by Bluetooth to the user's mobile device, handed over to a mapping application developed for Android that guides the holder to their destination with spoken instructions.
With a margin of error of less than 0.3m, UWB tech is said to be far more accurate than GPS systems - and can work in a room into which satellite signals can't penetrate.
The system is in its early days, working only to guide the user around a large open space. But NICT and Fujitsu plan to push the technology further with sensors that can detect obstacles in the user's path.
The current implementation also requires users select their destination by tapping the handset's screen - clearly, not an ideal approach for the truly visually impaired.
In addition to helping blind folk get about, NICT and Fujitsu also reckon there's a role for the technology in guiding sighted people to the nearest exit in case of emergency.
In the meantime, the firms will be demonstrating the tech at the Wireless Technology Park 2012 in Pacifico Yokohama, Japan, from 6-7 July. ®