Original URL: https://www.theregister.co.uk/2012/06/29/review_game_lego_batman_2/
Lego Batman 2: DC Super Heroes
Gotham bricky
Posted in Personal Tech, 29th June 2012 07:00 GMT
Review The only Batman I have ever cared about is the cynical desperate anti-hero of Frank Miller's The Dark Night Returns but Lego Batman 2: DC Super Heroes may have just changed my mind.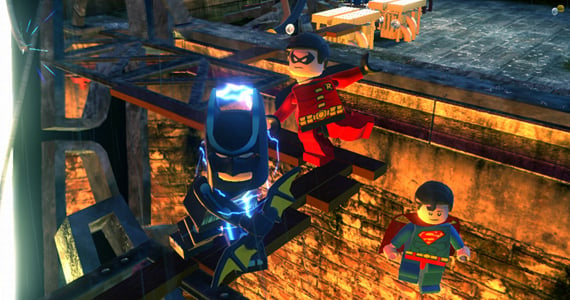 The fall of Superman
Like the Batman franchise the Lego game series is prolific. Since 2005 we have Star Wars, Pirates of the Caribbean, Harry Potter and Indy given the boxy treatment. And I enjoyed them all as, it seems, did a lot of other people. So how is Lego Batman 2: DC Super Heroes going to expand the franchise? By expanding the world, that's how. But is bigger necessarily better?
Traveller's Tales has decided not to break its successful mould, only add more bricks, make them bigger and offer an abundance of new collectables, content and puzzles in Lego Batman 2.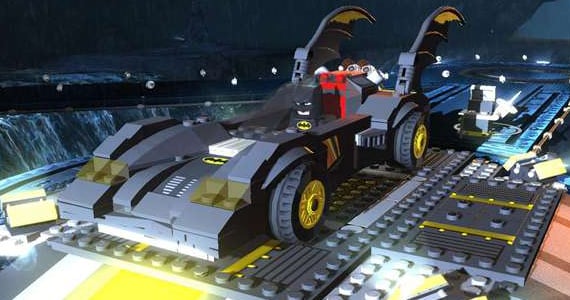 Build upon your driving skills
Now I had always appreciated that Batman is a man of few words and really enjoyed the slapstick miming of the first instalment. This is still apparent, but is now combined with some excellent voice acting. You can't go wrong with the likes of Clancy Brown – a favourite of mine from such classics as Highlander and Starship Troopers – giving a darkly droll personality to Lex Luthor.
But it's not just the script that breaks new ground. The sheer size and scale of each level eclipse anything I have played in the rest of the Lego franchise, and is helpfully broken up with midlevel checkpoints. Lego Gotham city hub acts as a pivot connecting players to the numerous plot lines and unlocking sections of the city as I progress.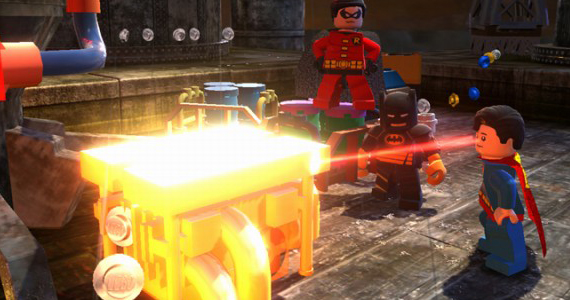 Heating up with the man of steel
My only gripe with the new enlarged Gotham is that its sheer scale makes it a little too easy to lose my way especially for my poor navigational skills – my kingdom for a minimap. Yes, there's a compass and also a trail to follow but too often I found I wasn't sure where I was going especially at high speeds in the Batmobile – this is in no way related to the fine I received in the post today for driving up Lewisham's bus-only high street, m'lud.
Wayne County?
What really holds DC Super Heroes together in this rambling world is the narrative. Yay, for the Justice League busting out the moves to help Batman take on not only The Joker and his crew but Lex Luthor.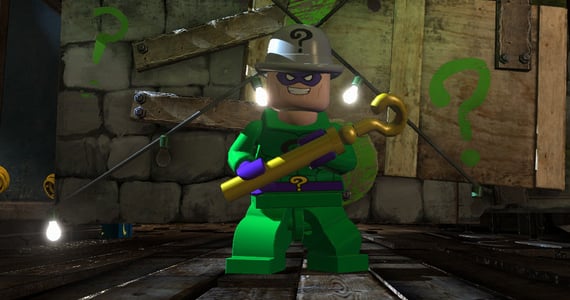 Questionable behaviour
This nefarious duo team up after The Joker crashes the Gotham Man of the Year awards demanding that he is a fitting recipient. This intrusion forces Bruce Wayne to don his cape, grab Robin and drag The Joker back to his rightful home in Arkham Asylum. But he's not there for long as Lex Luthor decides only The Joker and his mind altering gas can help with his misplaced Presidential bid, and busts him out.
It is refreshing that Lego Batman doesn't have to follow worn out plot lines – the likes of which we see in Lego Star Wars or Indy – and can build new narratives in the DC universe that basically contain everyone.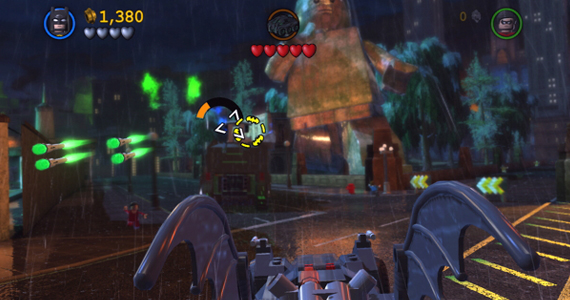 Attack the block
The new, open world Gotham gives the game a stunningly wide appeal, despite any navigational issues. Collecting studs or completing missions unlocks the ability to explore the world through different characters from the Justice League. Choosing Superman, who's all about the heat vision, means I get to immerse myself further in the DC Heroes universe.
The nuances of the plot give a nod to previous cape crusaders – going all the way back to the 1960s – and gives this game a sense of depth, context and history. Personally, I would have liked a Batman vs Superman fight to the death, like in The Dark Knight Returns. However, in DC Super Heroes they are resolutely working together, but be sure there is plenty of back biting and bitching.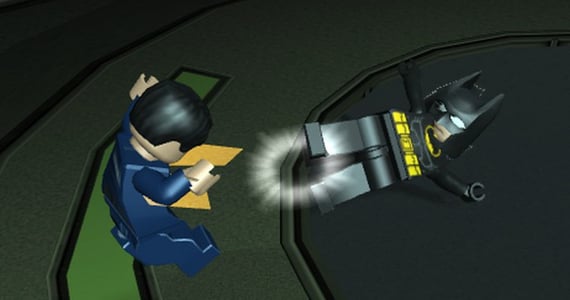 It's all kicking off
The ability to smash and rebuild a huge interactive world – especially in Batman's Power suit – lends itself to a hands-on type of game play that's fun and will appeal to any age range. The different suits for Batman and Robin with special abilities – such as a magnetic outfit for walking walls – are essential to solve all the puzzles and to collect every last stud – and I thought I looked pretty sexy as Robin in that acrobat gear.
Knight shift
I found the Lego Batman 2 campaign mode with its 15 chapters takes around 11 hours to get through. The gameplay consists of the same mêlée combat with Quick Time Event prompts and isn't anything new from the previous instalment. Even so, the game really comes good as a collector's heaven – I am sure that I could spend innumerable hours making double or triple passes to collect more studs, gold bricks and minikits.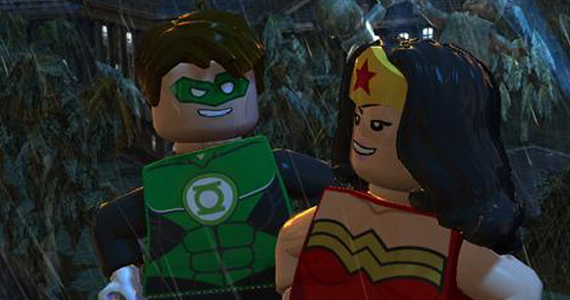 Moments of Wonder
I really appreciated the refined textures and epic backgrounds of Lego Batman 2: DC Super Heroes – time has been spent making it a visually appealing game. This city reminds me of the Gotham of Frank Miller's Dark Knight, where dark colours are muted by constant rain.
The shiny plastic of the characters and sparking lights of the city are super bling and this makes them stand out all the more by comparison.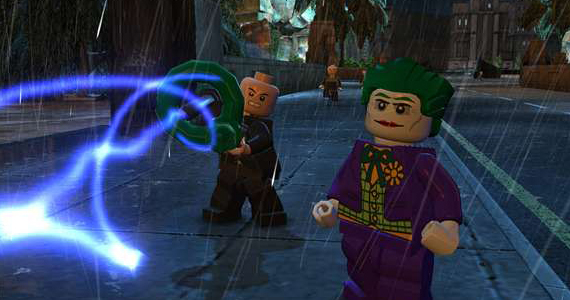 Light touch
There is no on-line multiplayer in Lego Batman 2: DC Super Heroes, which is a shame. Indeed, if anything, on-line co-op would be the new spark to reignite this series. Still, if I want to play locally with my mates, a second player can drop in the game if I am in the same room at the same time. And trust me, this is an infinitely superior experience to working alongside the AI, which often leaves me fighting all alone.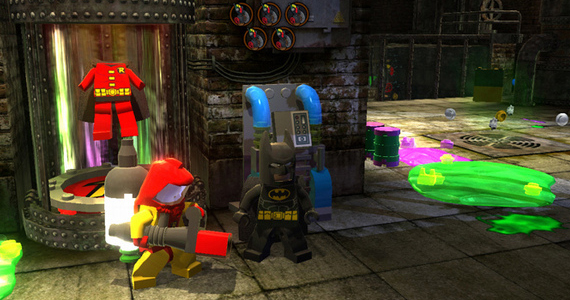 Suits you, sir
Verdict
I like Lego, I like Batman and luckily Lego Batman 2: DC Super Heroes does them both justice with its inventive storyline, obsessive-compulsive collecting mission and not very Alan Turing problem solving in a vast, if somewhat sprawling, world. It's the sense of discovery that gives this game mass appeal and makes it enjoyable.
Traveller's Tales hasn't made a lot of changes, and definitely hasn't fixed any flaws, but the open world design of Lego Batman 2 could lend a new lease of life to the other titles in the series. This game has real scope and I'm sure I'll still be revisiting it long after Dark Knight Rising is consigned to Netflix. ®
More Games Reviews

Lollipop
Chainsaw
Ghost Recon:
Future Soldier
Max Payne
3
Diablo III
Prototype 2