Original URL: https://www.theregister.co.uk/2012/06/28/review_amd_and_intel_mainstream_cpus/
AMD and Intel mainstream desktop CPUs
Cheap as chips?
Posted in Personal Tech, 28th June 2012 06:00 GMT
Review It's fair to say that Intel has the very high end desktop processor market pretty much to itself, however, it's a different story in the lower end of the food chain. Although Intel – through the sheer number of different processors it offers – seems to have it all its own way, AMD does make a good fight of it at a number of price points. Indeed, the sheer number of affordable CPU's to choose from presents the consumer with a bewildering choice.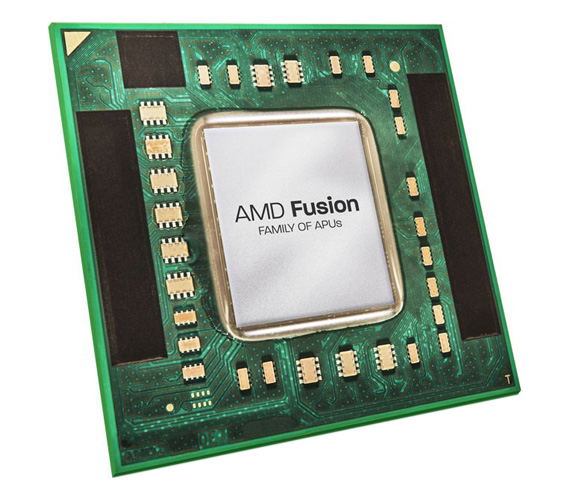 AMD's APUs support DirectX11 and perform some neat GPU integration tricks
At the time of writing, no low-end Ivy Bridge processors had surfaced, instead, Intel's Sandy Bridge CPUs occupy the lower end of its mainstream offerings. The AMD alternative being the company's A series of Llano APUs. Much like the situation with Intel's third generation budget Core i-series CPUs, AMD's second generation Trinity APUs for desktop PCs are on the horizon too.
Incidentally, an APU or Accelerated Processing Unit is AMD's terminology for a processor with integrated graphics built into the die, in a similar way to Intel did with Sandy Bridge.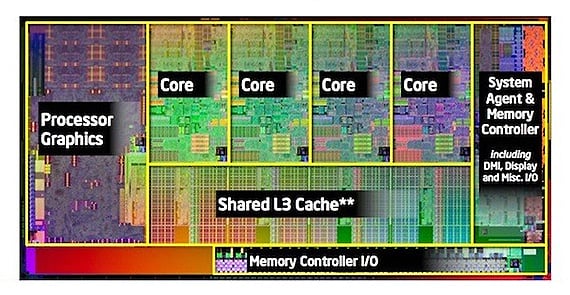 Intel Sandy Bridge die detail
Although it has to be said that the graphics technology in the AMD architecture is more advanced than what's found in Sandy Bridge. One of its biggest advantages is that the AMD chips fully supports DirectX11, something that Intel has only just implemented in Ivy Bridge's integrated graphics architecture.
The APU 32nm architecture is known as Llano, with the desktop components carrying the Lynx codename. The current Lynx offerings appear in three product lines, the A4, A6 and the top-of-the-range A8. The A8 and A6 APUs are all quad-core processors, and all support 1866MHz DDR3. The one exception being the A6-3500, which has three cores. The A4 processors are all dual-core and only support DDR3 speeds up to and including 1600MHz.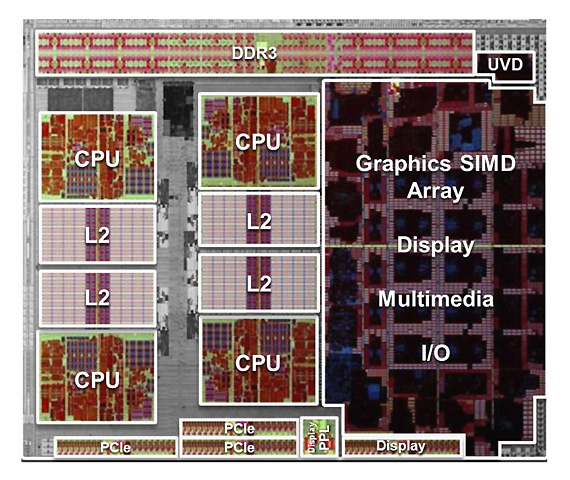 AMD Lynx board detail
Apart from its integrated graphics, the Llano architecture also supports Dual Graphics. This is a neat AMD tyechnology that enables a low-end discrete graphics card – AMD recommends HD6670, HD6570 or HD6450 as the options to choose from – can be used in conjunction with the on-board graphics; combining to deliver a better overall performance.
Graphic equaliser
Utilising Dual Graphics is certainly handy if you're a casual gamer and want higher frame rates, and although it may not be a dramatic performance boost, it can certainly give you an edge to make gaming smoother and more playable. Another advantage of the use of Dual Graphics is that you can use AMD's Eyefinity multi monitor technology.

A stretch of road: AMD Eyefinity multi-monitors displaying Dirt 3
Unfortunately the A series needs a new socket; the FM1, but handily any AM3/AM3+ CPU cooler is compatible with the new socket. So if you have a favourite third party cooler for that socket, there's no need to bin it. AMD's flagship A series chip is the A8-3870K Black Edition which can be brought for around £100 (if you shop around) which puts it up against one of the most popular Intel Sandy Bridge Core i3 processor's, the Core i3-2105.
AMD A8-3870K Black Edition

The quad core A8-3870K Black Edition sits at the top of the desktop A series. It features a clock speed of 3.0GHz but unlike some of the other members of the A series, it doesn't feature Turbo technology and has a TDP of 100W. Each of its four cores has 128KB of L1 cache and 1MB of L2 cache. It uses the fastest HD6550D version of the integrated graphics core, which is based on the 5000 series desktop GPU, with a clock speed of 600MHz and uses 512MB of system memory.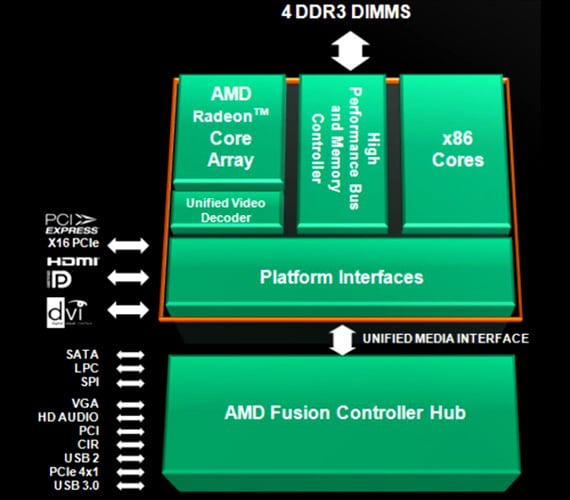 AMD APU chipset block diagram
The Black Edition tag at the end of the name tells you that it's a CPU with its multipliers unlocked, so it supports overclocking but it's not only the processing core that can be overclocked, the GPU core can be as well.
As a head to head on cost, an Intel Core i5 is too expensive to put up against the A8-3870K Black Edition. Yet, at this price point there are a number of Intel Core i3 processors for comparison with one of the most popular options being the Core i3-2105. And given the low-end Ivy Bridge processors have yet to make an appearance, the Sandy Bridge line-up is all there is to match currently.
Intel Core i3-2105

Intel's Core i3-2105 is a 3.1GHz dual-core CPU with hyper threading, so any OS will see it as a four-core processor, although it's not as efficient when it comes to multithreaded jobs as a true quad core processor, such as the AMD A8-3870K. Although, just like the A8-3870K, it lacks a Turbo boost to dynamically increase the clock speed, should the need arise. The Intel Core i3-2105 also has its multipliers locked, so any overclocking can only be done via the system bus, which limits what can achieved.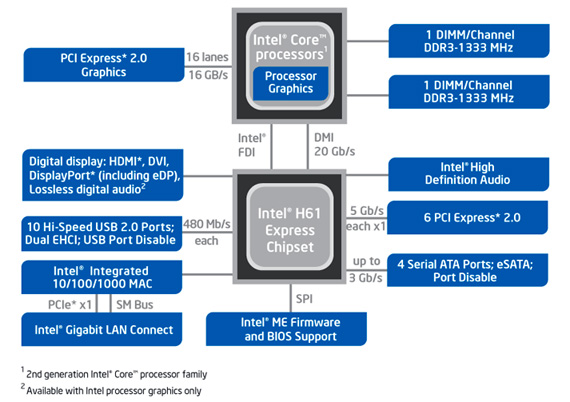 Intel H61 Express chipset block diagram
The desktop versions of the Core i3 normally use the HD2000 version of Intel's integrated graphics core but the i3-2105 was the first member of the family to use the more powerful HD3000 graphics core which, at the time of its release, was only to be found in some Core i5 and i7 CPUs.
Benchmark Tests
PCMark7 overall score
Longer bars are better
Cinebench R11.5 Index Score

Longer bars are better
AMD and Intel X264 V4.0 video encoding rate

Average frame rate: longer bars are better
Verdict
When it comes to the mainstream market for CPUs, the phrase, "You've never had it so good" springs to mind. With a multitude of processors to choose from and priced such that there is a CPU for every budget. If it's confusing now it'll only get worse when the low-end Ivy Bridge processors eventually turn up. The good news is that, if you don't want to go down the Intel path, there are plenty of respectable and affordable options available from AMD that have some unique and innovative features on-board too. ®