Original URL: https://www.theregister.co.uk/2012/06/27/review_sony_smartwatch_android_phone_accessory/
Sony SmartWatch Android remote
Bluetooth strap-on second coming
Posted in Personal Tech, 27th June 2012 06:00 GMT
Review Sony has tried this remote phone manager and viewer malarkey before with its LiveView that first appeared almost two years ago. The idea was sound but the execution was somewhat undermined by the fact it just didn't work. Evidently, Sony thinks it's time for another crack at this concept with the SmartWatch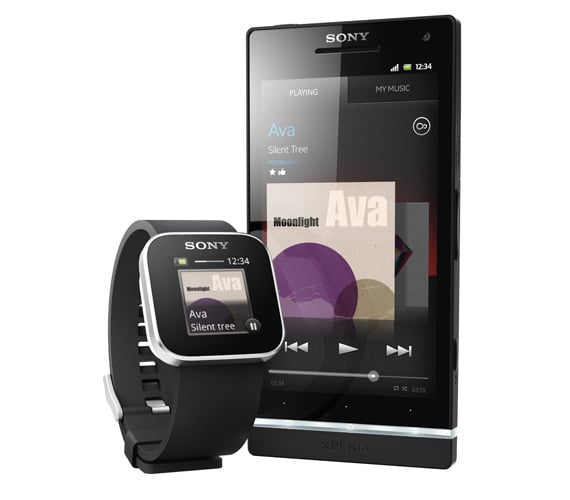 Sony's SmartWatch: works on phones running Android 2.1 or higher
As before, this accessory is designed to connect to your Android phone using Bluetooth and enables control of your music as well as at-a-glance updates of your messages and social network feeds. All in all, it endeavours to manage your mobile life without you needing to actually touch your handset.
To get it working you need to download the free Sony LiveWare and SmartWatch apps from the Play Store and then download more mini-apps into LiveWare to add functions beyond telling the time. It's a bit of a faff but it only needs to be done the once.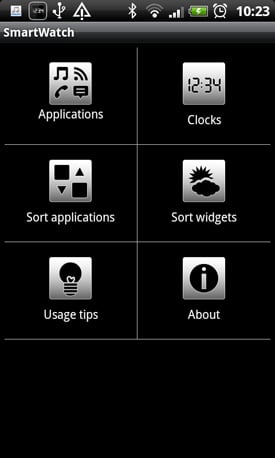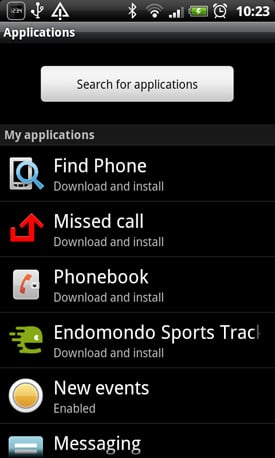 Management screen – individual apps have to be downloadad
Sony has developed around a dozen in-house SmartWatch apps that allow you to see Facebook and Twitter updates; check the weather forecast; control your phone's music player; read SMS messages and calendar notifications; manage calls and access your phonebook.
To add more functionality you can download an increasing number of third-party apps from the Play Store. I headed straight for the K9 mail notifier, battery widget and an app that shows your location in Google Maps. These choices, along with the Sony apps, all worked perfectly on my HTC Desire HD – so owners of non-Sony Android smartphones can buy without fear, just as along as the handset runs v2.1 or better.

Well connected
The default display shows the time but when you tap the screen the view changes to show either the installed app icons or any active widgets. An up/down swipe of the screen moves you between apps and widgets, while a pinch takes you back a step making navigation a simple affair. The order and behaviour of the SmartWatch apps is managed from your phone using the LiveWare app. This also lets you specify which apps show widgets on the SmartWatch's screen.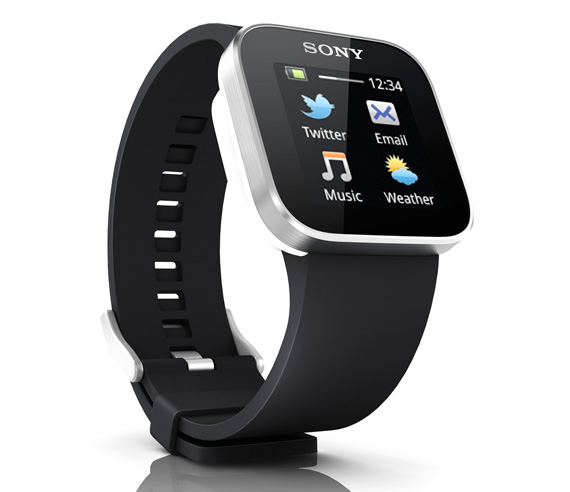 Overall, thinner than its LiveView predecessor
At 36mm square by 8mm thick the device is 3mm thinner than the original. It has a clip at the back that can be used to attach it to the supplied silicone wrist strap or to your clothing or rucksack strap. To charge the SmartWatch you get a USB cable with a proprietary connection.
Available in six colours, the wrist strap is strong, comfortable and the SmartWatch itself clips firmly in place, so you can wear it without fear of it coming adrift. When a call or alert comes through, the SmartWatch vibrates, which can be rather disconcerting the first time it happens when you are wearing it on your wrist.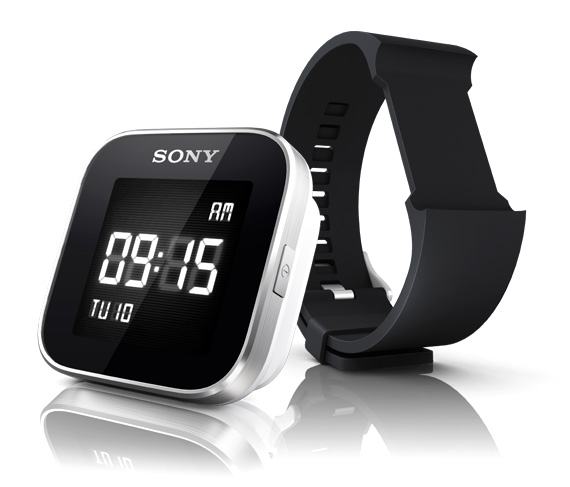 Strap-off, if you prefer
Unlike the LiveView, which was wretchedly flakey, the SmartWatch always connected reliably to my phone. Whenever I strayed out of range or turned my phone's Bluetooth radio off, it reconnected automatically and quickly. That said, this review was conducted using v1.2.34 of the SmartWatch app so I can't comment on the reported issues with v1.2.33.
The 1.3in OLED display is both crisp and clear, so it's easy to see what's going on and read on-screen text. In terms of both look, operating speed and screen touch sensitivity, the SmartWatch is very much an advance on the old LiveView model.

Colourful options, but quite a chunk of change for the pleasure of a hands-free strap-on
Sony reckons the rechargeable battery will keep you going for between one day and one week depending on how heavily you use it. I never got less than 48 hours from a full charge, even when using it intensively, so Sony's average figure of four days sounds about right.
The big problem is the price. Even though you can find the SmartWatch for a lot less than Sony's RRP of £110, it's still too expensive. For forty-quid it's a must-have but at twice that, it's a luxury many will find hard to justify.
Verdict
Unlike the original LiveView, the new SmartWatch actually works. It's thinner, has a better screen and more importantly maintains a much more reliable Bluetooth connection with your phone. It also benefits from a broader selection of better third-party apps and a nice bundled wrist strap. While it's at least twice as good as the original LiveView, it's a real shame that it's now twice the price. ®
More Gadget Reviews

Hauppauge
MyTV 2Go
iLuv Vibro
Classic II
Belkin YourType
Folio
Archos 35
Home Connect
Knomo Folio