Original URL: https://www.theregister.co.uk/2012/06/25/drobo_mini_and_5d/
Drobo brings RAID, battery backup to the desktop - and the hand
Kit so simple, even a Mac fanboi could use it
Posted in Storage, 25th June 2012 08:14 GMT
Drobo has re-invented its desktop storage products, giving them a dose of Thunderbolt connectivity, SSD and 2.5-inch drive support, as well as introducing a portable Drobo mini.
The company supplies curvy, snazzy-looking and ridiculously easy-to-use desktop and rackmount storage arrays with RAID-type protection and virtually no system management needed at all. It's basically the Apple Mac of storage arrays.
A quick recap: with the classic desktop Drobo there are up to four 3.5-inch drive bays and owners stuff their own drives in them. The drives can be different makes and capacities and Drobo software spreads data across the drives and tells you – via a green, blue and red traffic light-style system – when drives have been filled up and need replacing with bigger ones. There's also a Drobo S with five bays and both eSATA and USB 3.0 interfaces on top of the classic Drobo's FireWire 800 and SB 2.0.
The company expanded into the 8- and 12-bay rackmount market and has added solid state drive (SSD) support to the B12001 12-bay gear as well as Amazon Web Services support to both the B12001 and the smaller B800i 8-bay product.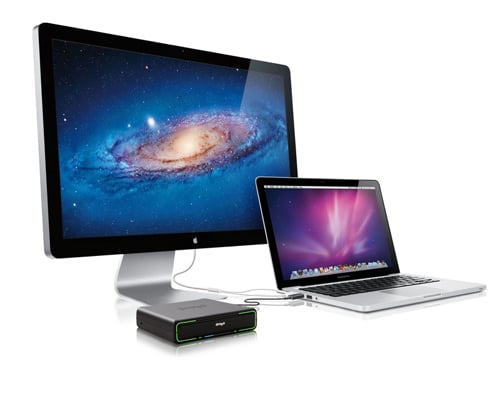 Drobo mini and Mac
What Drobo has done now is to bring in two new low-end models: the Drobo 5D 5-drive box – which looks like a replacement for the Drobo S – and a Drobo Mini, a 4-drive box with 2.5-inch drive bays, which is portable, and could eventually replace the classic 4-bay Drobo desktop. Both new boxes support SSDs as well as disk drives plus they get the Thunderbolt interconnects and USB 3.0 support.
Drobo has added battery-backed data protection over power-outages and says it's also enhanced the base hardware and software to run five times faster; that's before adding SSD support.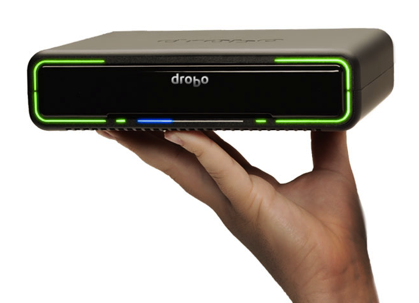 Drobo Mini
The Drobo Mini box is made of carbon fibre with a rubberised finish. The indicator lights are now spread around the front edge of the box – which looks extremely neat and works well – and a fully-loaded Mini weighs in at 3 pounds. There's also an optional carrying case. There can be up to 4 x 1TB drives put in it, delivering 3TB usable capacity. As bigger drives become available you'll be able to use them too. The drives are hot-swap and simply pushed into place with no need for a screwdriver or a carrier-frame.
As well as USB 3.0, the Mini has dual 10Gbit/s bi-directional Thunderbolt ports for daisy-chaining. There is data-aware tiering with an mSATA SSD inserted into a separate Accelerator bay and used cache-style to accelerate data access from the disk drives. Alternately you can put SSDs into the four drive bays and give yourself a screamingly fast box – if you can afford to buy four SSDs and the eye-wateringly expensive Thunderbolt cable and connector.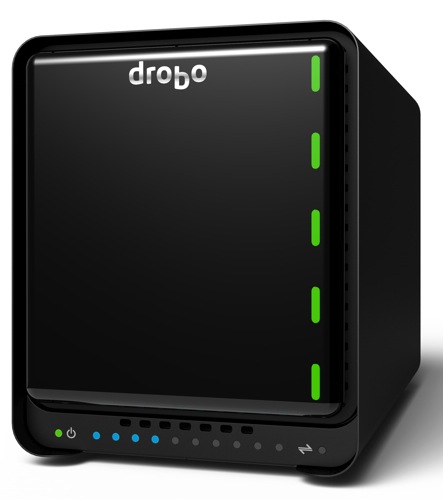 Drobo 5D
The Drobo 5D is effectively a Drobo S with the Thunderbolt, SSD, USB 3.0, mSATA SSD caching and battery-backed power failure protection. Its maximum capacity is 16TB usable. Drobo claims the 5D is "the highest-performing personal storage array on the planet."
As with the Drobo mini, you can have single or dual drive redundancy. The system is quieter than the S and drives can be spun down to save power when no data access is needed.
Drobo will provide ordering and availability information in July. Pricing – including a Thunderbolt cable – is expected to start at under $650.
Both the Mini and the 5D raise the bar for competitors such as Iomega and Seagate's LaCie. It's impressive that Drobo is still innovating in hardware as well as software and these new boxes should do well – although El Reg issues a prayer to the pricing gods to please, please, bring Thunderbolt prices down to something mortals can afford. ®