Original URL: https://www.theregister.co.uk/2012/06/23/review_ten_active_camcorders/
Ten... active camcorders
Shoot to thrill
Posted in Personal Tech, 23rd June 2012 07:00 GMT
Product Round-Up Focus in on the camcorder market and you'll find a boom in active compacts underway. Despite the ubiquity of video in smartphones, there's plenty of demand for pocket shooters that are more rugged and versatile than the average mobile. Typically, these compact cams are used to create clips for YouTube and social media sites, but there are also models to satisfy hobbyists. And if you want to shoot 3D, you can do that too.
JVC Everio GZ-HM960

Ignoring JVC's own eye-watering website shop price, this super compact Everio is model is typically available for under £400 and consequently becomes one of the cheaper routes into 3D videography. The catch is that the camera shoots 2D and post converts it for preview and playback on the autostereoscopic, parallax barrier touchscreen. You can also output directly from the camera in a 3D format to a compatible TV.
Of course, you can always remain two-dimensional if you prefer. Video is recorded in 1080/50p AVCHD to the 16GB onboard memory or an SD, SDHC or SDXC card. Image processing is achieved using the brand's Falconbrid engine, and HD GT optics; 2D image quality is excellent. At the heart of the camcorder is a 10.62M (back-illuminated) CMOS sensor. The camcorder sports a 10x zoom, which can be goaded with some sensor jiggery-pokery to 15x. Image stabilisation is provided, alongside face detection and exposure control.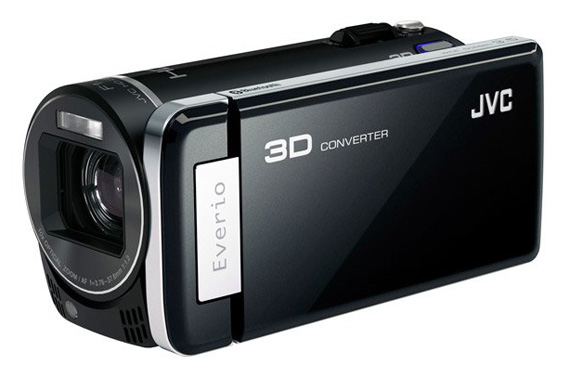 Reg Rating 80%
Price £700
More info JVC
Kodak Playsport Zx5

Despite Kodak's troubles the company's camcorders are still readily available on Amazon and the like for under a ton. The Playsport Zx5 is another dust and dip-proof model – submersible to 3m with an underwater correction setting to boot. Pocket-thin at 17.7mm, the hard shell (available in white, red or black) protects against drops up to 1.5m. At the business end there's a 5MP CMOS sensor and some stopgap memory, only to be used when your SD/SDHC card is full.
On the debit side, the screen is small at two inches and there's no integrated USB arm. MPEG-4 video can be shot at 1080p/30 or 720p/60, alternatively you can record in widescreen VGA. Battery life is good at around two hours. There's a limited digital 4x zoom, basic stabilisation and some picture processing modes. You can also make simple edits in-camera, or grab stills from your footage.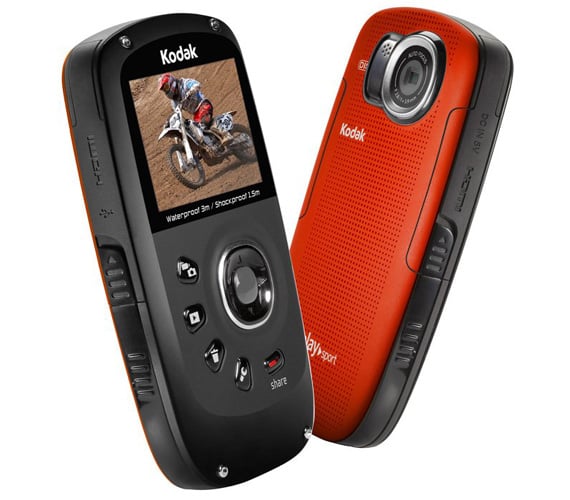 Reg Rating 75%
Price £109
More info Kodak
Panasonic HX-DC1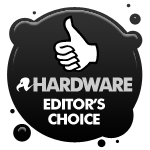 If you like the look of Panasonic's HX-WA20 but don't need splashproofing, then consider the HX-DC1. An officially licensed Olympic Games camcorder – just think, it may become a collectable – the model comes in London Games livery with a bright 3in display and tips the scales at just 181g. The HX-DC1 records sharp MPEG-4 iFrame compliant 1080/50i, 1080/25p and 720/50p to SD, SDHC and SDXC cards or the modest built-in memory; it will also snap digital stills up to 14Mp, interpolated from the 11.9MP sensor.
There's a 6x zoom, which doubles to 12x digitally, plus basic image stabilisation. HDMI and USB jacks are provided in the grip itself, however battery life is relatively short at around an hour per charge. While everything runs under Intelligent Auto, you can manually adjust things such as ISO and exposure. There's also simple in-camera editing available, along with a webcam mode.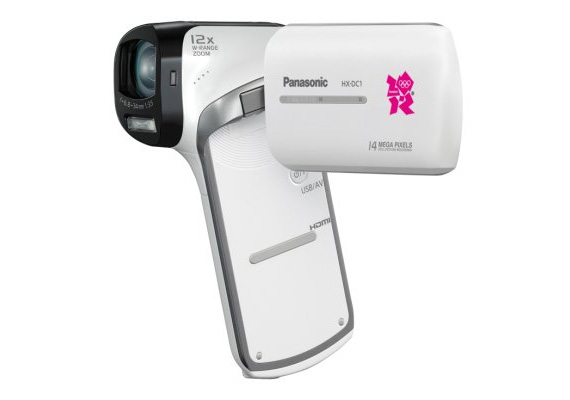 Reg Rating 85%
Price £159
More info Panasonic
Panasonic HX-WA20

Panasonic took over Sanyo's interests a couple of years ago and this Xacti-style model forms part of an expanded range. A handsome action-cam this Panasonic is waterproof down to 3m and sports a beach-proof shell. The HX-WA20 is fronted by a 28mm wide-angle lens with a 15x digital zoom, supported by an Active E.I.S. image stabiliser.
Extra features include a slow-motion mode, which records 15s clip at either 240fps (640 x 360) or 480fps (320 x 180). There's a choice of recording modes: 1080i/60, 1080p/30 and 720p/60 MPEG-4 plus iFrame compatible H.264 video at 960 x 540. You can also take digital stills interpolated to 16MP (the sensor is just over 8MP effective pixels). There's no internal memory, the HX-WA20 records direct to all flavours of SD card.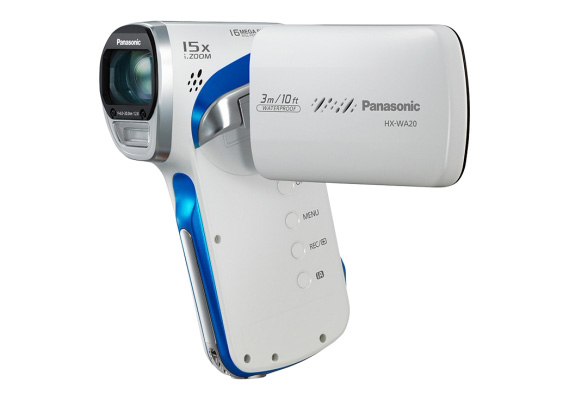 Reg Rating 80%
Price £299
More info Panasonic
Samsung HMX-W200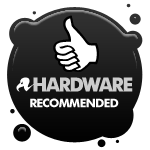 Samsung's entry in the waterproof compact stakes is well worth taking a dive with. Weighing just 140g, with a back-illuminated CMOS sensor for additional sensitivity, it's a well engineered shooter for the money, with impressive durability. The company says it'll survive a drop of 2m and will work 3m down in the drink. To that end, there's an Aqua-filter giving optimised underwater colour balance alongside prerequisite image stabilisation; however the digital zoom is a paltry x3.
The W200 shoots 1080p/25 and 720p/25 MPEG-4 video, and will snap images at 5.5Mp. Movies and snaps are recorded to a MicroSD/SDHC card. Throw in some funky digital effects (fisheye, negative, sepia) and you have an appealing active compact. And considering the price, it's easy to recommend for the casual user who needs a knockabout camcorder.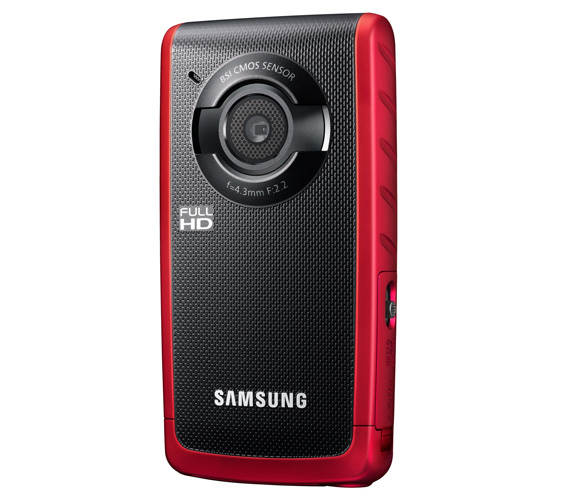 Reg Rating 80%
Price £80
More info Samsung
Sony Bloggie Sport Mobile HD MHS-TS22

This ruggedized addition to Sony's one-button record line of cam-pacts may only weigh 148g but it's a game beast able to withstand a moderate soaking, sandy beaches and some rough and tumble in the woods. It comes in a choice of black, red and blue and features a 6.7cm/2.7-inch touchscreen which provides the main control interface. 

The tolerant F2.8 lens and Exmor CMOS sensor are sensitive enough to retain at least some detail when the light fades; after that you can call on a built-in LED lamp to brighten the frame.
The Bloggie Sport shoots crisp 1080/30p and 720/60p MPEG-4 onto the resident 4GB memory (no cards required), along with 5.1Mp stills. A SteadyShot image stabiliser calms BASE jumping jitters. Connectivity is good too – the camera has an integrated USB arm, for easy PC connection and charging; there's also an HDMI output for direct TV connection. A bit pricey compared to similar models on test here and the fixed storage capacity seems meagre these days. But if you can live with those limitations, this Bloggie is a certainly worth checking out.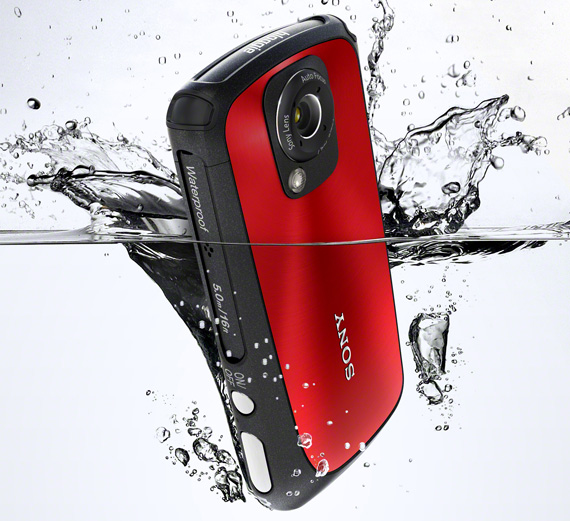 Reg Rating 75%
Price £179
More info Sony
Sony DEV-3 digital recording 3D binoculars


Admittedly not a compact, but Sony's inventive DEV-3 digital binoculars certainly falls under the 'active' category. Aimed at twitchers and super-spys, the DEV-3 digital binos record in MPEG-4 MVC 3D and 2D AVCHD. There's a 10x (2D) zoom enhanced with an effective SteadyShot Active Mode. Although mostly automatic, there's convenient manual focus for when you want to hold what may be a flighty target in sharp relief.
Picture quality is high; Sony has grafted decent G lens optics to a Dual Exmor R CMOS sensor. The DEV-3 records to SD/SDHC/SDXC cards or Memory Stick; you can also snap digital still images with a maximum resolution of 7.1MP in 4:3 ratio or 5.3MP in 16:9. Battery life runs to around 3 hours. File under: utterly unique... and expensive.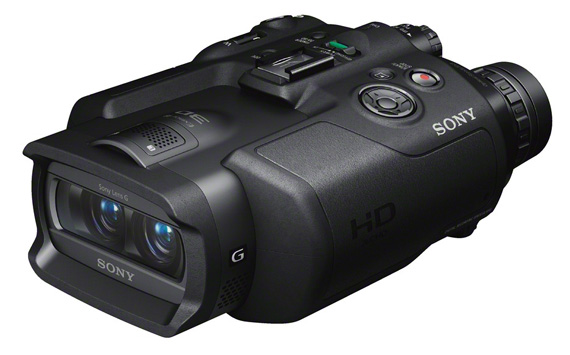 Reg Rating 75%
Price £1449
More info Sony
Sony HDR-GW55VE waterproof Handycam

Buoyed by the success of its 'net share Bloggies, Sony has developed this waterproof pistol gripper. The HDR-GW55VE is dust and drop (to 1.5m) resistant, not to mention water proof down to an impressive 5m. The shooter uses the brand's Exmor R CMOS sensor and Sony G lens, and boasts an extensive 10x optical zoom. There's also Optical SteadyShot with Active Mode for judder free panning and 3in screen.
The HDR-GW55VE shoots 1080/50i AVCHD onto Memory Stick Micro or Micro-SD/SDHC card, and grabs still images from a 5MP sensor. To compensate for colour discrepancies when you go diving there's an underwater shooting mode. Even better, the HDR-GW55VE will geotag all your footage thanks to on-board GPS. All well and good, but it is pricey with not much discounting around at the moment.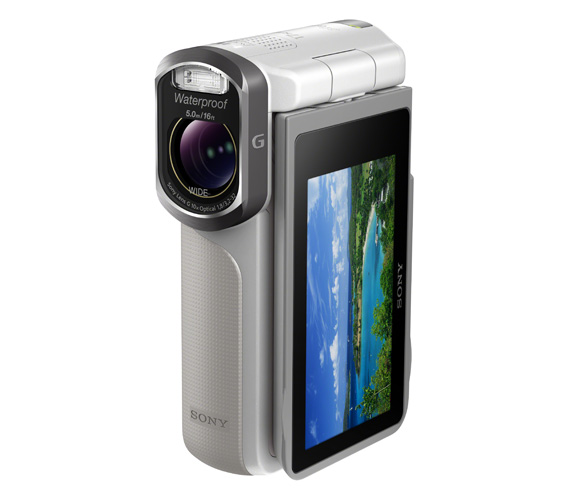 Reg Rating 75%
Price £465
More info Sony
Toshiba Camileo Clip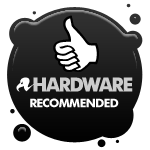 Aping the simplicity of the sadly departed Flip, the cute Camileo Clip (available in blue, red, yellow or white) combines one-button recording with a tiny 1.5cm LCD screen. It's a robust internet cam with a tactile, rubbery case, and while it doesn't shout 'take me diving' quite as convincingly as its rivals, can be considered a steal at the price.
The Clip records 1080p/30 and 720/60p MPEG-4 to SD, SDHC and SDXC cards, and takes 5Mp snaps. Giving this model its moniker is a moulded clip on the back-side which ostensibly allows you to attach the camcorder to a jacket pocket for hands-free shooting. The Clip uses a CMOS sensor with BSI (back side illumination) for better sensitivity in poor light.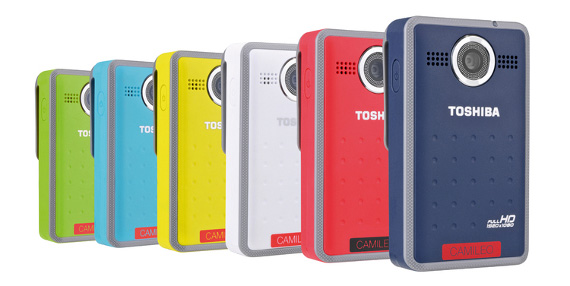 Reg Rating 85%
Price £90
More info Toshiba
Toshiba Camileo P100

This feature-rich shooter combines Full HD recording with an 8Mp CMOS sensor camera, saving to SD, SDHX and SDXC cards. Available formats include 1080p/30 or 720p/60 in MPEG-4, plus VGA. While image quality isn't as good as that from its AVCHD rivals, footage looks pretty good in bright light. The 3in LCD touchscreen is bright and there's an HDMI output for easy TV hookup. Electronic image stabilisation is on hand to keep things on an even keel.
There's a 5x optical zoom, extending to 8x and then 16x with the Advanced Zoom and digital modes respectively. The P100 also offers the option of slow-mo and time-lapse. Unlike some rivals, you can crash edit footage by pausing recordings without creating a new file. ®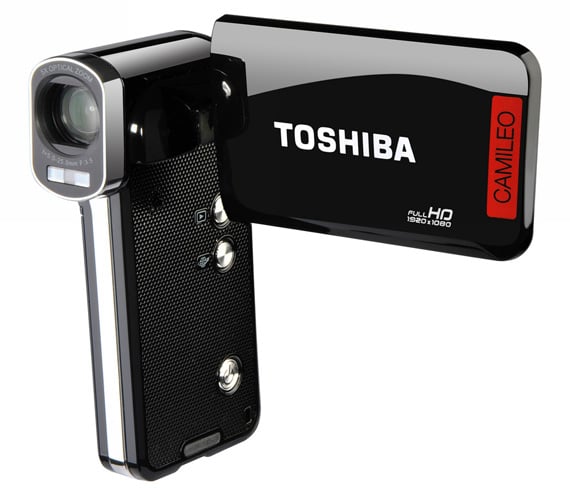 Reg Rating 80%
Price £150
More info Toshiba