Original URL: https://www.theregister.co.uk/2012/06/22/something_for_the_weekend_microsoft_surface_tablet/
Why I love Microsoft's vapourware tablet
Probe beneath the Surface
Posted in Personal Tech, 22nd June 2012 11:30 GMT
Something for the weekend, Sir? When I first got into this journalism lark in the late 1980s, the exploding nature of the personal computer market would force the hand of IT companies to reveal products far in advance of their intended launch date.
Such was the race to give the appearance of being cutting-edge, they sometimes found themselves announcing products that existed only in diagrams on a boardroom flipchart. Surprisingly often, nothing ever came of these vapourware products: the engineering challenges of their mass-production proving uncompetitive and their technologies absorbed into other projects or sold off by liquidation administrators.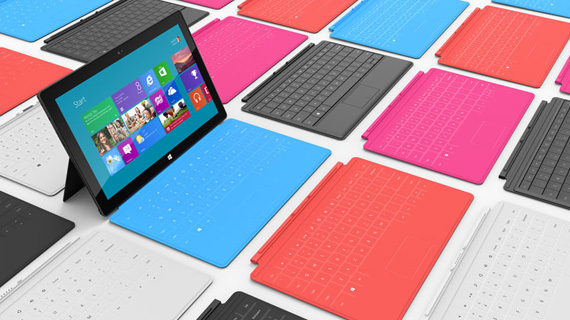 Microsoft's new keyblet
I don't wish to suggest that Microsoft Surface is truly vapourware, but surely it's suspicious that it's announcing a product that no one's going to be able to buy for half a year.
One supposes that Microsoft intends to create a buzz and get us talking about their forthcoming (new) foray into tablet computers. Yet the problem with jumping the gun - apart from the 'false start' accusations that lead on from this metaphor - is that commentators are left with a void to fill. Lacking a physical product to test, all we can do is talk bollocks based on conjecture.
This, as you know, is my specialty.
First, let me say that I don't care a hoot about the provenance of the name 'Surface' - ho-ho, it used to be a table, so fucking what? Making fun of a name tells us nothing about the product.
Take 'Metro'.
"We call it Metro because it's modern and clean." Oh, and here's me thinking they called it Metro because it's populated by young Algerians brandishing flick-knives and smells of wee. It's just a word to put on the packaging and its actual meaning has no significance. After all, what does the word 'pod' have to do with playing MP3 files?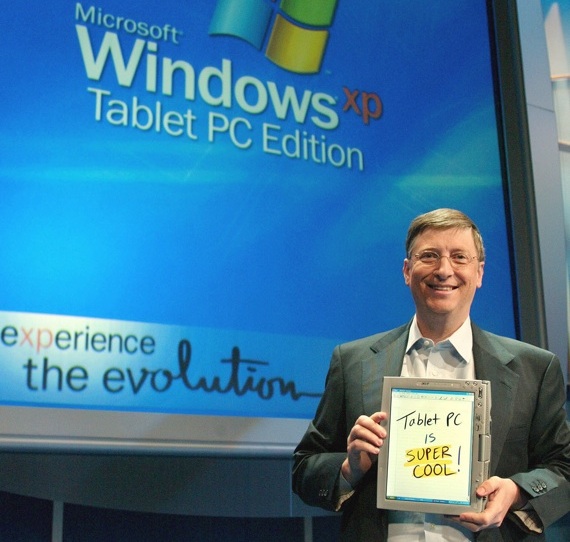 Doomed to repeat the mistakes of History?
What I find funny is how the marketing spiel is written for products that don't exist, because the writers have no choice other than to make a big deal of nothing in particular.
"The addition of the Micro SD card slot means you can bring your entire movie and music collection with you on vacation." What, it plays VHS videos and C90 cassettes?
Surface tension
"Surface has not just one but two cameras." Yes, and it also has not just one but two stereo speakers, not just 76 but 77 keys on the keyboard, and the rectangular unit has not just one but four edges. It also has none of these things because it doesn't bloody exist yet.
I was also evilly amused watching Microsoft's Windows president, Steve Sinofsky, deal with a frozen manufacturing mock-up of his non-existent tablet live on stage at the beginning of his presentation:

'Here's one I prepared earlier...'
These things happen, of course, but often they happen simply because nature and common sense feel the need to make their presence known amid the illusory world of men. At IBM's London launch of OS/2 2.0 in 1992, the demonstrator famously announced that the "revolutionary" new operating system was completely and utterly crash-proof... at which precise moment, her demonstration computer completely and utterly crashed. As indeed OS/2 did from time to time on test machines back at the office.
Contrary to your expectations, though, I warm to the promise of Microsoft Surface. This could be the tablet computer I've always wanted. To be honest, I pined for a Tablet PC about ten years ago and sang their praises in a column I wrote for an IT weekly magazine at the time.
Looking back, I should have guessed Tablet PC was not going to last. The computers were a bit ugly and a bit expensive, and the range of Tablet PC-enhanced applications was a bit crap. These were the reasons I never bought one. Indeed, these were the very same reasons why no one else bought one.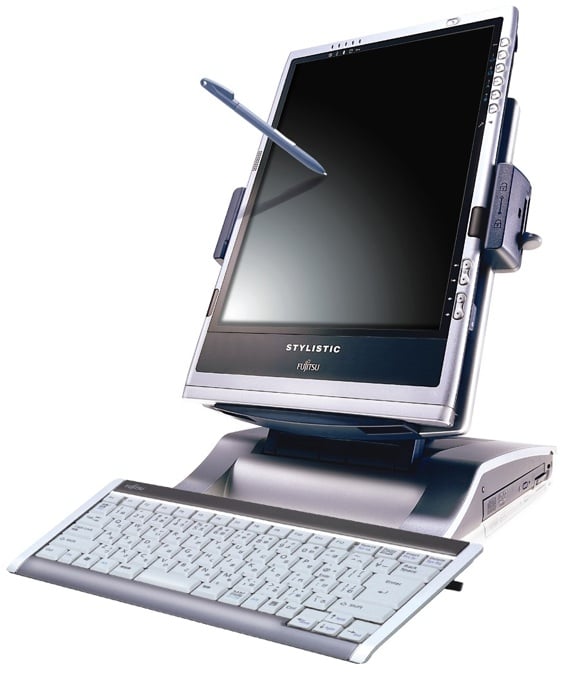 Fujitsu's Stylistic: how a tablet should be... What, a bloody desktop?
So how does the Surface tablet compare? It doesn't look ugly but I suspect it's going to be nut-crunchingly expensive: "About the same as an ultrabook," means a starting price of £1000. Hmm, should I buy a diddy Windows 8-only tablet that has a built-in stilt or buy a MacBook Air with proper memory spec, full-size fuck-off keyboard and trackpad and that will run just about any operating system I want?
But most of all, please someone tell me they are optimising their Windows 8 applications for Surface. The whole conversation about Microsoft's ability to sell hardware is entirely irrelevant. As Apple found with iOS, and I know Microsoft's Steve Ballmer will back me up on this, it's all about the developers. ®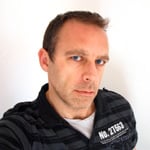 Alistair Dabbs is a freelance technology tart, juggling IT journalism, editorial training and digital publishing. He feels he may be the only person in the world who harks back to the Microsoft Mouse with fond memories and believes that Microsoft was always a much better hardware manufacturer than software developer.