Original URL: https://www.theregister.co.uk/2012/06/22/review_ten_usb_external_hard_drives/
Choose Smarter: Ten… USB 3.0 External Hard Drives
Big storage
Posted in Personal Tech, 22nd June 2012 08:45 GMT
Product Round-up Hard drives are still the most cost-effective way of adding extra storage capacity to a desktop or laptop. They are cheap to buy, easy to use and remarkably robust in service.
Solid-state drives may be quicker, but while the prices of hard drives continue to fall, their capacity goes on climbing, so the overall cost per gigabyte is quickly getting lower and lower.
Here are ten external drives based on the USB 3 high-speed connectivity standard all ready for data transfer, archiving and back-up duties.
Buffalo MiniStation Extreme

This is a smallish but surprisingly heavy unit at 230g. But with a whopping 1TB drive and a shock-resistant casing it was never going to be a featherweight. Buffalo quotes a survivable drop height of up to 2.3m, which if true is impressive.
The unit's wraparound cable is a neat piece of design, the cord tucking neatly out of the way when it is not being used. Of course that means it is a bit on the short side, so Buffalo kindly bundles in an extension lead.
Like most Buffalo devices, the MiniStation Extreme comes with all the utilities Buffalo think you will need to get started: backup, Ramdisk for creating a virtual hard disk, and TurboPC for faster file transfers, file encryption and power management.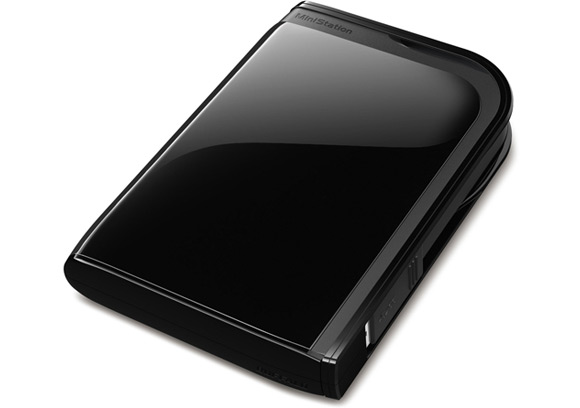 Reg Rating 85%
Price £79 (500GB), £111 (1TB)
More info Buffalo
Buffalo MiniStation Stealth

This compact, no-frills drive comes in a choice of fingerprint-attracting black or plain white finishes and is backed by a two-year warranty.
Buffalo bundles some programs under the Buffalo Tools banner to help you move data around: SecureLock for encrypting your data; Ramdisk; Eco Manager, a power management utility; and TurboPC for increased file transfer speeds. 
It is a competitively priced drive, but it is also the slowest performing model in this group.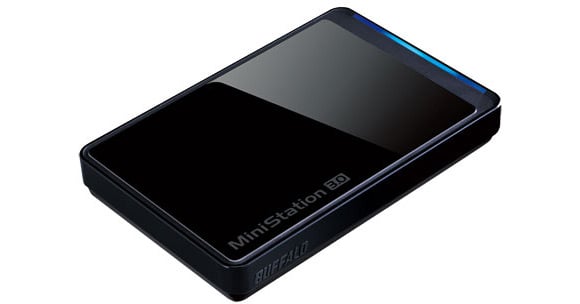 Reg Rating 65%
Price £76 (500GB), £84 (1TB), £131 (1.5TB)
More info Buffalo
Freecom Mobile Drive Sq

Proving that external hard drives don't have to be boring lumps of plastic, the Mobile Sq is a stylishly slim (10mm) drive. Its award-winning square design with stainless steel sandblasted finish certainly makes it look the part beside your notebook or Ultrabook.
Nero's useful BackitUp and Burn software is bundled with the drive.
While it is a lovely looking piece of kit, you are certainly paying for those looks. The 1TB version here is £40 dearer than the 1TB Buffalo MiniStation Extreme, for example.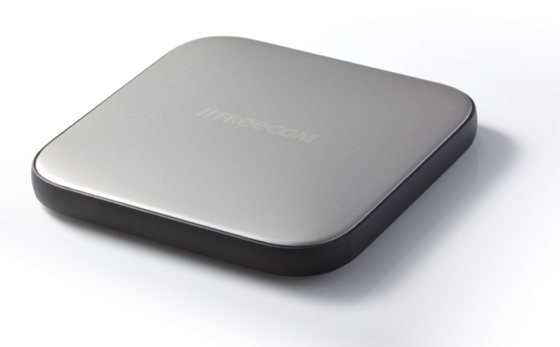 Reg Rating 75%
Price £105 (500GB) £160 (1TB)
More info Freecom
Iomega Prestige Portable

Another good-looking, slimline drive, the Iomega Prestige Portable comes in a black brushed aluminium casing and is small enough to fit into a pocket. Drop Shock technology protects the drive heads and discs should you miss your pocket and let the unit plunge earthward.
The drive also comes with Iomega's Protection Suite, which comprises McAfee VirusScan Plus, Iomega QuikProtect, EMC Retrospect HD and EMC Retrospect Express, plus 2GB of free online backup space through the Mozyhome Online backup service.
For extra data protection and security, AES 256-bit hardware encryption is built into the drive.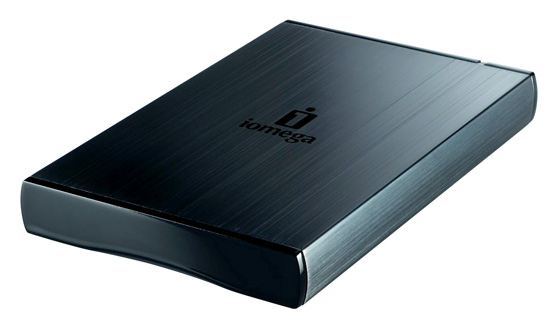 Reg Rating 80%
Price £123 (1TB), £187 (1.5TB)
More info Iomega
LaCie Rikiki 3.0

With its sleek-looking brushed aluminium enclosure, Lacie's Rikiki 3.0 measures just 119 x 75 x 19mm and will fit into a large pocket if need be. It weighs 200g.
The drive comes with backup software for both Windows (Genie Backup Assistant, which is nice and easy to use) and Mac OS X (Intego Backup).
As well as the basic capacity of the drive, you also get 10GB of Wuala online storage free for a year if you use the drive's serial number. LaCie backs the drive with a two-year warranty.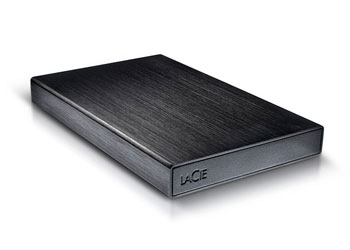 Reg Rating 75%
Price £85 (500GB), £125 (1TB), £160 (1.5TB)
More info LaCie
LaCie Rugged Mini

The Rugged Mini is the smallest member of LaCie's tough family of external hard drives and the one with the fewest connectivity options, namely one: it is a USB 3.0-only drive.
Not only is it well protected from everyday bumps and scrapes, it is not a drive you are likely to lose in a hurry, as the external rubbery protection is finished in bright orange.
LaCie offers two 500GB versions of the drive: a standard 5400rpm model and a faster 7200rpm one. As the latter is only a tenner more than the standard model, it is pretty much a no-brainer as to which model to plump for in the line-up at this capacity.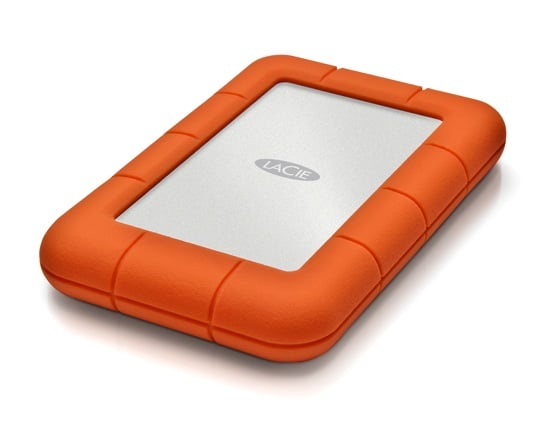 Reg Rating 75%
Price £90 (500GB), £100 (500GB 7200rpm), £135 (1TB), £170 (1.5TB)
More info LaCie
Samsung M2 Portable 3.0

I'm not going to even bother beating around the bush with the M2, this is the best USB 3.0 portable hard drive currently on the market. It's the fastest, best value and near-as-dammit the smallest, with only the WD My Passport Essential SE beating it by around 1mm in width - like it matters? More to the point though, is the three-year warranty that comes with this drive.
Crystal DiskMark showed this HDD reading at an impressive 112MB/s and writing at 106MB/s. I am also very fond of Samsung's no-gimmicks approach – there's no bloatware or additional licenced software to fill the drive or rack up the price. Currently, only the 1TB model is available, but expect more capacities soon.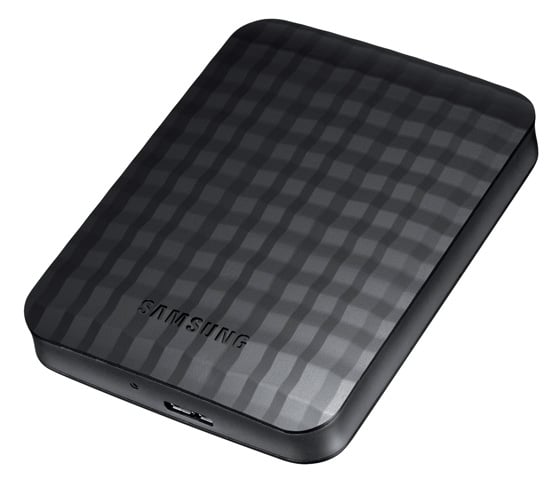 Seagate FreeAgent GoFlex Ultra-Portable


It may not be the slimmest drive in this round-up but when you stop to consider that you can hold 1.5TB of storage in your hand it puts things into perspective. Go back only a couple of years and 1.5TB in a single drive for internal use was wishful thinking, let alone something you could have in a portable drive.
The FreeAgent GoFlex Ultra-Portable can be set up with optional adapter cables so it can connect to FireWire 800 and eSata ports, as well as the bundled USB 3.0 link.
Seagate includes Memeo Instant backup for Windows and the ever-useful Paragon NTFS driver for Mac users to allow the interchange of files between a Mac and a PC.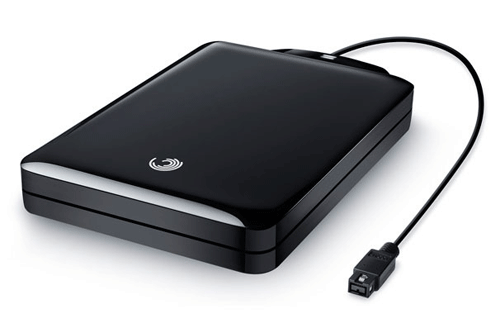 Reg Rating 70%
Price£68 (500GB), £107 (750GB), £110 (1TB), £154 (1.5TB)
More info Seagate
Verbatim Store'n'Go Executive

Another sleek external drive, Verbatim's Executive is the latest member of the company's Store'n'Go range and features 256-bit AES hardware encryption for improved data security.
The top of the drive has a button for various pre-set functions: starting auto backup or synchronisation, enabling the AES 256-bit encryption or even opening your favourite web site.
There is also power-saving Green Button software on the drive. 
For backups, it comes with Nero BackitUp, plus Nero Burn Essentials and Nero RescueAgent, a damaged-file recovery utility.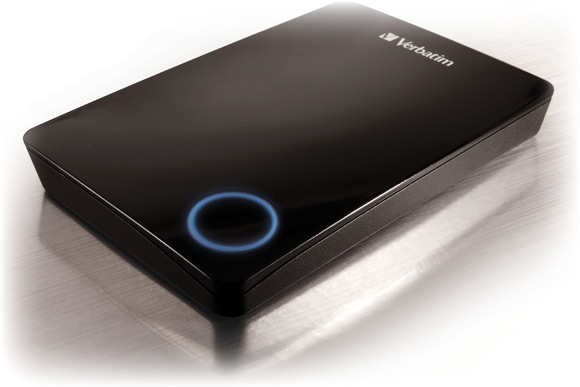 Reg Rating 85%
Price£87 (500GB), £102 (750GB), £128 (1TB)
More info Verbatim
Western Digital MyPassport Essential SE 1TB

The first thing that strikes you when looking at WD's MyPassport Essential SE drive is just how compact the thing is. Even the 1TB version measures just 110 x 83 x 18mm.
It may not be the fastest drive around, but it is very competitively priced and it comes with a two-year warranty.
The software bundled with the drive comprises WD's Quick Format, which does what it says on the tin and is quite frankly not really necessary, and SmartWare, a backup and drive management tool that also includes 256-bit data encryption to protect your data.